GEORGE SOUTHAM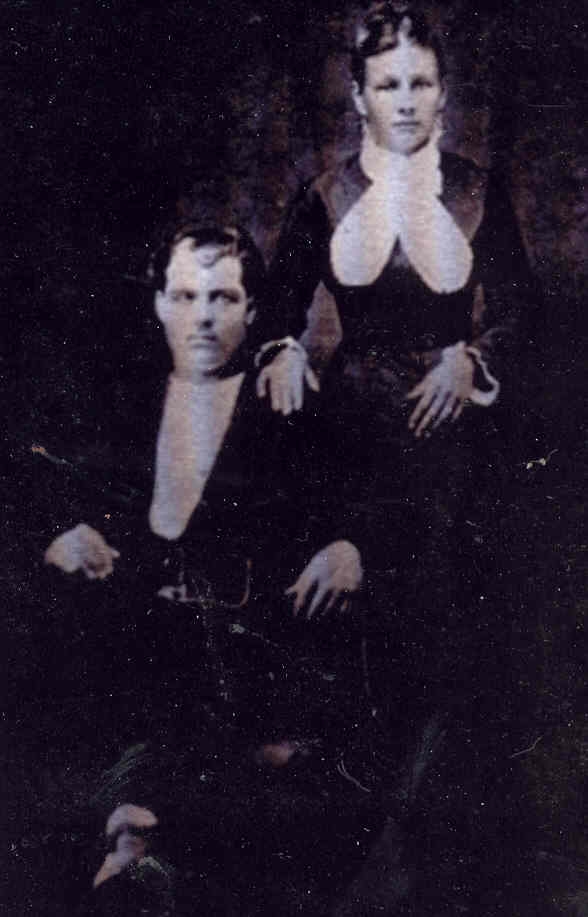 George Southam and Catherine Cameron
George W. Southam was born 29 October 1830 in the hamlet of Neithrop, Banbury Parish, Oxfordshire, England to Justinian Southam and Lucy Hunt. George was named for his paternal grandfather.



Baptism record for George Southam in Banbury


George was the only child of his parents, as his mother died when he was only one year old. Justinian married again when George was three years old, to Esther Bourton in Cropredy. Half-brothers and sisters were born, starting in 1834: Eliza, Hannah (who died as a baby), Mary Ann, Joanna (who died as a baby), Josiah, Edwin, and William. The family moved from Cropredy to Adderbury in 1838, then to Brailes the next year.
In the census of 1841, the ten year-old George was found living in Bourton with Ann Hunt, his maternal grandmother. The census for Bourton shows Ann Hunt (age 55, born in this county), Henry Hunt (age 15, plush weaver), and George Southam (age 10).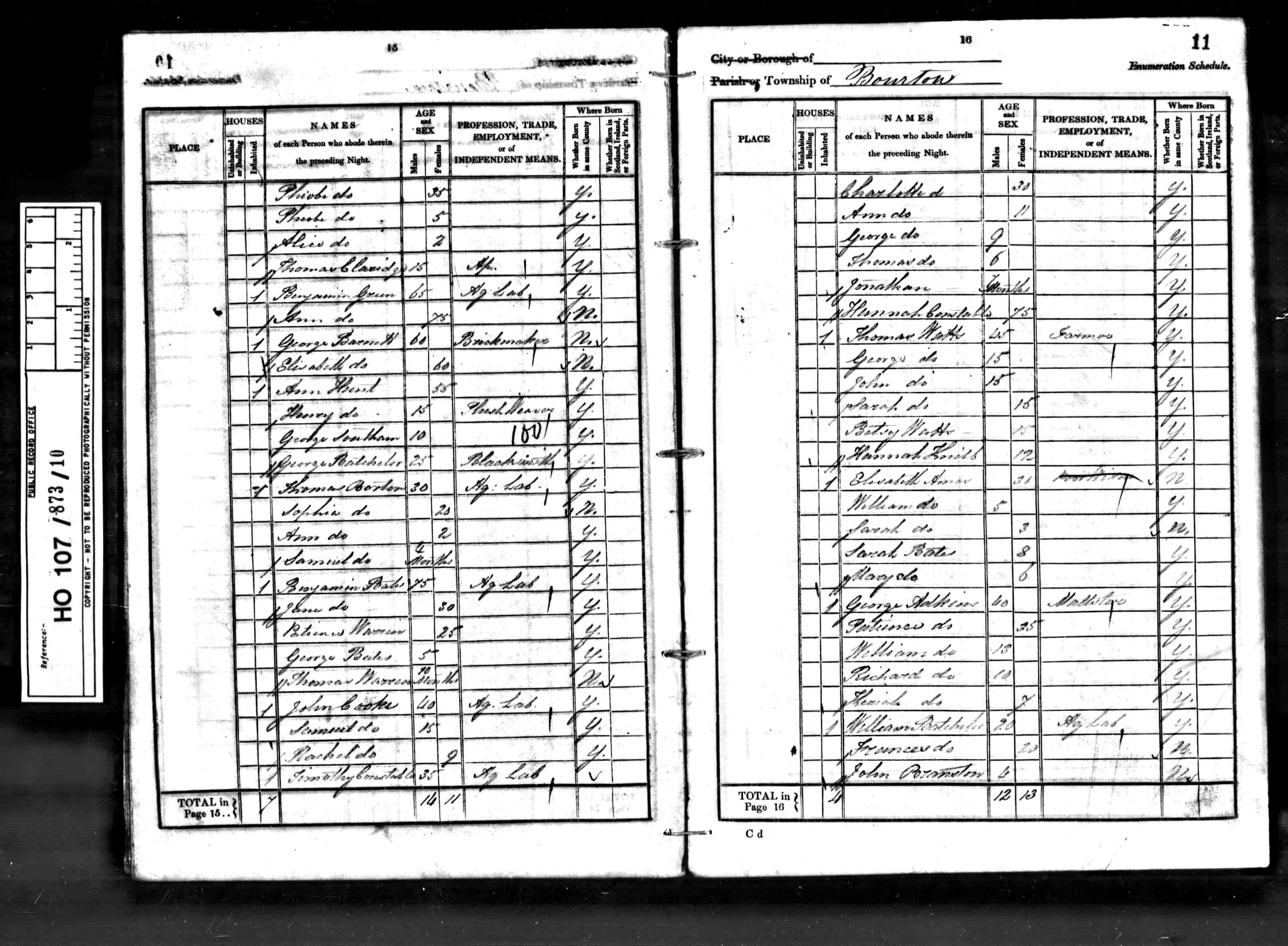 1841 census for Bourton, Oxfordshire
The 1851 census for Great and Little Bourton shows Henry Hunt (age 26, plush weaver), his wife Elizabeth (age 23), daughters Lucy (age 4), Ellen (age 2), son Hiram (age 3 months), and their lodger, George Southam (age 20, plush weaver).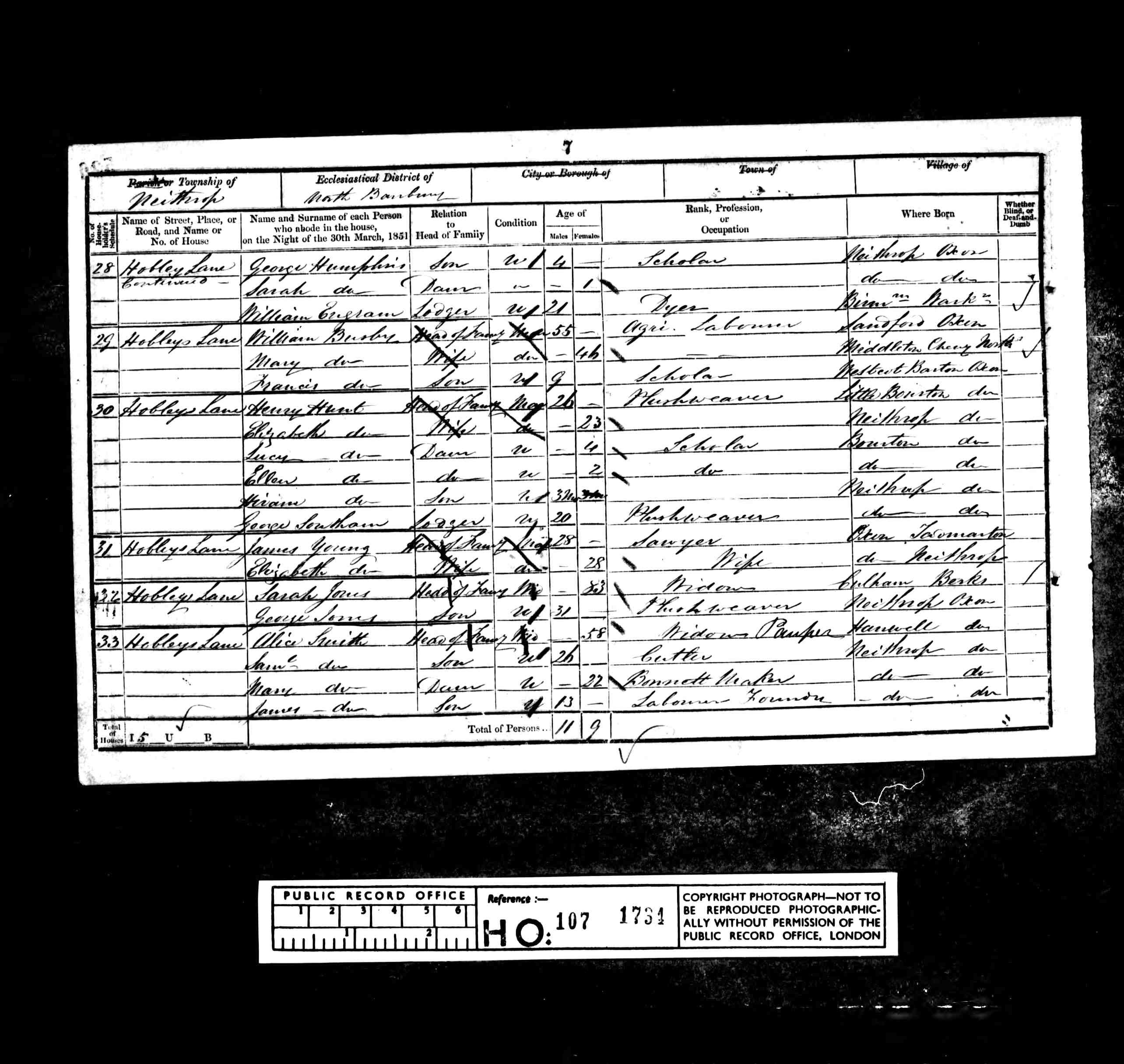 The family lived at 30 Hobleys Lane, Neithrop, Oxfordshire. The area is described, "The greater part of the western side of Hobley's Lane comprised a terrace of 11 single storey ironstone cottages with garretts set into high pitched thatched roofs. The windows were protected by shutters opening down wards." (Cake and Cockhorse, Winter 1966) Henry Hunt is also mentioned in the magazine article about an 1850 survey for the Anglican church in Neithrop: "No 648 housed Henry Hunt, a Baptist plush weaver, his wife, their three children, and a plush weaver lodger." [1] The neighbors were weavers, sawyers and farm laborers. The town of Neithrop, near Banbury, had 45 plush weavers.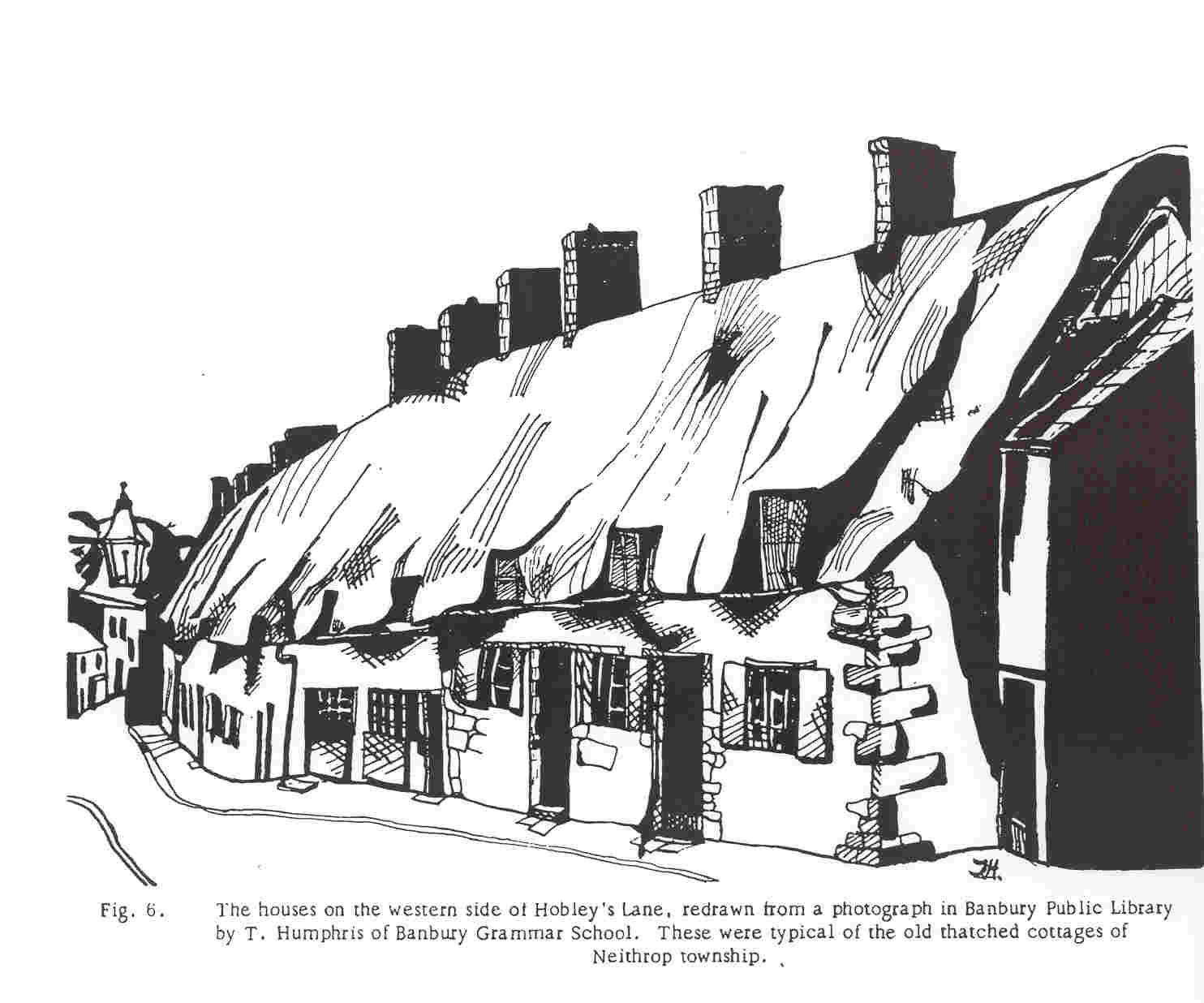 e
Homes on Hobley's Lane in Neithrop, where George lived with
his uncle Henry Hunt's family in the early 1850s.
(Cake and Cockhorse, Winter 1966)

George was mentioned in the will of William Hunt, weaver, of Great Bourton in 1853: "I declare that the said Isaac Coy his executors and administrators shall by and out of the monies which shall arrive from the sale calling in and conversion into money of such part of my said personal estate as shall not consist of money and of the money of which I shall be possessed at my decease pay my funeral and testamentary expenses and debts and pay and divide the residue of the said trust monies unto and equally between William Reynolds of Bugbrook in the County of Northampton the said John Prentice, Michael Prentice of Bledlow in the County of Buckingham, Elizabeth Prentice of Bledlow aforesaid, Michael Grisold of Drayton in the said County of Oxford, and George Southam the younger of Little Bourton in the said Little Bourton in the County of Oxford."
George was called the younger in this bequest to differentiate him from George Southam of Little Bourton, his grandfather. William is probably George's great-uncle. Perhaps the money he received helped him prepare for emigration to America.


George worked as a plush weaver in Banbury, and had charge of three looms. He heard the message of the Latter-day Saint missionaries, and was baptized in September of 1850 in the Coventry Branch, by Charles Anton and David Walker. George's stepbrothers, Josiah and William were also baptized, and emigrated to Utah.


Marriage record for George Southam and Jane Carter in Banbury

George was married Jane Carter 29 November 1854 in Banbury, however, the ship's passenger list for the Clara Wheeler shows:

George Southam, age: 23, origin: Branbury, occupation: plush weaver
Note: BMR, p. 179, Customer #68

George's address is shown as "care of John Kilpack, Broad St, Banbury, Oxon".

Jane Carter, age: 17, origin: Banbury

Note: BMR, p. 179, Customs #68


Clara Wheeler ship's passenger list
The ship Clara Wheeler set sail the day after George and Jane's wedding, with the newlywed couple onboard.

Their journey is described this way: "The Clara Wheeler, with 421 Saints on board, including infants, cleared for New Orleans on the 24th ultimo. Elder Henry E. Phelps took the presidency of the company, with Elders John Parson and James Crossly as his counselors. We commend these brethren and their company to the watchful care and protection of our Heavenly Father, and trust that his blessings will constantly attend them in their journey to the land and cities of Zion." (Millennial Star, Dec. 9, 1854).

"The Clara Wheeler put into the Mersey on the 30th November, having been driven back by stress of weather. We understand that she received no material damage and the Saints on board were generally well, with the exception of seasickness. After receiving further supplies of water and provisions, she again put to sea on the 7th instant with a favorable wind." (Millennial Star, Dec. 23, 1854)

"Seventy-eighth Company – 422 souls. The ship Clara Wheeler, with four hundred and twenty-two Saints on board cleared the port at Liverpool November 24, 1854, bound for New Orleans. Elder Henry E. Phelps was appointed president of the company, with Elders John Parson and James Crossly as counselors. After a rough experience in the Irish Channel, being unable to proceed against the incessant head winds and rough weather, the Clara Wheeler was obliged to return to port on the thirtieth of November. During this extraordinary experience the Saints suffered considerable with seasickness. After receiving further supplies of water and provisions, the ship again put to sea on the seventh of December with a favorable wind, and on the tenth she cleared the Irish Channel after which she had a very quick trip to New Orleans, where she arrived on the eleventh of January, 1855. Soon after leaving Liverpool the measles broke out in the company, resulting in the death of twenty children and two grown persons. One child also died after the arrival at New Orleans which made twenty-three deaths in all. On the twelfth of January, James McGaw, the church emigration agent at New Orleans, contracted with the captain of the steamboat Ocena, to take the passengers to St. Louis at the rate of three dollars and a half for each adult, and half of that for children between three and twelve years old; and twenty-four hours after their arrival in New Orleans, the emigrants were on their way up the river. Nearly one half of the company had not the means wherewith to pay their passage to St. Louis; but the more well-to-do Saints who had more money that they needed themselves, were influenced to lend to those who had none, and thus all who desired to continue the journey were enabled to do so. At St. Louis where the company arrived in safety, the emigrants were met by Apostle Erastus Snow and others, who gave the new arrivals a hearty welcome, and conducted them to comfortable quarters, which had been secured for their accommodation. This company, although leaving England in the latter part of 1854, really belonged to the emigration of 1855, in connection with which the Saints who crossed the Atlantic in the Clara Wheeler continued the journey to the Valley." (Millennial Star, Vol XVI, pp. 778, 815; Vol XVII, pp. 10, 142, 184)

A family history of George Southam tells the story this way: "They left England the 4th of December 1854 and were on the ocean sixteen weeks. The only ships those days were sailing vessels. The sailing vessel met a storm after leaving Liverpool in the Irish Channel until the Presiding Elder of the British Mission told them to fast and pray, which they did and from then on they had no trouble. They were from December until the 22nd of February getting from Liverpool to New Orleans." After resting a few days they continued up the Mississippi River to St. Louis, Missouri.

George found work in St. Louis: "The first employment George Southam had was helping put up ice and he and his wife lived in a rooming house where his wife sewed for people who lived there and helped with the living expenses. He did various other jobs while living in St. Louis." They had one son, Finas Henry, born 28 January 1856 in St. Louis, Missouri. He was named for a former sweetheart of Jane's. Finas Henry died 21 October 1856.

Their time in St. Louis had its challenges: "George Southam had typhoid fever while they were in St. Louis. They lived on the upper story of the house. His wife Jane had to give up her sewing to care for him. Their finances were very low and one night they were wondering where they were going to get food for the next day—on arising the next morning they found a loaf of bread on the table. Before he was well, one Sunday morning a knock was heard on the door, on answering it they met a man with a basket of food. He said that the woman he worked for and who was also the woman that Jane had sewed for had sent him with the food and that she hoped that they would not be offended. They knew that the Lord had blessed them and answered their prayers."

George and Jane worked and saved to find a way to travel to Utah: "They left St. Louis in the spring of 1861 and took passage on a boat from St. Louis to Nebraska. This they did on the advice of the authorities of the Church. Owing to the rush of so many families emigrating to Utah that same year they were told that they must wait their turn. Their turn came in the spring. However, while they were waiting for their turn to come around, George went to the river to fish, fishing and hunting being a hobby of his. As he sat on the river bank he chanced to hear the remarks of other fishermen who were near. They were talking about a Company who were outfitting to go to California. The next morning he walked six miles to this Company. He inquired if it would be possible to go along with them. This particular Company had horses instead of oxen, they also had some mules. The Company consisted of all men. When he arrived they were preparing their wagons. They asked him many questions as to what he could do. He assured them that when working for anyone he tried to do as he was told. He informed them that he had a wife and she wanted to go too. They said that this might make a difference. He promised them that she would not be a burden to them. He also told them that she could sew and mend their clothes. They walked a little way off and talked it over and when they returned they said that if they still wanted to go to be ready by morning and they would call for them. They came with two wheels of a wagon on which they put their belongings and started on their way to Zion. Grandfather Southam often told how he herded horses and mules nineteen nights in a row with only what rest he could get as they were moving along in the daytime. They were well equipped for a journey of that kind so did not endure the hardships that some of the Saints encountered. They were ahead of the Saints so had good feed for their animals. When they reached Utah he was offered $60 a month and board for he and his wife if they would go on to California with them. They reminded him of the advantages that a little money might give him and $60 was more than he had been used to, so he was undecided. He went to Bishop Layton for advice. The Bishop asked, "How long have you been coming this far, Brother Southam?" "Seven years," George replied. "Well, you should know the answer," said the Bishop, and so George Southam stayed in Utah and the Company moved on to California."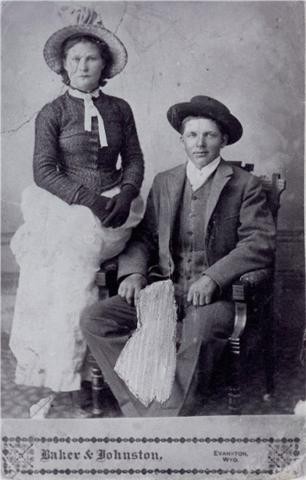 George Southam and his first wife, Jane

Jane was unable to have any more children, so suggested that George take a plural wife. George married Catherine Cameron 28 November 1862 in the Endowment House in Salt Lake City, Utah. The family moved to Morgan, Utah. While in Morgan four children were born to George and Catherine: Mary Jane, George Henry, Eliza, and Alice. George Henry remembered: "During my early childhood my father used to go with his oxen up into Hardscrabble Canyon and bring down railroad ties. He used to take me with him. The canyon was steep and rough so I used to hang onto the tail of the oxen going up the canyon."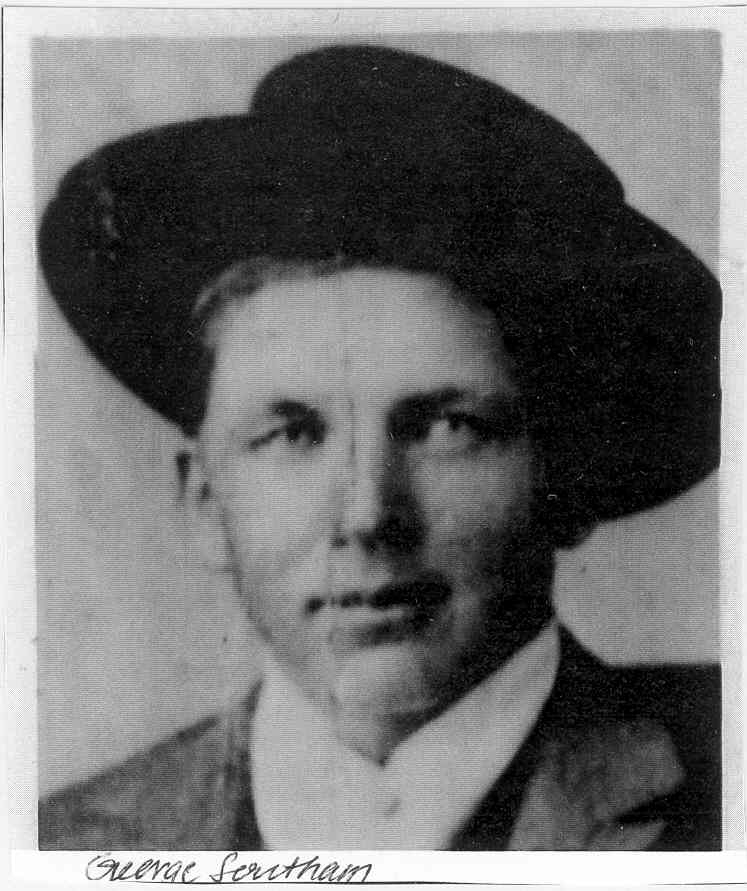 George helped other pioneers to come to Utah: "While still living in Morgan he was called to go back in 1868 as a teamster in an ox train that was going to Sweetwater to get immigrants, the last immigration before the railroad was completed to Ogden. The children got word that the last company of immigrants were coming and all gathered together to watch for them. The first thing the children saw was an American flag that George Southam had bought somewhere, it was hoisted above the wagon so it was the first thing they could see as they came in sight. He drove an ox team and was the oldest of the teamsters and was recognized as being reliable. He did not stay with the train until it reached Salt Lake but stopped off at his home and reported to Salt Lake City later." (George Henry Southam)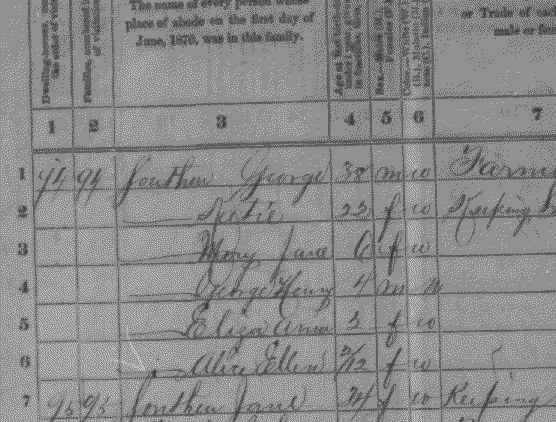 1870 census, Morgan, Utah
George moved both of his wives and the four children to North Evanston, Wyoming. Here he bought a home and they all lived together. His descendants remember: "George Southam never paid rent and always advised his children to own their home." His son, George Henry remembered, "Father bought a house in what is now North Evanston and moved both of his wives and children into it. He secured employment in the railroad shops as engine tender. He bought stock, mostly milk cows, with the thought in mind of securing a ranch as soon as possible and the responsibility of taking care of them was turned over to me as my father was working ten hours a day. He worked for $1.76 per 10-hour day and jobs were scarce." He worked for the Union Pacific railroad in Evanston for several years. Jane Carter Southam separated from George while they lived in Evanston: "Aunt Jane Carter Southam, Grandpa Southam's first wife, married Daniel Williams after she separated from grandfather. She left him while they were living in Evanston and came back to Morgan to live. She later married Mr. Williams and raised his family of motherless children." (Alice Southam Cook, in the Life of George Henry Southam) In a biography of George Henry Southam a descendant remembers:"In the spring of 1877, there was an epidemic of black small pox and his family was one of the first to get it. His brother James died and was buried in a little knoll near the house. George got very sick with it but survived."

George hoped to raise his children in a Latter-day Saint community. His grandson, John H. Haslem remembers: "In the fall of 1885, George Southam asked his son, George Henry (Harry) to go out to Ashley Valley to look for a new home, as he wished to raise his family in a Mormon community, where his children might select companions of Latter Day Saint members. Evanston had many good people, but not many Latter Day Saints, and the railroad brought many who were not so good." Catherine's father, John Cameron, had settled in Randolph, Utah. George bought property there, but was never able to move his family there. "Father found that he could not support his family with the work he could obtain at Randolph so he sold his property there and moved to Wasatch, Utah. In those days people lived in town because of the Indians. The church authorities advised this because of greater protection; also, in church the women usually sat on the left side of the building and the men on the right so the men could get out fast if necessary. We bought a house on railroad property, also some corrals and other conveniences to take care of our cows as we had brought part of them with us. Here it was my responsibility to care for the stock. Father worked on the railroad." (George Henry Southam)

George was a devoted father, and a faithful Latter-day Saint. His son, George Henry, recalls an incident of faith: "It was while we were working on a ditch one day that a messenger came and told us we were to come to a meeting. It was the custom at that time that if important news or special instructions were about to be given, that several boys were sent to the different homes to inform the settlers of a meeting then we assembled at a public meeting place and instructions were given. When we assembled this time a Mr. West spoke to us and said that a call had come for assistance in the building of the St. George Temple. Different ones got up in the meeting and volunteered different things toward it and my father George Southam offered $15 in stock. I knew what my father owned and just the load he was carrying and I thought to myself, "Old Boy, where are you going to get it?" As we went back to work I asked him where it was coming from. He looked down at me for a moment and then said, "You wait and see." A short while afterward my father and I were on our way to work on the same ditch when a man called my father and said there is a steer at the tithing yard that had been gathered in the roundup and it belonged to father. It turned out to be one that had not showed up in the roundup the year before and he could get no trace of it and had considered it lost. After talking to the man we walked on to work and my father looked down at me again and said, "Harry, you remember the steer I promised for the St. George Temple?" I replied, "Yes", and he said, "That's it." That was a lesson in faith that I never forgot."


George was able to buy a ranch in
Bear River
: "
While working for the Union Pacific Railroad George Southam saved enough to buy enough livestock and a ranch in Bear River, a small place eight miles south and a little east of Evanston, Wyoming. He disposed of his place at Randolph, Utah. He acquired the property, 160 acres under the Timber Act. The requirements of the act were that ten acres must be planted to timber before the title could be perfected from the government…Soon George Southam bought a home in town and the family lived in town and he went back and forth from the home in town to the ranch. He did this so that the children could be together and go to school.
" His son, George Henry tells of some excitement: "
At the ranch we lived in a house that had two rooms and a lean-to. In one of the rooms was a fireplace. My father, my sister Mamie, my little brother and I were staying at the ranch and the rest of the family were in Evanston at the home we kept there so the children could go to school. Father had been reading to us by the light of the fire in the fireplace. He went to bed and some time during the night my father tried to awaken me as the house was on fire. I was at the age that most young people are heavy sleepers and the smoke was so dense that he ran to the other room and roused Mamie and Will and ran out. I suddenly awoke with a start and grabbed my pants and shirt and climbed out through the window. The house was completely burned along with a new harness that we had been oiling. The train track was near our house and a train came by and the crewmen saw the fire and stopped the train. They took Mamie and Will on into Evanston. About daylight my father had me get on a horse and ride into Evanston. There were five or six inches of snow on the ground and it was about an eight mile ride and I had no coat or shoes. We got some lumber and soon had another building up to live in.
"
The Southam family appears in the 1880 Federal Census for Wyoming:
Name Relation Married Age Sex Occupation Own/rent home Birthplace Father's Birthplace Mother's Birthplace
George W. Southam Head Mar 48 M Farmer owner/tenant England England England
Katie Southam Wife Mar 32 F Keeping house Scotland Scotland Scotland
Mary J. Southam Child Unm 16 F At home Utah England Scotland
George H. Southam Child Unm 14 M At home Utah England Scotland
Alice Southam Child Unm 8 F At home Utah England Scotland
William Southam Child Unm 3 M Wyoming England Scotland
Emma Southam Child Unm 1 F Wyoming England Scotland
(1880 Federal Census, Uinta, WY Enum. Dist. 2 Reel 1454 Page 334)

On Christmas Eve 1885 George went to the ranch to take care of the cattle. In the evening he prepared to return to town, as the family was going to a Christmas party at the church. As he crossed the ice with his team and wagon, the ice broke. George, with his team and wagon, were dragged under the ice and drowned. Friends searched for his body, but were unable to find it for several days: "His body went under the ice, and wasn't found for five days while his family suffered, and friends searched in vain to locate his body. All had given up hope of finding him, when the mother of George Southam appeared to his daughter Alice (thirteen years old), in a dream. She told Alice her name was Lucy Hunt, and she was George Southam's mother, and she needed her son to help her. She also told Alice where to cut the ice, some mile or so from where he had drowned to find him. Alice said she had seen the willow branch that he was lodged in, in her dream just as plain as when they saw it, and found her father. Alice woke her mother in the night after her dream, and said, "We will find Papa tomorrow." James Williams said he would try just this one more place, and then they would give up the search, as it was so cold on Bear River, cutting ice. This time Alice showed them the right place to cut, and they were successful. About a week before George Southam was drowned, he had a dream that he was going on a mission. He told his wife that he was either going on a foreign mission or would be called to the other side of the veil, and if he did die to be sure he was buried in a Mormon Cemetery, and in his temple clothes." George was buried in Randolph, Rich, Utah.


The Deseret News for January 4, 1886 read:

"Mr. George Southam, who for many years has been a resident of Uinta County, Wyoming, met with a fatal accident near his residence on Bear River, last Christmas day. He went to Evanston in the morning to transact some business and visit his family. His wife wished him to remain to eat dinner, but owing to having stock shut up at home that needed feeding, he decided to return to the ranch, eight miles distant, feed the animals liberally, and then return to his wife and children, after which he intended to attend the Christmas tree at the "Mormon" meeting house and then go to the ranch next morning. As he left, he told his wife that, if nothing happened, he would be back by 2 o'clock in the afternoon. The stated time came, the family waited for an hour or so, and then, coming to the conclusion that matters of importance had detained him, they gave up seeing him for the day. Evening came on and the family were busily engaged in preparing to attend the Christmas tree, when one of the daughters, a young woman, sang out to her mother that she heard her father drive up to the stable and shout "whoa!" to his team. Supper was made ready, and as it was getting late, the family left for church, leaving as they supposed, Mr. Southam to partake of a warm meal and then follow them. In the midst of the evening's enjoyment they were surprised to hear that Mr. Southam's team had been seen struggling in the river during the afternoon by passing railroad men. Parties immediately started to the rescue, and it was found that the team had broken through the ice over about eighteen inches of water, and, being unable to extricate themselves, had perished. Diligent search was made at the ranch and on the river bank, but no trace of Mr. Southam was found. It was at this juncture supposed he had gone under the ice, and a number of citizens proceeded to cut the ice from a shallow riffle below where it was known that the body could not pass, and after three days' hard work they found the corpse a short distance below where he went under the ice. The remains were taken to Evanston, an inquest held and verdict rendered in accordance with the facts. It was found upon examination that his neck was broken. There were also some slight abrasions about the face. As to just how the fatal accident occurred, is all conjecture, but it is supposed that the front wheels broke through the ice with such suddenness as to throw Southam form the wagon, striking upon his head with such force as to break his neck, after which the horses, in their floundering, probably forced him underthe ice. The funeral services over the remains of the deceased, who was a "Mormon," was held in the meeting house at Evanston on Wednesday evening last, and the body was sent to Randolph, Utah, for interment in the cemetery, there where several of his children are buried. Brother Southam was fifty-six years of age, and leaves a wife and a large family of children to mourn his loss. The bereaved family have the sympathy of a large circle of friends."

Another biography of George Southam:
FAMILY GROUP RECORD OF
GEORGE SOUTHAM
AND CATHERINE CAMERON

GEORGE W. SOUTHAM was born 29 October 1830 in Neithrop, Banbury Parish, Oxfordshire, England to Justinian Southam and Lucy Hunt. His mother died when he was only one year old. In the census of 1841, the ten year-old George is found living in Bourton with the Hunts, his mother's family who were weavers. George worked as a plush weaver in Banbury. He married Jane Carter 29 November 1854. They had one son, Finas Henry, born 28 January 1856 in St. Louis, Missouri. Finas Henry died 21 October 1856. George married Catherine Cameron 28 November 1862 in Salt Lake City, Utah. Catherine was born 21 April 1847 in Glasgow, Lanark, Scotland to John Alexander Cameron and Margaret Fairgrieve. George died 24 December 1885 in Evanston, Wyoming, and was buried in Randolph, Rich, Utah. Catherine died 17 August 1929 in Vernal, Uintah, Utah. George and Catherine had the following children:

1. Mary Jane, born 17 April 1865 in Round Valley, Morgan, Utah; marred Warren Leslie Allen; died 14 May 1913.

2. George Henry, born 5 May 1866 in Morgan, Morgan, Utah; married Elizabeth Jane Hacking; died 30 January 1959.

3.Eliza Ann, born 2 June 1868 in Evanston, Wyoming; died 28 December 1877.

*4. Alice Ellen, born 13 April 1870 in Morgan, Utah; married Joshua Haslam 27 July 1887; died 6 March 1952.

5. Ruth, born 3 February 1873 in Evanston; died 24 February 1873.

6.James, born 18 August 1875 in Evanston; died 22 June 1876.

7. William, born 5 July 1877 in Evanston; married Mariah Pope 24 December 1901; died 21 July 1941 in a family mystery.

8. Emma, born 15 May 1879 in Evanston; married Charles Holmes 21 May 1898.

9. Margaret, born 30 January 1882 in Morgan; married Don C. Pope 8 August 1900; died 8 Feb 1905.

10.John, born 13 April 1885 in Evanston; died as a child.

SOURCES: IGI; Endowment House records.