FAMILY GROUP RECORD OF
JUSTINIAN SOUTHAM
AND LUCY HUNT
Justinian (Jesse) Southam was born 12 March 1809 in Great Bourton, Cropredy, Oxfordshire, England to George Southam and Mary Hunt.


Baptism record for Justinian Southam in Cropredy:
"March 12th Justinin ye son of George Southam & Mary wife Little Bourton"


Justinian worked as a weaver. He married Lucy Hunt 15 October 1829 in Cropredy, Oxfordshire, England. Lucy was born Easter 1810 "of Little Bourton", Oxfordshire to William Hunt and Hannah.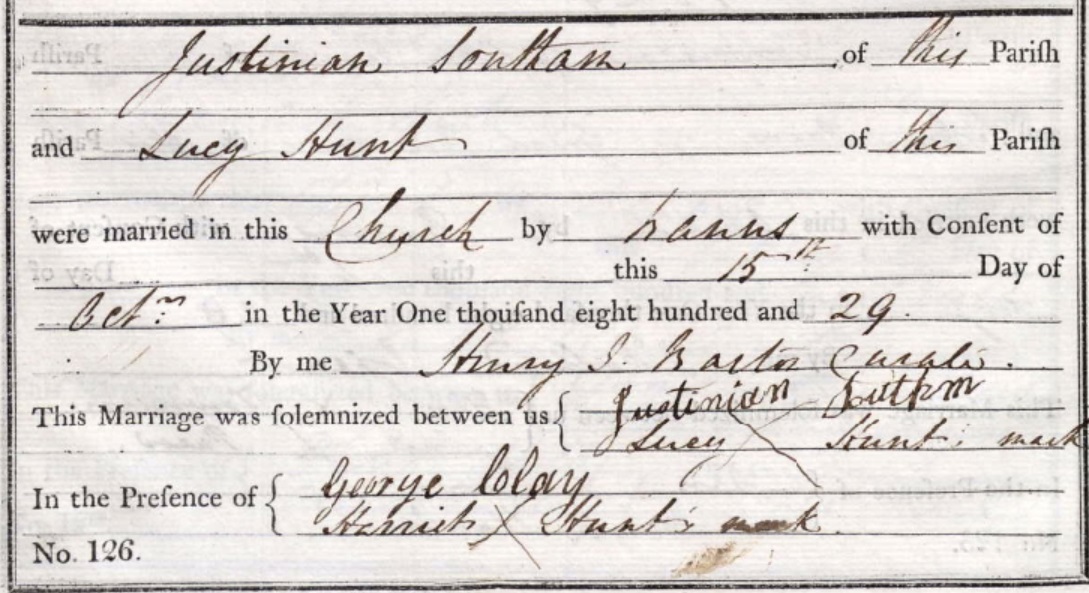 Marriage record for Justinian Southam and Lucy Hunt in Cropredy
Lucy died in October 1831, aged 21, and was buried in Great Bourton, Oxfordshire.


Burial record for Lucy Hunt Southam in Cropredy
Justinian then married Esther Bourton 22 Oct 1833 in Cropredy.

The family is found living in Brailes in the 1841 census. George lived with his grandmother in Cropredy.



1841 census for Brailes, Warwickshire
The 1841 census shows them in Upper Brailes village:
Justinian Southam, age 30, Plush Weaver
Ester " , age 25
Eliza " , age 6
Josiah " , age 2
Edwin " , 1 month
Justinian died 29 March 1848 in Keresley, Warwickshire.


Death record for Justinian Southam in Keresley

Esther later married William Kilpack, a plush weaver, on 21 June 1850 in Cropredy. Esther died in Salt Lake City, Utah 7 April 1879, and is buried in the Salt Lake City Cemetery.


Justinian and Lucy had one child:

*1.George, born 29 November 1830 in Neithrop, Oxfordshire, England; married (1) Jane Carter, (2) Catherine Cameron 28 November 1862; died 24 December 1885.


Baptism record for George Southam in Banbury, 1830
Justinian and Esther had the following children:


1. Eliza, born 27 June 1834 in Brailes, Warwickshire; died in 1888.

2. Hannah, born 11 April 1835; died 9 June 1835 in Adderbury, Oxfordshire.

3. Mary Ann, born 28 April 1836 in Great Bourton; christened 8 May 1836 in Great Bourton.

4. Joanna, christened 6 May 1838 at Adderbury, Oxford, England; buried 12 June 1838 in Adderbury.

5. Josiah, born 11 April 1839; christened 5 May 1839 at Brailes, Warwick, England; married (1) Mary Morbey 26 October 1866 in Banbury; married (2) Elizabeth Meyer 17 April 1908 in Salt Lake City; died 2 July 1918 in Salt Lake City. Josiah occupation is listed in the 1871 census of Banbury as a fishmonger. Josiah joined the Church of Jesus Christ of Latter-Day Saints, and emigrated to America on the Dakota in October of 1875. The ship's list shows Josiah, age 40, Mary, age 38, Sarah, age 15, James, age 11, Frederick, age 4, Edwin, age 3, and Mary, an infant.

6. Edwin, born 6 May 1841, christened 14 May 1841 at Brailes, Warwick, England, died 9 Feb 1865.

7. William, born 6 August 1845 in Great Bourton. William also emigrated to Utah. George's son, George Henry took his family to Salt Lake City to see: "where William Southam, his father's brother, lived in a dugout with his family. The dugout was about a block northwest of where the Capitol Building stands. William Southam was a lamp lighter in Salt Lake when all the street lights had to be lit individually, before they had electricity." (Alice Southam Cook, in the Life of George Henry Southam) William is found in the 1880 federal census in Salt Lake City: William Southam, age 32, born in England, occupation: laborer; Sarah Southam, wife, age 21, born in England, keeping house. (FHL#1255337, 19th Ward, Salt Lake City, Salt Lake, Utah, page 102D) William married Sarah Tims of Banbury before 1880, and had the following children: Justinian John (1880), William Heber (1883), Lillie Eliza (1885), Bernard Edwin (1887), Sarah Alice (1889), Lawrence Lawn (1892) and Vera L. (1894), all born in Salt Lake City.



SOURCE: IGI; Adderbury parish registers; Family Group Record submitted by Rhea Lewis; Mormon Immigration Index; Cropredy parish register; 1841 English census; Banbury parish register.