ALICE SOUTHAM HASLAM
(History of Alice Haslam as told by her to her daughters)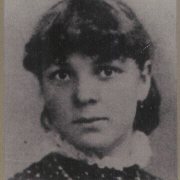 I, Alice Southam Haslam, am the daughter of George and Catherine Cameron Southam. I was born on April 13, 1870 at Morgan, Utah. I am the third daughter and the fourth child of the family.
George Southam, my father, was born at Oxfordshire, England on October 29, 1831. He joined the LDS Church in England, married Jane Carter in December 1854. Soon after their marriage they left Oxfordshire and sailed for America in December 1854. They were on the ocean sixteen weeks. The only ships those days were sailing vessels. They landed in New Orleans, then went from there to St. Louis, Missouri in February 1855.
Father was a weaver by trade, so they stayed in St. Louis a few years and worked until they could get enough money to come on to Utah; and left for Utah in 1861.
Their first home was at Morgan, Utah. Here he met Catherine Cameron. Polygamy being lived at that time, and his wife, Jane, not being able to have any children, asked George to marry Catherine so he could raise a family. So they were married on November 28, 1862 in Salt Lake City, Utah.
My mother, Catherine Cameron Southam, was born in Edinburgh, Scotland on April 21, 1847, a daughter of John Cameron and Margret Fairgrove. After joining the Church, they sailed for America. Her mother died in St. Louis at the age of 34 years, on the 26th of February, 1855, after giving birth to a son, John Cameron. Then John Cameron, Sr. married Alice Parkinson.
Soon after this they joined the Mormons in Nauvoo, and came across the plains in the William Wright Company, 1861. Grandfather Cameron was sick much of the time and walked a lot of the way. She was fourteen years old at this time. The stepmother gave birth to a baby girl while on the road. They gave her the name of Janette, who later in life married John Bennett.
They arrived in Utah in 1861, and made their home in Salt Lake City, Utah, then later moved to Morgan, Utah. Here my father bought a small farm, and also worked on the Union Pacific Railroad. Grandfather Cameron also lived near, and they were called to go back to Sweetwater to help a company of Saints to Utah. This was the last wagon train to go back to get the Saints. They had three children at this time, Mamie, Harry, and Elizabeth.
When I was about two years old my parents moved to Evanston, Wyoming. Father bought a ranch eight miles out of town where he raised cattle and owned some farm land. Each winter we would move into Evanston to go to school. We had a lot of sickness, and bad luck while living there. We all had the smallpox and lost our brother George.
Each winter after Father had moved us into Evanston for school he would drive the team and wagon back and forth to the ranch to feed the cattle, and it was during one of these trips on December 24, 1884 that Father was drowned while crossing Bear River on his way home from feeding the stock.
The day before this happened Father and Mother had planned on taking we children to the Christmas celebration at the church house, where they were going to have a large Christmas tree. As it came near time to go, and Father did not come, we thought perhaps he had decided to stay at the ranch all night. So we got ready, and went to the celebration, and did not hear of the accident until Christmas Day. As Father was crossing the river, the ice broke and took team, wagon, and all under into the water, although they had crossed in the same place many times, and never had this happen before. When it was first decided that he had fallen through the ice, they searched for him without success. so we knelt down and prayed to our Heavenly Father and asked for guidance. When we got up the next morning, I told them that I had seen the place where he was, and told them where to go, and they went and found our Father. My uncle was killed in a snowslide and they did the same thing, they prayed, and the next morning they found him. By chance? No, this was God's way of answering our prayers.
Then soon after Father's death we lost a little nine month-old baby boy - he had pneumonia. He was born April 3, 1885.
During this time Uncle Harry had taken up a homestead on Brush Creek at Vernal, Utah. When he heard of Father's death he came home and helped on the ranch the following summer, then in the fall he moved us to his farm on Brush Creek, Utah (Vernal). My sister Mary Jane, and her husband Warren Allen who had been living near us at Evanston and helping on the ranch, moved to Vernal at the same time.
Soon after this I started working out to help Mother support the family. Mother did lots of nursing, as well as caring for her own family. The first lady I worked for was Mrs. LaBue. While working I often stayed in town as it was so far to go home. I stayed at the home of Jerry Hatch many times. Uncle Harry worked for him also. I was at the time I was working at Mrs. Gibson's, who lived at Old Ashley town, when I first met Joshua Haslam at a dance in Maeser. He had come to Vernal about a year before we moved from Evanston. He had come from Salt Lake City with Charles Holmes and family, who were moving to Vernal. Mrs. Holmes, being Martha, Joshua's sister, had invited him to come along to see the country. He was working as a fireman on the railroad at the time so got a leave for a short time, then planned to go back, but after he arrive he ran out of money and liked the country, so decided to stay.
Mother was one of the main nurses in Vernal at this time. She and Dr. Hullinger traveled many a mile together by horse and buggy to take care of the sick, in all kinds of weather, confined lots of women who were not able to get to a doctor. She will long be remembered and admired by the people of Vernal for her faithfulness and love.
Then in the following spring after working for Mrs. Gibson, I went to work for Mrs. Hadlock who lived in Vernal, and I worked there until June, when Joshua and I decided to get married. Holmes;s were going out to the Temple, so we decided to go with them and get married in the Logan Temple, as the Salt Lake Temple was not yet completed. We went by way of Fort Bridger and Evanston, Wyoming. Aunt Lizzie Bennett lived near Evanston, so we visited with them on our way. Our way of travel was team and wagon. After visiting a day or so, we went on to Logan, and were married in the Logan Temple July 27, 1887. After we were married we stayed in Salt Lake City until fall. During this time Joshua worked for Bishop Brighton on a farm, and earned enough money to buy his own team and wagon to take back home, and also for the other expenses to come home with. Holmes's stayed and worked also. Joshua was offered his old job back working on the railroad, but I did not want to live in Salt Lake, so we came back home to Vernal in the fall, and took up a home stead in Naples. We had 160 acres of farm land and spent twenty years farming, and had nine children, five sons and four daughters. We lost two babies, George, born December 20, 1890, who died from croup April 7, 1902; and Willie, who died at birth, 1903.
In 1904, we sold our farm in Vernal for one in American Fork, Utah. We lived in Second Ward for a few years. While living there my daughter Katie was born, then we moved to a larger farm in Third Ward. At this time my oldest son Johnny was married. While living there I was a Relief Society teacher. My family all had typhoid fever, and I being so sick that Mrs. Wagstaff had to care for my youngest baby, Von. Grandmother Southam came out and helped nurse us at this time. Later on Joshua traded for a home and farm in First Ward again, and we had a lovely fruit orchard, as well as a farm. Joshua also rented land down by Utah Lake and raised sugar beets. At this time we had eleven living children. Three of the oldest were married. Then in the year 1916, Joshua traded his farm in First Ward for one in Bennett, Uintah county, Utah. There we had 160 acres of land. He also bought some cattle for himself and the boys, and the family moved to Bennett.
A year or so after we had moved to Bennett, World War I started. It was during this time that the terrible epidemic of influenza broke out among the people everywhere. There were many lives lost. Our oldest son Johnny and his family all had it very badly. Flossie (his wife) died, leaving him with five small children. One baby was ten months old (Glen). He was living in Salt Lake City at this time. Alice, my daughter, was there helping with the nursing. Also, Ruth was in Salt Lake, going to Business College. She had the flu, as it was called, and when she heard about Flossie's death she got out of bed, and went to Johnny's to help care for the children. As soon as they were better and things could be arranged, John and family moved to Bennett, leaving the baby, Glen, with Mrs. Wagstaff, his grandmother. She loved him so much she could not let him leave her, so he lived there with her until he was married.
So Johnny and his other four children - Kenneth, Niles, Helen, and Dean, moved in with us. The children were loved and cared for as much as our own. Johnny bought himself a large truck and hauled freight from Price, Utah to Bennett, and the Reservation for some time. In 1921, he married Rebecca Hartle, a nurse from the Roosevelt Hospital, and took his children with him. They bought a farm at Bennett, not far from our home.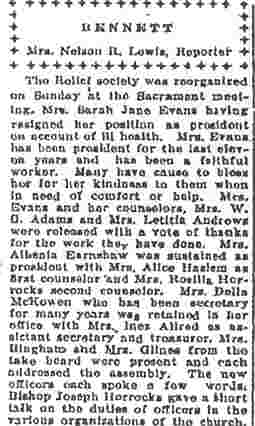 Vernal Express, June 17, 1921
While living in Bennett, I was First Counselor in the Primary, and a Relief Counselor to Mrs. Earnshaw. We lived in Bennett for nine years, then the family being mostly married and moved away, and Joshua's health not so good, we decided to move to Vernal. We just had three children left at home at this time- Von, Florence, and Velda. This was 1925.
After we moved to Vernal, my mother came to live with us. My sister Emma and I took care of her. She lived with Emma a month or so in the summer, and with us the rest of the year. She suffered with cancer for many years in her later life, although she tried to be happy and independent as she could be. She died at Emma's house August 29, 1929, at the age of 82.
We moved from town in Vernal after living there about two years, up to Maeser Ward, two miles north of town. We bought a large two-storied stone home, and a little over thirty acres of good land. It was a nice home, and we have been happy here. Joshua died here on August 4, 1934. Florence and her husband have now bought the farm, and I am living in part of the house with them. My family are all married. This is the year 1945, and I will be 75 years old on April 13, 1945.
My 75th birthday- my daughters Gladys, Florence, and Katie, who lived in Vernal had a birthday dinner for me at Katies's home. They invited families who lived close enough to come. I enjoyed it very much. My daughter Ruth called me on the phone from Reno, Nevada. I am thankful, for the Lord blessed me with a large family. I look forward to their coming home to see me every summer, which they all try to do. All eleven of them are living and enjoying good health. Lloyd and Florence are very good to me.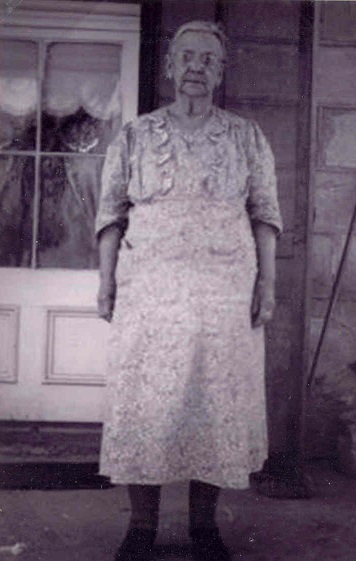 My 79th birthday- The girls had an open house in my honor. They invited all of my family and relatives and friends. I enjoyed visiting with them. I was glad my sister Emma and Charles, her husband, were able to come; also, my brother Harry Southam and his wife Isabelle. He is quite feeble- he was 83 last birthday. Aunt Janette Bennett is living in Vernal. She is quite comfortable there in her little home, although her health is not so good, she seems to be happy. She had lots of friends. She was 86 years old on her last birthday, the 9th of June 1949. Her neighbors gave her a little party. I was glad I could attend.
My health is poor. I can not go visiting as I would like to. Florence takes me to town when I am able. Sometimes I go and stay overnight with my brother Harry and his wife Isabelle, or go visit the girls occasionally. This is about all I am able to do, but I am thankful I have been able to take care of myself.
The summer of 1950, I had a bad hemorrhage and was taken to the hospital. I had to have a minor operation, and was there for two weeks. The girls were worried, and called all of the family home. I thought that it was the end myself- but I recovered, and my health has been fairly good again for a short time (operation stopped the blood loss).
Aunt Janette Bennett died at 4 a.m. Thursday, December 7, 1949 at the home of her stepdaughter, Mrs. E. R. Mitchell of Roosevelt. I am glad she was able to be with Blanch.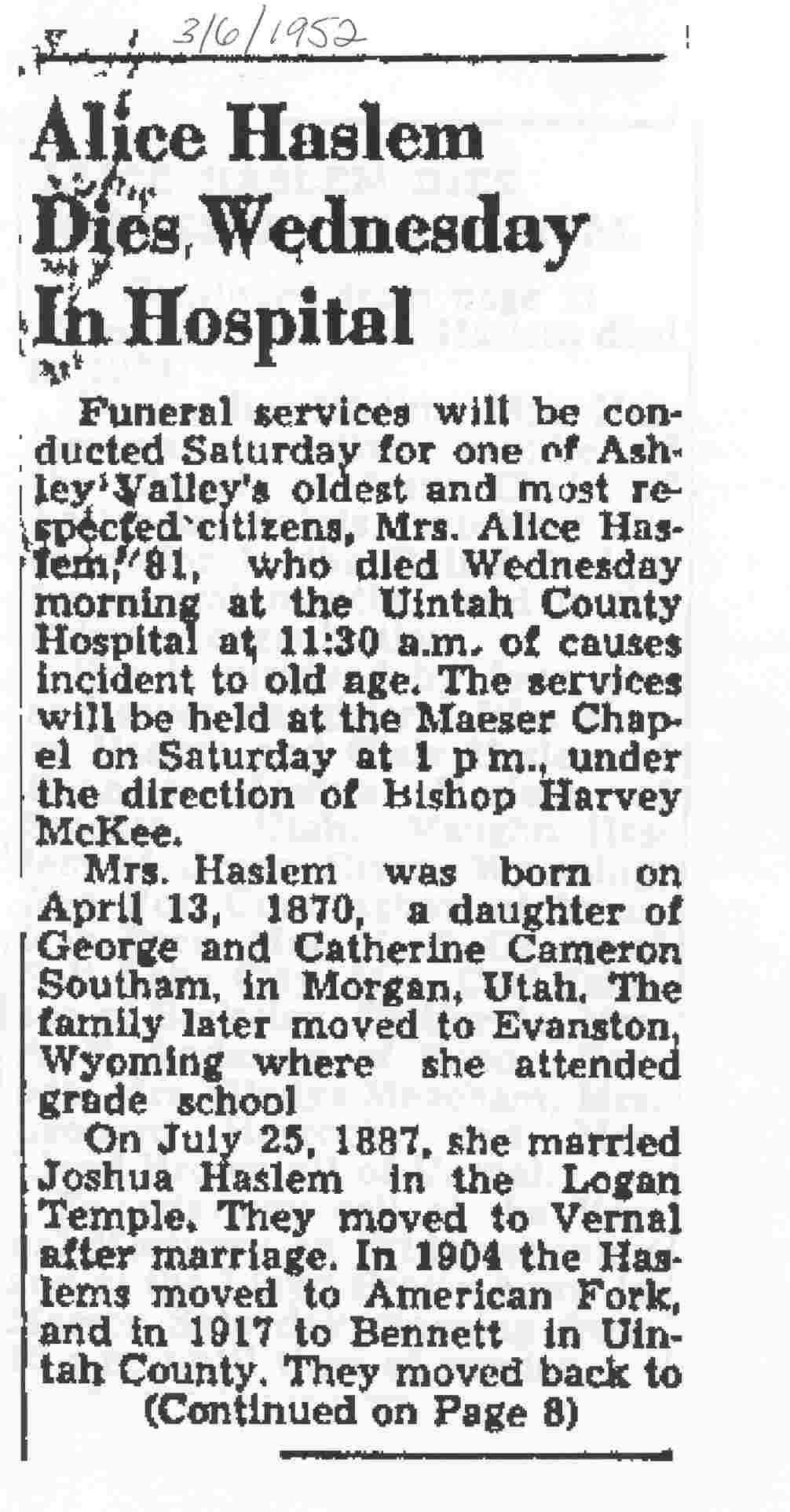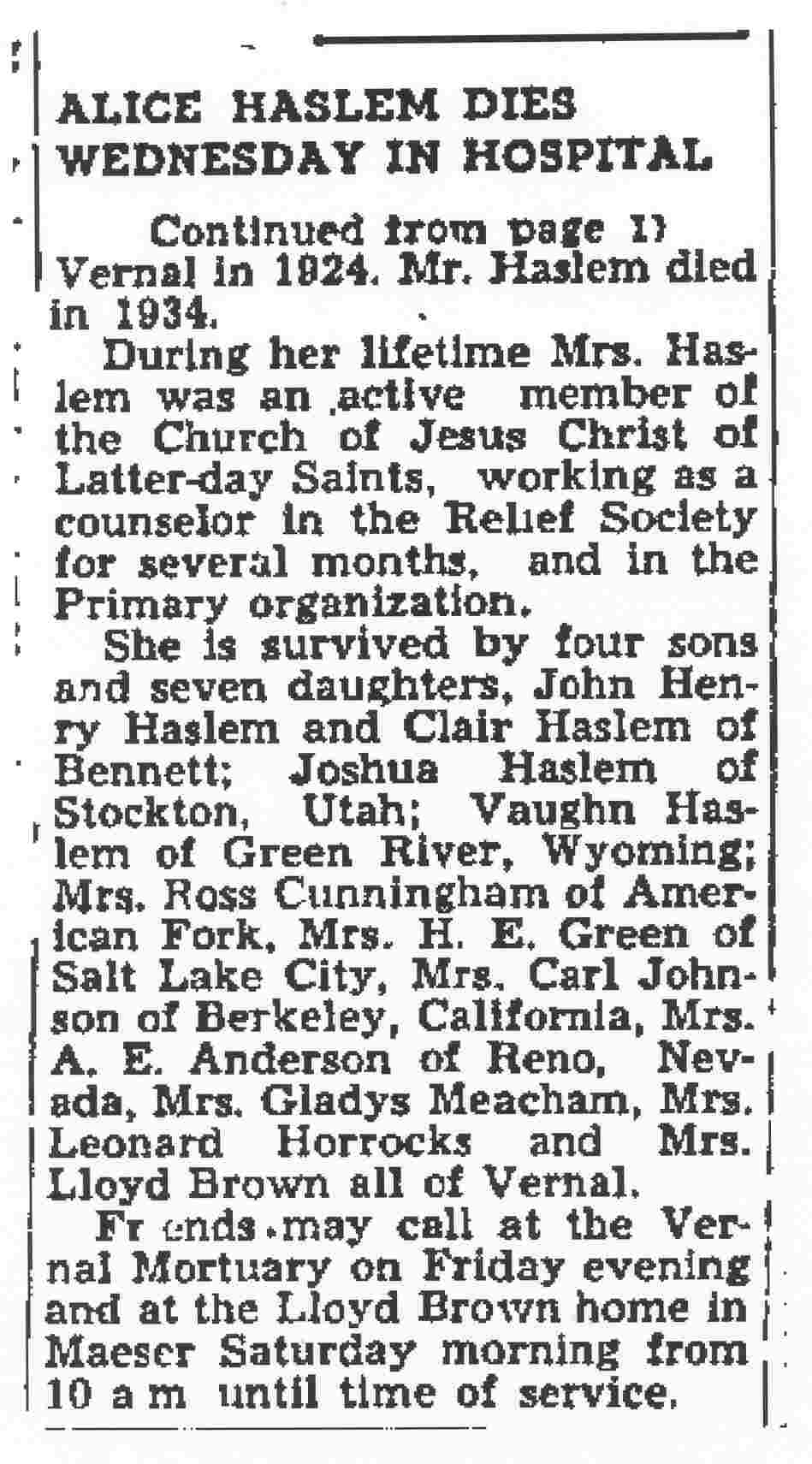 Vernal Express, March 6, 1952
Mother (Alice Southam Haslam) passed away Wednesday at 11:30 a.m., March 5, 1952, at the age of 81. She had a wonderful funeral. We had her with us to enjoy for two more years- her health was poor, but she still managed to get around the house- just not give up. She was in the hospital just one day when she passed away. She left a posterity of 128 direct descendants. She and her parents endured a lot for the sake of her religion, which she valued in life along with her children.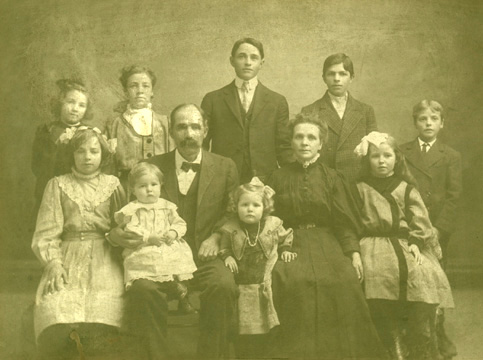 The Joshua and Alice Haslam Family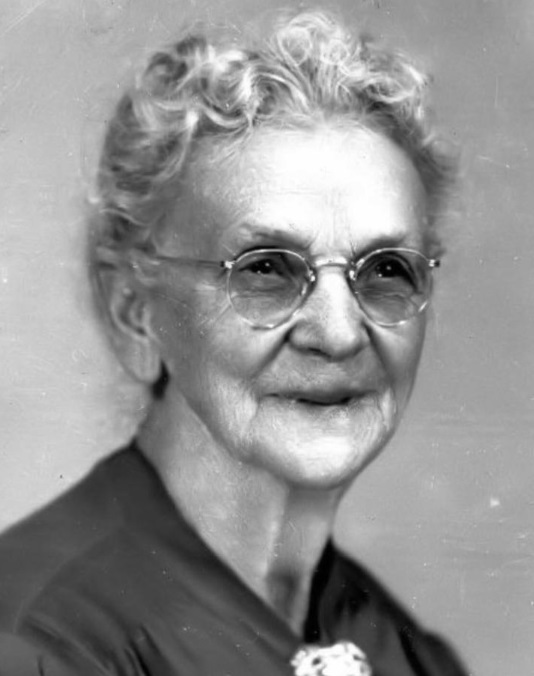 REMEMBERING GRANDPA AND
GRANDMA HASLAM
By Beulah Green Carey
"I remember Grandma and Grandpa Haslam (Alice Southam and Joshua Haslam). We used to go out every summer on their farm, their big eighty acre farm, and have lots of fun in this big sandstone house. it was about a block back from the road, and there was a creek, and you had to go over a little bridge on the creek to drive in your car, and open the gate because they had cattle. We used to swim in the creek. Every year all of Grandma and Grandpa Haslam's kids that could, would come about harvest time, which is July or August, and help get in the hay and wheat crop, and things like that. We'd have a big old family reunion. The men and the boys would all sleep out on the haystack. The women would sleep in the big farmhouse which had five bedrooms upstairs, one bedroom down stairs, and all the girls would sleep out under a big, huge weeping willow tree on cots or beds. It was a lot of fun, because usually the men would play jokes on each other, and usually someone would lay their blankets and wake up in the morning and find out they'd been laying them on a hen's nest or something like that. All of my mother's sisters and daughter-in-laws used to get together and do all the cooking. Grandma Haslam was a real good cook, so we'd have a big time. While we were there the threshers would come to thresh the wheat, and we would have the big, long, harvest table with all the men and the threshers around it, and they would have all kinds of food- turkey, ham, chicken, beef, and lamb. It was a feast. Lots of pies and cakes, and they would cook all day long, and then feed the men at noon, then the threshers would go home, and we'd have our family supper. All the kids had to wait until they were through, then we got the second seating at the table. But there was always plenty of food to go around.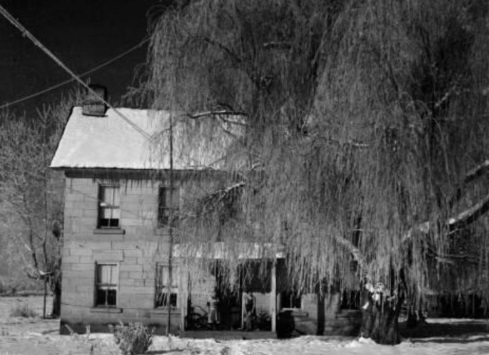 Joshua and Alice Southam's home, Vernal
Grandpa Haslam (Joshua Haslam) was lots of fun. He was a little, small-size, gray-haired man with a toothbrush mustache. He used to eat peas on his knife. He would gather the peas up and eat them up across his knife. He was real good at it. Grandpa always drove a horse and a buggy, until they finally talked him into buying a car. It was a one-seater. I guess you would call it a convertible, roll-back top. He was riding along in this old Star, which was the brand of car, and a horse or something ran out and kind of frightened him. He ran off the road, down into what they call the bar pit, which the ditch alongside the road, pulling back on the steering wheel, yelling, "Whoa! Whoa! Whoa! Dang ya, whoa!" After that he would never drive.
Grandma Haslam (Alice Southam) was a counselor in the Relief Society, and she used to go out, while we were there on vacation, and do her visiting teaching in a horse and buggy with another lady. Grandma was a good cook and she always did quilting, and things like that. She was busy. She was a farm wife. She raised vegetables and fruit and flowers in the front yard, and of course, Grandpa had the hay and the grain and the cows and pigs and the lambs and all that, all the cattle in the back. The house originally was about a twelve bedroom house, and they tore down part of it and made what they call the granary, and they would store apples and grains and things like that. Then they had an underground cellar which had steps down under a big mound of earth. It was about twenty feet long, and they would store their hams, and their cheeses, and their meats, and the things that had to be cold down under there. It was always interesting to go in and see all the food stored up for the winter.
These remembrances of Beulah Green Carey were tape recorded by her daughter, Alice Carey Boyd, in 1988. Beulah is the daughter of Joshua and Alice Haslam's daughter, Alice.

RECIPES OF ALICE SOUTHAM HASLAM
CHICKEN CORN CHOWDER
3 cups chicken broth 3/4 cup butter
1 Tbs. parsley 3/4 cup flour
1 cup chopped celery 1 qt. half & half
1/2 cup onion 1 cup frozen corn
1 tsp. salt 1 cup noodles (optional)
Pepper to taste 1 cup chicken (cooked & deboned)
Cook first six ingredients until the vegetables are tender. Melt butter. Add flour to the butter, mixing until smooth. Stir in half & half. Add this to the vegetable mixture and stir well. Add corn, noodles, and chicken. Simmer one to two hours. For best flavor make soup a day ahead.
CARROT PUDDING
2 cups grated apples 2 cups raisins
2 cups grated carrots 1 cup shortening
1/2 cups sugar 2 tsp. cinnamon
4 unbeaten eggs 1 tsp. cloves
1 cup walnuts, chopped 2 tsp. nutmeg
4 tsp. baking powder 1 tsp. soda
1/2 cup milk 1 tsp. salt
3 cups flour
Cream sugar and shortening; add eggs and beat. Add apples, carrots, raisins. Add milk and flour that has spices added. Stir well. Makes 13 X 9 pan. Bake 350 about 45 min.

Sauce: Mix 1 cup sugar, 2 Tbs. cornstarch, and add to two cups boiling water. Cook until as thick as desired, and add 4 Tbs. butter and 1 tsp. vanilla. Be sure to stir sauce all the time when cooking.
VEGETABLE SOUP
Cook short ribs of beef in water, cut off meat and cut into small pieces. Add vegetables that are grated (carrots, celery, cabbage), about a cup of each. Also a large handful of split peas and pearl barley that have been soaked overnight in water, using the water in the soup. Season to taste.

Source: These recipes were collected by Alice Southam Haslam's great-great granddaughter, Michelle Anne Boyd. They were given to her by Velda Johnson, Alice's daughter.



If you have any additional information about this family, please contact me at alice@boydhouse.com.