MARGARET FAIRGRIEVE

Margaret Fairgrieve was born 14 April 1818 at Fallhills, Scotland. Glasgow Branch records show that Margaret said she was born in Fallhills, the parish of
Peebles
, the county of Edinburgh (which is now Midlothian). Her parents were James Fairgrieve, a farmer of Fallhills and Margaret Morrison/Murdison.

The parish of Peebles has no townland of Fallhills, but the parish of Penicuik, just to the north, has a small farm and steading of Fallhills. Penicuik means the hill of the cuckoo, and was "a town and parish in the South of Edinburghshire…the town which stands, 600 feet above sea-level, on the left bank of the River Esk, by road is 12 miles north by west of Peebles and 10 miles south of Edinburghshire." (Extract from Groomes Ordnance Gazetteer of Scotland, c. 1895) Ordnance survey maps show Fallhills just south of Penicuik, near Howgate.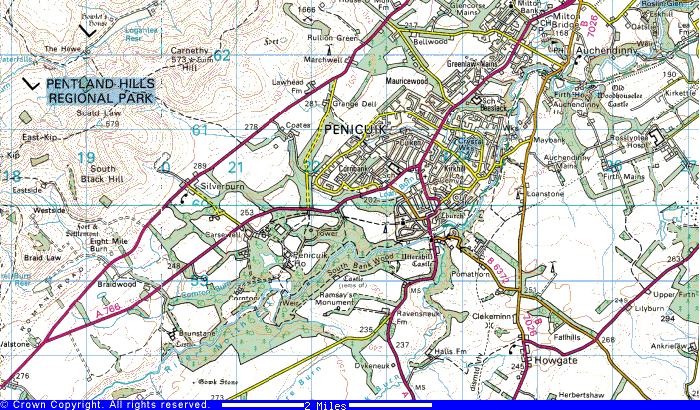 A closer view shows tiny Fallhills, with only one building showing on the map. There is still a Fallhills farm there.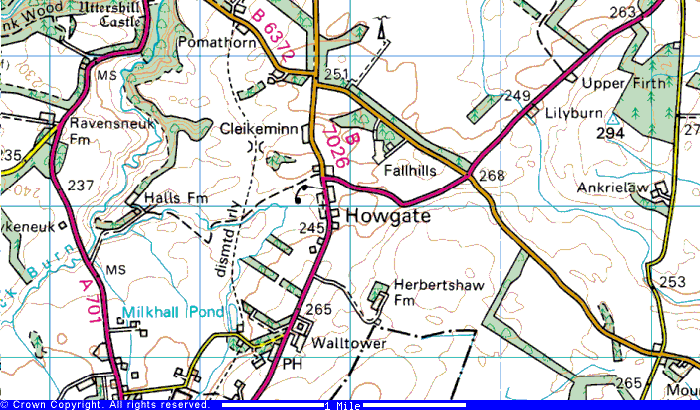 The Peebles parish register shows the marriage of James Fairgrieve, farmer in the parish of Lasswade, and Margaret Murdison, the daughter of Andrew Murdison, tenant in Newbie in this parish, on 9 July 1802.




Marriage record for James Fairgrieve and Margaret Murdison in Peebles


In addition, Catherine Cameron's (Margaret's daughter) family records say that Margaret had one brother, Andrew, and two sisters, Ann and Marion. They are listed in family record books as being from Edinburgh or Carder Bank, Lanarkshire. The record shows that Ann married Andrew Gardiner and Marion married Will Angus Patterson. No christening records have been found for Margaret or her siblings, but Margaret's parentage has been established through other research on her siblings.
The parish register for St. Cuthberts, Edinburgh shows the marriage of Andrew Armstrong Gardener and Christina Fairgrieve:
July 13 1837
Andrew Armstrong Gardener of the Edinburgh Gas Light Company, residing in No. 17 St. Patrick Square in this parish, and Christina Fairgrieve, residing in No. 19 St. John's Street of the parish of Canongate, daughter of the late James Fairgrieve, sometime Farmer at Fallhills in the parish of Penicuik, have been three several times duly and regularly proclaimed in order to marriage, in the parish church of St. Cuthberts, and no objections offered.
Married on the Thirteenth day of July current by the Reverend Alexander Crawford one of the Ministers of the Synod of Ulster at Randalstown Ireland.
(Source: FHL# 1066765)




Marriage record for Christina Fairgrieve and Andrew Gardener in St. Cuthberts

In addition, the banns were read for Andrew Armstrong Gardner and Christian Fairgrieve in her parish of Canongate, Edinburgh. Researcher Dorothy Hein has copies of letters sent to Margaret Fairgrieve Cameron from her sisters, Christina Gardner and Maria Angus. These letters provide important clues to clear up the mystery of Margaret's sisters. It is clear that the Ann Fairgrieve listed in the temple record books was Christina (Christian) Fairgrieve. Marion Fairgrieve, who supposedly married Will Angus Patterson, was Maria (Mary) Fairgrieve who married Will Angus, and lived in Patterson, New Jersey.

Transcripts of letters to Margaret from her sisters and friend are shown below. Copies of these letters are in the possession of Margaret's descendants.

A letter to Margaret prior to her going to America, from her sister Christina Gardner:
Edinburgh April 7th/48
My Dear Margaret
You will be surpprised I did not answer your last before this time but I have had to take time to consider what to answer you. I have just come to this conclusion, that if Andrew can give no help I fear you may give up thoughts of going at this time. I mentioned in my last what Mr. G. was able & willing to do. But more we cannot do. Ever since our marriage we have never been so pushed for money, but we are not singular in this. The whole country is in distress and excitement. You must just write to me on receipt of this, and say what your mind is, and if John has had employment or any prospect. I did not send the parcel, as the cloth will do till another time. Every shilling just now is precious and you nor I cannot force it out of the ground. Marie has not had time to answer our letter yet, and when it does come I am sure they cannot offer to do more than what she offered at first, so we need not look with any hope for its arrival. I really hope that in the good providence of God something for John may soon turn up. In the meantime, your plan and duty is to be seeking to improve John in spelling, writing & arithmetic. If any thing will raise a man, that will. If you think of this send me word what a month or a quarter fee is, and I will bear the expense. I remain your affectionate sister,
Chrisa Gardner
17 St. Patrick's Square
A letter to Margaret from her sister Mrs. (Christina) Gardner:
Addressed to:
Mrs. J. Cameron
attn William McKeachie
7 Graham Street
Glasgow
17 St. Patricks Square
Edinburgh
May 5th 1848
My Dear Margaret
I delay not to forward this letter to you. She is still in the mind that you are to go and without delay, although I see not how you are to get cloths to appear on your arrival. Mr. G. you know will see to your provisions, but then what of your debt? Could you not get them to lie out of it till you are able to remit it to them. I have no way of helping you more or glad would I be to do it. I am glad to think you are leaving your little pet, as it would have hurt yourself and done her no good to have continued longer. I have written to Andrew. I do not however expect him to attend to it. I think Marie is very kind. She has sent you a note for a pound, beside passage money. I really hope you may so prosper as that you may be enabled to repay something of her kindness. I fear you will not be ready by the 15th of current month. 15 June I think will be the nearest you can go to get every thing decent to appear. I will send you the cloth for shifts by the first train tomorrow morning. You or John will be leaving on its arrival and you must send a note immediately saying you have received it, also stating how matters are with you. If John has no prospect you should get him to go on a visit to his friends, which will save his board, and you live with Andrew. I will expect a letter tomorrow evening. I am pretty well. I hope to be able to see you before you leave. I would like you to get a strong box for provisions made.
Your sister,
C. Gardner
A very sweet letter to Margaret from her LDS friend, Maggie Young:
Paterson, March 17 1853
Dearest Brother & Sister Camarn
We have at last received your long expected letter and I hasten to answer it. I cannot describe to you the joy it gave us to think that we were kindly remembered by those we love so much. We are sorry to hear that you had not got farther on as we expected, but we hope you will be able to gather this year. We have had one letter from Sister Grigary that they had arrived at the Valley in Oct. They like the country very much. We have had a good discription of the Valley from two Breathern from there. They were sent on a mission to England and getting out of means they were sent here. Their names are John Perry and John Mayer, two very nice men and we derived a great deal of instruction from them. They give a delightful account of the Valley. Dear Sister, how I wish I was there and to see you all once more. How often we have thought of you and prayed for you and wondered wether you had forgotten us or not. Dear Sister, how often have I imagined that you were living in Paterson and I was coming to meeting to your house, but alas! how disappointed our immagining. In your letter you did not mention anything about Cassy or James. We heard that you had lost James, but we hope this cannot be true. The little seventy must be a fine boy by this time as Brother Ross called him. We have not heard from him since he has been to the Valley. Old acquaintances are soon forgot. We have seen severel of the saints from New York, and Doctor Bernhisal has been here from Washington, so you see we have not been left without seeing the face of a saint which is allways welcame. Orson Pratt is publishing a pamphlet called the Seer in Washington about Celestial Marriage. We take it. Mary Brown has an addition to her family, a little son, another pledge of love. It is a fine child. They live in Passaic. I have saw her since I received your letter and she sends her love to you all. Your sister, Mrs. Angus, goes to the Scotch Prysbeterian Church very regular, and I believe they have joined it. Maggie does not go to school now. I have been on a visit to Connecticut all summer. I had a very pleasant visit, but it was not like being with the saints. How lonesome we did feel after you went. We did miss you so much and how often we have wished you was here, so that we could come and see you. I do not go to school now. Robert has grown in a fine boy, but he is so mischevous. Esther often speaks about you and her Cassy Camarn, as she calls her. She remembers you very well and always will. John and Ebenezar go to school and send their best wishes to you and John. Mary is on a visit to her grandmothers. Mother wants to know if it was not hard work to travel, let alone in a Wheelbarrow. Your journey must have been tedious, and we can sympathise with you. She wishes she was where you are. Father says he is sory that you did not push on with the rest of the saints, like Mrs. Taylor, and not care what they said. Dear brother and sister, I scarcely know what to write that will interest you. We desire your prayers, for remember we are surrounded by the evils of the wicked world, and we will ever pray for you, and remember you. Does brother John preach now? I am sure he must be an excellent preacher by this time. O how I should like to be sitting in the window of your house sometime, unnoticed. It would do me good. Dear sister, I have wandered from one subject to another, and I fear I shall tire you by my letter. It is getting late and I must draw to a close. Answer soon and write a long letter. Our love to Brother Camarn, and tell him to persevere, for I know he is a good man. No more at present -
From your sister in the true, and everlasting covenant.
Maggie Young
Swiftly down lifes swelling tide
May our vessels sweetly glide
And may we anchor side by side
In heaven.
Maggie
Excuse the writing.


A letter to Margaret from her sister, Maria Angus, after Margaret has left Patterson, New Jersey and is probably in St. Louis. The last digit of the date is hard to read, but looks like a five. If that is the date, then this letter was written several months after Margaret had died.
Paterson, June the 2d 1855?
My Dear Sister,
I take this oppertunity of writing as I am anxious about you. It is nearly three months since I received a note from you, in which you were well and happy, and John getting along good at his trade, which gave us great pleasure. At your request I made Margaret write you immediatly and not having heard from you, as you spoke of sending some money. We have concluded some of you must be sick. Please write on receipt of this and put me out of suspence. William has been sick with intermittent fever but is getting better. The rest of us are in our usual health. I have no news of any importance to write you. I suppose Mr. Young and Sullivan have wrote you. I have not seen any of them this same time. Have you had any letter from Christinia yet? I wrote her after I heard from you, but have had no letter yet. You mention in your last that your health was poor. I hope you feel better. There is no greater blessing heaven can bestowe, and allas we are often ungratfull for our mercies. Please write me on receipt of this. I must conclude as I have a _____ _____. My love to John and the children, in William and Margaret joins. Has Catherine forgotten Jane yet? I add no more, but remain your sister.
M. Angus
These letters establish Christina, Marion and Andrew as Margaret's siblings. (To view scanned copies of the letters, click here.)

Death certificates for Margaret's brother Andrew and sister Christina list their parents as James Fairgrieve, a farmer, and Margaret Fairgrieve, maiden name Morrison.
Andrew died 9 April 1873 in Carderbank, Old Monkland, Lanarkshire, Scotland. His occupation is shown as a gas manufacturer and his residence is Fairgrieve Land, Calderbank. He was 68 years old and he was a widower. His parents were James Fairgrieve, farmer, deceased and Margaret Fairgrieve, maiden surname Morrison, deceased. The cause of Andrew's death was apoplexy (a stroke). The informant for the death was his daughter, Minnie.





Death certificate of Andrew Fairgrieve
Christina died 17 December 1872 in Newington, Edinburgh, Scotland. She was shown as married to Andrew Armstrong Gardner, a superintendent and collector for the Edinburgh Gaslight Company. Her residence was No. 11 Upper Grey Street, Edinburgh. She was 62 years old. Her parents were shown as James Fairgrieve, farmer, deceased and Margaret Fairgrieve, maiden surname Morrison, deceased. The cause of death was acute rheumatism, and the informant was Andrew Gardner, widower.





Death certificate of Christina Fairgrieve Gardner
These certificates establish James Fairgrieve and Margaret Murdison or Morrison as the parents of Andrew and Christina, and so it follows that they were the parents of their siblings Maria and Margaret Fairgrieve.

Margaret married John Alexander Cameron, a shoemaker from the Scottish highlands. They were married 26 August 1845, most likely in Glasgow. Margaret was baptized into the Church of Jesus Christ of Latter Day Saints on 5 November 1845 in Glasgow by Robert Gillies. John had been baptized the week before. A daughter, Catherine, was born to them in Glasgow in 1847. A year later they emigrated to the United States. John and Margaret stayed with her sister, Maria, in Patterson, New Jersey. Margaret became very ill, and doctors did not expect her to live. John sent for the Mormon elders. They came and gave her a blessing. She was promised that she would be healed and that a son would be born to them. Margaret was healed, and James Alexander Cameron was born in 1851. They lived in Patterson for four years. John had told Margaret not to tell her sister about their conversion. Maria and her husband had negative attitudes about Mormons. For a while Margaret kept their religion secret, but she was so pleased with her membership that she finally told her sister. Margaret expected her to be glad, but instead her sister ordered them out of her house. They moved to St. Louis, Missouri. They lived on 6th and St. Charles streets in St. Louis, a few blocks from the LDS Church on 4th and Washington Streets.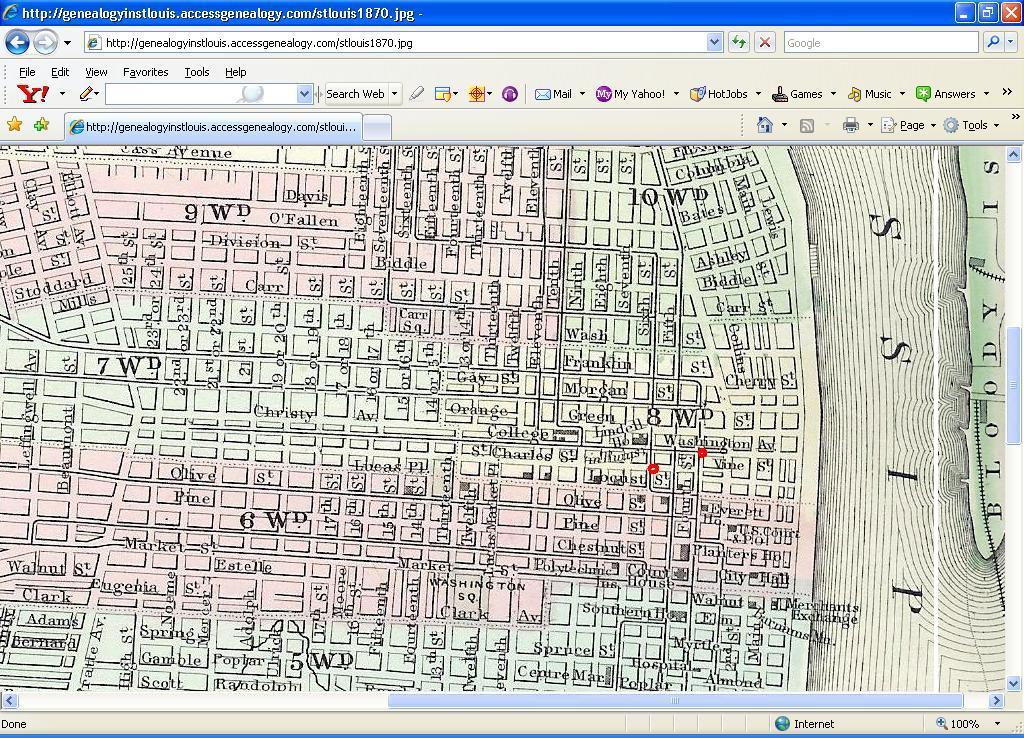 St. Louis in 1870 - the red dots represent the location of the Cameron's home on 6th and St. Charles, and the LDS church on 4th and Washington Streets.
Margaret's illness returned. Margaret's daughter, Catherine, was so used to illness that she used to pretend her dolls were sick so that she could nurse them better. Catherine later became a nurse.On 5 March 1855, Margaret died of "croup", most likely pneumonia. She was only 34 years old, and left behind her husband, her eight-year old daughter, Catherine, and her four year old son, James. She was buried in the City Cemetery in St. Louis on March 26 1855. The City Cemetery was on Jefferson Avenue, between Wyoming and Arsenal Streets. She is buried alone there, as her family continued across the plains. Margaret sacrificed her life for her religion.

MARGARET'S DNA


In 2012, I had my maternal (mitochondrial) DNA tested by Ancestry.com. This is the line which goes through Catherine Cameron to Margaret Fairgrieve, and back through her mother's mothers. The testing showed that this maternal line, found in lowland Scotland, was Middle Eastern, found in high numbers in European Ashkenazi Jews. The line began in the Holy Land, traveled to Egypt and Syria, then north to Tuscany. From there it spread through Europe, and to lands northward. It is fairly rare, and is found in 6% of Europeans, and 10% of those in the British Island. (This DNA matches the mitochondrial DNA found in Otzi the Iceman in the Alps.) This means that Margaret's maternal line was most likely Hebrew. The haplotype is K1C2.


FAMILY GROUP RECORD OF
JAMES FAIRGRIEVE
JAMES FAIRGRIEVE and MARGARET MURDISON (MORRISON) were married 9 July 1802 in Peebles, Scotland. At the time of his marriage, James was a farmer of Lasswade. Both James and Margaret died before 1837. James and Margaret had the following children:

1. Andrew, born in about 1805 in Penicuik; married Janet Campbell 12 June 1826 in St. Cuthberts, Edinburgh, Midlothian, Scotland; had children: James (1827), Robert )1832), William (1834), Andrew (1839), Christina (1843), Janet (1845), Walter (1847), and Marion (Minnie) (1849); Andrew died 9 April 1873 in Carderbank, Old Monkland, Lanarkshire, Scotland. Andrew worked as a quarryman.

2. Maria (Marion), born in about 1809 in Scotland; married Will Angus; moved to Patterson, New Jersey; had daughters Margaret, born about 1838 in New Jersey; and Jane, born in about 1846 in New Jersey; Maria died before 1880.

3. Christina (Ann), born 1810 in Penicuik; married Andrew Armstrong Gardner; had children: John Jabez, Margaret, Christina, Helen Mary, all christened in St. Cuthberts, Edinburgh, Scotland; died 17 December 1872 in Newington, Edinburgh. (Christina Fairgreave, age 14 is found living with the family of William Angus in the 1870 census in New Jersey. Her occupation is shown as a domestic. The members of the household are David Henry, age 33, Margaret Henry, age 32, Sarah Henry, age 11, William Angus, age 60 and Christina Fairgreave, age 14. )

*4. Margaret, born 14 April 1818 at Fallhills, Penicuik, Midlothian, Scotland; married John A. Cameron 26 August 1845; died 26 February 1855 in St. Louis, Missouri.

SOURCES: James A. Cameron Temple Record Book, FHS# 673267-8; Catherine Cameron Southam Temple Record Book; Glasgow Branch LDS records, FHS# 104152, Peebles parish register; IGI (www.familysearch.com) citing film #2034848; copies of letters to Margaret Fairgrieve, in possession of Dorothy Hein; Christina's marriage - St. Cuthberts parish register, FHL# 10666765; Fairgrieve database, compiled by George Fairgrieve; 1860 census, Eastward Patterson, Passaic, New Jersey; death certificates for Andrew Fairgrieve and Christina Fairgrieve Gardner; 1880 census, Passaic, New Jersey on familysearch.com; 1851 Scotland census; 1861 Scotland census.




If you have any additional information about this family, please contact me at alice@boydhouse.com.