FAMILY GROUP RECORD OF
JOHN BLACKWELL AND
ANN LAMPHREY
John Blackwell was born in about 1560. John is likely the son of John Blackwell, a shepherd, of Horley, Oxfordshire. Horley is a neighboring parish, about three miles from Great Bourton. John married Ann Lamphrey 14 November 1585 in Cropredy, Oxfordshire.



Marriage record for John Blackwell and Ann Lamphrey in Cropredy:
"Jhon Blakwell & Annes Lamprye were married the xiiijth daie of November"

John worked as a laborer. Ann is shown as Ann or Annis in the parish register. Ann is most likely the daughter of William and Avys Lamphrey of Cropredy.


John is mentioned in the will of John Pryous, husbandman of Great Bourton in 1590. John Pryous left a cottage to John Blackwell, and made him executor of the will. "Item I geve to John Blackwelll and his heires for and all that my cottage situat and beinge in Great Bourton aforsaid, wherein Mr. Shurlie now dwelleth, and all houses buildinge, barnes stables, orchards, gardens, backsides, landes lease pastures comans of pasture, feedinge and all other comon dities and proffits unto the said cottage belonginge or in any wise appertaininge, I geve alsoe unto the said sayde John Blackwell and his heires". He left a bequest to Elizabeth Blackwell, daughter of John Blackwell. Elizabeth would be about one year old at this time. "I geve to Elizabeth Blackwell the doughter of John Blackwell my blacke hogrell." John Pryous also left lands to Joan Blackwell, and had Richard Blackwell act as an overseer for the will.


John was buried 1 December 1625 in Cropedy.



Burial record for John Blackwell in Cropedy:
"John Blackwell was buried the ffifte daye of December anno predicto 1625"
Ann was buried 1 March 1639 in Cropedy.


Burial record for Anne Blackwell in Cropedy:
"Anne Blackewell was buried the first day of March"

An inventory was created after John's death in January 1625/6: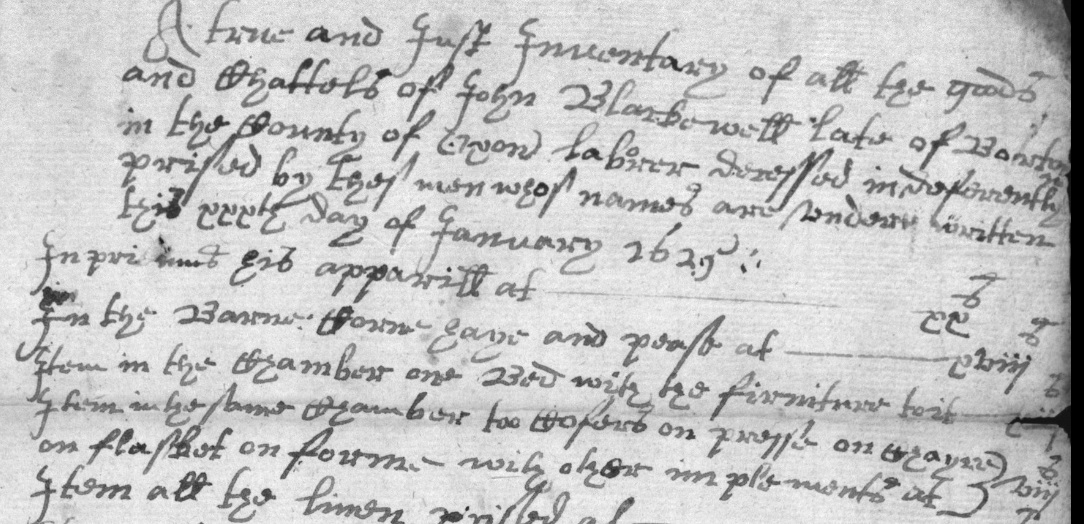 Inventory for John Blackwell, 1625
A true and full inventory of all the goods and chattels of John Blackewell late of Borton in the County of Oxon, labourer, deceased indeferrently prised by those whos names are under written the cccth day of January 1629.
Imprimis, his apparill at
In the barne: corne, haye and pease at
Item in the chamber one bed with the furniture to it
Iten in the same chamber too cofers, on presse, on crayzze, on flax shet, on forme with other implements at
Item all the linen prised at
Item, in the house on little table and a form and som other implements at
Item, halfe one brasse pan and all other brasse at
Item, the pewter at
Item, too barrels and all other copery ware at
Item in the foald halfe one buff of wheate
Item all other implements unprised at
Edward Watts
William Tayler
Thomas Blackwell
John Waren his mark
Anna relicta erat __ Ja: 1625

John and Ann had the following children:

1. William, christened 3 December 1587 in Cropedy; buried 20 December 1587 in Cropedy.

*2. Elizabeth, christened 14 January 1589 in Cropredy; married Richard Tims 17 January 1614 in Cropedy.

3. Thomas, christened 23 September 1591 in Cropedy; married Dina.


SOURCE: IGI; Cropredy parish register; inventory of John Blackwell, 1625.


There is an inventory and administration for Richard Blackwell, laborer, of Great Bourton in 1632. It mentions Joane Blackwell alias Taylor the sister of Richard Blackwell: "The condition of this obligaton is that if Joane Blackwell als Taylor ye natt & lawfull sister and the above bound William Gardner the kinsman and administrator of all and singular the goods, cattles, & chattels, credits and debts of Richard Blackewell late whilest he lived at Bourton in the parish of Cropedie in ye Countie of Oxon, deceased". The inventory is appraised by Edward Watts and William Taylor, both of whom were appraisers for John Blackwell's inventory.


It seems likely that Richard Blackwell was John Blackwell's brother, and Joane Blackwell was their sister. John's children are the only Blackwell children baptized in Cropredy in the 1500s. Joanne was christened in 1572, the daughter of John Blackwell.



FAMILY GROUP RECORD OF
JOHN BLACKEWELL


John Blackewell was born in about 1540 of Horley. He was a shepherd. John died and was buried 20 June 1589 in Horley.



Burial record for John Blackewell in Horley:
"Johanes Blackewell sepultus 20 die Junij anno dom 1589"



John had the following children:

*1. John, born in about 1560; married Annes Lamphrey 14 November 1585 in Cropredy.

2. Richard

3. Joanna, christened 23 April 1572 in Horley; married Mr. Taylor. Her father John is listed as a shepherd in her christening record.

4. Emeria (Emme), christened December 1573 in Horley; married Mr. Lester 17 November 1600 in Horley.

5. Thomas, christened 21 April 1577 in Horley.

6. William, christened 2 February 1581 in Horley.

7. Eeddee (Edith), christened 10 November 1583 in Horley.

SOURCE: Horley parish register extract on CD; Horley parish register on www.findmypast.co.uk.