PAMELO WISHAW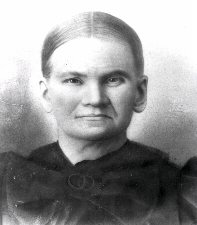 Pamelo was born April 14, 1841, at Worcester, Worcester, England. Her father was James Frederick Wishaw and her mother Maryann Merrick. By 1843 the family was living in Birmingham. Pamelo was christened 27 January 1845 at St. Martin's Parish, Birmingham, Warwickshire, England. James Wishaw was a fishmonger in Birmingham. Pamelo had younger siblings: Frederick, Susannah, and James. Her father died when she was six years old. The family moved in with Maryann's parents, James Meyrick and Elizabeth Bumford Meyrick, in Ludlow, Shropshire. In Ludlow, the family met Mormon elders, and were baptized in the River Teme in 1849. When Pamelo was twelve years old, her mother died of dysentery. Pamelo's grandparents raised the orphaned children.
<![if !supportEmptyParas]><![endif]>

When Pamelo was fourteen years old, the Meyricks and the orphaned Wishaw children came to America. Pamelo was fourteen, Susannah ten, and James seven years of age. They crossed the Atlantic Ocean on the ship Sanders Curling and arrived in New York, May 22, 1855.
<![if !supportEmptyParas]><![endif]>

The ship's passenger list shows:
<![if !supportEmptyParas]><![endif]>
James Meyrick, Age 57, laborer, Origin: Ludlow
Elizabeth Meyrick, 56, wife, Ludlow
George Meyrick, 18, laborer, Ludlow
Pomelo W. Meyrick, 14, spinster,Ludlow
Susannah Meyrick, 10, Ludlow
James Meyrick, 7, Ludlow
<![if !supportEmptyParas]><![endif]>

Address of the family, April 1, 1855, as recorded on the ship register was:
James Merrick, Ludlow, Shropshire, England.
<![if !supportEmptyParas]><![endif]>

From the Millennial Star: "On the twenty-second of April, 1855, the ship, Samuel Curling, sailed from Liverpool with five hundred and eighty-one Saints on board, of whom three hundred and eighty-five were Perpetual Emigration Fund emigrants, all under the presidency of Elder Israel Barlow, who had acted as pastor of the Birmingham and Warwickshire Conferences. William Willis, on his return form a mission to India, and other prominent elders embarked on the on the Samuel Curling, which, after a safe and pleasant passage, arrived in New York on Tuesday, the twenty-second on May. During the voyage three children were born, and as there were no deaths on board the net increase was that number. Elder Peter Reid, who emigrated to America as a passenger in the Samuel Curling, in 1855, and who now resides in Sixteenth Ward, Salt Lake City, told the writer some time ago that the ship encountered several storms in her passage across the Atlantic, but that she passed safely through them all. In the midst of one of these storms the captain got somewhat disheartened, and declared to Brother Barlow, the president of the company of emigrants, that he, in his long experience as a seafaring man, had never encountered a worse one; he then added that the tempest had not reached its highest point yet, but that the next half hour would be worse still. Brother Barlow, in reply, told the captain that the storm was nearly over, and would not increase in violence. This bold remark of Brother Barlow made the captain angry, as he thought he knew more about the weather and the sea than anyone else on board; but on going into his cabin to examine his barometer and other nautical instruments, he found that Brother Barlow was right; the storm abated almost immediately. Elder Barlow afterwards told some of the Saints that while the storm was raging he saw the ship surrounded by scores of angels, who stood in a circle around it with joined hands. This was a testimony to the Saints that the Lord was watching over the ship, and that there was no danger. Most of the passengers left New York en route for the Valley on the twenty-fourth, going by steamboat via Amboy to Philadelphia, where the emigrants were placed on the railway train, and left Philadelphia on Friday the 25th, about noon, arriving in Pittsburg on the morning of the twenty-seventh (Sunday). The same day the P.E. Fund emigrants of the Samuel Curling joined the like passengers who had crossed the Atlantic in the Chimborazo, and on the steamship Amazon they continued the journey to St. Louis, whence they proceeded to Atchison, Kansas." (Millennial Star, Vol XVII, pp. 280, 397, 399, 423, 459, 461, 490)
<![if !supportEmptyParas]><![endif]>

They then traveled across the plains with the Captain Milo Andrus Company, which arrived in the Great Salt Lake Valley on October 24, 1855.
<![if !supportEmptyParas]><![endif]>

Members of the Milo Andrus Company:
<![if !supportEmptyParas]><![endif]>
James Merrick
Elizabeth Ann Merrick
Pamelo Wishaw
Susan Wishaw
James Wishaw
<![if !supportEmptyParas]><![endif]>

The trip was difficult for Pamelo. Her uncle, John Meyrick describes her arrival in the Salt Lake Valley: "Pemlow has been very sick of the mountain fever. Most of the hair has come out of her head."
<![if !supportEmptyParas]><![endif]>

John Meyrick had settled in the Pleasant Grove area. The family traveled there, and moved into the house he had built. Here she met Samuel Green, and they were married August 28, 1858. They had sixteen children.
<![if !supportEmptyParas]><![endif]>

Pamelo is described in the History of the William Henry Green Family: "Pamelo Wishaw Green was fairly short and had a round face. Her eyes were deep set and her hair was dark. In dress she was neat and clean; but it was the gaiety of her spirit and the generosity of her nature that is remembered. Pamelo was a faithful church member. It was her practice for many years to see to it that flowers from her beautiful garden were taken to the chapel each Sunday morning to help create a spiritual atmosphere."
<![if !supportEmptyParas]><![endif]>

In Timpangos Town,Howard R. Driggs wrote of her, "In a certain town lived a helpful lady whom everyone called Aunt Pamelo. Every Sunday she would bring a beautiful home-grown bouquet to place on the stand at church. Whenever there was a wedding or a funeral, she expressed her heart through flowers. At one time the Superintendent of the Sunday School expressed appreciation for her gift to help cheer the day. He said, "Aunt Pamelo, how can you grow such beautiful flowers all year?" "Oh, I just love flowers," she replied, "And I think they love me."
<![if !supportEmptyParas]><![endif]>

Samuel and Pamelo built a two-story soft rock home which still stands. She planted her beautiful flowers around her home. She was also a good cook, and made "gooseberry pies which her children remembered into their adulthood. Stewed tomatoes heated with morsels of bread, and diced onions in bread and milk are dishes she made and ones still served on the tables of her descendants."(The History of the William Henry Green Family)
<![if !supportEmptyParas]><![endif]>

Pamelo Wishaw Green suffered from asthma: "For many years she slept propped up by pillows and was ever seeking relief through the patent medicines the traveling drug salesmen brought to town. She died of the ailment at 9:00 a.m. on January 10, 1907, at 65 years of age." (The History of the William Henry Green Family) Pamelo Wishaw Green was buried in the Pleasant Grove Cemetery.
<![if !supportEmptyParas]><![endif]>
<![if !supportEmptyParas]><![endif]>

The Deseret Evening News, Saturday, January 12, 1907, carried this item:
<![if !supportEmptyParas]><![endif]>




DEATH OF MRS. SAMUEL GREEN
<![if !supportEmptyParas]><![endif]>

Tuesday, Mrs. Samuel Green, wife of Samuel Green, died at her residence here. She was the daughter of James and Maryann Wishaw, born in Birmingham, England, April 14, 1841. She embraced the gospel in her youth and came to Utah in 1856. She married Samuel Green, August 28, 1858, and was the mother of fifteen children, nine boys and six girls; eight survive.
<![if !supportEmptyParas]><![endif]>

For many years she was a member of the ward choir and was an active worker in the Relief Society, Sunday School, and Primary until her health failed her.
<![if !supportEmptyParas]><![endif]>

She had endured the privations of the early settlers, and was always found on the right side, doing good. She leaves a large number of grandchildren and a host of relatives and friends.



If you have additional information about this family, please contact me at alice@boydhouse.com.