ELIZABETH ANN BUMFORD

Elizabeth Ann Bumford was born 16 January 1799 in the parish of Bettws Cedewain, Montgomeryshire, Wales. She was the daughter of Edward Bumford and Margaret Davies. Elizabeth was the oldest daughter in the family. She had an older brother, John, three younger brothers, David, Edward and Lewis, and a younger sister, Mary.


The parish of Bettws Cedewain lies in a sheltered valley on the banks of the Bechan river. It is about five miles from Newtown. The name "Bettws " comes from the Welsh, meaning prayer house. The village is ancient. The site was probably used by Roman soldiers. An ancient church was founded here by St. Beuno in the 6th century. It is an agricultural community. The population in the 19th century was 579 people.


Elizabeth's brothers were also all born in the parish of Bettws Cedewain. The parish record also lists the township for the two younger brothers' births. Edward and Lewis were both born in Dolvorwin township, Bettws parish. This is the site of the ruins of Dolforwyn Castle. Dolforwyn Castle was built by Llywelyn the Last in 1273. Llywelyn ap Gruffudd built the castle as a snub to the authority of the English crown. The castle fell to Edward I just four years later, and was little used thereafter. It was in ruins by the 1390s. The ruins of the castle remain today.


When Elizabeth was 18 years old when she married James Meyrick on 3 August 1817 in Bettws.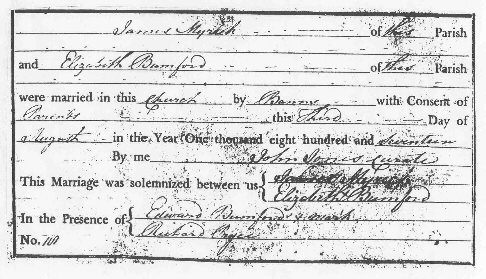 Parish register for Bettws Cedewain, Montgomeryshire, Wales
showing the marriage of James Meyrick and Elizabeth Bumford

After their marriage, James and Elizabeth moved from place to place, as James sought work. Their first child, Maryann, was born in Neen Sollars, Shropshire, England in 1820. The next child, James, was born in Milson, Shropshire, England in 1822. John was born in Eastham, Worcestershire, England in 1828 and died one year later. The next child was also named John, and was born in Talgarth, Brecon, Wales in 1831. Another daughter, Susannah was born next in Warwick, Warwickshire, England in 1834. George William was born in Leamington, Warwick, England in 1838. Finally, Frederick was born in Worcester, Worcestershire, England in 1839. He died two months later.


Elizabeth's son, John, kept a diary which describes some of the family's later moves: "My father's work called him away to another place called Boarson. We stayed there two years, then we moved again. So his work, it did not last long in one place, for it was draining the land and making pools and coach roads and such like, for the Lords of the land. Then we moved to Trembury (Tenbury, Worcestershire), but did not stay there long." The family next moved to Ludlow, Shropshire, England.


It was in Ludlow that a great change came into Elizabeth's life. The family met Mormon elders preaching the gospel. Elizabeth was the first in the family to believe and to accept the gospel. She was the first one baptized, in August 1849 at Ludlow in the River Teme. She was baptized by Elder Edward W. Jones. Her husband, James, was baptized next. In the next month the children Maryann, John, Thomas and George were baptized. The family began to save their money to be "gathered to Zion."


Four years later, in 1853, they were able to send their son John ahead to Utah. They gave him the eight pounds necessary, and sent him with Elder William Finch. In that same year their daughter, Maryann, died. She was the widow of James Frederick Wishaw, who died in 1847. Maryann died of dysentery, leaving three children: Pamelo, age 12, Susannah, age 9, and James, age 7. Elizabeth took on the responsibility of raising her grandchildren.


Two years later the family prepared to leave England, and cross the ocean to America. On April 22, 1855 they boarded the ship "Sanders Curling". Elizabeth was 56 years old. James and Elizabeth, their son George, and the three grandchildren crossed together on the one month journey. They arrived in New York, and traveled to Kansas, where they joined the Milo Andrus company and crossed the plains to Salt Lake. Their son, John, describes their arrival: "Father MacArthur brought the Deseret News to me and said my folk's names were in it, and they were in Salt Lake City. I started for them right off, riding a wild horse, and found them at Brother and Sister Meredith's. Father very sick and has been most of the time while crossing the plains. Pemlow has been very sick of the mountain fever. Most of the hair has come out of her head." Elizabeth must have been busy caring for her sick husband and granddaughter.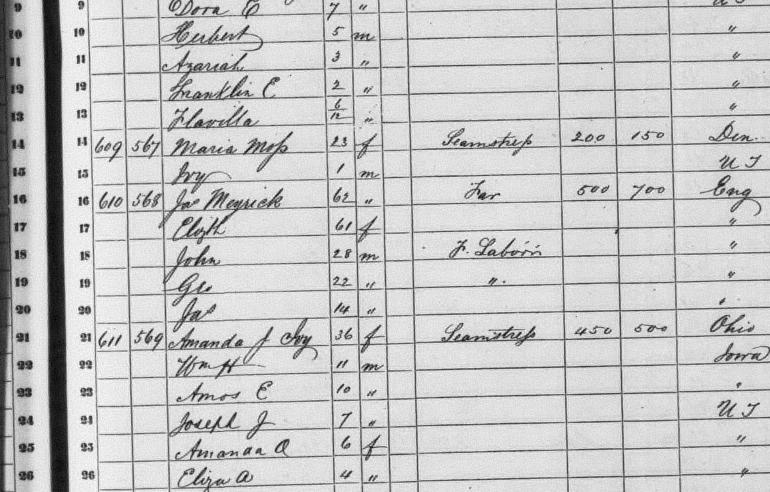 1860 census, Pleasant Grove, Utah County, Utah
The family settled in Pleasant Grove. Times were hard, with grasshoppers destroying crops, and scarce food . They settled into John's house. In 1860 they moved to Mt. Pleasant. John and George helped them build a house in the fort.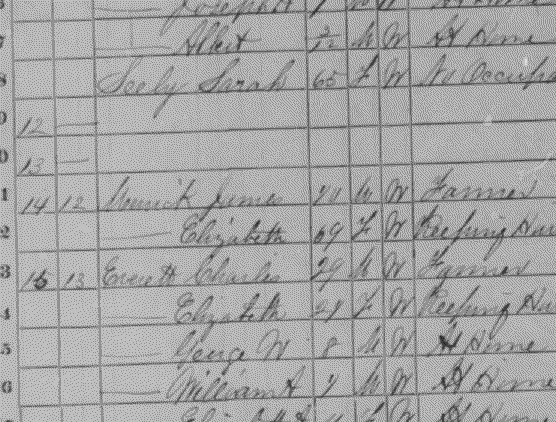 1870 census, Mt. Pleasant, Sanpete County, Utah
James died in 1871, leaving Elizabeth a widow at the age of 72.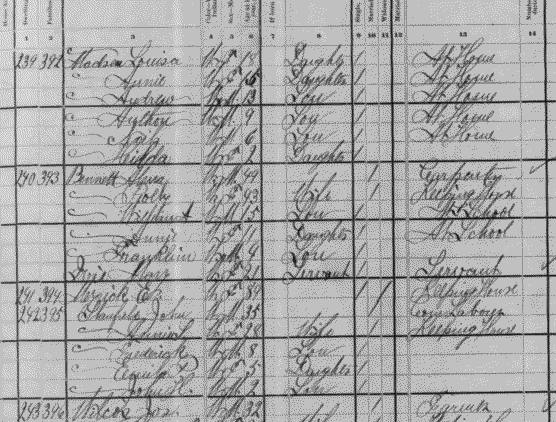 1880 census, Mt. Pleasant, Sanpete, Utah
Elizabeth is found living alone in the 1880 census in Mt. Pleasant:

E. Meyrick, age 89, born in Wales, keeping house

Census place: Mount Pleasant, Sanpete, Utah
FHL# 1255337
Page #: 361A
She passed away twelve years after James, at age 84, on January 10, 1883 in Mt. Pleasant.







If you have additional information about this family, please contact me at alice@boydhouse.com.