Twenty-First Generation

21-1 Adam DE ALDITHLEY was born about 1005 in Hooton, Cheshire, England.

"Among the Norman knights who accompanied William the Conqueror into England in 1066, were Adam de Alditheley and his two sons, Lydulph and Adam. These received, as did others of William's associates, large possessions from the conquered lands as a reward for their services."
http://freepages.genealogy.rootsweb.com/~stanfam/stanname.htm


21-3 Walchelinde (Walkelin) DE FERRERS was born about 1010 in Tutbury, Stfrd, England. He died in 1089.

"Walkelin de Ferrers, who fell in a contest with Hugh de Montfort I. early in the reign of Duke William, in which both of these noblemen were killed" http://www.mathematical.com/ferrershenry1036.html


"He was slain in the civil wars which distracted Normandy during the minority of Duke William, later William the Conqueror." http://www.btinternet.com/~russell.robinson/Ferrers.htm


"FERRERS, the name of a great Norman-English feudal house, derived from Ferrières-St-Hilaire, to the south of Bernay, in Normandy. Its ancestor Walkelin was slain in a feud during the Conqueror's minority, leaving a son Henry, who took part in the Conquest." http://99.1911encyclopedia.org/F/FE/FERRERS.htm


"William and Henri were both the sons of Walkelin de Ferrierers, seigneur of St.Hilaire de Ferrierers near Bernay in Normandy. The family were allied to the Count of Mortain, half brother of the Duke of Normandy. Walkelin had been killed in a joust with Hugh de Montfort prior to the Conquest, when both men died."
http://www.infokey.com/Domesday/Derbyshire.htm


21-5 Robert, Count de MORTAIGNE, son of Harlevin de Conteville and Harlette de Falaise,was born about 1037 in Mortaigne, Normandie. He died on 8 Dec 1090 in France. He was buried in Abbaye de Grestain. He married Maude de MONTGOMERY before 1058.

"Robert de Mortaigne, maternal brother to king William the conqueror, was created by that monarch earl of Cornwal, which title became extinct by the forfeiture of William, second earl of Cornwal, 1106."
http://www.genuki.org.uk/big/eng/History/Barons/Extinct1Earls.html


21-6 Maude de MONTGOMERY, daughter of Roger de Montgomery and Mabel Talvas,was born about 1041 in Mortaigne, S-Mnch, France. She died in 1107. She was buried in Grestain Abbey.


21-7 Ranulph PEVERELL was born about 1030 in Normandy, France. He married Ingelrica Maud about Dec 1072 in Hatfield, Essex, England.

"The village derives its name from Ranulph Peverel, a knight of William the Conqueror who married Ingelrica daughter of Ingelric one of the richest and most powerful Saxon noblemen in Essex, the founder of St. Martin's-le-Grand in London."
http://www.hadfelda.demon.co.uk/hatpev/hpshome.htm


21-8 Ingelrica Maud, daughter of Ingelric of England, was born about 1032 in St. Martin's-le Grand, England.

"One story is that the daughter of Ingelric, an AngloSaxon nobleman, and a benefactor if not the founder of the collegiate church of St. Martin-le-Grand, London, having been the mistress of Duke William and the mother by him of a son named after him, married subsequently Ranulph Peverel, who accompanied the Conqueror to England, and that not only the children born of that marriage, but also the Duke's son William, were thenceforth known by the name of Peverel. The other version is, that the lady, by Leland called Ingelrica, and by Morant, Maud, was the wife of Ranulph Peverel before she became the mistress of the Duke, whose son by her took the name of her husband's family."

http://www.patpnyc.com/conq/peverel.shtml


"Ingelrica was a beautiful woman, and thereby attracted the attention of William the Conqueror. When the King became tired of her, she was permitted by her Royal seducer to marry Ranulph whose name is on the roll of Battle Abbey."
http://www.hadfelda.demon.co.uk/hatpev/hpshome.htm


21-9 Roger de MONTGOMERY, son of Roger de Montgomery and Josceline de Ponteaudemer,was born in 1022 in Shrewsbury, Shropshire, England. He died on 27 Jul 1094 in Shrewsbury, Shropshire, England. He was buried in the Abbey of St. Peter and St. Paul, Shrewsbury, Shropshire, England. He married Mabel TALVAS in 1048 in Perche, France.

"Roger was a councillor of William, duke of Normandy, before his invasion of England and was probably entrusted by William with the government of Normandy during the expedition of 1066. Roger came to England in the following year and received extensive grants of land in different parts of the kingdom. He was created earl of Shropshire in December 1074, a position which gave him palatine control of that county and placed him among the greatest of the Marcher lords; but he and his successors were usually styled earls of Shrewsbury. A great patron of monasticism, he became a monk in his newly founded Abbey of Shrewsbury just before he died in 1094."

http://www.ccma.ca/~mbone/webtree/data/geraldine_a/research0.htm


"King William (William the Conqueror) turned to another close friend and advisor, Roger of Montgomery, to control the middle range of the frontier (between England and Wales), and he built up a strong feudal enclave centred on his new castle of Shrewsbury. The gains which Earl Roger and his commanders made were compact and, with the exception of Arwystli, did not drive deeply into Wales, but they extended over a long stretch of the frontier. Roger of Montgomery died in 1094, to be succeeded in Normandy by his eldest son, Robert de Belleme, and in England by his second son Hugh, whose tenure of the earldom of Shrewsbury was brief."

http://www.castlewales.com/roger_m.html


"Roger de Montgomery was already an extremely powerful man in his native Normandy and had been a close friend of William's since William was a teenager as he was his cousin. He was present at the Council of Lillebonne in 1066, and agreed to contribute 60 ships to aid the invasion plans of England. He returned with William from Normandy in 1067 and he was summoned to attend Chrismas at Gloucester with the king where he was awarded his honours as one of William's most trusted men.

Earl Roger immediately started to build a classic motte and bailey castle of timber on his Sussex estate. It was planned with a central motte between two baileys, rather than the single bailey of most Norman castles and was similar in consruction to the double bailey plan of Grimboscai in Normandy, South of Caen.The Earthworks at Arundel were begun in 1068 and are still in superb condition. They consist of a central motte protected by a deep fosse (dry ditch) on the west side. The motte is 100ft high from the bottom of the ditch and 69ft high on its inner side with a total dimesion north to south of 950 ft. The original timbers were gradually replaced with stone, starting first with the curtain wall and gatehouse, which still survive with its original retangular portcullis groove.

In 1071 Roger was made Earl of Shrewsbury, and although these lands were not in control of the Crown, the new Earl added his own special share to the conquest at the expense of the Welsh. This was done by setting up political govenment and a well devised scheme of castle-building. He later secretly supported the Conqueror's eldest son, Robert Duke of Normandy, in his claim against William Rufus, but took no active part in the rebellion. Roger de Montgomery died in 1094 and was succeeded at Arundel by his son, Robert, known as Robert de Belleme."

http://www.castles-abbeys.co.uk/Arundel-Castle.html


"Arundel castle is situated in magnificent grounds overlooking the River Arun in West Sussex. There is nearly 1,000 years of history at this great castle. It was built at the end of the 11th century by Roger de Montgomery, Earl of Arundel. His ghost is reputed to haunt the keep."
http://www.uktravel.com


21-10 Mabel TALVAS, Countess Alençon, Bellême & Seez, daughter of William Talvas, was born about 1026 in Alencon, France. She died on 2 Dec 1079 in Bures Castle. She was buried on 5 Dec 1082 in the Abbey of Troarn, France.


21-11 Waldron de SAINT CLARE was born about 1015 in Normandy, France. He married Helena LE BON.


21-12 Helena LE BON was born about 1030 in Normandy, France.


21-13 Alured de TOTNAIS was born about 1015 in Barnstaple, Devonshire, England.


21-15 Roger de PITRES, Sheriff of Gloucester, was born about 1035 in Pitres. He died in England. He married Eunice de BAALUN in England.

"Roger de Pitres and his brother Durand were among the administrators of Earl William FitzOsbern of Hereford. They came from an estate in Normandy which Earl William had acquired from marriage into the Tosney family. Like many young men of the time, the brothers left their home to seek adventure."
http://users.codenet.net/dterhune/blkmtn/brecknock.html


21-16 Eunice de BAALUN, daughter of Drew de Baalun, was born about 1150 in Gloucester, England. She died in England.


21-17 Geoffroy de NEUFMARCHE, son of Thureyitel Neufmarche, was born about 1025 in Neufmarché, France. He married Ada de HUGLEVILLE in France.


21-18 Ada de HUGLEVILLE, daughter of Richard de Hugleville and Ada de Hugleville,was born about 1030 in St.Valbery-En-Caux, Normandie.


21-19 Osbern FITZRICHARD, son of Richard Fitzscrob, was born about 1055 in Herfordshire, England. He died in 1080 in England. He married Nest verch GRUFFYDD.

"In late 1087, Bernard acquired lands in Herefordshire through marriage to the heiress of Osbern FitzRichard, who had himself married a Welsh princess. Osbern was the son of Richard le Scrob, a Norman knight who, in the time of Edward the Confessor, built Richard's Castle on the Welsh border."
http://users.codenet.net/dterhune/blkmtn/brecknock.html


21-20 Nest verch GRUFFYDD, daughter of Gruffydd ap Llewelyn, was born about 1059 in Rhuddlan, Flintshire, Wales.


21-21 Ranulf, Count de BAYEUX, son of Ancitel, Count de Bayeux, was born about 1017 in Bayeux, Calvados, Normandy, France. He married Alix de NORMANDY in France.


21-22 Alix de NORMANDY, daughter of Richard III de Normandie, was born about 1021 in Normandie.


21-23 Richard D' AVRANCHES, companion of William the Conqueror at the Battle of Hastings, son of Toustien le Goz and Judith de Montanolier,was born about 1025 in Avranches, Normandy, France. He died in 1066. He married Emma de CONTEVILLE.

"Richard Goz, Vicomte d'Avranches, or more properly of the Avranchin, was one of the sons of the aforesaid Turstain, by his wife Judith de Montanolier, and appears not only to have avoided being implicated in the rebellion of his father, but obtained his pardon and restoration to the Vicomté of the Hiemois, to which at his death he succeeded, and to have strengthened his position at court by securing the hand of Emma de Conteville, one of the daughters of Herluin and Herleve, and half-sister of his sovereign. By this fortunate marriage he naturally recovered the lands forfeited by his father and bestowed on his mother-in-law, and acquired also much property in the Avranchin, of which he obtained the Vicomté, in addition to that of the Hiemois."
http://www.patpnyc.com/conq/avranche.shtml


21-24 Emma de CONTEVILLE, daughter of Harlevin de Conteville and Harlette de Falaise, was born about 1043 in Conteville, France. She was the half-sister of William the Conqueror.


21-25 William MALET, companion of William the Conqueror at the Battle of Hastings,was born about 1014 in Alkborough, Lincolnshire, England.

"William fought with distinction at Hastings, as the following Excerpt from Wace's "Roman de Rou" attests:
William whom they call Mallet,
Boldly throws himself among them;
With his flashing sword
Against the English he makes furious onset;
But his shield they clove,
And his horse beneath him killed,
And himself they would have slain,
When came the Sire de Montfort
And Lord William de Vez-Pont
With the great force which they had,
Him they bravely rescued.
There many of their men they lost;
Mallet they remounted on the field
On a fresh war-horse.
When the battle was over, Duke William entrusted William Malet to attend to the burial of the dead English king."
http://www.ott.igs.net/~rhmallett/families/fip00994.htm


"William Malet, Lord Malet, a Norman baron, one of the generals and companions of William the Conqueror, said to have been the brother of King Harold's wife, and to have been entrusted with the guard of Harold's body after he had been slain on the battlefield. After the conquest he was made Governor of York Castle and was slain in its defense about 1071. He married Hesila (Esilia) Crispin, daughter of Gilbert Crispin I, baron of Tillieres. She probably married (2) Alured de Lincoln, a great Domesday baron who attended Duke William on his expedition to England in 1066."

http://homepages.rootsweb.com/~pmcbride/james/f033.htm


21-27 William I "the Conquerer" of NORMANDIE, KING OF ENGLAND, son of Robert I, Duke of Normandy, and Harlette de Falaise, was born on 14 Oct 1024 in Falaise Normandie. He was christened in 1066 in the Norman Conquest as an adult. He died on 9/10 Sep 1087 in Hermenbraville, Rouen, Normandie. He was buried in Abbaye de St. Etienne, Caen, Normandie. He married Matilda, Countess Of Flanders in 1050 in Castle of Angi, Normandy, France.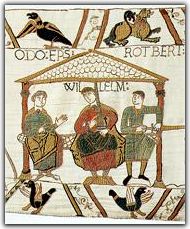 "Born around 1028, William was the illegitimate son of Duke Robert I of Normandy, and Herleve (also known as Arlette), daughter of a tanner in Falaise. Known as 'William the Bastard' to his contemporaries, his illegitimacy shaped his career when he was young. On his father's death in 1035, William was recognised by his family as the heir - an exception to the general rule that illegitimacy barred succession. His great uncle looked after the Duchy during William's minority, and his overlord, King Henry I of France, knighted him at the age of 15.

From 1047 onwards, William successfully dealt with rebellion inside Normandy involving his kinsmen and threats from neighbouring nobles, including attempted invasions by his former ally King Henry I of France in 1054 (the French forces were defeated at the Battle of Mortemer) and 1057. William's military successes and reputation helped him to negotiate his marriage to Mathilda, daughter of Count Baldwin V of Flanders. At the time of his invasion of England, William was a very experienced and ruthless military commander, ruler and administrator who had unified Normandy and inspired fear and respect outside his duchy.

William's claim to the English throne was based on his assertion that, in 1051, Edward the Confessor had promised him the throne (he was a distant cousin) and that Harold II - having sworn in 1064 to uphold William's right to succeed to that throne - was therefore a usurper. Furthermore, William had the support of Emperor Henry IV and papal approval. William took seven months to prepare his invasion force, using some 600 transport ships to carry around 7,000 men (including 2,000-3,000 cavalry) across the Channel. On 28 September 1066, with a favourable wind, William landed unopposed at Pevensey and, within a few days, raised fortifications at Hastings. Having defeated an earlier invasion by the King of Norway at the Battle of Stamford Bridge near York in late September, Harold undertook a forced march south, covering 250 miles in some nine days to meet the new threat, gathering inexperienced reinforcements to replenish his exhausted veterans as he marched.

At the Battle of Senlac (near Hastings) on 14 October, Harold's weary and under-strength army faced William's cavalry (part of the forces brought across the Channel) supported by archers. Despite their exhaustion, Harold's troops were equal in number (they included the best infantry in Europe equipped with their terrible two-handled battle axes) and they had the battlefield advantage of being based on a ridge above the Norman positions.

The first uphill assaults by the Normans failed and a rumour spread that William had been killed; William rode among the ranks raising his helmet to show he was still alive. The battle was close-fought: a chronicler described the Norman counter-attacks and the Saxon defence as 'one side attacking with all mobility, the other withstanding as though rooted to the soil'. Three of William's horses were killed under him.

William skilfully co-ordinated his archers and cavalry, both of which the English forces lacked. During a Norman assault, Harold was killed - hit by an arrow and then mowed down by the sword of a mounted knight. Two of his brothers were also killed. The demoralised English forces fled. (In 1070, as penance, William had an abbey built on the site of the battle, with the high altar occupying the spot where Harold fell. The ruins of Battle Abbey, and the town of Battle, which grew up around it, remain.)

William was crowned on Christmas Day 1066 in Westminster Abbey. Three months later, he was confident enough to return to Normandy leaving two joint regents (one of whom was his half-brother Odo, Bishop of Bayeux, who was later to commission the Bayeux Tapestry) behind to administer the kingdom. However, it took William six years to consolidate his conquest, and even then he had to face constant plotting and fighting on both sides of the Channel. In 1068, Harold's sons raided the south-west coast of England (dealt with by William's local commanders), and there were uprisings in the Welsh Marches, Devon and Cornwall. William appointed earls who, in Wales and in all parts of the kingdom, undertook to guard the threatened frontiers and maintain internal security in return for land.

In 1069, the Danes, in alliance with Prince Edgar the Aetheling (Ethelred's great-grandson) and other English nobles, invaded the north and took York. Taking personal charge, and pausing only to deal with the rising at Stafford, William drove the Danes back to their ships on the Humber. In a harsh campaign lasting into 1070, William systematically devastated Mercia and Northumbria to deprive the Danes of their supplies and prevent recovery of English resistance. Churches and monasteries were burnt, and agricultural land was laid to waste, creating a famine for the unarmed and mostly peasant population which lasted at least nine years. Although the Danes were bribed to leave the north, King Sweyn of Denmark and his ships threatened the east coast (in alliance with various English, including Hereward the Wake) until a treaty of peace was concluded in June 1070.

Further north, where the boundary with Scotland was unclear, King Malcolm III was encroaching into England. Yet again, William moved swiftly and moved land and sea forces north to invade Scotland. The Treaty of Abernethy in 1072 marked a truce, which was reinforced by Malcolm's eldest son being accepted as a hostage.

William consolidated his conquest by starting a castle-building campaign in strategic areas. Originally these castles were wooden towers on earthen 'mottes' (mounds) with a bailey (defensive area) surrounded by earth ramparts, but many were later rebuilt in stone. By the end of William's reign over 80 castles had been built throughout his kingdom, as a permanent reminder of the new Norman feudal order.

William's wholesale confiscation of land from English nobles and their heirs (many nobles had died at the battles of Stamford Bridge and Senlac) enabled him to recruit and retain an army, by demanding military duties in exchange for land tenancy granted to Norman, French and Flemish allies. He created up to 180 'honours' (lands scattered through shires, with a castle as the governing centre), and in return had some 5,000 knights at his disposal to repress rebellions and pursue campaigns; the knights were augmented by mercenaries and English infantry from the Anglo-Saxon militia, raised from local levies. William also used the fyrd, the royal army - a military arrangement which had survived the Conquest. The King's tenants-in-chief in turn created knights under obligation to them and for royal duties (this was called subinfeudation), with the result that private armies centred around private castles were created - these were to cause future problems of anarchy for unfortunate or weak kings. By the end of William's reign, a small group of the King's tenants had acquired about half of England's landed wealth. Only two Englishmen still held large estates directly from the King. A foreign aristocracy had been imposed as the new governing class.

The expenses of numerous campaigns, together with an economic slump (caused by the shifts in landed wealth, and the devastation of northern England for military and political reasons), prompted William to order a full-scale investigation into the actual and potential wealth of the kingdom to maximise tax revenues. The Domesday survey was prompted by ignorance of the state of land holding in England, as well as the result of the costs of defence measures in England and renewed war in France. The scope, speed, efficiency and completion of this survey was remarkable for its time and resulted in the two-volume Domesday Book of 1086, which still exists today. William needed to ensure the direct loyalty of his feudal tenants. The 1086 Oath of Salisbury was a gathering of William's 170 tenants-in-chief and other important landowners who took an oath of fealty to William.

William spent the last months of his reign in Normandy, fighting a counter-offensive in the French Vexin territory against King Philip's annexation of outlying Normandy territory. Before his death on 9 September 1087, William divided his 'Anglo-Norman' state between his sons. (The scene was set for centuries of expensive commitments by successive English monarchs to defend their inherited territories in France.) William bequeathed Normandy as he had promised to his eldest son Robert, despite their bitter differences (Robert had sided with his father's enemies in Normandy, and even wounded and defeated his father in a battle there in 1079). His son, William Rufus, was to succeed William as King of England, and the third remaining son, Henry, was left 5,000 pounds in silver. William was buried in his abbey foundation of St Stephen at Caen. Desecrated by Huguenots (1562) and Revolutionaries (1793), the burial place of the first Norman king of England is marked by a simple stone slab.

http://www.royal.gov.uk/output/Page18.asp


21-28 Matilda, Countess Of Flanders, daughter of Baudouin, Count of Flanders, and Adele, Princess of France, was born about 1031 in Flandres. She died on 2 Nov 1083 in Caen, Normandie. She was buried in Eglise de la Sainte Trinité, Caen, Normandie.

"When William was in his early twenties he asked Count Baldwin V of Flanders for his daughter Matilda's hand in marriage. But Matilda was already in love with an Englishman named Brihtric. She supposedly proclaimed that she would rather become a nun than the wife of a bastard, which made William so angry that he attacked her in the street as she left church one day. He slapped her, tore her clothes, threw her to the ground, and rode off. Not an auspicious start to a marriage, yet William and Matilda did eventually marry, and they seem to have been quite happy together. They must have been an odd couple to behold, since William was tall and reportedly grew very fat later in life, while Matilda was short -- almost a dwarf -- and slender."

http://www.royalty.nu/Europe/England/Conqueror.html


21-29 Hamon FITZHAMON, Lord of Cruelly, son of Hamo Dentatus, was born about 1032 in France.


21-31 Roger de MONTGOMERY is printed as #21-9.


21-32 Mabel TALVAS is printed as #21-10.


21-33 Amauri (Amaury), Seigneur de MONTFORT, son of Guillaime, Baron Montfort,was born about 1000 in Evreux, Normandy, France. He died after 4 Feb 1031. He married Bertrade de GOMETZ about 1022 in Ile de France, France.


21-34 Bertrade de GOMETZ, daughter of Guillaime de Gometz, was born about 1001 in Ile de France, France.


21-35 Richard, D' EVREUX, COUNT OF EVREUX, son of Robert de Normandie and Havlive,was born about 986 in Rouen, Normandie. He died in 1067 in Normandie. He married Adèle before 1030.

"Richard, Count of Evreux, was the grandson of Richard I, Duke of Normandy, and succeeded his father, Robert, Count of Evreux and Archbishop of Rouen, in 1037. He was twice married. His first wife was Adela (called by Pere Anselm, Helene), widow of the Roger de Toeni who was slain in 1038, by whom he had William, who succeeded him, and Agnes, third wife of Simon de Montfort, and whose abduction by her half-brother, Ralph de Toeni, I have already mentioned. By his second wife, Godechilde, of whose family we know as little as we do of that of his first, he had only one daughter, named after her mother, who became abbess of St. Sauveur, the abbey founded by her father at Evreux.

Of William, Count of Evreux, the undoubted companion of the Conqueror, much more is recorded, though nothing previous to the invasion, except his being present with his father at the great Council at Lillebonne, wherein that invasion was decided upon. He is reported as having borne himself valiantly in the battle, and received an ample share of the lands in England distributed by the Conqueror in 1070 to the chieftains who had accompanied him in his expedition. He returned to Normandy in 1078, and was one of the mediators in the treaty of Peace of Blanchelande (vide p. 198, ante). Shortly afterwards, King William, as if to indemnify himself for the property he had bestowed upon him in England, took from him the Castle of Evreux, and placed a royal garrison in it. Nevertheless, he fought on the King's side during the disturbances in Maine, and was taken prisoner at the assault of the Castle of Saint Suzanne, held against the King by Hubert, Vicomte de Maine. In 1087, on the death of the Conqueror, he recovered the Castle of Evreux, driving out the royal troops both from there and from the town of Dangu in the Norman Vexin."
http://www.patpnyc.com/conq/evreux.shtml


21-36 Adèle was born about 1004 in Normandie.


21-37 Guillaume de GARLENDE was born in 1043 in Normandy, France.


21-39 Guy de MONTLHERY, son of Guy, Seigneur de Montlhery and Hodierne de Gometz,was born in 1017 in Montlhéry, France. He married Elise de CORBEIL.


21-40 Elise de CORBEIL, daughter of Bouchard de Corbeil and Adelaide de Crecy,was born about 1017 in Corbiel, France.


21-41 Ranulph "The Rich", was born about 1018 in Normandy, France.


21-43 Ralph Seigneur de GAEL, Earl of Norfolk, son of Ralph, Earl of Norfolk and Suffolk, was born before 1040 in Gael, Brittany, France. He died after 1095. He married Emma FITZOSBORNE in 1075 in Exning, Cambridgeshire, England.

"Ralph de Waer (Wayer, Gauder, or de Waet) was constituted by William the Conqueror, Earl of Norfolk and Suffolk. Some historians affirm that he was an Englishman by birth, born in Norfolk; but others, that he was a native of Brittany, which is the more probably, as he was the owner of the castle of Gauder, in that province. Of this earl there is nothing memorable beyond his conspiracy against his royal master, King William, whom he sought to destroy or expel; and to that end drew into his plans, Roger, Earl of Hereford, Waltheof, the great Earl of Northumberland, and other persons of distinction. He married Emma, sister of the Earl of Hereford, and he took the opportunity of his wedding day to disclose to the conspirators, when they were elated with wine, the whole of his projects. As soon, however, as they had recovered from the effects of their inebriation, the greater number refused to participate, and the Earl of Hereford alone joined him in openly resorting to arms. The rebellion was quickly, however, suppressed by those stout and warlike prelates, Odo, Bishop of Bayeux, and Geoffrey, Bishop of Worcester. The Earl of Norfolk fled into Brittany, leaving his followers to their fate in the encampment at Cambridge.; of those, many were put to the sword, and more taken prisoners. The castle of Norwich was subsequently besieged, and his countess obliged to surrender, but she was suffered to go beyond the sea. In the end this turbulent person assumed the cross, and joined an expedition under Robert Curthose, to Jerusalem, against the Turks; where he afterwards became a pilgrim, and died a great penitent."
http://homepages.rootsweb.com/~pmcbride/james/f042.htm


21-44 Emma FITZOSBORNE, daughter of William Fitzosbern and Alice de Toeni,was born about 1059 in Breteuil, Normandy, France. She died after 1095.


21-45 Hugh de GRENTEMESNIL, son of Robert de Grentemesnil and Hawise d'Echafour,was born about 1030 in Grentemesnil, Calvados, Normandy, France. He died on 22 Feb 1094 in Leicestershire, England. He married Adeliza Or Alice de BEAUMONT about 1050 in Grentemesnil, Calvados, France.

"Hugh de Grentemesnil was described by Wace, the Chronicler, as "un vassal de Grentmesnil", as having been present at Senlac, but this is questioned by others, though supported by William of Poitiers and the Deric Vital. According to Wace, he was banished from Normandy by Duke William in 1058 for very little cause, but was pardoned in 1063, at which time he was given custody of the castle of Neufmarche-en-Lions. In 1067 he was one of those who, with William Fitz Osberne and the Bishop Odo, were invested with the government of England during the king's absence. Hugh received one hundred manors, mostly in Leicester, of which county he was the Sheriff. He married Adeliza of Beaumont, daughter of Ivo, Count of Beaumont-sur-L'Oise, who brought him Brokesbourne in Herefordshire, and three lordships in Warwickshire."
http://homepages.rootsweb.com/~pmcbride/james/f030.htm


21-46 Adeliza Or Alice De BEAUMONT, daughter of Yves II Beaumont, Count of Beaumont-sur-Oise, and Judith, was born about 1035 in Beaumont, Sur-Risle, France. She died on 11 Jul 1091 in Rouen, Seine-Inferieure, France.


21-47 Gilbert de GAND (GAUNT), son of Ralph de Gand and Gisele, was born about 1048 in Alost, Flanders, Belgium. He died in 1094. He was buried in Bardney, Lincolnshire, England. He married Alice de MONTFORT (MORFORT) about 1071 in Folkingham, Lincolnshire, England.

"Amongst the Flemings who came to England with the Conqueror were Gilbert of Gand, Gaunt or Ghent (descendant of the counts of Alost) and William Peverel (descended from the counts of St. Pol), both grandsons of count Lambert of Lens and Walter and Hugh Fleming, Lambert's sons by his first marriage."
http://www.pillagoda.freewire.co.uk/FLEMING.htm


21-48 Alice de MONTFORT, daughter of Hugh de Montfort and Alice de Beauffou,was born about 1050 in Montfort-Sur-Risle, France.


21-49 Henry I "Beauclerc" King Of ENGLAND is printed as #20-23.


21-50 Matilda "Atheling" Princess Of SCOTLAND, daughter of Malcolm III, King of Scotland and Margaret "Atheling", was born about 1079/1080 in Dunfermline, Fifeshire, Scotland. She died on 1 May 1118 in Westminster, Middlesex, England. She was buried in Jun 1118 in the Church Of St. Peter, Westminster, Middlesex, England.

"Henry's first main problem was the threat of invasion by his brother Robert from Normandy. The last thing Henry needed was to have any distractions in the north of England and so on 11/12 November 1100 Henry married Matilda of Scotland the daughter of Malcolm III, king of the Scots."
http://www.btinternet.com/~timeref/hpr159.htm


21-51 Gospatric, Earl Of NORTHUMBERLAND, son of Maldred, Earl of Dunbar, and Ealdgyth, Princess of Northumberland, was born in 1040 in Northumberland, England. He died about 1075. He was buried in Norham, Northumberland, England. He married Aethelreda, Princess of ENGLAND.

"Gospatric I, founder of the House of Dunbar, was the son of Maldred, King of Strathclyde, and thereby great grandson of Malcolm II, King of Scotland. His mother was Bethoc, daughter of the Earl Uchtred of Northumberland and his wife Elgiva who was the daughter of Ethelred II, Saxon King of England. In due course, Gospatric succeeded to his maternal grandfather's Earldom of Northumberland. Gospatric as Earl of Northumberland, with his father Maldred ruling Strathclyde presented a problem for William the Conqueror, who had recently triumphed in the south. For now, two Scots, cousin and uncle of the Scottish King, ruled all of what is now the north of England.

Gospatric remained Earl of Northumberland under William the Conqueror by payment of a large sum of money. William however, soon deprived Gospatric of the Earldom without repaying the treasure, and bestowed the Earldom on another. This was due to a rumor that Gospatric was invloved in an attempted rebellion against William. Gospatric also held other lands in England which were later passed on to his descendants. This was the source of much trouble for his descendants as they owed fealty to both the Kings of Scotland and England.

In 1066, facing the wrath of William the Conqueror, Gospatric was force to flee north to the court of his cousin Malcolm III, King of Scotland who bestowed on him the Earldom of Dunbar together with much land so as to have a kinsman in the strategic site in what is now East Lothian. Gospatric rebuilt the wood and wattle fortress of Bar into the stone castle that still sits at the mouth of the River Forth, though today it lies in ruins."
http://www.clandunbar.com/gospatric.htm


21-52 Aethelreda, Princess Of ENGLAND was born about 1042 in Dunbar, East Lothian, Scotland.

21-53 Simon de MORVILLE was born in 1079 in Burgh-by-Sands, Cumberland, England. He married Ada de ENGAYNE.


21-54 Ada de ENGAYNE, daughter of Ralph de Engaine and Ebria Trivers,was born about 1081 in Burgh-by-Sands, Cumberland, England.


21-55 Payne (Peganus) de BEAUCHAMP, son of Hugues de Beauchamp and Adeliza Matilda Taillebois, was born about 1118 in Hereford, Buckingshire, England. He died in 1157. He married Roheise (Roesia) de VERE.

"By his wife, unknown, Hugh de Beauchamp is said to have had three sons: Simon, who died without issue; Pagan or Payne, to whom William Rufus gave the whole barony of Bedford with the castle, which was the caput or head of the barony, and Milo, the ancestor of the Beauchamps of Eaton".
http://www.patpnyc.com/conq/beauch.shtml


21-56 Roheise (Roesia) de VERE, daughter of Alberic de Vere and Beatrice Gand,was born about 1070 in Hedingham, Essex, England. She died in England.


21-57 Gilbert de LANCASTER was born about 1089 in Cumberland, England. He married Godith about 1104 in England.


21-58 Godith, son of Fulk Fitzreinsfred and Alice St. Quentin, was born about 1091 in England.


21-59 William II De WARENNE (WARREN) is printed as #19-45.


21-60 Isabel (Elizabeth) De VERMANDOIS is printed as #19-46.


21-61 Imergi (Gilledoman) SOMERLEDSON, son of Somerled I Gillebrideson,was born about 1050 in Scotland.


21-63 Godfred Crovan HARALDSON, son of Harald Godfredson, was born about 1050 in the Isle Of Man.


21-65 Haakon (Haco) PAALSON, EARL OF ORKNEY, son of Paul Thorfinnsson, Jarl of Orkney and Caithness, and Ragnhild Haakonsdatter, was born about 1070 in Orkney, Orkney Islands, Scotland. He died in 1122 in Orkney, Orkney Islands, Scotland. He married Helga MADDANNSDATTER about 1103 in Orkney Islands, Scotland.

"Haakon Paulson and St. Magnus Erlendson succeeded their fathers reign shortly after 1098, when King Magnus 'Barefoot of Norway came in that year to the islands putting them under his dominion, and sending Paul and Erlend off to Norway in exile where they died. Haakon and Nagnus ruled jointly for eight years until the jealous Haakon had his cousin killed for which he expiated the murder with the erection of the Church at Orfjara."
http://www.geocities.com/Heartland/Cottage/8016/newsmarch87.html

"The saga states that "So long as they remained friends there were good times and peace in Orkney". However Haakon became jealous of the popularity and greatness of his kinsman and finally a meeting was arranged on Egilsay for 16 April 1116 (or 1117) to resolve their differences. Egilsay was Bishopric land and thus they were to meet on neutral territory.

Each Earl was to take two ships and an equal number of men. Earl Magnus arrived first and seeing Earl Haakon coming with eight ships, Magnus suspected treachery, went into the church to pray and refused help when his men offered to defend him. Haakon and his men sought out Magnus the next morning. He was praying when they came up to him, and made three offers: either to go to Rome or Jerusalem and not return, to go into custody in Scotland, or to be maimed and imprisoned. Haakon accepted the last, but the chiefs wanted one of them dead.

Magnus remained cheerful and fell on his knees in prayer. Haakon's standard bearer, Ofeig, vehemently refused to kill Magnus. Haakon then ordered his cook, Lifolf, to do the deed. Magnus gave his tunic to Lifolf, and prayed for his murderers, forgiving them for their offences against himself. Finally he told Lifolf "to hew him a mighty stroke to the head, so that he was killed as a lord and not a thief."
http://www.homecoming.co.uk/norwegian/cathedral.html


21-66 Helga MADDANNSDATTER, son of Moddan, Earl of Caithness, was born about 1080 Caithness, Scotland.


21-67 Thurston BASSET, son of Fouque de Aulney, was born about 1050 in Ouilly-Basset, Normandy.


21-69 Reginald Robert DE DUNSTANVILLE, son of Hugo De Dunstanville,was born about 1054 in Castle Combe, Wiltshire, England. He died about 1124/1135 in Tewkesbury, Wiltshire, England. He married Adeliza (Alicia) DEINSULA (DELISLE).

"The first recorded ancestor of this house is Reginald de Dunstanville, who married the daughter and sole heiress of Humphrey de L'Isle, variously called Adelina de Insula and Adeliza de Dunstanville; for it was the custom for great heiresses to retain their paternal names after marriage."

http://archiver.rootsweb.com/th/read/GEN-MEDIEVAL/2001-02/0982007060


"Reginald de Dunstanville, became the first Baron, and is credited with building in 1140 AD the "Castell of Cumbe", on the same site chosen by the ancient Britons for their entrenched camp. Accordingly it became the feudal seat of the barony."
http://www.ccombe.fsnet.co.uk/castle.htm


21-70 Adeliza (Alicia) DEINSULA (DELISLE), son of Humphrey Deinsula,was born about 1058 in Castle Combe, Wiltshire, England.


21-71 Duncan I, King Of SCOTLAND, son of Crinan de Mormaer and Bethoc, Princess of Scotland, was born about 1013 in Atholl, Perthshire, Scotland. He died on 14 Aug 1040 in Iona, near Elgin, Scotland (killed By Macbeth). He was buried in Iona, Near Elgin, Scotland. He married Sibyl FITZSIWARD in 1030 in Scotland.

"Duncan became king of Scotland following the death of Malcolm II in 1034, who died without a male heir. His unsuccessful attack on Northumbria in 1039 allowed Macbeth to challenge for his throne. Duncan led his army into Macbeth's kingdom of Moray only to be slain in battle. He died in his twenties and was not the old man portrayed by Shakespeare in his play Macbeth."

http://www.historybookshop.com/articles/people/monarchs/duncan-1.asp


"Duncan came to the throne by the decree of his dying grandfather Malcolm II in the year 1034. His father was Crinnan, Abbot of Dunkeld, Mormaer of Atholl and husband of Bethoc the daughter of Malcolm II.

The impetuous Duncan's ascension to that lofty position did not go down too well with others such as the Macbeth of Moray and Thorfinn of Caithness and Orkney factions. They felt that their own merits were better than that of Crinan's brood, and time was to prove them right to a point.

Duncan's next disaster was a full scale incursion deep into Northumbria where many a good man was left lifeless, for he was again humbled at the siege of Durham. Retreating north, information reached him of further disaster in Moray, for his chief lieutenant had just been soundly thrashed by Thorfinn, so he hastened to sort that one out. Some sources say that Macbeth was the leader of the trouble, some say Thorfinn was responsible and others say both. Whatever, Duncan was met in battle and killed at Pitgaveny near Elgin, not in his bed as the play (MacBeth) would have us believe.
http://www.thelandofmacbeth.com/duncan.htm


21-72 Sibyl FITZSIWARD, daughter of Seward, Earl of Northumbria, was born about 1014 in Northumberland, England. She died in 1040.


21-73 Edward "Atheling", Prince Of ENGLAND, Edmund II, King of England, and Ealdgyth,was born in 1016 in Wessex, England. He died in 1057 in London, Middlesex, England. He was buried in St. Paul Cathedral, London, Middlesex, England. He married Agatha von Brunswick about 1035 in London, Middlesex, England.

"Edgar Atheling, or Prince Edgar, son of Edward Atheling, also called Edward the Outlaw, and grandson of Edmund Ironside, was probably born in Hungary, whither his father and uncle, then children, had been sent after the accession of Canute. He came to England with his father in 1057, but though he was rightful heir to the throne on the death of Edward the Confessor, his claims were passed over. After the fall of Harold at the battle of Hastings, he was actually proclaimed king at London, and appears to have been recognized for some time as such; however, he was one of the first to profess submission to the Conqueror, whom in the next year he followed into Normandy. In 1068 he was in Scotland, and his sister Margaret was married not long after to King Malcolm. He took part in the invasion of England and the storming of York Castle in 1069, and was induced on several occasions subsequently to make rash attempts of a similar kind, followed by formal reconciliation with William. In 1086 he went to Italy, and is said to have joined the Norman bands there. In 1098 his nephew Edgar, with his aid, was raised to the Scottish throne. In the civil war between Henry I. and his brother Robert, duke of Normandy, Edgar joined the latter, and was captured by Henry at the battle of Tinchebrai in 1106. The year of his death is unknown."
http://www.genuki.org.uk/big/royalty/prince.html


21-74 Agatha von Brunswick, daughter of Liodulf, Count of Brunswick, and Gertrud, Countess in Nordgau, was born about 1018 in Braunschweig, Prussia. She died on 13 Jul 1024.


21-75 Siward BIORNSSON, EARL OF NORTHUMBERLAND was born about 1020 in Denmark. He died in 1055 in York, Yorkshire, England. He was buried in Galmanho Abbey, York, Yorkshire, England. He married Aelfled (Elfleda) of BERNICIA about 1033 in Northumberland, England.

"The Earl of Northumberland was one of the most important allies of Malcolm III in his fight to seize power in Scotland. Siward was connected to Malcolm in two ways. Aelflaed of Northumberland, who was either Siward's sister or his daughter, was the wife of Duncan I, which makes Siward either Malcolm's uncle or his grandfather. The name of Siward's father is unknown, which means that either the data is lost or that Siward's ancestors were not connected to the Royal house, who were one of the few families with a family tree reaching back several generations. His wife, Aefflaed of Bernicia, had at least two Earls of Northumberland in her ancestry, her grandfather and her great-grandfather. Being married to her could have been the reason why Siward was promoted Earl of Northumberland.

"A.D. 1054 . This year went Earl Siward with a large army against Scotland, consisting both of marines and landforces; and engaging with the Scots, he put to flight the King Macbeth; slew all the best in the land; and led thence much spoil, such as no man before obtained. Many fell also on his side, both Danish and English; even his own son, Osborn, and his sister's son, Sihward."

Shakespeare refers to this excerpt of the Anglo-Saxon Chronicle during the siege of Dunsinane, only changing the relation of the two Siwards from uncle/nephew to father/son. Siward was one of the first to fight Macbeth, intruding into Scotland for the first time in 1046, and for a second time in 1054."
http://www.nisd.net/clarkww


21-76 Aelfled (Elfleda) of BERNICIA was born about 1031 in Bernicia, Northumbria, England. Bernicia was an ancient Saxon kingdom on the east coast of English-Scottish border


21-77 Lambert de BOULOGNE, Count of Lens was born about 1020 in Boulogne, Flandres. He died in 1054 in Spm Bataille de Lille, Flandres. He married Adélaïde de NORMANDIE, COUNTESS OF AUMALE AND PONTHIEU in about 1053 in Normandy, France.

"Lambert of Boulogne, Count of Lens in Artois, slain at the Battle of Lille, 1054; m. Adelaide, b. 1030, d, before 1090, Countess of Aumale, sister of William I, the Conqueror." http://patriot.net/~crouch/abor/L58.html


"William the Conqueror made vast rewards to his Flemish followers. They were given many manors in England and his protégés were also, most of them, his wife's kinsmen. He had arranged a marriage between his niece Judith, daughter of his sister Adèle and Count Lambert of Lens (a "comté" lying between Bethune and Douai), and the last English nobleman, Waltheof, only surviving son and heir of the mighty Siward, Earl of Northumbria."
http://www.amg1.net/fleminfl.html


21-78 Adelaide de NORMANDIE, COUNTESS OF AUMALE AND PONTHIEU, daughter of Robert, Duke of Normandy, and Harlette de Falaise, was born about 1027 in Normandie, France. She died before 1090.

"The widow of Enguerrand, being still young, married secondly, and in the first year of her widowhood, Lambert, Count of Lens, in Artois, and brother of Eustace II, Count of Boulogne, and had by him a daughter, named Judith, whose hand was given by her uncle, William the Conqueror, to Waltheof, Earl of Northumberland. Count Lambert could scarcely have seen the birth of his child, for he was killed at Lille the following year, in a battle between Baldwin, Count of Flanders, and the Emperor Henry III. A widow for the second time, and still in the prime of life, she married, thirdly, Odo of Champagne, by whom she was the mother of Stephen, who, on the death of his elder sister Adelaide, became the first Comte d'Aumale, or Earl of Albemarle, the Seigneurie having been made a Comte by King William, but upon what occasion and at what time we have no evidence."
http://www.patpnyc.com/conq/champgne.shtml


21-79 Ralph de WARREN was born about 998 in France. He married Emma.


21-80 Emma was born about 1020 in France.


21-81 William I (The Conqueror), KING OF ENGLAND is printed as #21-27.


21-82 Matilda is printed as #21-28.


21-83 Henri I, KING OF FRANCE, son of Robert II, King of France, and Constance de Toulouse, was born in 1008 in Reims, Champagne. He died on 4 Aug 1060 in Vitry, Brie, France. He was buried in Abbaye de St. Denis, France. He married Anna Agnesa (Grand Duchess Of Kiev) YAROSLAVNA on 19 May 1051 in France.

"c.1008–1060, king of France (1031–60), son and successor of King Robert II. To defend his throne against his mother, his brothers Robert and Eudes, and subsequently against the count of Blois, he secured, at the cost of territorial concessions, the aid of Robert I, duke of Normandy, and of Geoffrey Martel, count of Anjou. After the submission of his brother Robert, Henry unwisely invested him with the duchy of Burgundy, setting up a powerful rival to the French kingdom. He found the chief enemy of his later reign in Robert of Normandy's son William, later William I of England, who successfully resisted two invasions by Henry. Henry was succeeded by his son Philip I."

http://www.bartleby.com/65/he/Henry1Fr.html


"A member of the Capetian Dynasty, Henri was born in Reims, France, the son of King Robert II (972-1031) and Constance d'Arles (973-1032). He was crowned King of France at the Cathedral in Reims on May 14, 1027. The reign of Henri I, like those of his predecessors, was marked by territorial struggles, including joining his brother Robert in a revolt against his father. In a strategic move, Henri came to the rescue of his very young nephew, the newly appointed Duke William of Normandy, (who would go on to become William the Conqueror), to suppress a revolt by William's vassals. In 1047 Henri secured the dukedom for William in their decisive victory over the vassals at a battle near Caen. A few years later, when William, who was cousin to king Edward the Confessor of England, married the daughter of the count of Flanders, King Henri I feared William's potential power. In 1054 and again in 1058 Henri went to war to try to conquer Normandy from William, but on both occasions he was defeated. Despite his efforts, Henri's thirty-year reign saw feudal power in France reach its pinnacle."

http://www.wikipedia.org/wiki/Henry_I_of_France


"Henry I's reign saw the burning of Paris and a famine of seven year's duration. The King appears to have been something of a nonentity and is chiefly remembered for the novelty of his second marriage. His first wife, Matilda, niece of the Emperor Conrad II, bore one daughter who died young and died herself very soon after. Henry, anxious to avoid a marriage within the prohibited degrees of kindred and affinity, determined to find his next bride fromfar afield and in 1051 married Anne, daughter of Yaroslav I, Great Prince of Kiev, who duly bore him three sons. The eldest, Philip, was crowned as assoiate King at the age of seven in May 1059. Although only fifty-two Henry apparently suffered from premature senility, being described as "old and wretched". He obtained a potion which he hoped wuld restore his health and prolong his life from a doctor in Chartres, but apparently disobeyed the instructions to take it without water and died the nex day. Philip succeeded at the age of eight. Queen Anne refused the regency. She was soon after abducted by Count Raoul de Crepy and eventually became his second wife."
Debrett's Kings and Queens of Europe


21-84 Anna Agnesa (Grand Duchess Of Kiev) YAROSLAVNA, daughter of Yaroslave I, Grand Duke of Kiev, and Ingrid Olafsdotter, Princess of Sweden, was born in 1036 in Kiev, Ukraine. She died in 1076/1089 in France. She was buried in Abbaye de Villiers, La-Ferte-Alais, France.

"King Henri I died on August 4, 1060 in Vitry-en-Brie, France, and was interred in Saint Denis Basilica. He was succeeded by his son, Philippe I, who was 7 at the time of his death; for six years Henri's queen, Anne of Kiev, ruled as regent."
http://www.wikipedia.org/wiki/Henry_I_of_France


21-85 Herbert IV, Count Of VERMANDOIS, son of Otho, Count of Vermandois, and Adelle of Vermandois, was born about 1028 in Vermandois, France. He died in 1080 in France. He married Adelle.

"In 1077 the last male of the first house of Vermandois, Herbert IV., received the countship of Valois in right of his wife. He died soon afterwards, leaving his inheritance to his daughter Aclela. whose first husband was Hugh the Great, the brother of king Philip I."
http://60.1911encyclopedia.org/V/VE/VERMANDOIS.htm




21-86 Adelle was born about 990 in France.
21-87 Geoffrey de MANDEVILLE, Earl of Essex, was born about 1053 in Rycott, Oxford, England. He died after 1085 in Westminster, Middlesex, England. He was buried in Westminster Abbey, Westminster, Middlesex, England. He married Adeliza de BALTS about 1049 in England.

"Among the knights who fought alongside William at Hastings was a Norman landowner Geoffrey de Mandeville. He was rewarded with the grant of large stretches of land in Essex, Middlesex, and adjoining counties."

http://www.britainexpress.com/Myths/barnet.htm


21-88 Adeliza de BALTS was born about 1040 in Rycott, Oxford, England. She died in Westminster Abbey, Middlesex, England.


21-89 Eudo de RIE LE DAPIFER was born about 1063 in Normandy, France. He died after 12 Jul 1080. He married Rohese Fitzrichard de CLARE about 1088 in England.

"This Eudo was the fourth son of Hubert de Rie, the loyal vassal who saved the life of Duke William in his flight from Valognes by mounting him on a fresh horse, and misleading his pursuers, who were close upon his heels. Three of Hubert's four sons were directed by him to escort the Duke, and not leave him till he was safe in Falaise. Whether Eudo was one of the three we know not, as Orderic does not name them; but as they must all have been young at that time, and Eudo the youngest of the four, it is probable that Ralph, Hubert, and Adam were the guides and guardians of their youthful prince, themselves not much his seniors. Whether all four were in the Conqueror's army we have at present no means of ascertaining, but we find them all in England, and, if we may trust our authority, their father also immediately after William was possessed of the crown.

Eudo, the fourth son, continuing here in King William's service, obtained from him divers lordships in sundry counties, viz, in Essex twenty-five, in Hertfordshire seven, in Berkshire one, in Bedfordshire twelve, in Norfolk nine, and in Suffolk ten; and personally attending the court it so happened that William Fitz Osbern, then steward of the household, had set before the King the flesh of a crane scarce half roasted, whereat the King took such offence as that he lifted up his fist and had stricken him fiercely but that Eudo bore (warded off) the blow. Whereupon Fitz Osborn grew so displeased as that he quitted his office, desiring that Eudo might have it. To which request the King, as well for his father Hubert's demerits and his own, at the desire of Fitz Osbern readily yielded.

It is clear, however, that Eudo became Dapifer (Steward) after the departure of the Earl for Normandy, and for seventeen years enjoyed the favour of his sovereign, and being in attendance on the dying Conqueror at Rouen, was mainly instrumental to the securing of the crown to Rufus, whom he accompanied to England, and by his representations obtained from William de Pontarche the keys of the treasury at Winchester, wherein the regalia, as well as the money, was deposited. Thence he hastened to Dover, and bound the governor of the castle by a solemn oath that he would not yield it to any one but by his advice.

His great service was duly appreciated by Rufus, in whose favour he remained during his whole reign, and in 1096/7 founded the Church of St. Peter's at Colchester, he himself laying the first stone, Rohesia, his wife, the second, and Gilbert Fitz Richard de Clare, her brother, the third.

On the death of Rufus he was coldly looked upon by the new King, Henry, who suspected him of being a partisan of his brother Robert Court-heuse, but subsequently was reconciled to him and visited him when he was dying in his Castle of Préaux, and advised him as to the disposition of his temporal estates."
http://www.patpnyc.com/conq/edapifer.shtml


21-90 Rohese Fitzrichard de CLARE, daughter of Richard Fitzgilbert, Lord de Bienfaite, and Rohese Giffard, was born in 1067 in Tunbridge, Kent, England. She died in 1121 in England.


21-91 Alberic (Aubrey) de VERE was born about 1030 in Hedingham, Essex, England. He died in 1088. He married Beatrice (Beatrix) GAND (GHENT).

"Aubrey or Albericus de Vere was present at the Battle of Hastings and obtained vast estates from William the Conqueror in 1066. These estates were once the property of Ulwine, a great Saxon thane, and consisted of manors in the counties of Essex, Suffolk, Cambridgeshire, Huntingdonshire and Middlesex. He founded Earl's Colne Priory in 1105, and after the death of his wife Beatrice he became a Monk."

http://www3.sympatico.ca/robert.sewell/devere.html


"Aubrey de Vere, later Great Chamberlain to King Henry I, landed in England with William the Conqueror. For his distinguished service against the Saxons in the Battle of Hastings, he was awarded an ancient Saxon stronghold in Northampton, which is still known and admired as Drayton House."

http://www.magnoliaplantation.com/history/


"Aubery de Vere came to England in 1066 with his brother-in-law, William the Conqueror. For his part in the conquest De Vere was given lordship over Lavenham which was the centre for England's wool trade. He was married to Beatrice, the half-sister of King William. His son Aubrey II inherited."
http://www.oxfords.btinternet.co.uk/ancestry1.html


21-92 Beatrice GAND (GHENT) was born about 1040 in Bourboucy, France.

"The wife of Aubrey was Beatrice, a half sister of the Conqueror himself, and because of this it is not surprising that their descendants obtained even further preference. The de Veres had many years of power ranking second in importance to the king."
http://www.greatbentley.info/History.htm


21-93 Gilbert FitzRichard de CLARE, EARL OF HERTFORD is printed as #19-73.


21-94 Adeliza de CLERMONT is printed as #19-74.


21-95 William de SAY was born about 1065 in Sawbridgeworth, Hertsfordshire, England. He married Agnes de GRENTEMESNIL.

"A William de Say, the grandfather of that William, married Agnes, daughter of Hugh de Grentmesnil, and might have been in the battle with his father-in-law, as confidently stated in the pedigree of the Lords Say and Sele, who deduce their descent from him through the family of Fiennes, as do also the Dukes of Newcastle."
http://www.patpnyc.com/conq/picotsay.shtml


21-96 Agnes de GRENTEMESNIL, daughter of Hugh de Grentemesnil and Adeliza de Beaumont,was born about 1070 in Grentemesnil, Calvados, France.


21-97 Hugh IV SIRE DE LUSIGNAN was born about 985 in Lusignan, Vienne, France. He died in 1030. He married Aldearde.


21-98 Aldearde of THOUARS was born in 989 in Toulouse, France.


21-99 Bernard I, Comte de la MARCHE was born about 970 in Toulouse, France. He married Amelie, Countess of AUBNAY.


21-100 Amelie, Countess of AUBNAY was born about 974 in Toulouse, France.


21-101 Geoffroi, Viscount de THOUARS (TOURS) was born in 985 in Thouars, Vienne, France. He died in Apr 1043 in St. Michael en Lherm, Leon, Spain. He married Aenor.


21-102 Aenor was born in 989 in Thouars, Vienne, France.


21-103 Robert, Count of EU, son of Geoffrey, Count D'Eu and Brionne, and was born about 1019 in Shenton, Leicestershire, England. He married Béatrice D' EU.

"The date of the death of the first William, Comte d'Eu, is not exactly known, but it was previous to 1054, when we find his son Robert one of the commanders of that division of the Norman army which defeated the French at Mortemer. In 1066, he contributed sixty ships to the invading fleet, and fought gallantly at Senlac, and for these services received large estates in Sussex and other counties in England, with the custody of the Castle of Hastings. In 1069, in conjunction with Robert, Comte de Mortain, he surprised the Danes in Lindsey, and drove them with great slaughter to their ships.

After the death of the Conqueror, the Comte d'Eu espoused the cause of Robert Court-heuse, and maintained it for some time; but, disgusted by his capriciousness, levity, and debauchery, went over, with many other Norman lords, to the side of William Rufus, allowing his castles to be garrisoned by the royal forces.

Robert I, Comte d'Eu, died circa 1090, leaving by Beatrix his wife, one of the many noble ladies of whose family we are left in lamentable ignorance, William, who succeeded him, and who, joining in the rebellion against Rufus in 1096, was taken prisoner, and deprived of sight, as well as horribly mutilated, and a younger son, named Robert. Of his "works of piety," as Dugdale phrases it, we may record the foundation, between 1057 and 1066, of the Abbey of Tréport, near Eu, by request of his wife, and the advice of Duke William and Maurilliers, Archbishop of Rouen."
http://www.patpnyc.com/conq/eu.shtml


21-104 Béatrice D' EU was born about 1022 in Leicestershire, England. She died in 1085.


21-105 Roger BUSLI was born about 1038 in Somersetshire, England. He married Muriel CHAPPELL.

"Roger de Busli was alive in 1086 - about 1098 or 1100. Born in Normandy. Roger took his name from the town of Bully-en-Brai near Dieppe in Normandy. He held the Honour of Tickhill. This included Hellaby, Maltby, Wickersley, Laughton, Greasbrough and Kimberworth."

http://www.rotherham.gov.uk/pages/ourtown/learning/islib/greats/norman.htm


"At the time of Domesday, Hodsock was farmed by the Saxon, Ulsi, under the Norman overlord Roger de Busli of Tickhill Castle, who was granted massive holdings of land by William the Conqueror."

http://www.snowdrops.co.uk/history.html


"Peveril's rival was Roger de Busli, who also held manors in Gedling. About Roger we know a great deal: he was of the best type of Norman baron. He derived his name from Bully-le-Vicomte near Neuf Chatel (Seine Inferieure); his title from the Abbey of Holy Trinity, Rouen. He also had large estates stretching into Derbyshire. He was lord of Hallam and built a castle where the river Sheaf meets the Don, and did his best to encourage the little company of cutlers there - a very poverty stricken group, but the forbears of those who have made Sheffield steel famous the world over. He founded his priory at Blyth in 1068, and built his main castle at Tickhill. His name is not often found on the writs of the reign which proves that he was rarely in attendance on the king; probably engaged with his lands. He dies just before Rufus (the Conqueror's son) in 1100, his only son predeceased him, therefore his honour escheated to the King."
http://www.innotts.co.uk/gedling/gedling3.html


21-106 Muriel CHAPPELL was born about 1040 in Somersetshire, England.


21-107 Roger D' AUBIGNY was born about 1036 in St. Sauver, Manche, Normandy, France. He died after 1084. He married Amice.


21-108 Amice was born about 1040 in Montbrai, Manche, Normandie, France.


21-109 Henri II, Count of LORRAINE was born in 1021 in Brabant, France. He died after 1077. He was buried in 1079 in the Cloister of St. Gertrud, Nivelles, France. He married Adele (Alix) Countess of BETEAU.


21-110 Adele (Alix), Countess of BETEAU was born about 1023 in France. She died after 1086.


21-111 Albert III, Count of NAMUR was born about 1048 in Namur, Belgium. He married Ida BILLUNG.


21-112 Ida BILLUNG was born in 1046 in Namur, Belgium.


21-113 Foulques IV "Rechin", "The Surly", "The Rude", Count Of ANJOU was born in 1043 in Anjou, France. He died on 14 Apr 1109 in Anjou, France. He married Bertrade de MONTFORT, QUEEN OF FRANCE in 1089 in France. The marriage ended in divorce.

"Louis Halphen calls Fulk "un homme sans prestige, dont la conduite privée fut un objet de scandale." His first wife, daughter of Lancelin de Beaugency, died; he then married and repudiated Ermengarde de Bourbon, Orengarde de Chatelaillon, and the daughter of Gautier I of Brienne. Bertrade, his fifth wife, ran away with Philip in 1092."
http://www.luc.edu/publications/medieval/vol16/16ch4n.html


21-114 Bertrade de MONTFORT, QUEEN OF FRANCE was born about 1059 in Montfort Amaury, Ile de France, France. She died on 14 Feb 1117 in Fontevrault, France.

"Fulk IV, count of Anjou, and his wife Bertrada (who ultimately deserted her husband and became the mistress of Philip I. of France)" http://82.1911encyclopedia.org/F/FU/FULK.htm


"It was his second marriage which was the cause of Philip's greatest difficulties. On the 15th of May 1092 he carried of Bertrada, daughter of Simon, baron de Montfort, wife of Fulk Rechin, and prepared to marry her, though his wife Bertha was still living." http://90.1911encyclopedia.org/P/PH/PHILIP_I_FRANCE_.htm


21-115 Elias (Helie), Count of MAINE was born about 1060 in Maine, France. He died in 1110. He married Matilde de CHATEAU DU LOIRE before 1092 in France.


21-116 Matilde de CHATEAU DU LOIRE was born about 1055 in Chateau du Loire, France. She died in 1099.


21-117 Walter (Gauthier) de SAINT VALERY was born about 1035 in St. Valery-en-Caux, Normandy, France. He married Elizabeth about 1064 in Isleworth, Middlesex, England.

"Certainly not upon that of Orderic, who tells us nothing about Bernard except that he was the father of Walter de St.Valery, who was probably the Walter of Domesday, possessing at the time of its compilation, amongst other estates, the extensive manor of Isleworth, in the county of Middlesex, but whether as the heir of his father, on whom they might have been bestowed by the Conqueror, or acquired by himself, either as a reward for service rendered to his sovereign or through some fortunate marriage, we are left to conjecture."
http://www.patpnyc.com/conq/stvalery.shtml


21-118 Elizabeth was born about 1040 in Isleworth, Middlesex, England.


21-119 Radulph BRIWERE was born about 1036 in Normandy, France.


21-121 William DEVEREUX was born in 1019 in Rosmar, Normandy, France.


21-123 Ernald de (Chaources) CHAWORTH was born about 1000 in St. Symphoro, Lamans, Maine, France.


21-125 Gilbert "Crispin", Count de BRIONNE was born about 1000 in Normandy, France. He married Gunnora D'AUNOU in England .

"For a short period in the autumn of 1040 following the sudden death of Count Alan of Brittany, Gilbert was chief tutor to the young William the Conqueror. Died in 1040, said to have been murdered by his cousin, Ralph of Gacé" http://www3.sympatico.ca/robert.sewell/declare1.html


"Count Gilbert was one of the guardians of the young Duke William, and was murdered by assassins employed by Raoul de Gacé, as already related in the memoir of the Conqueror. Orderic gives us the name of one of the assassins -- Robert de Vitot; and Guillaume de Jumièges tells us that two of the family of Giroie fell upon and murdered him when he was peaceably riding near Eschafour, expecting no evil."
http://www.patpnyc.com/conq/bienfait.shtml


21-126 Gunnora D'AUNOU was born about 984 in France.


21-127 Walter GIFFARD, Lord LONGUEVILLE, Earl of Buckingham, was born about 1010 in Longueville, Normandy, France. He died in 1085/1102 in France. He married Agnes Ermentrude FLEITEL about 1025 in France.

"We first hear of him in 1035, as a companion of Hugh de Gournay in the abortive attempt of Edward son of King Ethelred to recover the crown of England, and next in 1053, when he was left by Duke William in command of the forces blockading the Castle of Arques, and at that period was Lord of Longueville, and already past the prime of life, judging by his account of himself only thirteen years afterwards. In the following year Wace informs us he was intrusted by the Duke with the defence of the district of Caux, in which Longueville is situate, on the occasion of the invasion of Normandy by Henry, King of France. Subsequently he appears to have made a pilgrimage to St. Iago de Compostella, in Spain, or may perhaps have been sent there by the Duke on some mission to Alfonso King of Galicia, to whom William afterwards affianced his daughter Agatha, after the breaking off of the match with the Saxon Prince Edwin. All we learn from Wace is that in the great battle William's first horse had been brought to him by Giffard from Spain, "the gift of a king who had a great friendship for him." The Lord of Longueville accompanied his sovereign to England, having furnished his fleet, according to the List published by Taylor, with thirty vessels and a hundred men.

Previous to the battle, Raoul de Conches, the hereditary standard-bearer of Normandy, having prayed quittance of service on that day, that he might fight with greater freedom in the field, the Duke called to him Walter Giffard, and desired him to bear his gonfanon, who also requested to be excused the honour on the plea of being too old and too feeble. "For the mercy of God, sire," said the old knight, "look upon my white and bald head; my strength is impaired, and I am short of breath," and in answer to the Duke's passionate reproaches, urged that he had a large contingent of men-at-arms in the field, whom he was bound to lead into action, and at the head of them he was ready to die in his sovereign's cause. Whereupon the Duke excused him, and assured him that he loved him more than ever, and that if he survived that day it should be the better for him (Walter) as long as he lived."
http://www.patpnyc.com/conq/giffard.shtml


21-128 Agnes Ermentrude FLEITEL was born about 1014 in Longueville, Normandy, France. She died in France.


21-129 Renaud de CLERMONT, GREAT CHAMBERLAIN OF FRANCE was born about 1010 in Clermont, Oise, France. He died after 1098. He married Ermengardis.


21-130 Ermengardis was born about 1010 in Clermont, Oise, France.


21-131 Hildouin IV, Count of MONTDIDIER, COUNT OF ROUCY was born about 1021 in Montdidier, Somme, France. He died in 1063. He married Alice (Adela) de ROUCY in 1031.


21-132 Alice (Adela) de ROUCY was born about 1014 in Roucy, Aisne, France. She died in 1063.


21-133 Humphrey de HARCOURT DE VIEILLES, son of Tourude de Harcourt and Wevia de Crepon,was born about 980 in Pont-Audemer, France. He died on 28 Sep 1044 in Normandy, France. He was buried in Preaux, Normandy, France. He married Aubreye de la HAIE about 1010 in France.


21-134 Aubreye de la HAIE was born about 984 in Pontaudemer, Normandy, France. She died on 20 Sep 1045.


21-135 Waleran BEAUMONT, COUNT OF MEULAN, son of Robert, Count of Meulan and Alix de Vexin, was born about 990 in Mellent, Normandy, France. He died in 1069. He married Oda de CONTEVILLE about 1017 in France.


21-136 Oda de CONTEVILLE, daughter of Jean de Conteville was born about 994 in Mellent, Normandy, France.


21-137 Murchadh (Murrough), King of LEINSTER, son of Dermot, King of Leinster and Dearbhforghaill of Leinster,was born about 1025 in Ireland. He died in 1090. He married Darbforgaill of LEINSTER.


21-138 Darbforgaill of LEINSTER was born about 1030 in Ireland.


21-139 Donncuan O'TOOLE, son of Gillacaemphin O'Toole, was born about 1030 in Ireland.





Click here to go the the Twenty-Second Generation of ancestors from Henry Salisbury.