FAMILY GROUP RECORD OF
JOHN BOWERMAN AND
KATHEREN PRATT

John Bowerman was born in about 1570, of Banbury. He married the widow, Katheren Keelynge 23 June 1607 in Banbury.



Marriage record for John Bowerman and Katheren Keeling in Banbury:
"John Bowerman & Kattern Keeling marryed the xxiijth day of June"

Katheren was born Katheren Pratt, the daughter of Thomas and Alice Pratt of Shotteswell, and christened 24 January 1566 in Shotteswell. (Alice Pratt left a will naming daughter Katherin, son-in-law John, and her Keelinge and Bowerman grandchildren.)


Katheren had been married to Edward Keelynge, a husbandman of of Banbury, in about 1593. Edward and Katheren had five children. Their house was mentioned when the boundaries of the parish were surveyed on 15 September 1606, about one month before Edward died: "And from the said Stone called the White Crosse over to the run'yng streme of Water by the North end of the Leyes called the Barridge Leyes and soe throwe a little shorte land by the howse of Edward Keelinge meeting there wth another run'ynge streme of Water and soe by the said Water vnto the Barr called the North Barr". (The History of Banbury) Edward died and was buried 18 October 1606 in Banbury, leaving a will, naming his wife Katheren as the executor:


Edward Keelinge, of Neithrop, husbandman, will dated 25 August 1606, buried 18 October 1606, inventory taken 28 October 1606, proven and exhibited 5 June 1607.

Will:
The church of Banbury, 6s.8d.
The poor of Banbury, 5s.
Grace Keelinge, daughter, £20 and one cow, at 18.
Suzanna Keelinge, daughter, £20 and one cow, at 18.
Marie Keelinge, daughter, £20 and one cow, at 18.
Katherine Keelinge, £20 and one cow, at 18.
William Kelie, brother, 2s.
Brother John Keeling's children, 12 d. each.
Brother Valentine Keeling's children, 2 s. each.
Brother Tobye Keeling, 3 quarters of barley; one but of barley and one but of pease; all my apparell; and to his children, 4d. each.
Margarette Embrie, sister, 5s.; and to each of her children, 12s.
Residue to Katherinie Keeling my wife.
Overseers: Thomas Pratte, Tobye Keelinge, Simon Bunge.
Proved by Katherine, relict and exex.
(Banbury Wills and Inventories, 1591-1620)

Edward and Katheren had the following children:

1. Thomas, christened 28 July 1594 in Banbury; buried 3 October 1603 in Banbury.

2. Grace, christened 5 October 1596 in Banbury; married William Dodson 16 October 1620 in Banbury.

3. Susanna, christened 21 January 1599 in Banbury; married Thomas Hawkes 29 October 1627 in Banbury.

4. Marie, christened 19 April 1601 in Banbury; buried 19 December 1606 in Banbury.

5. Katherine, christened 18 July 1604 in Banbury; married Mathew Barnes 3 November 1623 in Banbury.



John and Katheren married 23 June 1607, and then had four children. John was also a husbandman of Neithrop in Banbury parish. John appears as an overseer in the will of John Kymbell, a husbandman of Neithrop in 1611. He is shown as John Boreman of Neithrop, husbandman. John also received a bequest in the will of John West of Banbury, minister in 1632: "I restore to John Bowerman of Netherup the older the some of fowre pounds one shilling of like lawfull money" (Will of John West, 1632).

Katheren then married John Bowerman, and they had the following children:

1. James, christened 7 August 1608 in Banbury.

2. Anne, christened 9 December 1610 in Banbury.

*3. Mary, christened 13 September 1613 in Banbury; married John West 27 April 1636 in Banbury (name shown as Boreman in marriage record).


Baptism record for Mary Bowerman in Banbury: "Mary Bowerman daughter to John Bowerman was bapt ye 13 day"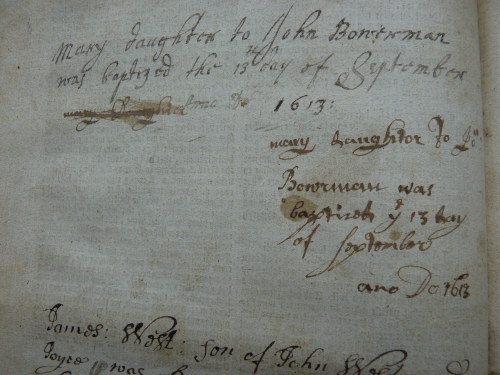 Inscription on Mary Bowerman's Bible:
"1613 Mary daughtor to Jno Bowrman was baptized ye 13 day of September ano Do 1613"
(See the West Ancestors page for a description of Mary's Bible and its history.)

4. John, christened 21 April 1616 in Banbury.


Katheren died and was buried 28 May 1627 in Banbury. An administration for John Bowerman, widower, was granted to his son John 27 August 1647, and proven in the Prerogative Court of Canterbury in 1649.

SOURCES: Banbury parish register; will of Edward Keelynge, dated 25 August 1606, in Banbury Wills and Inventories; IGI; will of John Kymbell, dated 9 December, 1611, in Banbury Wills and Inventories; Wills of Inhabitants of Banbury proved in the Prerogative Court of Canterbury, in Banbury Wills and Inventories; The History of Banbury, Alfred Beesley.
.




THE BOWERMAN/BOREMAN/BURMAN FAMILY

The Boreman family appears in Banbury records in 1525 in the Lay Subsidy List for Banbury, when William Boreman appears on the list:
"
Will Boreman, Banbury, in bonis, 40s. 7d.
(His tax on goods.)...He is the only Boreman in all the towns included in Banbury Hundred in this Subsidy list of 1525. Twenty-one years later, in 1546, another Subsidy was called for, when five other Boremans appear in the lists of various towns near Banbury, some of whom, at least, may be concluded to be William's sons." (Boardman Genealogy; Charlotte Goldthwaite).
In the Lay Subsidy for 1546, these Boremans are listed:
Thomas Boreman, Cleydon
John Boreman, Draiton
John Boreman, Hanwell
Thomas Bourman, Cropredy
William Bourman, Bloxham
(Boardman Genealogy, Goldthwaite)
One of William's sons, Thomas, was born in about 1519 in Banbury. His name appears in the Lay Subsidy List for Claydon, a nearby village, in 1546. Thomas Borman died 9 December 1579, leaving a will. The will shows him as being of Claydon and Cropredy. The will lists William, his oldest son, sons "the elder Thomas" and "Thomas the younger", son Christopher, son John, daughters Sisley, Elizabeth and Joane, and wife Isabell.
A family history posted on FamilySearch discusses Thomas and his will: "Thomas Boreman of Claydon, near Banbury, Oxfordshire, England, appears in the Lay Subsidy tax list of 1546, his tax being three pounds and three pence. The Lay Subsidy was aid furnished to the King by a tax on the lands and goods of the people, in distinction from the clergy. At this time Thomas Boreman had probably been married for maybe five to ten years. Since the parish registers of Claydon begin in 1569 the baptisms of his children cannot be found there, but we get their names from his will. Of special interest is the fact that he had two sons named Thomas; he calls them "the elder Thomas my sonne" and "Thomas the younger my sonne." This practice of naming more than one child the same name was relatively common at that time. In addition to the two children named Thomas, the will mentions William, Christopher, John, Joane, Cicely, and Elizabeth. Also, there is a burial entry for Ann Boreman in January of 1576; she was probably also a daughter and died before her father wrote his will. The will of Thomas Boreman is dated April 3, 1576, and was proved May 2, 1580. His burial at Claydon is recorded as December 9, 1580, but the year is evidently a mistake, as shown by the probate records. This entry in the parish register follows others of later date, showing that it was not made until several years after his death, which is undoubtedly the reason for the error. The inventory of his property, taken Jan. 4, 1579/80, together with his will, show him to have been the cultivator of a farm with considerable live-stock, including a horse, two cows, three heifers, and sixty pigs. He had good store of hay and grain in his barn, and a good supply of farming implements, household furniture, bedding, etc., the whole not greatly differing from the average inventory of the New England settlers some three generations later, and making mention of the same rooms in the dwellinghouse, viz.: the Hall, or living room, Kitchen, and Chambers. His various tools -- augers, saws, adze -- and "the bedstede I made myself," imply that he may have also resembled the Puritan emigrants of a later day, in having, in addition to his occupation as a farmer, skill in a trade, evidently in his case that of some worker in wood, possibly, like a number of his descendants, that of a cooper, whose distinguishing implement was the adze. Thomas Boreman's wife, still living when he wrote his will, was Isabel." (www.familysearch.org, Neal H. Jorgensen)


The Boreman or Burman family seem to be centered in Claydon and Cropredy in the 1500s. Claydon and Cropredy are adjacent parishes, and are very near Banbury. The Boremans/Burmans found in parish registers and other records includes:

In Claydon:

Thomas Boreman, born about 1517 in Claydon, married Isabell, buried 9 December 1579, left a will dated 3 April 1576. He is called Thomas Boreman of Claydon and Cropredy in his will.
William and Annis Boreman - This is William, the eldest son of Thomas Boreman, who was named in Thomas' will of 1576. William and Annis had daughter Jone who married Edward Heynes or Heyner, christened 20 May 1570, son Christopher christened 16 January 1571/2, son Thomas (named in his will", son William (named in his will), daughter Annys who married Mr. Claridge (named in his will), daughter Alice who married Mr. Browne (named in his will), and John named in his will as the executor). William himself left a will dated 12 December 1612.
Thomas and Alice Boreman, had daughter Marie, christened 8 October 1571, daughter Elizabeth, christened 24 December 1573, son Rychard, christened 1 March 1577/8, daughter Margaret, christened 21 January 1581/2. This is the elder Thomas, named in the will of his father in 1576. Thomas was buried 29 May 1593 in Claydon, leaving a will naming sons Robert and Richard, daughters Annis, Frances, Mary, Elizabeth and Mary.


Thomas married Dorothy Gregory 16 February 1679/80, had son Christopher, christened 1 December 1581, and daughter Jone, christened 31 January 1584/55. This is Thomas the younger, named in his father's will of 1576. Thomas was buried 13 June 1587 in Claydon. "Thomas Boreman, "the younger" (so called to distinguish him from an older brother of the same name) son of Thomas, "the elder" of Claydon, son of of William of Banbury, was the grandfather of Samuel Boreman who settled in Wethersfield, Conn., and became the progenitor of that branch of the family. He was born in Claydon, Oxfordshire, England, not far from 1560. His father died in 1579, and by his will made Thomas and his mother, Isabel, residuary legatees of his estate. February 16, 1679-80, he married Dorothy Gregory, by whom he had two children, Christopher baptized December 1, 1581, and Joane, baptized January 31, 1584-5." (Hall Ancestry; Charles Samuel Hall)
John Boreman, buried 6 December 1588 in Claydon. This is the son John listed in Thomas Boreman's will of 1576.

John Boreman, son of William and Annis Boreman (according to Boardman Genealogy), married Elizabeth Poley 26 June 1593 in Claydon, had son George (1595), William (1596), Ann (1596), Prudence (1598/9), Mary (1603), Elizabeth (1605), John (1608), and William (1611). This John is not our John Bowerman, as he has children born and christened after our John married Katherine Keelynge and had children in Banbury.

Christopher Boreman, buried 5 October 1584. This is the son of Thomas Boreman, named in his father's will of 1576.
The Boremans of Claydon did not own their lands in fee, but held them as leasehold estates of Lord Saye and Sele. (Hall Ancestry; Charles Samuel Hall)

In Cropredy:

Robert Burman is listed in a land grant of 1512 in Cropredy: "Roger Lupton him self appears to give houses and lands for this his purpose. For Roger Lupton and Rich. Skipwith grant to Thos. Ffrench, Rob. Lumbard, Rich. Howse, Hugh Page, Will. Lumbard, Rog. Truste, Rob. Burman, Will. Grene, Tho. Smyth, Tho. Dalton, Will. Newman, Rob. Osburne, Peter Lumbard, John Shereman, John Gubbys, Tho. Hall, John Gyll, Tho. Plant, Will. Walker, Tho. Gobyn, Valentine Jamys, Tho. Colyer, John Jefkyns, Thos. Browne and Tho. Bacheler, of Cropredy, our two tenements iu Wardington, two crofts appertaining, and a quarter of a yardland; one tenement and croft between Hugh Tynkok, north, and Rob. Mathew, south ; the other tenement and croft between Joan Sabyon, widow, east, and Juliana Collys, west which tenements lately were Thos. Besonds, of Wardington."(Historical Notices of the Parish of Cropredy, Oxon)
Richard Burman, whose wife Rose (Roysse) was buried 7 July 1539 in Cropredy.
Annes Burman, buried 26 July 1542 in Cropredy.
John and Annes Burman, had daughter Ursylla buried12 December 1542 in Cropredy. Perhaps this is a misreading of Kattherne, or John had a first wife Annes.

Thomas Bourman, listed in the Lay Subsidy of 1546 in Cropredy.
Thomas Burman, buried 6 June 1546 in Cropredy. This is probably the Thomas Bourman listed in the Lay Subsidy the same year.

Aylls (Alice) Burman, buried 10 July 1546 in Cropredy.
John and Katherne Burman, had son John, 6 June 1544 in Cropredy, daughter Ayllys, christened 27 November 1546, son Thomas, christened 27 December 1548 and buried 6 January 1548/9 in Cropredy, son Robert, christened 7 February 1550/1 in Cropredy; there is a gap in childbearing, then son John, buried 1567 in Cropredy. John was buried 22 January 1591/2. Katherne was buried 17 March 1598/9.


Marriage record for John Burman and Ellin Plant in Cropredy:
"Jhon Burman and Ellin Plant weare maried the tenth daye of June 1605"
So, who were John's parents? John married the widow Katheren Pratt Keelynge in Banbury in 1607. She was christened in 1566, so was 41 years old at the time of her marriage to John, and had four children in her forties. John must have been about her age, so born between 1560-1570. No christening record has been found for John in a search of Banbury and nearby parishes. It seems very possible that John Burman (Boreman) who married Ellin Plant in 1605, may have married again to Katheren Keelynge in 1607.
John's parents must have been having children in the 1560s. In Cropredy, that would be John and Katerne, who had a son, John, buried in 1567. Claydon parish records begin in 1569, so the couples of William and Annis, or Thomas and Alice may have have children before the records began. No son John was listed in Thomas' will of 1593, so Thomas and Alice were not the parents of our John. We know that William had a son named John who acted as the executor for William's will in 1612, however this John is shown in a pedigree in
Boardman Genealogy
as the John who married Elizabeth Poley, and had children at the same time as our John Boreman. So, the most likely parents for our John Boreman are John and Katerne Burman of Cropredy.
The next generation of Boremans do not appear in the Banbury church records until 1601, although the records begin in 1558. Christopher Boreman married in the parish in 1601 and John Bowerman married in 1607. The only Boreman/Bowerman christenings in the period of 1600-1620 are those for the children of Christopher and Julian, and John and Katherine. Christopher's chidren christened in Banbury are: Anne (1605), Felix (1607), Elizabeth (1609), Sara (1612), and Samuell (1615). After that, his children are christened in Claydon. John's children are James (1608), Anne (1610), Mary (1613) and John (1616).
John and Kathern Burman of Cropredy began having children in 1544, but are not listed in the Lay Subsidy of 1546. Thomas Bourman was the only Boreman listed in Cropredy, so perhaps he was John's father, and the leaseholder until he died in 1546. This Thomas is separate from the Thomas Borman of Claydon, as our Thomas was buried in 1546, and Thomas of Claydon was buried in 1579. Thomas Burman of Cropredy may be the son of Robert or Richard Burman of Cropredy.

If you have any additional information about this family, please contact me at alice@boydhouse.com.