FAMILY GROUP RECORD OF
JUSTINIAN HUNT AND
SARAH BATCHELOR
Justinian Hunt was christened 15 July 1677 in Cropredy, the son of Thomas Hunt and Elizabeth Warren. He was a glazier, as was his father, Thomas. He married Sarah Batchelor 2 June 1719 in Cropredy, Oxford, England.


Marriage record for Justinian Hunt and Sarah Batchelor in Cropredy:
"Justinian Hunt of Cropredy & Sarah Batchelour of Little Bourton were join'd in matrimony on ye 2d day of June 1719
the banns having been published on 3 several days according to ye canon without any contradiction"

Sarah was the daughter of John and Mary Batchelor. Justinian inherited a farm from his uncle, Thomas Warren in 1710. "That farm was only later rebuilt in stone, for there is some evidence it remained wooden longer than most." (The Town of Cropredy; Pamela Keegan)


Justinian appears as a Church Warden in 1701, and he appear in the Church Account Books of St. Mary's Church in Cropredy as he glazed the windows of the church:

1701
Justinian Hunt: He paid for casting of 5 hundred and a half of lead our part/ Bourton other half and a spoke to mend a lader
pd for 3 hundred and half of new lead and laying downe ye old
pd for pluming and glasing
spent in ale with the ___
spent in ale on the men that helpt up with the lead
1714
Paid Justinian Hunt for glasing ye Church windows
Just. Hunt for mending ye Leds
1716
Justinian Hunt for glassing last year his Church windows
Pd. Justinian Hunt for £27:3:16 of old lead at £3:6 and £3:3:27 of New at 16s and 5 days work in laying ye lead and for carring ye old lead and bringing the new again
1717
Paid Justinian Hunt for doing ye Leads upon ye church
spent when men way ye leds for ye pulleys
1718
Paid Just. Hunt for glasing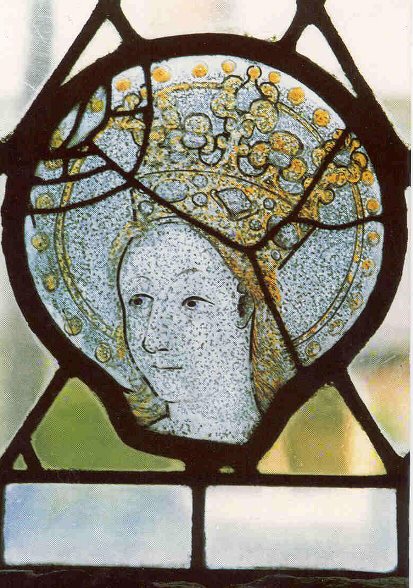 Medieval glass from the church at Cropredy


They had two sons, then Sarah died and was buried 24 March 1722 in Cropredy.



Burial record for Sarah Hunt in Cropredy:
"Sarah the wife of Justinian Hunt of Cropredy was buried on the 24th day of March 1722"
Only after the death of Justinian's first wife, Sarah, does someone else glaze the windows (Justinian's uncle, Mr. Kimnel). Was he broken-hearted, or just too busy raising a two-year old son and one-year old son? After three years Justinian resumes work on the church.

Justinian then married Alice Locke 13 January 1727 in Banbury, Oxford, England.


Justinian died and was buried 1 August 1753 in Cropredy.



Burial record for Justinian Hunt in Cropredy:
"Justinian Hunt of Cropredy was buried August 1st: 1753"
Justinian's will was proven in 1754.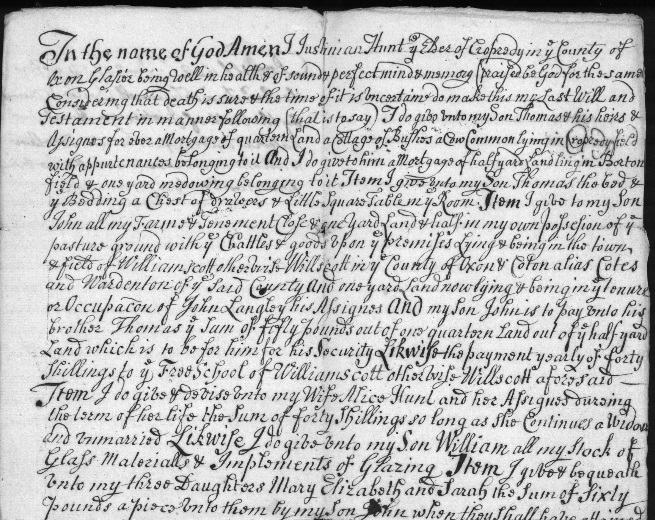 Will of Justinian Hunt of Cropredy, 1754
THE WILL OF JUSTINIAN HUNT
Will proven 21 June 1754

In the name of God, Amen, I Justinian Hunt the Elder of Cropredy in the County of Oxon, Glazier, being well in health and of sound and perfect mind and memory, praise to God for the same, considering that death is sure, and the time of it is uncertain, do make this, my Last Will and Testament in manner following (that is to say), I do give unto my Son Thomas and his heirs and assigns forever a Mortgage of quartern land, a Cottage of Bushes, a cow common lying in Cropredy held with appurtenances belonging to it. And I do give to him a Mortgage of halfyard land lying in Borton field, and one yard meadowing belonging to it. Item I give to my Son John all my Farms and Tenement close, and one yard land, and half in my own possession of the pasture ground with the Chattles and goods upon the premises lying and being in the town, a field of Williamscott, otherwise Willscott in the County of Oxon and Coton alias Cotes and Wardenton of the said County. And one yard land now lying and being in the tenure or occupation of John Langley, his assigns. And my Son John is to pay unto his brother Thomas the sum of fifty pounds out of one quartern land out of the half yard land which is to be for him for his Security. Likewise the payment yearly of forty shillings to the Free School of Williamscott otherwise Willscott aforesaid. Item I do give and devise unto my Wife Alice Hunt and her assigns during the term of her life the sum of forty shillings, so long as she continues a Widow and unmarried. Likewise I go give unto my Son William all my Stock of Glass Materials and Implements of Glazing. Item I give and bequeath unto my three daughters Mary, Elizabeth and Sarah, the sun of Sixty pounds a piece, unto them by my son John when they shall have attained the age of twenty four. If any one of them should die before the time, the portion is to be divided between other two sisters. Item I do give and bequeath unto my Son William six Cases of Glass, two of white and 4 of green for my Son Justinian is to give him, to place where he does dwell. Item I do give unto my Son Justinian all the rest and residue of my personal estate of what nature or kind whatsoever not by me herein disposed of to any. And I do make him Sole Executor of this my Last Will and Testament Revoking all other Wills and testaments by me made of which I have hereunto set my hand and Seals. The sixteenth day of June in the year of our Lord 1762.

Signed, Sealed, published, and declared
by the said Justinian Hunt the elder




In the presence of us.
Richard Paris, Justinian Hunt
John Toms
Joseph Toms
Justinian and Sarah had the following children:

*1. Thomas, christened 7 October 1720 in Cropredy, married 1) Dorcas How 7 January 1755 in Cropredy, married 2) Mary Toms 29 December 1760 in Cropredy.


Baptism record for Thomas Hunt in Cropredy: "Thomas the son of Justinian Hunt of Cropredy & of his wife Sarah was baptized on ye 7th day of October 1720"


2. John, christened 17 February 1721 in Cropredy.



Justinian and Alice had the following children:


1. John, christened 11 October 1727 in Cropredy; married Jane; buried 8 February 1799 in Cropredy.


2. Elizabeth, christened 4 December 1728 in Cropredy, buried 16 December 1728 in Cropredy.


3. Justinian, christened 29 May 1730 in Cropredy, buried 23 June 1803 in Cropredy.


4. Mary, christened 17 March 1731 in Cropredy.


5. William, christened 28 July 1734 in Cropredy.


6. Richard, christened 21 March 1736 in Cropredy.


7. Elizabeth, christened 10 July 1737 in Cropredy.


8. Sarah, christened 28 September 1740 in Cropredy.


Alice died and was buried 23 May 1771 in Cropredy.


SOURCE: Bishop's Transcripts, Cropredy Parish, FHS# 95235. Will of Justinian Hunt, dated 21 June 1754, in Banbury; Cropredy parish register; www.ancestry.co.uk.