Titus left a will dated 1624: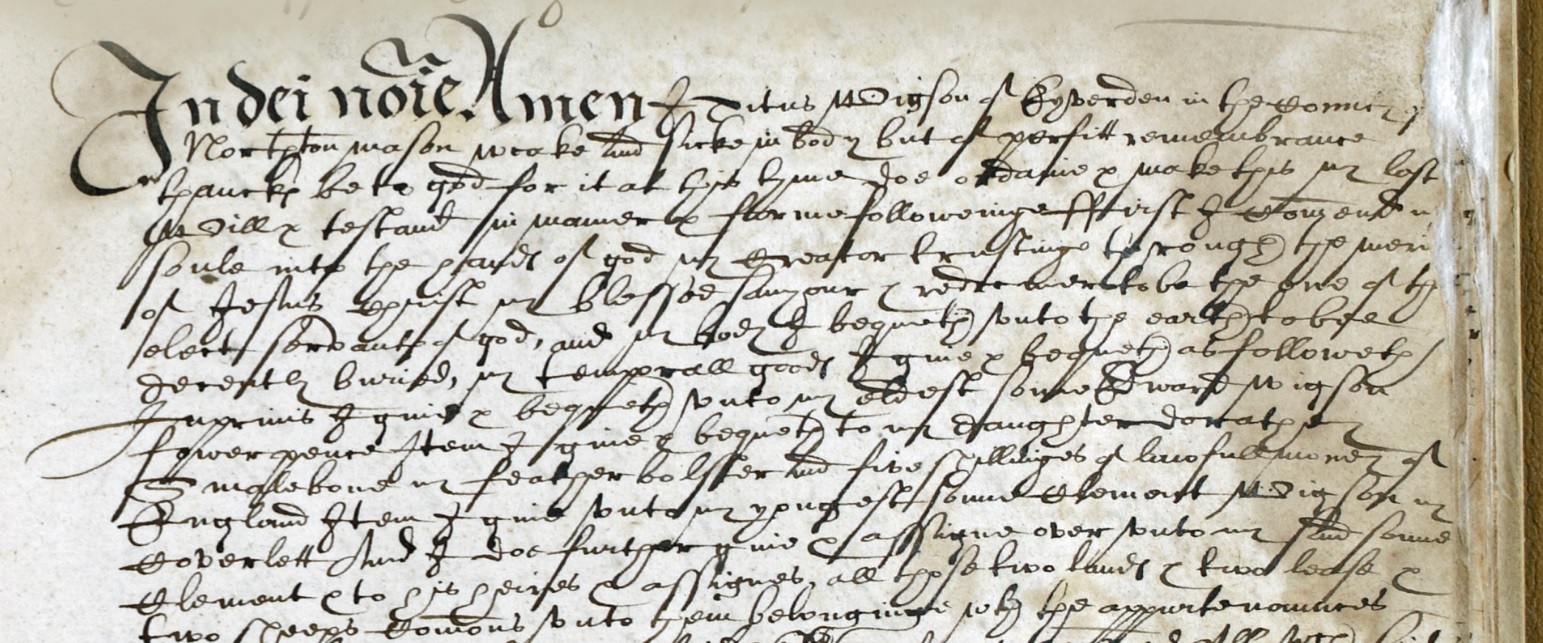 Will of Titus Wigson 1634

Will of Titus Wigson of Everden, 1624

In dei noie Amen, I Titus Wigson of Eyverden in the county of Northton, mason, weake and sicke in body but of perfitt remembrance thanks be to God for it at his tyme doe ordaine & make this my last will & testament in manner & forme following. Ffirst I comyend my soule into the hands of God my creator, trusting thourgh the merits of Jesus Christ my blessed Savyour & Redeemer to be the one of the elect servants of God, and my body I bequeath unto the earth to bee decently buried. My temporall goods I give & bequeth as followeth – Imprimis I give & bequeth unto my eldest sonne Edward Wigson fower pence. Item I give & bequeth to my daughter Dorathey Smalebone my feather bolster and five shillings of lawfull money of England. Item I give unto my youngest sonne Clement Wigson my coverlett. And I doe further give & assigne over unto my said sonne Clement & to his heires & assignes all those two lands & two lease & two sheepe comons unto them belonging with the appurtenannces lyinge & beinge in the open feilds of Eyden afore mentioned. All with said premises together with other things & lastly tooke by lease of one Nicholas Pagle of Paden aforesaid husbandman to have & to hold the said premisses unto my said sonne Clement, and to his heires for all the rest & residue of yeeres mentoned in the said lease not yet by tyme expired. Item I give more unto my said sonne Clement the one halfe of all such summes and amounts of money as I shall dye possessed of, my debts benige first paid, my funeral expences discharged & my will executed. Item I give to the poore of Eyden iijs iiijd. All the rest of my goods not given nor bequeathed & bestowed I give & bequeth unto my sonne William Wigson whome I make sole executor of this my last will & testament & I intreat my welbeloved sonne Edward Wigson & Thomas Smalebone my sonne in lawe to be the overseers of this my last will & testament. In wittnes whereof I the said Titus Wigson have here unto set my hand & seale.

Titus and Margaret had the following children:
1.
Edward
, christened 7 March 1577 in Eydon.
2.
Robert
, christened 13 September 1579 in Eydon.
*3.
Elizabeth
, christened 6 October 1583 in Eydon; married Alban Brockless 23 May 1603 in Eydon; buried .

Burial record for Elizabeth Wigson in Eydon: "Elizabeth Wigson the daughter of Titus Wigson was baptized the 6 of October"
4.
William
, christened 6 November 1586 in Eydon.
5.
Clement
, christened 15 May 1590 in Eydon.
6.
Dorothey
, christened 15 April 1596 in Eydon; married Thomas Smallbone 26 November 1612 in Eydon.
Titus and three of his sons are mentioned in the will of his uncle Lionell Morison in 1614 as bequests of "
tenn shillings a peece
" are left to: "
Robert Wigston, William Wigston, and Clement Wigston sonnes of my brother Titus Wigston".
Titus and his family are mentioned in the will of Martin Tue in 1617. Martin calls Titus his brother in the will. Perhaps he is a half-brother or brother-in-law?
Martin Tue of Eydon, Mason. 10th Feb 1617.
To the poor of Eydon, 5 strikes of rye.
To Clement WIGSTON £3.6.8.
To William Wigston 40s.
To Albane BROCKLES' six sons, which he had by his second wife, 40s amongst them at 16 years.
To Robert Wigston's 3 children which are now born, 30s between them when 15 years.
To Joan Tue wife of Edward Tue 40s.
To Thomas SMABONE's 2 children 6s 8d at 15 years
All the money bequeathed,£11.10.0, shall remain in Edward Wigston's hands except £3.6.8. which is due to Clement Wigston, the said Clement paying to Edward Wigston 5 nobles
To Edward Wigston 20s.
To Bartholomew ESAM the herd calf.
To Thomas Esam the black calf
To my son in law Bartholomew Esam the bedstead etc., all which his own father did appoint him to have after his mother's death.
All the rest to Annes my wife, my executrix
Martin "Teu" [very shaky writing].
Witnesses John SMYTH, parson of Eydon. Titus Wigston, Bartholomew Esam.
Overseers Titus Wigston my brother & Bartholomew Esam
Probate granted 7th March 1617

(Extract online at http://www.oocities.org/heartland/fields/1759/volfour/VOL4.21.htm)

Thomas Wigson was born in about 1520 of Eydon. Thomas died and was buried 25 September 1571 in Eydon. John Wigson died six days before on 19 September 1571, and Joane Wigson died 3 September 1571.

Burial record for Thomas Wigson in Eydon:
"Thomas Wigson was buried the 25 of September"
Thomas had the following children:
1.
Titus
, born in about 1550 of Eydon; married Margaret Morison in 1577 in Eydon; buried 10 February 1624/5 in Eydon.
2.
Alse
(Alice), christened 30 January 1551 in Eydon.
3.
Annis
, christened 21 January 1552 in Eydon.
Other early Wigson are found in the Eydon parish register:
Elizabeth Wigson married Edmonde Tue 2 May 1562 in Eydon.
Robert Wigson married Joan Tue 20 October 1570 in Eydon.
Robert Wigson married Margaret Harris 2 May 1572 in Eydon.

Elizabeth and Robert may be Thomas' siblings.

SOURCES: Eydon parish register.