THE FAMILY GROUP RECORD OF
ISAIAH MOSS AND
ELIZABETH HILL




Isaiah Moss was born in about 1600 of Wardington, Oxfordshire. His name is shown as Esaye, Esay, Esaya, and Esaiah in the parish register, and Isaiah in his will. He married Elizabeth Hill 9 October 1622 in Wardington.



Marriage record for Isaiah Moss and Elizabeth Hill in Wardington:
"Esaye Mosse and Elizabeth Halle were married the 0th of October"



Elizabeth was born in about 1601 in Wardington, and is most likely the daughter of Clement Hill and Margaret Muddyn. Isaiah was a yeoman farmer of Williamscot in the parish of Wardington. He was a witness to the will of George Calcott of Williamscot in 1638.

Elizabeth died and was buried 6 May 1665 in Wardington.




Burial record for Isaiah Moss in Wardington:
"Elizabeth the wife of Esaya Mosse was buryed the 6 day of May"


Isaiah died and was buried 6 November 1667 in Wardington.



Burial record for Isaiah Moss in Wardington:
"Esaiah Mosse was buried the sixt day of November."




Isaiah left a will proven 9 June 1668.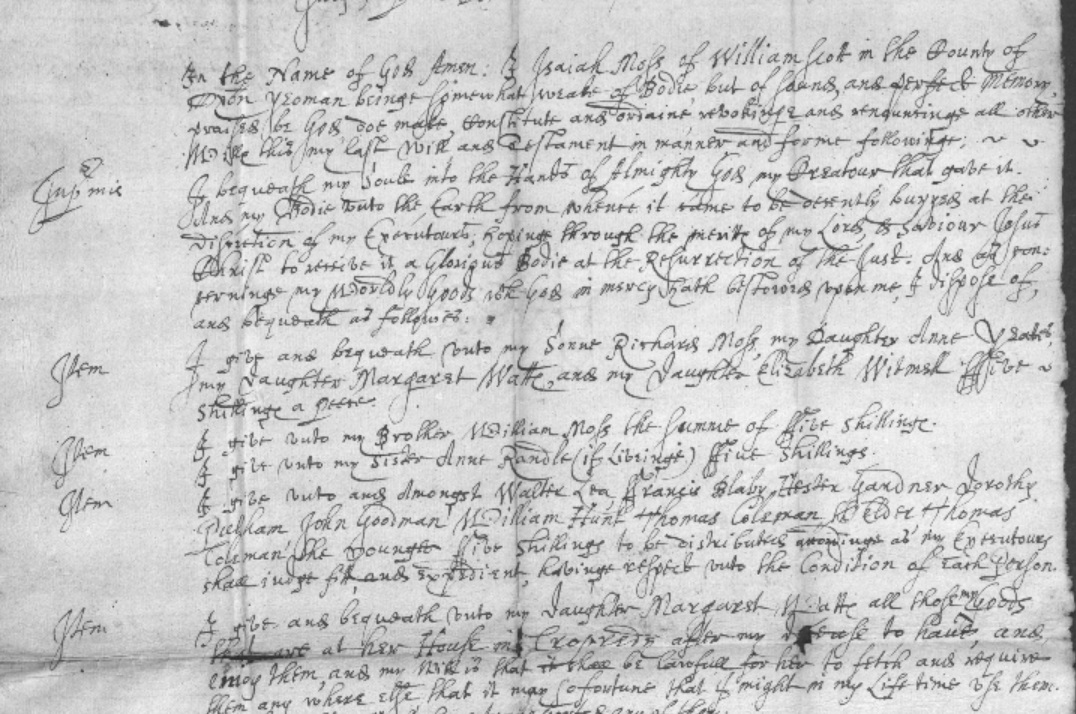 Will of Isaiah Moss, 1668
In the name of God Amen: I Isaiah Moss of Williamscott in the County of Oxon, yeoman, being somewhat weake of bodie, but of sound and perfect memory praised be God doe make, constitute and ordaine revoking and asnounsinge all other wills, this my last will and testament in manner and forme following: I bequeath my soule into the hands of Almighty God my Creatour that gave it. And my bodie unto the Earth from whence it came to be desently buryed at the discretion of my executors, hopinge through the merits of my Lord & Saviour Jesus Christ to receive it a glorious bodie at the Resurrection of the Just. And as concerning my worldy goods which God in mercy hath bestowed upon me, I dispose of and bequeath it as followes:

Imprimus, I give and bequeath unto my sonne Richard Moss, my daughter Anne Yeates, my daughter Margaret Watts, and my daughter Elizabeth Widmell ffive shillings a peece.

Item, I give unto my brother William Moss the summe of ffive shillings.

Item, I give unto my sister Anne Randle (if liveinge) five shillings.

Item, I give unto and amongst Walter Lea, Ffrancis Blaby, Hester Gardner, Dorothy Palham, John Goodman, William Hunt, Thomas Coleman the Elder, & Thomas Coleman the younger ffive shillings to be distributed according as my executors shall judge fit, and expedient, having respect unto the condition of each person.

Item, I give and bequeath unto my daughter Margaret Watts all those goods that are at her house in Cropredy after my decease to have, and enjoy them, and my will is that it shall be lawfull for her to fetch and require them any where else that it may so fortune that I might in my lifetime use them and from her house have transported any of them.

Item, I give and bequeath unto my grandchild Richard Moss a posnet & andirons that are in his ffathers house.

Item, My intent, will and desire is that whatever my personall estate, money, and goods shall arise, and amount unto (except before excepted and bequeathed) shall be equally devided amongst my grandchildren that shall be liveinge at my decease by my executours: And further it is my will that the parents of my respective grandchildren shall upon receipt of such legacies & portions that shall become due unto their children shall give their acquittents & discharge unto my executors in behalf of their children:

Lastly I make and ordaine my sonne Richard Moss, my sonne in law Edmund Yeates and my sonne Richard Watts joint executors of this my last will and testament unto whom I give the rest of my goods unbequeathed they performing my will and bequeaths & my ffunerall expenses discharging. In witness whereof I have set hereunto my hand and seale.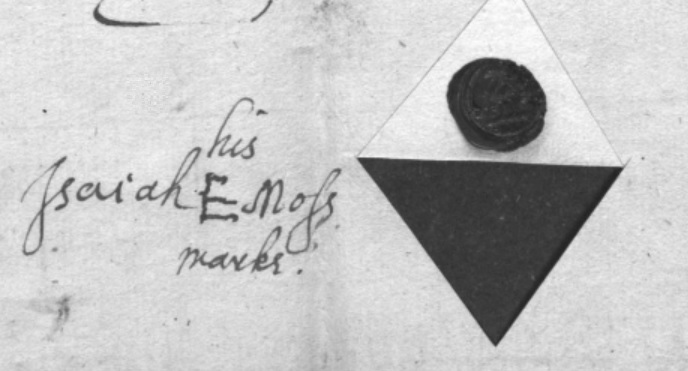 Isaiah Moss, his marke
Sealed and delivered in the psence of Will Taylor, John Dichfield, Richard Mosse


An inventory was also created for Isaiah: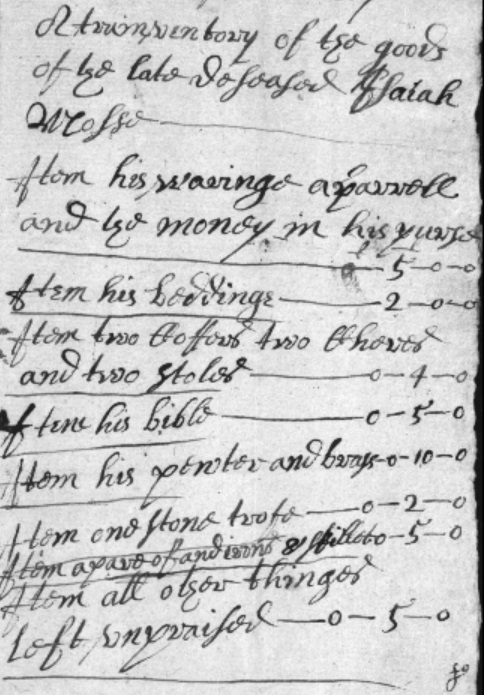 Inventory for Isaiah Moss

November ye 12, 1669
A tru inventory of the goods of the late deseased Isaiah Mosse
Item, his wairinge aparrell and the money in his purse 5-0-0
Item, his bedding 2-0-0
Item, his bible 0-5-0
Item, his pewter and brass 0-10-0
Item, one stone trofe 0-2-0
Item, a pare of andirons & skillet 0-5-0
Item, all other things left unpraised 0-5-0
Richard Watts
Richard Reade


Isaiah and Elizabeth had the following children:






1. Anne, christened 22 June 1623 in Wardington; married Edmund Yeates; mentioned in father's will of 1668.

*2. Margaret, christened 26 December 1624 in Wardington; married Richard Watts

27 May 1647 in Cropredy

; mentioned in father's will of 1668.





Baptism record for Margaret Moss in Wardington: "Margeret Mosse the daughter of Esau Mosse was baptized the 26the day of December"


3. Edward, christened 22 December 1625 in Wardington.

4. Richard, born about 1627 of Wardington; married Margaret; mentioned in father's will of 1668; buried 19 April 1695.

5. Elizabeth, christened 2 August 1628 in Wardington; mentioned in father's will of 1668; married Mr. Widmill.


Other Moss family members in Wardington include:


William Moss, named as Isaiah's brother in his will of 1668.
Ann Moss, married Mr. Randle, named as Isaiah's sister in his will of 1668.

SOURCES: Wardington parish register; will of Isaiah Watts, 1668.