FAMILY GROUP RECORD OF
FELIX AND MARGARET CARTER





Felix Carter was born in about 1550 of Claydon. He was a yeoman of Claydon. Felix married Margaret Tredwell 20 April 1573 in Steeple Aston, Oxfordshire, a parish about fifteen miles south of Claydon, and ten miles south of Banbury.




Marriage record for Felix Carter and Margaret Tredwell in Steeple Aston:
"1573 - In the yeare of our Lord 1573 the 20th day of Aprill were Felix Cartar and Margarett Tredwell maryed"



A researcher shares this information about Felix: "Felix was one of the more prosperous men of the village, evidenced by the fact that in the Lay Subsidy (tax) of 1610, only two Claydon residents are listed, one of them Felix, and they each paid a tax of two shillings eight pence on their lands. Most of the Carter children grew to maturity and married. The youngest, Richard, in 1616, at the age of twenty-four, had not yet taken a wife, when he became ill and made known his will concerning his goods. He divided them among his brothers and sisters, his sister Julian's children, his father, and friends. The inventory of his estate suggests that he had been hard-working and successful. He owned a mare and her filly, a heifer, sixty-eight sheep, a "bridel & saddel," and wearing apparel." (www.familysearch.org, contributor Neal H. Jorgensen)


Felix is mentioned in British History Online: "The medieval tax returns do not suggest a poor village...Even so, among a selection of probate inventories, may be mentioned those of Richard and George Knibb, Fulk Stacey (d. 1606), Felix Carter (d. 1619), and William Martin (d. 1667), all of whom left personalty at their deaths worth more than £130. In general they were mixed farmers, their wealth lying in both crops and stock."


In Hall Ancestry this information about the Carters is told: "Felix Carter and Margaret his wife, of Claydon, Oxfordshire, England, were the maternal grandparents both of Samuel Boreman of Claydon, who emigrated in 1638 and settled in Wethersfield, Conn., and of Thomas Boreman who settled in Ipswich, Mass. Mr. Carter's name first appears in the Claydon records July 28, 1577, when the baptism of son Peter is recorded. Possibly at that time he had but recently come to Claydon, the baptism of his older children not being recorded there, and no person of his age appearing in the record before his own. In 1580, he was one of the appraisers of the estate of the first Thomas Boreman. In a Lay Subside list for Claydon the 7th of James I (1610), he is taxed upon real estate, from which it appears that he was a freeholder, and in this respect better situated than the Boremans, who held only leasehold estates. In his will, made May 29, 1619, he devises an estate in fee to his daughter, Julian Boreman, "the Dunes house with thaulf the auchead to shee and her heres begotten of hir body"…His inventory, in which he is described as "yeoman", taken on the 31st of the same month, considerably exceeds that of the other members of the family living in Claydon. At the time of his death in 1619, he must have been not far from seventy years old. His widow survived him about a year and a half, dying in 1621." (Hall Ancestry)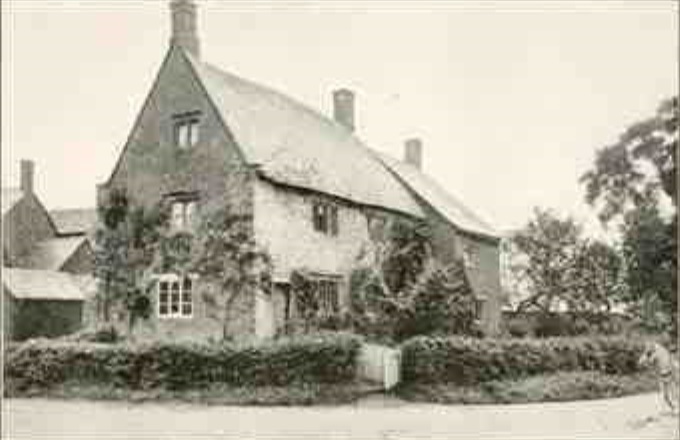 Felix Carter's home in Claydon

Felix and Margaret's home was mentioned in a history of the Boremans: "There is every reason to believe that the house of Thomas Boreman is still standing at Claydon. It adjoins the house and yard of Felix Carter, whose daughter, Julian, became the wife of Christopher, the son of Thomas Boreman. This house dates far back of 1600, and was probably the house of Thomas Boreman's father." (The Ancestry of William Francis Joseph Boardman)


Felix was mentioned in the will of John Tredwell of Steeple Aston in 1588: "I geave & bequeathe to my godsonne Ffelixe Carter his sonne vis viijd and to evrye of his other children xxd a peece."


Felix died and was buried 29 May 1619 in Claydon.




Burial record for Felix Carter in Claydon:
"Ffelyx Carter was buried they xxixth daye of May 1619"


Felix left a will dated 1619: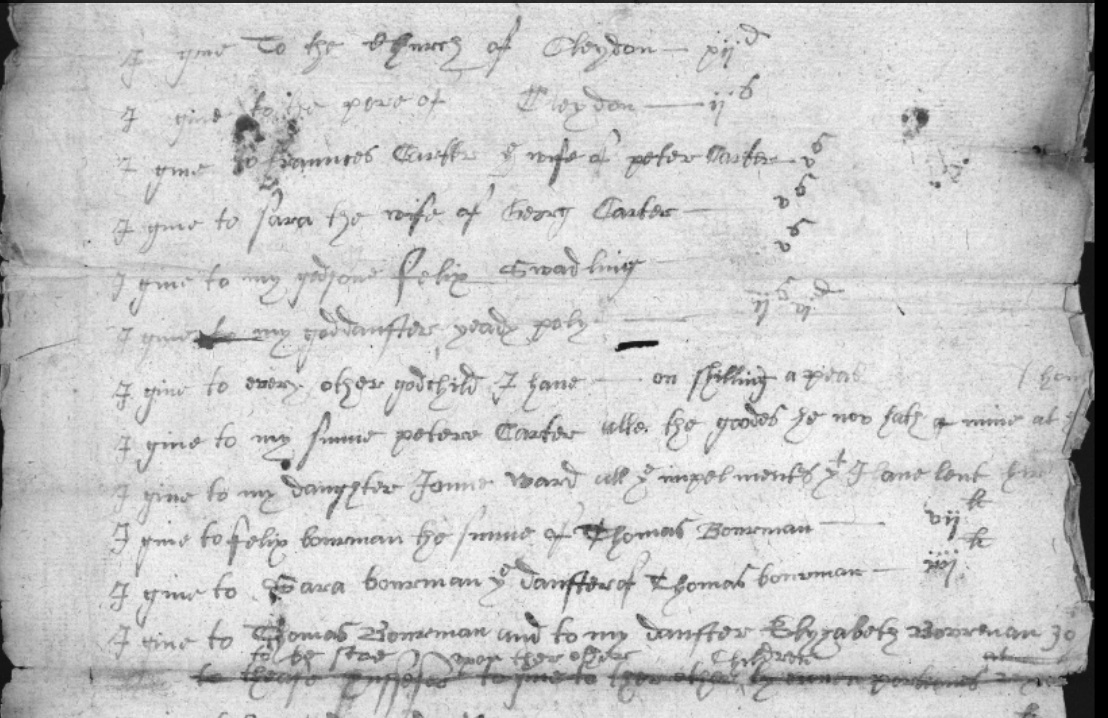 Will of Felix Carter of Claydon, 1619




The 29 day of May anno Dm 1619
I give to the church of Cleydon xijd.
I give to the pore of Cleydon ijs.
I give to o Frannces Carter wife of Peter Carter vs.
I give to Sara wife of George Carter vs
I give to my godson Felix Swadling vs.
I give to to goddaughter yeads poly ijs, vid.
I give to to every other god child I have on shilling a peas
I give to my son Peter Carter alle the goodes he now hath of mine at his house
I give to my daughter Jonne Ward all the impliments that I have lent her.
I give to Felix Bourman the sonne of Thomas Bourman xijl
I give to Sara Bourman the daughter of Thomas Bourman iiijl
I give to Thomas Bourman and to my daughter Elizabeth Bourman 30l to be stoe upon ther other chyldren.
I give to An Goode my daughter xl.
I give to Henry Goode her sunne xl.
I give to the other children begotten of my daughter Ane Goode xxli equally devided.
I give to m To my daughter Jolian Bourman xli & Dunes house with thaulf the aurcheard to shee and her heres begotten of hir body.
I give to my daughter Ales Garner xli & the other moety of orcheard being on the west side to shee & hir heires begotten of hir body forever.
All the rest of my good unbequeathed I give unto Margaret my wyfe whom I mak my executor.
I ordaine for my overseeres Thomas Borman Thomas Goode & George Carter & to each of them give five shillings .

Item the said Felix Carter did give unto his wife all those house, orchards, backside purtenances and all other things belonging to the house in his possession unto the said Margeret his wife during her natural life and then to his two daughters and their heires according as it is expressed in the will. These words did he affirm in the presence of us whose names are underwritten. John Mayoe, Elizabeth Borman, Dority Pratt, Phillip Gardner



Margaret died, leaving a nuncupative (verbal) will dated 1621: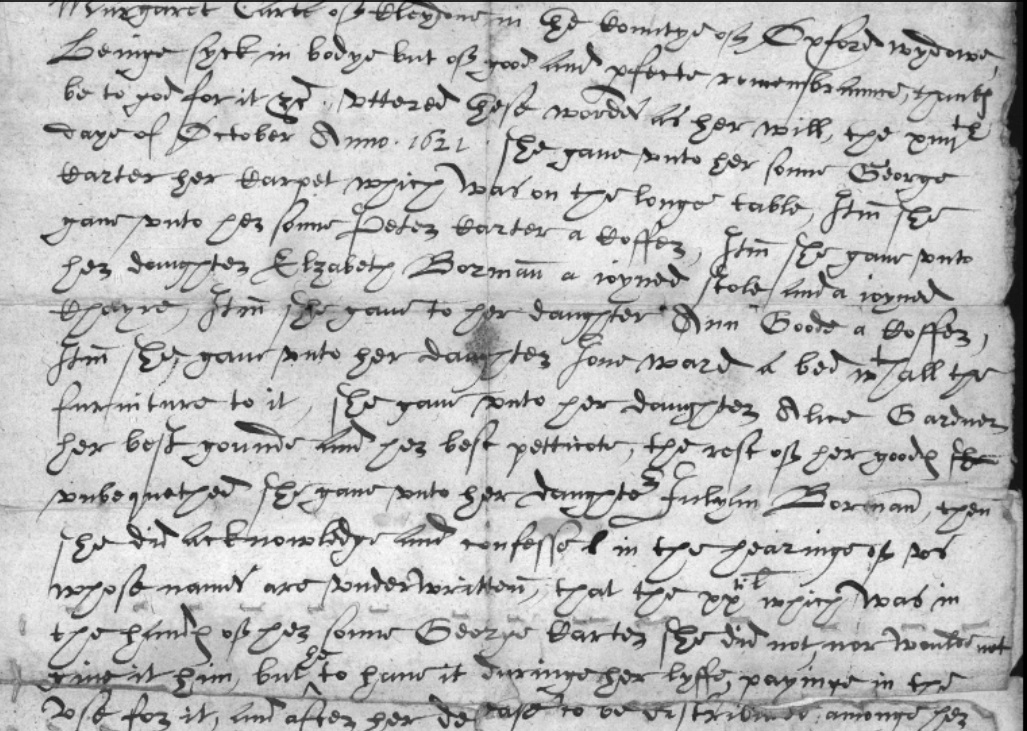 Will of Margaret Carter, widow of Claydon, 1621

Margaret Carter of Cleydon in the Countye of Oxford, wydowe, beinge syck in bodye but of good and pfecte remembrannce, thanks be to God for it, uttered these words as her will, the xiiijth daye of October anno 1621. She gave unto her sonne George Carter her carpet which was on the onge table. Item she gave unto her sonne Peter Carter a coffer. Item she gave her daughter Elzabeth Borman a wyndd stole and a joined chayre. Item she gave to her daughter Ann Goode a coffer. Item she gave unto her daughter Jone Ward a bed with all the furniture to it. She gave unto her daughter Alice Gardner her best gounde and her best petticote. The rest of her goods unbequethed she gave unto her daughter Julyan Borman, then she did acknowledge and confesse in the hearing of those whose names are underwritten that the xxl which was in the hands of her sonne George Carter she did not nor would not give it him, but he to gave it during her lyffe, paying in the use for it, and after her decease to be distributed amongst her fyve daughters.

Witnesses; William Sanderson, Alice Dun the wyffe of Willm Dun



Felix and Margaret had the following children:


1. George, married Sara.


*2. Elizabeth, born in about 1560; married Thomas Boreman; buried 12 May 1631 in Claydon.


3. Peter, christened 28 July 1577 in Claydon; married Frannces; buried 15 February 1635/6 in Claydon.


4. Ann, christened 25 September 1579 in Claydon; married Thomas Goode 3 August 1602 in Claydon.


5. John, christened 21 October 1581 in Claydon.


6. Julian, christened 20 December 1583 in Claydon; married Christopher Boreman 19 November 1603/4. Julian Carter was "daughter of Felix and Margaret Carter of Claydon, and sister of the Elizabeth Carter who was the mother of Thomas Boreman of Ipswich". (Hall Ancestry) In One Life at a Time: "Julian (Carter) Boreman's father, Felix Carter, a yeoman, was one of only two in Claydon who owned land by his own right, not by leasehold. Towards the end of his life, Felix Carter urged his daughter and her family to return to Claydon, and when they did, Felix Carter gave his son-in-law some land. Felix Carter died in 1630. Christopher Boreman died and Claydon and was buried April 1, 1640. By this time, Samuel Boreman was in New England and his mother Julian (Carter) Boreman moved to London to live with her married daughter Elizabeth Boreman Middleton, with whom she lived for another two decades." (One Life at a Time: A New World Family Narrative)


7. Jone, christened 10 November 1585 in Claydon; married Francis Ward.


8. Alice, christened 17 July 1589 in Claydon; married Phillip Garner.


9. Richard, christened 6 November 1591; died and was buried 17 April 1616, leaving a will.



SOURCES: Will of Felix Carter of Claydon, 1619; will of Margaret Carter, widow of Claydon, 1621; will of Richard Carter, 1616.