JANE THORNLEY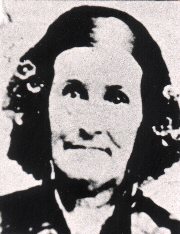 Jane Thornley was born 14 April 1802 in Horwich (a small town about two miles east of Bolton), Lancashire, England, the daughter of John F. Thornley and Ellen Hilton.



Christening record for Jane Thornley in Horwich New Chapel (Independent), Horwich:
"Jinny the daughter of John Thornly and Helen his wife of the parish of Dean Heaton
in the County of Lancaster (born on the 14th day of April 1802) was baptized on the 28th day of June 1802
by me James Kenworthy, Protestant Dissenting Minister"
From www.bolton.org.uk: "The name of Horwich is thought to come from the Old English words of "har" and "wice", meaning the grey wych-elms. According to the oldest records, wild boar used to be hunted in the forest during the 13th Century... Early industry was concerned with the cotton trade, most homes had some form of weaving equipment, and a major bleachworks as well as a few mills when mechanisation arrived, powered by waterwheels. A few coal mines and a sandstone quarry also supported the economy."

Janeís father, John worked as a spinner. He was born in Leyland, Lancashire. Ellen, Janeís mother, was born in Croston, Lancashire. Jane had an older brother, Jonathan, born in 1800 in Horwich, then Jane was born in 1802. The family moved to Bolton, where Ann (1811), Ellen (1816) may have died young, Ellen (1821), and John (1823) were born. The last child, Alice was born in Leyland in 1827.

Jane and Samuel Hamer were married 7 March 1824 in Bolton le Moors. Samuel worked as an engineer, fixing and maintaining machinery, and as a miller. Ten children were born to them in England - John, Martha, Nancy, Ellen, James, Samuel, Jane, James, Ann, and Joseph. In 1835, the family moved to Tottington (about four miles north of Bolton), and it must have been here that they were converted to the gospel. According to the History of the Church, in 1840 there was a branch of sixty members in nearby Bolton. It is not known when Samuel and Jane were baptized, but their son John was baptized in September of 1840 by Robert Crook. John was 16 years old.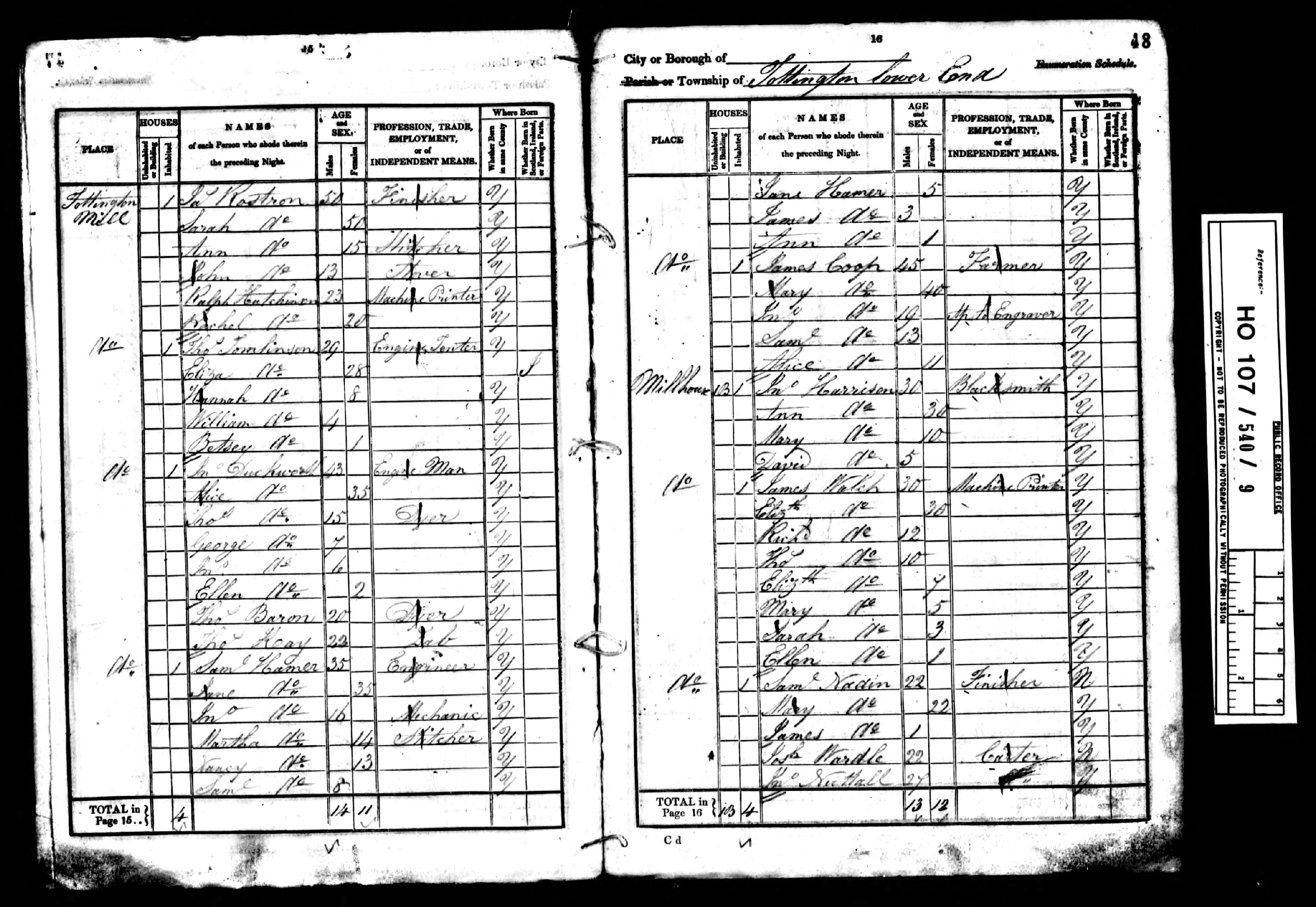 The Hamer family appears in the English census in Tottington Mill in 1841. The record shows:
Saml Hamer, 35, Engineer
Jane Hamer, 35
Jno Hamer, 16, Mechanic
Martha Hamer, 14, Stitcher
Nancy Hamer, 13
Saml Hamer, 8
Jane Hamer, 5
James Hamer, 3
Ann Hamer, 1


The Hamers immigrated to the United States in February of 1842 on the ship Hope. The passenger list for the Hope shows:
Samuel Hamer, age 38, origin England, occupation: Miller
Jane Hamer, age 39
John Hamer, age 17
Martha Hamer, age 14
Nancy Hamer, age 12
Samuel Hamer, age 10
Jane Hamer, age 6
James Hamer, age 4
Anne Hamer, age 2
Joseph Hamer, infant, origin England
Sources: New Orleans, 1820-1850 Passenger and Immigration Lists, www.ancestry.com; Mormon Immigration Index CD. In the Mormon Immigration Index Joseph Hamer is shown as an infant, the other family members are extracted in the CD as "Hanna". Since baby Joseph was most likely not traveling alone, and ages for the other children match, it is assumed that Hamer was wrongly translated as Hanna for the other family members. In the Ancestery.com list the family is listed as Hamer. Janeís age must be in error.
The Hope sailed from Liverpool on 5 February 1842, under Captain Soule. There were 270 LDS immigrants, under the direction of James Burnham. The company of Saints traveled up the Mississippi and joined the Saints at Nauvoo. The ship arrived on 1 April 1842. The History of Joseph Smith records: "About one hundred and fifty Saints from England, landed in Nauvoo from the steamer Louisa, and about sixty from the steamer Amaranth."

Nauvoo in 1840 had a population of 2,450. The call to gather brought many hundreds of English immigrants like the Hamers: "One of the assignments given the Council of the Twelve in Nauvoo was the resettlement of British immigrants. The Twelve helped newcomers find homes and land, employment, and temporary sustenance when needed. So, to serve the steady influx of Missouri and British Saints, surveyors in Nauvoo laid out a plat of four-acre blocks, each divided into four plots. Upon the city lots were many small log homes, some frame and stone buildings." (Ensign, Sept. 1979). The Hamers were given Lot #74, a few blocks from the Nauvoo Temple site, towards the river. (One of the Hamer's next-door neighbors, Sarah Granger Kimball, was responsible for starting the charitable women's organization that became the Relief Society. Her house is still standing, and is part of the Nauvoo restoration site tour.) Family stories indicate that the Hamerís daughter, Jane Hamer, worked for the Prophet Joseph Smith. Perhaps it was the mother, Jane, who worked there, as little Jane Hamer would have only been six years old at this time.

Samuel worked in Nauvoo as a blacksmith. The one-year-old baby, Joseph, died in September of 1842. He is believed to have been buried on the Hamer's property. Samuel died 7 August 1843, of malaria. The loss of her husband must have been very hard for the widowed Jane Hamer, and she still had young children to raise.




The Hamerís property on the corner of Young and Bain in Nauvoo.
Samuel and baby Joseph may be buried here.

All of the Saints were shocked by the murder of Joseph and Hyrum Smith in June 1844, and mob violence increased. A diary kept by Zina Diantha Huntington Jacobs in Nauvoo records on September 14, 1844, "I went and saw Sister Hamer." (Zina later became General Relief Society President from 1887 to 1901).
Jane Thornley Hamer was left with the responsibility of a large family, as the Saints encountered increasing difficulties in Nauvoo. She had eight children, aged five to twenty. The family gathered together to support each other. In 1845, John S. Haslam, a good family friend, married the oldest daughter, Martha. The family remained in Nauvoo until continuing persecution caused the Saints to leave in 1846.

The family traveled together to Winter Quarters. Samuel, Jr. and John S. Haslam helped the Saints carry supplies and immigrants across the Missouri River, and worked as blacksmiths. The winters of 1849 and 50 were especially hard. They often did not know where the next meal was coming from: "There had been no supper the previous night and the mother (Jane) could find nothing for breakfast. They held family prayers and asked God for food. After prayer, Samuel (her son) took his gun and prepared to go in search of food. He was in the act of leaving the tent when a large rabbit ran through the tent flap and across the floor. He took aim and fired, killing the rabbit. In the midst of their rejoicing, someone noticed a shadow which fell across the floor. Looking up, they saw a large Indian standing in the doorway. With what little English he knew and many gestures, he let them know that he had chased the rabbit into their tent, and that it was rightfully his. The mother recognized the justice of his action and relinquished the rabbit without further ado. As he turned to go the children, seeing their breakfast disappear, began to cry. The Indian stopped, turned to grandmother and said: "Where your man?" She told him that her husband was dead. He grunted, handed her the rabbit and turned and walked away." (Nellie Hamer Reiser).

Jane is found with her family in the 1850 census in Pottawatamie County:

John Amer, age 26, occupation: blacksmith
Elizabeth, age 18
John Hazlem, age 27
Martha, age 24
Jane, age 4
John, age 2
Jane Amer, age 49
Samuel, age 17, occupation: none
Jane, age 15
James, age 13
Ann, age 12
Source: 1850 federal census, Iowa, Pottawatomie County, District 21, page 112, on ancestry.com.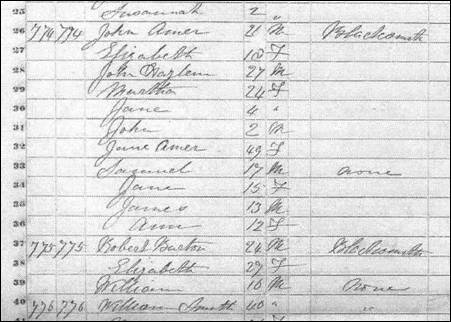 1850 census, Iowa
Jane and her family crossed the plains with the Orson Pratt Company, encountering hardship and near starvation as they journeyed to Utah. Jane was a midwife, and her skills were a great blessing to the sick while crossing the plains. Her son, Samuel, remembered her determination and economy: "Father was always proud to tell of his mother's foresightedness and economy. He told us of how she would prepare the bones and small pieces of meat for their immediate meals, drying and saving the larger pieces for the future. When father's gun would bring down a prairie chicken or two, his mother would cook the forepart of the bird, and would dry the legs and hang them up by pieces of string to the beams of the wagon in the manner which she dried the pieces of meat. He told of how his mother made soda from salratis which she gathered from the wayside, of how she made soap." (Nellie Hamer Reiser)

The family arrived in the Salt Lake Valley in October 1857. Jane was 55 years old and had crossed the plains. Jane received a plot of land in the 16th Ward from Brigham Young. Her life here was comfortable and happy. Her children married and had children: "Samuel married Ann Albion on November 5, 1857. Nancy married William Player; Martha, married John Haslam; Jane married Thomas Dallin and was the mother of the famous Utah sculptor Cyrus E. Dallin; Ann was the second wife of D.O. Calder; John drowned in the Jordan River in the year 1877 while fishing; and James died in Salt Lake City." (Nellie Hamer Reiser). There is an incidental mention of Jane Hamer in "Our Pioneer Heritage": "Brother David Calder, President Young's head clerk had engaged me... One day of his wives had me go with her to visit her mother, to help carry her child. Sister Hammer lived in the lower part of town. While there, a young man, Henry Maudsley, came in. His mother and Mrs. Hammer had been playmates in England and later neighbors in Nauvoo." (History of Mary S. Maudsley, Our Pioneer Heritage, vol. 19 p. 377)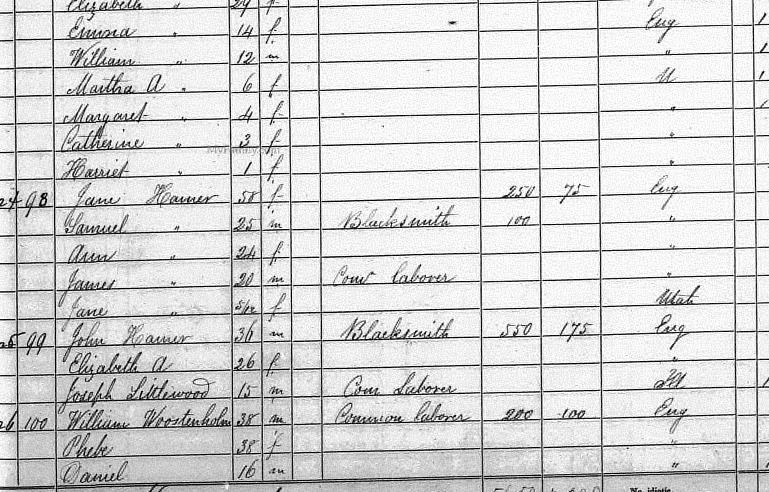 1860 census, Salt Lake City, Utah
Samuel Hamer, Jr. was called on a mission to settle Panaca, Nevada in 1868. Jane moved in with her son John and his family. Samuel returned in 187l, and settled with his mother on the land that Brigham Young had given her. Samuel's likeness may be seen on the Brigham Young Monument in Salt Lake City, as his granddaughter tells: "It has been stated by members of his family that Samuel Hamer posed for the figure of the Trapper on the west side of the Brigham Young Monument at South Temple and Main Street in Salt Lake City. This monument was the work of his nephew Cyrus E. Dallin. The figure is a very good likeness of my grandfather." (Isabella Hamer Vogelaar).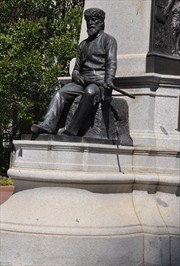 Trapper statue, Temple Square -
Samuel Hamer, Jr was the model for the statue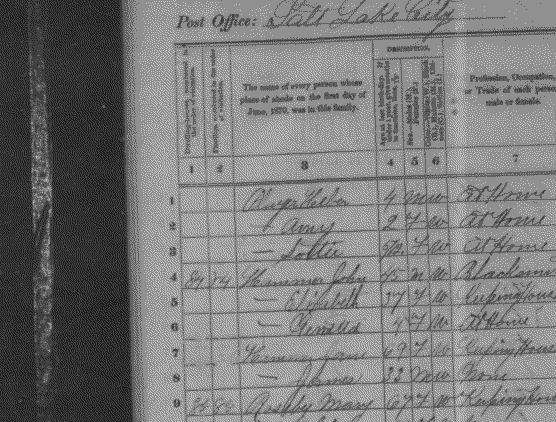 1870 census, Salt Lake City, Utah


Jane is found living with her son John's family in Salt Lake City in the 1870 U.S. census:

Hammer, John, age 45, blacksmith
Hammer, Elizabeth, age 37, keeping house
Hammer, Genetta, age 4, at home
Hammer, Jane, age 69, keeping house
Hammer, James, age 33, none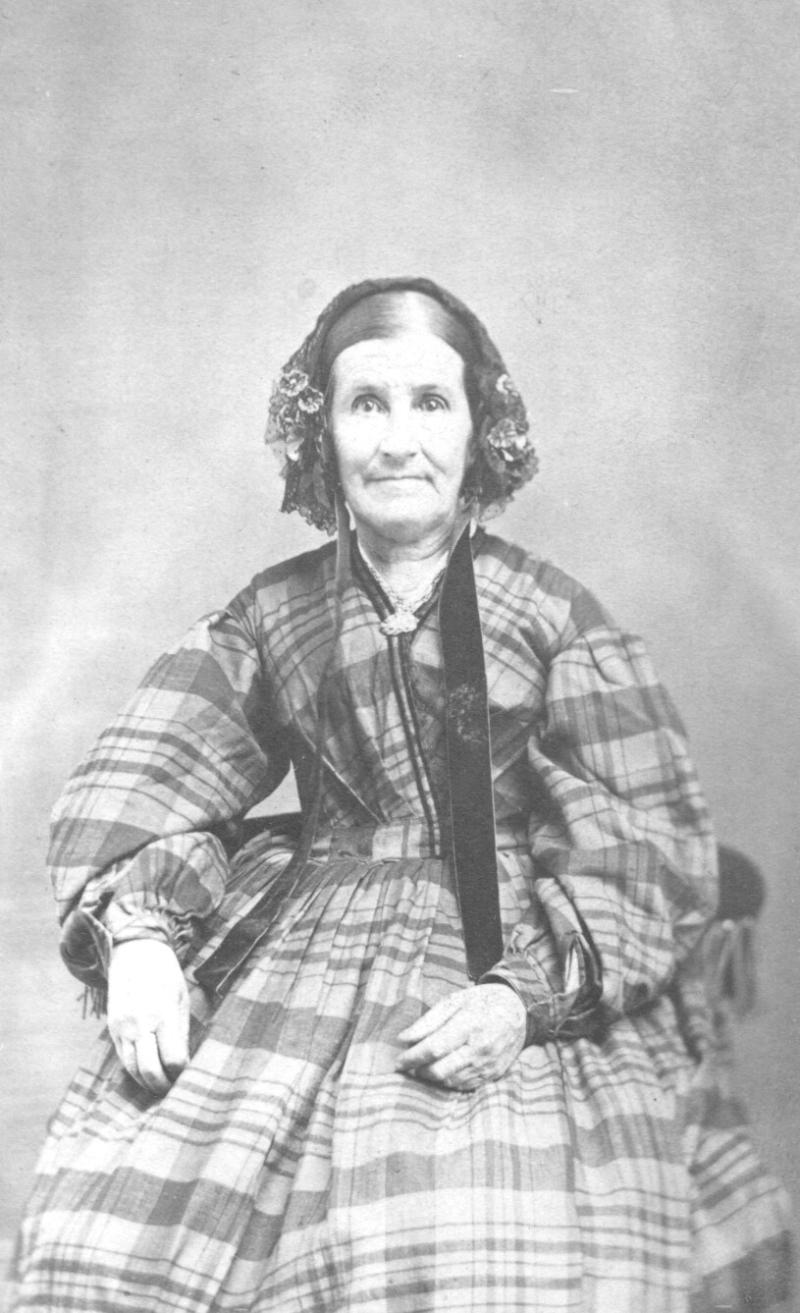 Jane Thornley, circa 1870

Jane Thornley Hamer is found in the 1880 federal census in Salt Lake City:
Samuel Hamer, age 46, born in England, occupation: Blacksmith
Ann Hamer, wife, age 45, born in England, keeping house
Jane Hamer, daughter, age 20, born in Utah, occupation: Housekeeper
Daniel Hamer, son, age 13, born in Utah, school boy
Clara Hamer, daughter, age 9, born in Nevada
Willard Hamer, son, age 11 months, born in Utah
Sarah Hamer, wife, age 31, born in England, keeping house
Nancy Hellen Hamer, daughter,age 9, born in Utah
Samuel Earnest Hamer, son, age 7, born in Utah
Martha Hamer, daughter, age 5, born in Utah
Mary Hamer, daughter, age 3, born in Utah
Walter Hamer, son, age 8 months, born in Utah
Jane Hamer, mother, age 78, born in England
James Hamer, brother, age 43, born in England, occupation: Chore boy
Census place: Salt Lake City, Salt Lake, Utah
FHL# 1255337
Page #: 137A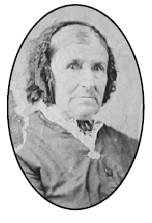 Jane Thornley Hamer





Death record for Jane Hamer in Salt Lake City, Utah Death Register
Jane died 7 May 1885 in Salt Lake City, 83 years old. Her obituary in the Deseret News reads:
"HAMER - in the Sixteenth Ward, Salt Lake City, May 7, 1885 of old age, Jane Hamer, widow; born in Harwich, Lancashire, England, April 14, 1802. Funeral service at Sixteenth Ward School House, at 11 am on Sunday, May 10. Friends invited."



FAMILY GROUP RECORD OF
SAMUEL HAMER
AND JANE THORNLEY
SAMUEL HAMER was born 28 May 1803 in Bolton Le Moors, Lancashire, England to John Hamer and Jane Bentley. He married Jane Thornley 7 March 1824 in Bolton Le Moors, Lancashire, England. She was born 14 April 1802 in Horwich, Lancashire, England to John Thornley, a spinner, and Ellen Hilton. Samuel died 7 August 1843 in Nauvoo, Illinois. Jane died 2 May 1885 in Salt Lake City, Utah. Samuel and Jane had the following children:
1. John, born 2 July 1824 in Bolton; married Elizabeth Ann Wilding 24 September 1850; died 1877 in the Jordan River, Salt Lake City, Utah.
*2. Martha, born 1 July 1826 in Bolton; married John S Haslam 4 March 1845; died 16 June 1867.
3. Nancy, born 1 April 1828 in Bolton; married William Player 24 September 1880; died 28 June 1889.
4. Ellen, born 15 August 1830 in Bolton; christened 18 August 1830 in St. Peter parish, Bolton; may have died young.
5. James, born 14 August 1832 in Bolton; christened 23 September 1832, St. Peter, Bolton; may have died young.
6. Samuel, born 30 August 1833 in Bolton; christened 22 September 1833 in St. Peter, Bolton; married Ann Albion 5 November 1857; married Sarah Openshaw 8 July 1870 (the daughter of John S Haslam's cousin, Job Openshaw); is said to have posed for the figure of a trapper on the base of the Brigham Young statue on Temple Square; died 8 February 1895.
7. Jane, born 12 November 1835 in Tottington, Lancashire, England; christened 13 December 1835 in St. Peter, Bolton; married (1) C.A. Allen, (2) Thomas Dallin in 1859; mother of Cyrus Dallin who sculpted the angel Moroni on top of the Salt Lake Temple; died 16 March 1919 in Springville, Utah; buried 19 March 1919.
8. James, born 12 September 1837 in Tottington.
9. Ann, born 10 December 1839 in Tottington; married David Orson Calder 5 March 1857; died 5 December 1902.
10. Joseph, born 19 August 1841 in Tottington; died 30 September 1842 in Nauvoo.

SOURCES: IGI; St. Peter parish register, Bolton FHS# 559177; Leyland parish register; Croston parish register; Tottington parish register; New Orleans, 1820-1850 Passenger and Immigration Lists; Family Group Sheet submitted by Elsie Hamer Taysum; Obituary, Nauvoo Neighbor 16 August 1843; Nauvoo property records; 1850 census, Pottawattamie County, Iowa; 1860 census, Salt Lake City, Utah; 1870 census, Salt Lake City; 1880 census, Salt Lake City; Deseret News; www.familysearch.