FAMILY GROUP RECORD OF
LAWRENCE ALLENS AND
ELLIN HOLT




Lawrence Allens was born in about 1570 of Middleton, Lancashire, England.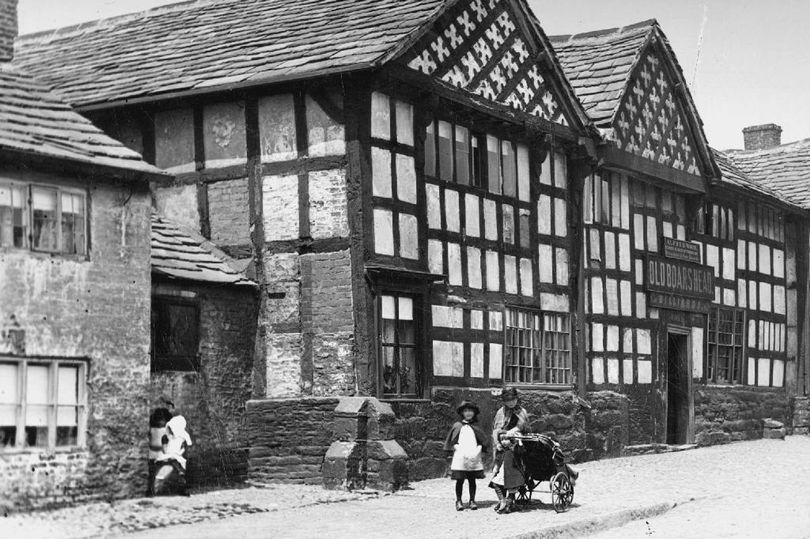 Olde Boars Head Inn in Middleton, built in the late 1500s



Lawrence married Ellin Holt 11 October 1599 in Middleton, Lancashire.





Marriage record for Lawrence Allens and Ellin Holt in Middleton:
"Lawrenc Allens and Ellin Holt"


Ellin was buried 10 November 1651 in Bolton, and was shown as "of Aynesworth".




Burial record for Ellen Allens in Bolton: "Uxor Lawrence Allens of Aynsworth - 10" (Uxor is Latin for wife)

Lawrence and Ellin had the following children:


*1. Alis, christened 9 November 1600 in Bolton; married Michael Bently 11 November 1622 in Bury, Lancashire, "of Midl"; buried 26 August 1645 in Bury.


Baptism record for Alis Allens in Bolton: "Alis Allence daughter of Lawrence and Elline his wife - 9 of November"

2. Judith, christened 10 April 1603 in Bolton, "of Middleton parish".

3. Thomas, christened 17 May 1608 in Bolton; married Alice Barlow 2 February 1627 in Bury, "of Middleton parish".

4. Dorothie, christened 9 September 1610 in Bolton, "of Middleton parish".

5. Mary, christened 30 March 1617 in Bury, "of Cockey".

6. Debarah, christened August 1619 in Bury.


SOURCES: IGI; Bolton parish register; Middleton parish register; Bury parish register; www.ancestry.co.uk. There is a burial entry for "a daughter of Lawrence Allens of Aynesworth intra eclesiam 14 July 1630".




If you have any additional information about this family, please contact me at alice@boydhouse.com.