JOHN S HASLAM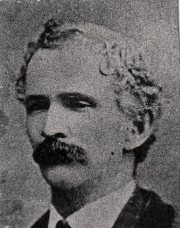 His Birth
John Haslam was born May 21, 1823 in Little Leaver, near Bolton, Lancashire, England. The circumstances of his birth are a family mystery. John's mother was Elizabeth (or Betsy) Haslam. She was a lady worker and teacher at the Duke of Bridgewater's estate at Worsley. During this time she gave birth to an illegitimate son, John. The name of John's father was kept confidential during John's lifetime. In 1958, John's daughter, Anne Isabel Haslam Luce, admitted that her father was the illegitimate son of Prince William, later King William IV of England. Prince William was a frequent visitor at the Duke of Bridgewater's estate.
The following represents family comment and research on this subject:
"In 1958, Annie Isabel Haslam Luce admitted that her father John S Haslam was the illegitimate son of Prince William, later King William IV of England. This had been kept strictly confidential in the family over the years. His Mother, Elizabeth (Betsy) Haslam was a lady worker and teacher at the Duke of Bridgewater's Manor House Estate at Worsley. The Duke of Bridgewater enjoyed an excellent relationship with the Royal Family at Windsor Castle near London, and was held in high regard because of his engineering skill in canal and bridge construction. He and Prince William visited each other on many occasions. It was not uncommon for them to include their servants and staff on these occasions. It is reasonably certain that Betsy Haslam accompanied the Bridgewater party on their visits to Windsor Castle. During this time she bore an illegitimate son on May 31, 1823 who she named John. This event, according to our researcher, Edith Norris of Bolton, England was greatly talked about by the people in Bolton, and they were convinced that Prince William had fathered the child. Mrs. Norris remembered this being discussed in her family when she was young. Although no acknowledgment was made of an open financial settlement, our researcher, Jennie Weeks of Salt Lake City, Utah said that Prince William sent a bag of money periodically to support the child, according to three sources of information she had received from England. John was seven years old when Prince William became King William IV." (Gladys Haslam Drennan)
"It was during times like these, and perhaps they were a contributing factor, that caused Elizabeth (Betsy) Haslam to go into service at the estate of the Duke of Bridgewater located at Worsley near Bolton. It was not uncommon for the mistress of the estate to select girls from the staff to work and reside in the main house. Betsy was one of those girls. The Duke of Bridgewater enjoyed an excellent relationship with the Royal family at Windsor Castle near London and was held in high regard because of his engineering skill in canal and bridge construction. The Duke of Bridgewater visited Windsor Castle on many occasions and likewise Prince William was the guest of the Duke and it was not uncommon for royalty to include their servants and staff on these occasions. It is reasonable certain that Betsy accompanied the Bridgewater party during their visits to Windsor Castle. During the period of service she bore an illegitimate son, whom she named John. This event was greatly talked about by the people of Bolton and they were convinced Prince William had fathered the child. Whether this allegation was justified or not there was ample evidence that several years before Prince William had sired a number of illegitimate children by an actress with whom he lived openly for many years. There was no attempt to keep these events a secret, and on his eldest illegitimate son he openly conferred the title of the Duke of Clarence. Settlements were also made upon his other illegitimate children and their welfare was openly acknowledged. John S. Haslam was born March 3, 1823, but no acknowledgment of an open settlement was ever forthcoming from the prince because of this marriage. However, I believe Elizabeth (Betsy) Haslam died and John Haslam was adopted and reared by the Hardmans. Jane Haslam Hardman was Betsy's sister. This would lend support to the fact that there seemed to be substance and means behind the Hardman family. The local people assumed this support came from the Royal family since the Hardmans appeared to prosper even during economically depressed times. There is no doubt in my mind but that this John Haslam and your grandfather are one and the same person. For the story that I have heard all my life and the facts that you have told me are more than a mere coincidence." (Velda Haslam Johnson)
"We know that grandfather John S. Haslam was the illegitimate son of Betsy (Elizabeth) Haslam and that he said his father's name was William and that much work over the years has gone into genealogical research...Also in a letter we found in Katie and Jennie Week's correspondence from Mrs. Norris she states that the Hardmans and Betsy Haslam lived on the Duke of Bridgewater Estate and the Duke also had a brother who name was William. Their name was Egerton...We have talked to Bob Gunderman in the Medieval and Royalty department in the Joseph Smith Memorial Building Library in Salt Lake. We gave him the information we have concerning the William grandfather gave as his father, and also gave his the information that Mrs. Norris had given us. Mr. Gunderman informed us that there is no way possible that we can prove this, although it could very well be true. He also stated that it is very important that we have John S. Haslam and his mother Betsy sealed to her father, because that is the blood line." (Velda Haslam Johnson)
"This is the history of my grandfather, John S. Haslem as I have been told it by my older relatives, that I have reason to believe should know and would have no reason to tell me anything but the truth as they knew it. First, I will start with my Aunt Lizzie Bennett, who was his daughter. She said her father ran away from home in England at twelve years old and got a job on a ship. This story Aunt Lizzie told me doesn't go along with the story we got from Mrs. Morris, our genealogist in England. She says John S. Haslem served as an English sailor, and Aunt Lizzie says he told her he was a runaway after twelve years old. Mrs. Morris says the King endowed all of his illegitimate children except John S., and it is my thought that the reason was because the King didn't know where he was. I have read a letter from the caretaker of those children that said, "We have finally found John S. Haslem. He is in America and has joined the Brighamites." I know my Aunt Lizzie Bennett wouldn't tell me the story her father told her wrong, so just take your choice which story you think is correct." (John H. Haslem)
No christening record or other primary documentary proof has been found to establish the exact facts of John's birth. The record of John Haslam as a Seventy in Nauvoo shows his father as William, with no last name given. The anecdotal evidence supplied by his daughter is compelling, but not conclusive. In the absence of any documentary evidence, the solution to this question may lie in molecular genealogy. If a know direct male descendant of King William IV (such as the Fitzclarences), and a direct male descendant of John Haslam were tested and had matching DNA, the connection would be proved.
His Childhood
At the time of John's birth, Bolton was a town that had been impacted greatly by the Industrial Revolution. A description of Bolton in 1814-15 in the Commercial Directory states, "Bolton-le-Moors is an ancient manufacturing town of considerable consequence in Lancashire, eleven miles from Manchester. It has been considered as the original seat of the cotton trade in this county, and for the manufacture of ornamental and fancy goods is still particularly celebrated. Bolton enjoys a healthy situation, and abounds with springs of the finest water, some of which have been highly celebrated for their medicinal virtues. Bolton is surrounded by mines of excellent coal, and enjoys the advantage of a communication by canal with Manchester and Bury. The population, which in the year 1773, amounted to but 5,339 persons, is now increased to 24,149." Bolton is set on the edge of a vast area of Pennine moorland.
Betsy Haslam died when John was only nine years old, and that he was raised by Betsy's sister, Jane. Betsy was only 32 years old when she died on 6 May 1832. There is no record of a marriage or other children for her. Betsy's sister, Jane also had an illegitimate son, Thomas in 1815, when she was 21 years old. Jane married John Hardman on 13 May 1832, just seven days after Betsy's death. Jane and John Hardman had six children: Elizabeth, James, Rodger, Sarah and Giles, who were twins, and Martha. John Haslam considered the Hardman children as his brothers and sisters. John stayed close to the Hardman children and to Jane's son, Thomas Haslam. Several letters to and from these siblings are in family possession. (Click here to see letters to John Haslam from his family.) Gladys Haslam Drennan recounts "According to my grandmother, Mary Ann Kay Haslam (the second wife of John S Haslam), John had to work in the coal mine as a child, where there was no equipment or machinery to do the work. John had to carry coal in baskets on top of his head which caused him to have a thick neck. Later at the age of fourteen his mother (this must be his adopted mother Jane) bound him over to a Mr. Wordley to learn the blacksmith trade. He did not receive any wages, just his room and board. He was near Bolton. It is thought that his mother died, and John was adopted or reared by the Hardmans. Jane Hardman was Betsy's sister. This would tend to support the fact that there seemed to be substance and means behind the Hardman family. Local people assumed this support came from the Royal Family since the Hardmans appeared to prosper even during economically depressed times. When John was sixteen years of age, he served in the British Navy for a while, later leaving for America, never to go back to England. However, his relatives, the Hardmans, corresponded with him." If John was the son of William IV, then financial support may have stopped in 1837, when William died. Jane Haslam died just six years later, on 28 February 1838, of asthma. John left home to join the Navy one year after Jane died.
His Conversion
John S Haslam was described as "a tall handsome man with dark tightly-curled hair and brown eyes." In 1842, when John S Haslam was 19, he was converted to the Church of Jesus Christ of Latter Day Saints by Orson Hyde. While some family histories state that John was converted on board the ship carrying Orson Hyde home, John was baptized before the ship left port. Acording to records on file in the Land and Records Office in Nauvoo, John was baptized on 15 September 1842. This was just ten days before the ship Medford left Liverpool with 214 Latter-Day Saints, including Orson Hyde. John's cousin, Job Openshaw, was also baptized. A biography from Job's son gives more information about John's conversion: "In Bolton, the Gospel message soon found my father's cousin, John Haslam. He was the son of my father's mother's sister and whom my father was brought in daily contact with by his going to live with his Aunt when he was seven years of age. My grandmother died when my father was seven years of age, and he being the middle child of seven children, this became his assignment in the allotment in the distributing of my father's family. So, cousin John Haslam and my father were almost like brothers in the same family, being sister's children and raised together. Cousin John Haslam was baptized into the LDS Church in the year 1841 in Bolton, Lancashire, England. When my father had attained his majority about 1840, things had changed in his aunt's family to such an extent that he had found another place to board and lodge. So, in 1841, when John Haslam joined the LDS Church, my father went to his abode to show him the grievous error he had made by joining the very dangerous False Prophet Apostles Organization, the Mormon Church. At this time, very much opposition had arrayed itself against the Church and they were evil spoken against everywhere…But, instead of my father convincing cousin John of his error, cousin John convinced father that perhaps he was mistaken and he began to see the new light. Cousin John was beginning to make arrangements for his departure from England for Nauvoo. My Father and Mother were married in 1842 and they became quite anxious about joining the Church. Some time very shortly after their marriage, and just previous to Cousin John's departure for America, John Haslam baptized my father and mother into the church in the town of Bolton, Lancashire, England. He (John) then left England for America and arrived in Nauvoo in the fall of 1842 where he worked on the Nauvoo Temple. Here he married Martha Hamer, and when the people left Nauvoo, he and his wife went to St. Louis, Missouri, where they finally outfitted to move to the Valley." (Biography by Johathan Edward Openshaw, one of the sons of Job Openshaw)
John came to the United States in the fall of 1842 on the ship with Elder Hyde. From the Millennial Star: "On Sunday, September 25
th
, 1842, the ship Medford, Captain Wilbur, sailed from Liverpool with two hundred and fourteen Saints bound for Nauvoo, via New Orleans, under the presidency of Apostle Orson Hyde, who was returning home from his mission to Jerusalem. The Medford arrived in New Orleans, November 13
th
, 1842, after a fair passage, having had only two deaths on board. From New Orleans the emigrants continued the trip up the river in company with the passengers who had crossed the Atlantic on the Sidney, but were detained in St. Louis because of the ice on the river, until the following spring, when the journey was continued to Nauvoo."
John Haslam's grandson says, "After making several voyages between England and the U.S., he met this ship load of mostly Mormon converts with the Hamers, Openshaws, and others. He became very good friends with them, so he left the ship and joined them at New Orleans. They all stayed together, 35 or 40 of them." (John Henry Haslem) A biography of Orson Hyde states, "Orson arrived in England sometime in August, staying about one month. On September 25, 1842, he sailed from Liverpool on the Medford with a group of British Saints immigrating to Zion. They arrived at New Orleans on November 13, and went on up the Mississippi on a steamer, the Alex Scott. At Alton, Missouri, about twenty miles north of St. Louis, the river was too frozen for the ship to continue. The other passengers apparently stayed with the ship until it could continue, but Orson was so eager to get home that he continued to Nauvoo by land." A family history states, "Elder Hyde was returning from his mission where he dedicated Jerusalem for the return of the Jews. While on the ship crossing the ocean, John heard some men plotting to take the life of Orson Hyde upon landing. He went to Orson Hyde and told him what he had heard, telling him to get away as soon as possible. The Captain of the boat let Orson Hyde disembark ahead, holding the other passengers and crew until he was safely ahead. Thus his life was saved by this timely warning." (Gladys Haslam Drennan)
Nauvoo
John stayed in St. Louis, Missouri for two years. In his obituary, it states "He tarried in St. Louis until the summer of 1844, and then went to Nauvoo." There is a family story, mentioned in Gladys Haslam Drennan's biography, which states, "It was said by family members that John S Haslam was one of six men who buried the prophet secretly in the soil of the Nauvoo House after Joseph Smith was assassinated, so that his enemies could not find and desecrate his body." Joseph Smith was martyred in June of 1844. It is impossible to substantiate that John participated in the burial, but perhaps his association with Orson Hyde made this possible.
John is found paying taxes in Nauvoo in 1842:
John Hasham, page 226, coordinates 6N8W
Samuel Hamer, John's future father-in-law, is found in the same list:
Samuel Hamary, page 226, coordinates 6N8W
Source: Nauvoo, Illinois Tax Index, 1842, on ancestry.com.
John met the Samuel Hamer family. They were very kind to him, and he grew to love them. Samuel Hamer was a blacksmith, and John came to work for him. Samuel died of malaria in August 1843 in Nauvoo. John became very close to the Hamer family, and married Samuel's daughter, Martha. They were married by Orson Hyde in St. Louis on March 4, 1845. The witness was Samuel Worthen.


Marriage record for John Haslam and Martha Hamer in St. Louis:
"I do hereby certify that on this 4th day of March A.D. 1845 I did in the City of St. Louis Mo.
unite in the bands of holy matrimony John Haslam with Martha Hamer
of lawful age. In testimony whereof I hereby subscribe my name on the day and date above written.
Orson Hyde Minister of the Gospel
Attest, John Hurley Sarah Tucker
Filed & recorded April 30 1845
S. D. Barlow Recorder

In 1845, John and Martha moved to Nauvoo. They were issued a recommend in St. Louis on July 3, 1845 by President William Acker. When they came to Nauvoo they handed in their recommend to Thomas Bullock, the Nauvoo Church Recorder on August 10, 1845. They built a small one-room log cabin. Records of the Land And Records Office in Nauvoo show that John was given a lot in the Munson Lands, a swampy area of Nauvoo not far from the Hamer's home. John was ordained a Seventy in Nauvoo, and belonged to the 29th Quorum. Records from the Nauvoo Land and Records Office show:

Haslam, John
Birth: 31 May [1823]; England
Age: 22 in 1845
Parents: William
Residence: City of Joseph
(Source: 70s Rec, 29 Qrm, Bk B Sel, 1845, LDS Arc, pg. 113, Land and Records Office, Nauvoo)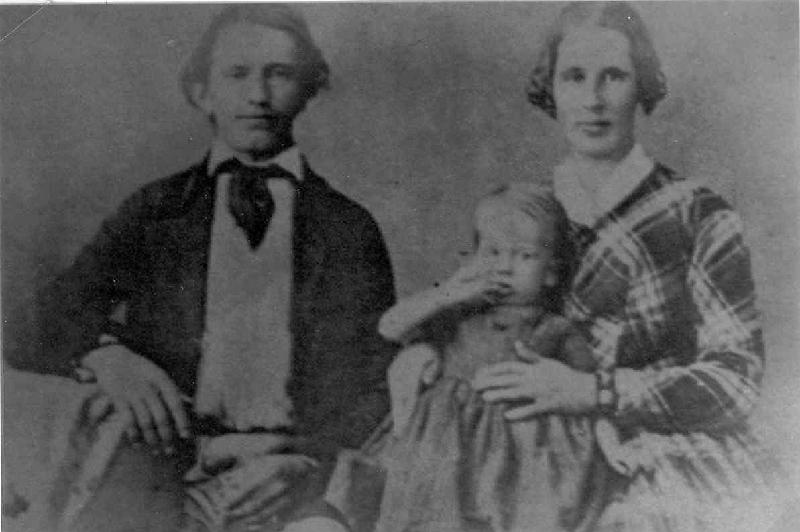 John S Haslam, Martha Hamer Haslam and child
(picture courtesy of Marilyn Groneman)
A description of Nauvoo at this time states that Nauvoo was "a pleasant, prosperous, well-planned city. Log cabins were numerous, but a considerable number of brick and plank houses were shifting the settlement from frontier to city status. The Nauvoo Temple overlooking the Mississippi and the Nauvoo House, a Church-sponsored hotel, were under construction. Nauvoo was alive with dinner parties, Christmas celebrations, quilting bees, house-raisings, cornhusking parties, a circus, Fourth of July celebrations, military parades, reenactment of famous battles in American history and summer swims in the Mississippi. Many a Saturday afternoon was spent in competitive jumping, pulling sticks, running, throwing weights, and wrestling. During the winter, the Saints enjoyed sliding on the frozen river." (Old Mormon Nauvoo) The city had about 15,000 inhabitants.
John was ordained to the office of Seventy on May 31, 1845, on his 22nd birthday. John and Martha received their temple endowments in the Nauvoo Temple on January 30, 1846. This was the day that the gilded angel weather vane was placed on top of the Nauvoo Temple. Their first child, Jane Ellen, was born February 5, 1846 in Nauvoo. Persecution increased in Nauvoo, and the Saints began to leave in large numbers between February and July of 1846. "In February 1846, the first wagons pulled from the yards and shops and moved toward the river. All during the spring and summer, the chief sounds of the city were the crunching of wagon wheels on streets leading to the ferry, the hammers and saws now silently packed away in toolboxes in the departing wagons. No other city in American history had ever undergone such a transformation in so few months. No other people, en masse, had closed the doors of their homes in such a flourishing city and abandoned so much. By October 1846 external forces had reduced the once magnificent city to a virtual ghost town." (In Old Nauvoo)
"The Battle of Nauvoo was the final chapter in the forceful expulsion of the Mormons from Nauvoo. The so-called Anti-Mormon Party were bent on driving the remaining citizens out by force despite the well-known fact that most had gone and the rest were making plans to do so." Church News, 9/14/96. A letter from the Church Historical Department says, "Another document states that John S. Haslam operated the elevator of Haines and Lambert's cannon during the Battle of Nauvoo, which occurred in September 1846 and resulted in the small remnant of Saints still in Nauvoo to be forcibly ejected from their homes." The Battle of Nauvoo is described in Church History in the Fullness of Times: "By mid-August less than fifteen hundred Saints remained in Nauvoo, some of them new converts from the East who had arrived too late to join the earlier companies. Most of them had exhausted their savings just to reach Nauvoo and now looked to Church leaders as their only hope to proceed West. By the second week in September the anti-Mormons were determined to drive the Saints out of Nauvoo. Approximately eight hundred men equipped with six cannons prepared to lay siege to the city. The Saints and some new citizens, numbering only about 150 fighting men, prepared to defend the city. The Battle of Nauvoo began on 10 September, with sporadic firing. During the following two days there were minor skirmishes. On 13 September an anti-Mormon column advanced in an attempt to rout the defenders. A spirited counterattack led by Daniel H. Wells saved the day, but there were casualties on both sides. The battle continued the next day, which was the Sabbath." Another history of the Battle of Nauvoo gives additional details: "In the morning, the enemy was more determined after receiving a few wagon loads of ammunition. They attempted to advance on Nauvoo, but were forced back several times by defenders firing on them from behind houses. Cannon balls were being fired constantly. William Mace wrote, "The little band of brethren and some of the new citizens made a brave stand against the mob. Sometimes the cannon balls from the mob would be picked up and loaded into our steamboat shaft cannon and fired back at them. The defenders' cannons would only shoot about a quarter mile. Ammunition was scarce with us and we were but a handful." Daniel Wells agreed, "During the fight the boys would watch the cannon ball strike and run and get it and bring it to us, and we would send it back". "The mayor of Quincy watched the battle from the top of the temple and afterwards declared that the defenders were the bravest little band of men that ever lived." http://www.goodnet.com/indirect/www/crockett.

"On 16 September, the "Quincy Committee", which had helped keep the peace in previous months, interceded once again. The Saints were forced to surrender unconditionally in order to save their lives and gain a chance of escaping across the river. Only five men and their families were allowed to stay in Nauvoo to dispose of property. Those who could quickly crossed the river without provisions or additional clothing. Finally, the mob entered the city, looted homes, and desecrated the temple. Some Saints who were not able to escape fast enough were beaten or thrown into the river by the mob." Church History in the Fullness of Times. One witness recorded, "Scenes of destitution, misery and woe met the eye. Families were hurrying away from their homes, without a shelter, without means of conveyance, without tents, money, or a day's provision, with as much of their household stuff as they could carry in their hands. Sick men and women were carried upon their beds, weary mothers with helpless babes dying in their arms hurried away—all fleeing, they scarcely knew or cared whither, so it was from their enemies, whom they feared more than the waves of the Mississippi, or the heat and hunger and lingering life and dreaded death of the prairies on which they were about to be cast. The ferry boats were crowded, and the river bank was lined with anxious fugitives, sadly awaiting their turn to pass over and take up their solitary march to the wilderness."Church News, 9/14/96. Many of the sickest and the weakest camped in the "misery camps" along the river. Few had tents or enough food. "Numbers of the poor Saints, as they could, had been moving away form the river camps to nearby villages or farms.
On the day that the Nauvoo War broke out, several men volunteered to leave Winter Quarters, and "bring up the poor Saints", even though word of the battle had not yet reached them. Orville Allen was put in charge of the relief effort. On October 7, Allen reached the so-called "misery camps" at Montrose, Iowa. He found more than 300 men, women and children camped on the banks of the Mississippi, living on boiled and parched corn and river water. Some had died, others were falling victim to exposure, typhus and other illness. Allen gathered up 157 souls in 28 wagons. Thomas Bullock records a miraculous happening, "This morning we had a direct manifestation of the mercy and goodness of God. A large, or rather several large flock of quails, flew into camp...The boys and the brethren ran about after them and caught them alive with their hands...Every man, woman and child had quails to eat for their dinner." The rescue company brought all that remained out of the poor camps of Nauvoo. Church News, 9/14/96. When Brigham Young heard of the Battle of Nauvoo, he reminded the Saints of the covenant that they had made in the Nauvoo Temple. This covenant was that all of the Saints would not "cease their exertions until every saint who wished to go was removed". The Saints promised to assist the poor and sick and not to leave any behind. To motivate the rescuers, President Young told them, "Let the fire of the covenant which you made in the House of the Lord, burn in your hearts, like flame unquenchable." Ensign, October 1997.
Winter Quarters
It is not known exactly when the Haslam and Hamer families arrived in Winter Quarters. Family histories say that they arrived "at Winter Quarters in the fall of 1846". They may have worked their way across Iowa, or been gathered up by the rescue wagons. The family group was this time consisted of:

John Haslam, age 23
Jane Hamer Haslam, age 20
And their baby, Jane Ellen Haslam, age 8 months
Jane Thornley Hamer, age 44, and her children:
John Hamer, age 22
Nancy Hamer, age 18
Ellen Hamer, age 16
Samuel Hamer, age 13
Jane Hamer, age 11
James Hamer, age 9
Ann Hamer, age 7

Winter Quarters was founded 23 September 1846. "In 1846 the land west of the Missouri River was Indian territory, and through agreements with the Oto and Omaha Indian tribes and the U.S. government, the Saints were allowed to stay at this location for almost two years." The Mormon Pioneer Trail. Winter Quarters is described in this way: "Winter Quarters is not just a place. Though historians and anthropologists may locate in the landscape remnants of the events which happened there, Winter Quarters is a time, a transition, a trial. It is a cauldron, a crucible in which a people, converted to a new and demanding faith, were cleansed by cold and hunger, baptized in the great pool of their suffering and redeemed by the outpouring of spiritual manifestation." Church News, November 30, 1996. "The headquarters of the Church was at Winter Quarters in Indian territory, where almost four thousand Saints resided by the end of the year...The hasty, wintry exodus from Nauvoo earlier in the year, the exhausting trek across Iowa, the endless spring storms, insufficient provisions, inadequate and improvised shelter, the forced exodus of the poor from Nauvoo, and unhealthy riverbank environments all took their toll. Over seven hundred people died in the camps by the end of the first winter. But all was not sorrow, especially in Winter Quarters. Life there could still be generally pleasant, rewarding, and meaningful. Church meetings were held twice a week, and the sermons from the leaders raised the morale of the entire settlement. Many family meetings were held as well. After much of the hard labor of establishing the community was complete, Brigham Young encouraged the wards to celebrate with feasts and dancing. Women often came together in neighborhood groups to gather food, quilt, braid straw, comb each other's hair, knit, wash clothes, and read letters. Throughout the winter of 1846-47, additional preparations were made for continuing the westward exodus." (Church History in the Fullness of Times) The location of Winter Quarters "offered excellent river transportation, defense from marauding Indians, fresh water access, and near proximity for grazing the 10,000 head of cattle which accompanied the Saints. Winter Quarters was divided into 22 wards, each comprising a city block. "By 30 December 1846, Winter Quarters consisted of 538 log cabins, 83 sod houses, and a population of 3,483." Church News, February 1, 1997 The Saints suffered much from scurvy the first winter, due to the lack of fresh vegetables.
John's services as a blacksmith were greatly needed help make wagons for the Saint's westward trek. Brigham Young asked him to stay at the Saint's outfitting point. At Winter Quarters they built a one-room house of logs, and lived there several years while Samuel Hamer, Jr. and John S. Haslam helped the Saints carry supplies and immigrants across the Missouri River. They also did blacksmith work while living at Winter Quarters. A son, John Joseph, was born to John and Martha in Winter Quarters on March 2, 1848. After the birth of the new baby, John S. and Samuel Hamer, Jr. went back to the Missouri River to work to get money to immigrate to Utah.

In 1848 Winter Quarters was abandoned, and Kanesville, across the river, became the gathering spot for Mormon pioneers.
John is found with his family in the 1850 census in Pottawatamie County, Iowa:
John Amer, age 26, occupation: blacksmith
Elizabeth, age 18
John Hazlem, age 27
Martha, age 24
Jane, age 4
John, age 2
Jane Amer, age 49
Samuel, age 17, occupation: none
Jane, age 15
James, age 13
Ann, age 12
Source: 1850 federal census, Iowa, Pottawattamie County, District 21, page 112, on ancestry.com.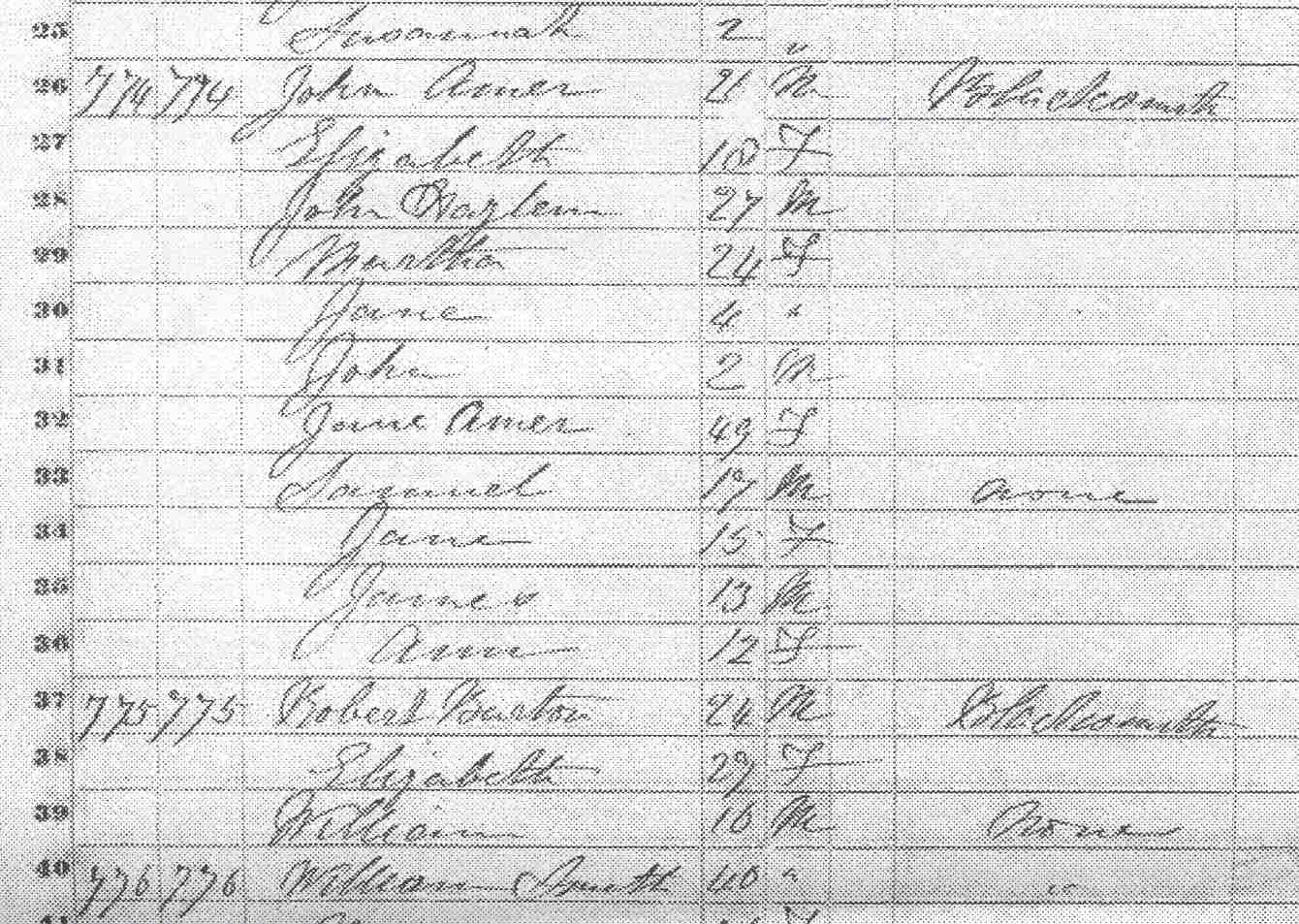 1850 census, Pottawattamie, Iowa
A second son, Samuel Hamer Haslam, was born to John and Martha in Ferryville, Pottawattamie, Iowa, on March 2, 1851. About twenty-five hundred Saints were camped on Pottawattamie Indian lands on the east side of the Missouri river. Ferryville was the site of the North Mormon Ferry.




Crossing the Plains

John did not leave for the Salt Lake Valley until 1851. Family records say the family traveled with the Orson Pratt company. They are shown on LDS records with the James W. Cummings Hundred, which was part of the O. Pratt First Hundred. This company left Kanesville, Iowa on July 1, 1851. There were about 150 individuals and 100 wagons when they left. The roll of the First Hundred of O. Pratts Company show:



Second Ten
George Spratley[,] Capt.: 4 Souls, 1 Waggon, 4 Oxen, 2 Cows
Alfred Cordon: 6 Souls, 1 Waggon, 6 Oxen, 2 Cows
Jno. [John] Wood: 5 Souls, 1 Waggon, 4 Oxen, 4 Cows
Jno. [John] Hayes: 6 Souls, 1 Wagon, 4 Oxen, 2 Cows
George Baddaley: 4 Souls, 1 Waggon, 4 Oxen, 2 Cows
Richard Steel: 5 Souls, 1 Waggon, 5 Oxen, 3 Cows, 1 Horse
Edwin Oakley [Okey]: 5 Souls, 1 Waggon, 4 Oxen, 2 Cows,
Ephraim Luce: 1 Soul, 1 Waggon, 2 Horses
Jno. [John] Haslam: 5 Souls, 1 Waggon, 4 Oxen, 2 Cows
Jno. [John] Hamer: 2 Souls, 1 Waggon, 4 Oxen, 1 Cow
Wm Player: 2 Souls, 1 Waggon, 4 Oxen, 2 Cows, 1 Horse

John Henry Haslem tells, "In crossing the plains they all started with Brigham Young and the first company in 1847, but when they got to where they built the wagons and handcarts, Brigham asked John S. Haslem and Mr. Hamer to stay there and make wagons and handcarts for the immigrants for a year or more. He told them to let the rest of their families go on. Had they taken Brigham Young's advice they wouldn't have had trouble, as they had plenty of food there to get them through in good shape. But they didn't like to be separated, so decided to all stay (twenty or more men), and they would hurry and get all the carts and wagons made, and then go the next summer, as they thought they would have food to last that long. But next spring they had no surplus wagons as the immigrants took them as fast as they could make them. By the way, if they did get any pay for their work, they didn't get enough to replace their food they ate while they were making these wagons. If the immigrants didn't have anything to trade for wagons, Brigham said to let them have them anyway, as their labor was classed as a mission for the Church. So they didn't want to be pikers after Brigham had asked them to stay, so the years went by until they were getting so short of food they decided if they were going to get to Utah as all, they had to start.

As John S. Haslem was making wagons for the immigrants, there came a party of trappers that could go no farther with their full wagon as they went off the main roads in their trapping business. So John S. Haslem made a tongue to go in the rear axle of their wagon and a box to put their stuff in so they could ride on top, or in other words, a two-wheeled cart that was high so it would go over the stumps and high roads. These trappers were so pleased they gave him twenty dollars, and about the only money he had seen for a long time, and twenty dollars was a lot in those times. They were starting on their trip at 3 p.m., so John S. told them they had better wait until next morning and sleep in the shop where it was dry, as it was storming. So when the trappers went for their horses at daybreak next morning one had died, and they didn't have enough money, if it was available, so John S. felt so bad for them he asked them how long they expected to be gone. They thought one year at the most, and maybe six months if they got a load of furs that soon. So John S. told them to take one of his horses, as he thought he wouldn't need his team which, by the way, was a good team. So they did and left John S. with one horse. But when he decided to start to Utah, he had only one horse and no money to buy a good one, and horses were very scarce. People used mostly oxen these days at this place, so John S. bought a little Indian pony for three dollars and put it with his big horse, and made the big horse pull most of the wagon, which was OK until they hit muddy roads. Then they had to discard most of the load, as the horses could not pull it.

If my memory serves me right, Granddad's (John S.) wagon was the only one in the company. All the rest were handcarts. So the wagon was mostly full of ill people and small children too small to walk. So they plodded on as best they could, until their horses gave out, and they could only make a few miles a day. So the rest of the company could go faster, they went on and said they would send someone back to rescue them. They expected to find help at Ft. Bridger, Wyoming, but no one was there to send back. Because of such slow travel they were getting short of food, and lived on nothing but the wild game they would shoot. But about now they ran out of ammunition so they couldn't get what few rabbits and deer were there. So for many days all they had to eat was the old bones the coyotes had left. They would mash them and crush them with the back of an ax, and boil the marrow out of the center in a big thirty-gallon iron pot. As long as they could see one bead of grease on the soup they ate it, and it saved them from starving for many days (and that was a testimony to them that the Lord put something in the soup to keep them well). But with that diet they soon got so weak they could go no farther.

They came to an old trapper's cabin built of just logs with nothing in the cracks. But it had a fireplace in the end, so they filled the cracks as best they could with cedar bark, and moved their bedding and grub boxes in— which was all they had room for, by the time twenty or more people got in. They all had to sleep in one bed on the floor, while one sat up all night to keep a big fire to help keep warm, as it was one of those Wyoming blizzards that are so common at that time of year. By now they had lost their hope of being rescued, as they had prayed for so many days, and the hunger pains were so bad. They decided this was the end. But they would be in the cabin with a little protection from the weather and their corpses would be found. But this night they prayed extra long, then all went to bed, except the oldest woman was to sit up and keep the fire going. As she was watching the fire she heard something behind her, and there was a big white rabbit she said was nearly as big as a sheep, standing on its hind legs, on the foot of the bed where the boys were sleeping. He stood there while she woke the boy to grab him, and she was so sure he would get away. As she woke the boy, he grabbed it, and it didn't get away, so they cleaned it and put it in their thirty gallon pot that was already hot on the fire. They started to eat the soup almost before it boiled. They said that was the best meal either of them had ever tasted, even though it was only rabbit. He lasted them two days. The storm quit and here came the trappers with John S.'s horse and quite a little surplus corn they had traded for from the Indians. That lasted until one of Brigham Young's rescue wagons came with food to last the remainder of their journey." (John Henry Haslem) John and Martha's six-year-old daughter, Jane Ellen remembered walking most of the way across the plains with her mother and four-year-old brother, hand in hand, and caring for another baby brother. She related that "only through the help of the Lord were their lives spared." (Gerald B. Haycock, on file at Nauvoo Land and Records Office)
Salt Lake City
They arrived in the Salt Lake Valley in October of 1851. John went to work in the Church blacksmith shop. Each family of settlers received an allotment of ten acres of land. The Haslams owned a block of land between 1st and 2nd North, and between 5th and 6th West. The Haslams made their home in the 16th Ward. Ward records show that John and Martha and their children lived next door to Martha's mother, and brother and his family. Martha's brother, John, also worked as a blacksmith. John took the letter "S" to differentiate himself from a neighbor, John R. Haslam, who was also from Bolton. This John R Haslam was the John Haslam mentioned in Brigham Young's daughter's book, as her father's storekeeper. The store records are still in the possession of his descendants.





Wood stamped with a branding iron made and used by John S Haslam
In Orson F. Whitney's History of Utah, a newcomer to Salt Lake City in 1854 tells this interesting story, "Having no opportunity to rent a shop on Main street—there were no shops there for barbers—and being bound to do something in my line, I took my satchel, which contained a set of barber's tools, and started out to seek employment. The first house I came to I inquired of a lady who stood at an open door if she would like to have her children's hair cut. She answered no. I then proceeded to the next building, which was the blacksmith shop of Haslam & Hamer. I made known my business and soon I had them seated on the anvil and left them all with clean chins." (Orson F. Whitney, History of Utah, Vol. 4, p. 464)
The Haslam family appear in the 16th Ward records: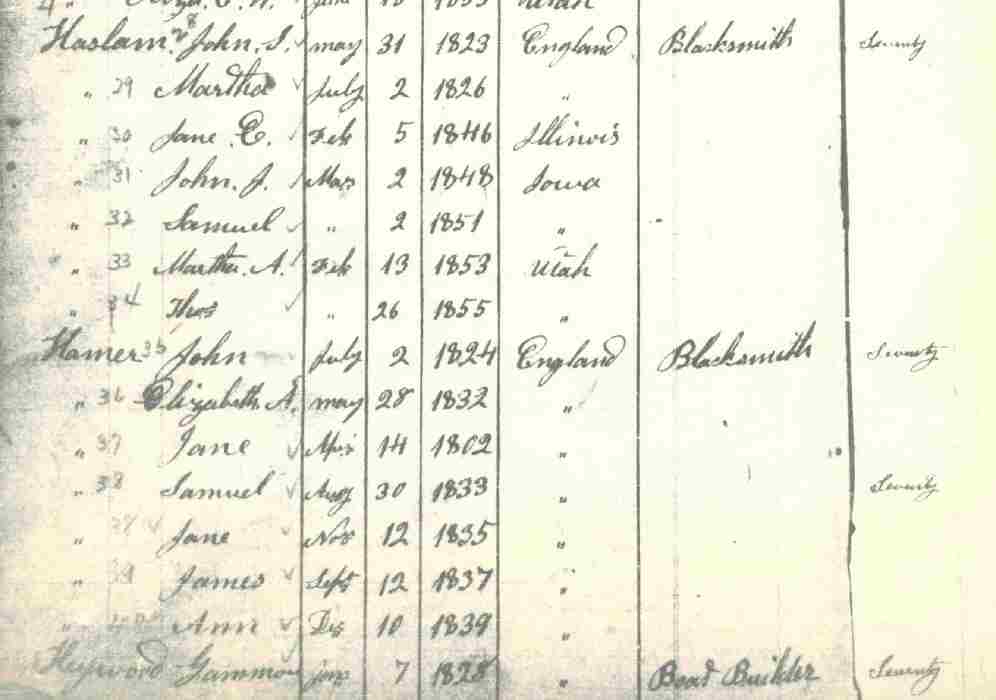 16th Ward Records, Salt Lake City, FHL# 26679
The same ward records show that John served as a Block Teacher:





16th Ward Records
This was a productive time for John and Martha Haslam. More children came into the Haslam family, to join the Haslam's daughter and two sons. Martha Ann was born February 13, 1852. Then another son, Thomas was born February 1855. A third daughter, Elizabeth, was born next, on September 1857. A fourth son, Brigham was born March 21, 1860. He was the first of the Haslam children to die as a child. One year later, on June 20, 1861, another son, William was born. A daughter, Mary, was born two years later, on April 25, 1863. Next a son, Joshua, was born on February 2, 1865. Finally, a daughter, Ruth, was born on June 6, 1867. Altogether, John and Martha had eleven children, six sons and five daughters. Martha was 41 at the birth of her last daughter. It was a difficult birth, and Martha lingered for ten days before dying of complications due to childbirth. The baby, Ruth, only lived three months before she also died.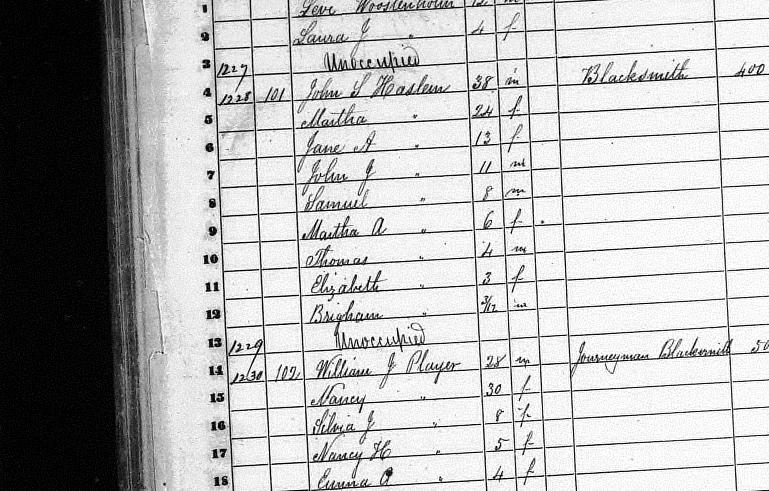 1860 census, Salt Lake City, Utah


The Muddy Mission
John sorrowed for the loss of his wife of 22 years, and struggled with the job of raising a large family of young children. On the 8th of October, 1867, at the first conference that convened in the Tabernacle, many missionaries were called to settle and strengthen the settlements of southern Utah. John was called by President Brigham Young to take his family and go settle Panaca, Lincoln County, Utah, on what was called the "Muddy Mission". President Young advised him to marry again. He suggested Mary Ann Kay Openshaw. She was an abused wife, with a young daughter, who had been given a temple divorce. John agreed, and they were married on November 9, 1867. Two weeks later they left for Panaca. John sold most of his land in Salt Lake, except for 200 feet or so each way from the northeast corner of the block. He bought a team of oxen for the 300 mile trip. Their time on this mission was challenging: "They travelled by ox-team and wagon and arrived a few days before Christmas in December 1867. His friend and brother-in-law, Samuel Hamer Jr. and his family were also called to go on this mission. On arrival they built a blacksmith shop and worked together for 3 1/2 years. These were years of unbelievable hardship. They first lived in a dugout, where their children Maggie, and James Kay Haslam were born. Later they had a tent to live in. Joshua's father had bought him a new pocket knife before leaving Salt Lake City. Joshua, almost three years old would not eat his dinner one day. He was sent outside while the family ate dinner. This made him angry, and he cut the tent ropes with his pocket knife. He said that he got a good spanking which he never forgot. Following a survey by the State of Nevada, Panaca was declared legally to be a part of Nevada, therefore these settlers were asked to pay back taxes to the State of Nevada, and could not pay more to Utah. Brigham Young gave permission for these settlers to return to their homes in Utah. However, six families chose to remain and fight the issue in court. The Judge gave the verdict in their favor, saying they had paid their taxes conscientiously to the State of Utah, and therefore they would not be required to pay their taxes to Nevada. However, from then on the settlers who remained were to pay their taxes to Nevada. This situation, combined with poor crops, extreme hardships, and coping with Indians who helped themselves to the settlers' belonging, were discouraging enough to make these pioneers forsake Panaca, and return to their former homes or go wherever they chose." (Gladys Haslam Drennan)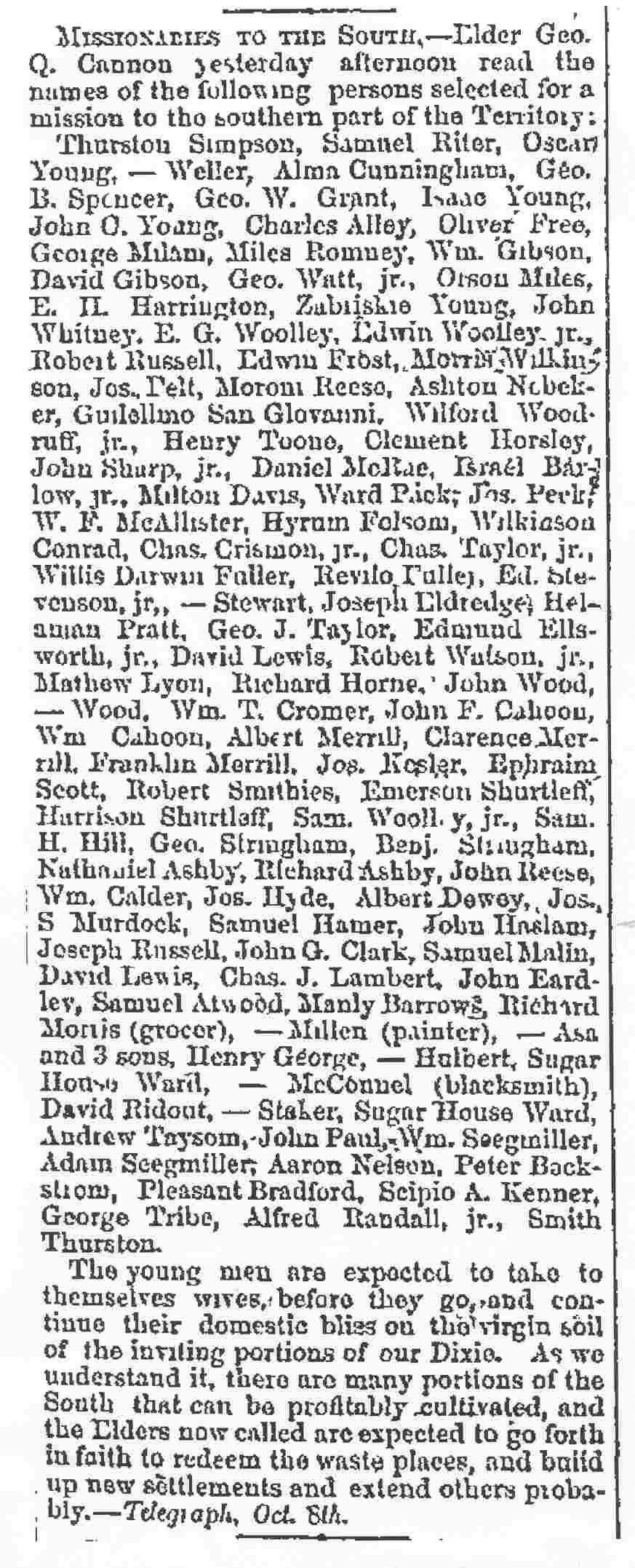 Deseret News, October 8, 1867


Back in Salt Lake City
John and his family returned to Salt Lake City in June of 1871. They built a two-room house with a summer kitchen on the property he had not sold. Later other rooms were added to the part brick and part frame house. Mary Ann was a loving mother to all the children. Three more were born to John and Mary Ann: Zina in 1873, Enos Moroni in 1875, and Annie Isabel in 1878. "Maggie died of Scarlet Fever at the age of six years, and Enos and Zina died within a week of each other with Diphtheria. In those days they had high mortality rates. John and Mary lost seven children in twelve years in addition to John and Martha's baby Ruth, and Martha herself in 1867. One child died each year for four years, and two in one week from contagious diseases. This indicated the trying times that they lived in. John S Haslam had sixteen children by his two wives, and adopted Martha Jane Openshaw whom he raised as his own." (Gladys Haslam Drennan)
John S Haslam's home (picture courtesy of Marilyn Groneman)
John continued a life of righteous service. He was an usher in the Salt Lake Tabernacle for many years. His kindness is shown when, "There is a story that Heber C. Kimball asked him to repair a wheel on his wagon so that his family could go to a celebration. Noticing that the Kimball children needed shoes, he refused to take any money, but instead said to use the money to buy shoes for the children."

John is found in the 1880 federal census in Salt Lake City:
John S. Haslem, age 56, born in England, occupation: Blacksmith
Mary Ann Haslem, wife, age 44, born in England, keeping house
Martha Jane Haslem, daughter, age 16, born in Utah
James Kay Haslem, son, age 9, born in Utah, occupation: School boy
Annie Haslem, daughter, age 2, born in Utah
FHL# 1255337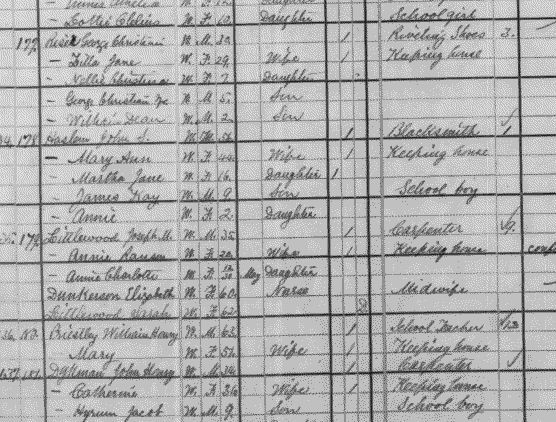 1880 census, Salt Lake City, Utah
John's cousin, Job Openshaw, had also been converted and immigrated to Salt Lake City. Job was born in 1819 in Tong, Bolton, Lancashire, the son of Catherine Haslam (John's mother Betsy's sister) and Thomas Openshaw. He married Nancy Bestwick, and had children - Jane, Elizabeth, Jonathan, Alice, James, William, Mary, Mary Sarah, Job and Sarah. The family immigrated to Utah. Job is found in Salt Lake City in the 1880 census with his wife Nancy, and sons Jonathan and William. Job's occupation is listed as a brick mason. Job is mentioned in a
letter
to John Haslam from his cousin Rodger Hardman: "Dear Brother, I was very glad to hear of my cousin, Job Openshaw, living against you, for it will do me good just to see you all once more, for it is so long since we saw each other...Dear Brother, send our kind love to cousin Job Openshaw and to his wife and his family, if he has got any, and to all my relations." Job's daughter, Sarah, married John's brother-in-law, Samuel Hamer, Jr.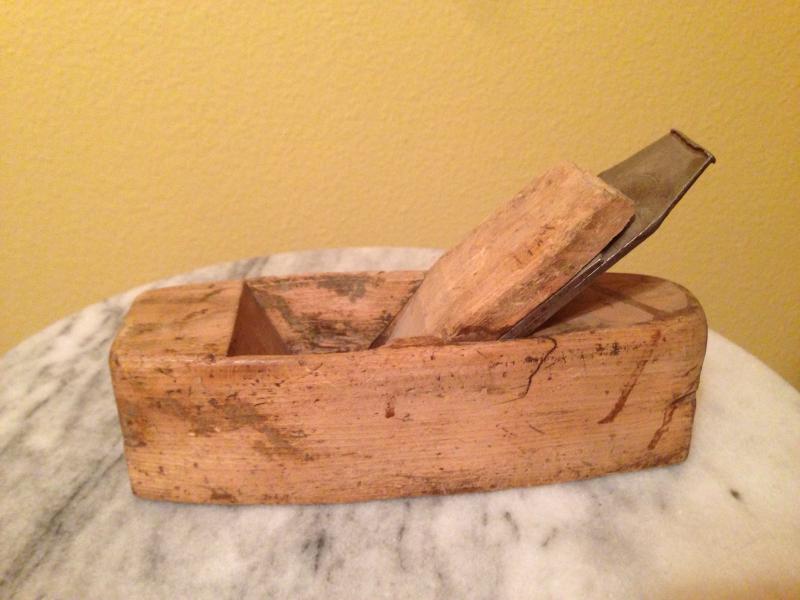 Wood plane belonging to John S Haslam
from FamilySearch, courtesy of Spencer Robert Drennan

One of John S. Haslam's descendants, Jim Haslam, has in his possession a boot-tree made by John: "This is really a great item. It is made of iron and has such great details. I'm told that it was used to remove boots by standing on the main section with one foot, placing the heel of the boot of the other foot into the antennae section of the boot-tree, and then lifting/pulling the boot off the foot by pulling up with your leg. I now just use it for decoration and have never placed a boot in it to see if this works.I remember playing with it as a kid at my Grandfather's house (Ralph Wesley Haslam). It was made by his grandfather (John S Haslam). It was passed down from John S, to James Kay, to Ralph Wesley, to Ralph Douglas, and then to me (James Douglas Haslam). I treasure this wonderful family heirloom." (Thanks to Jim Haslam for sharing these pictures.)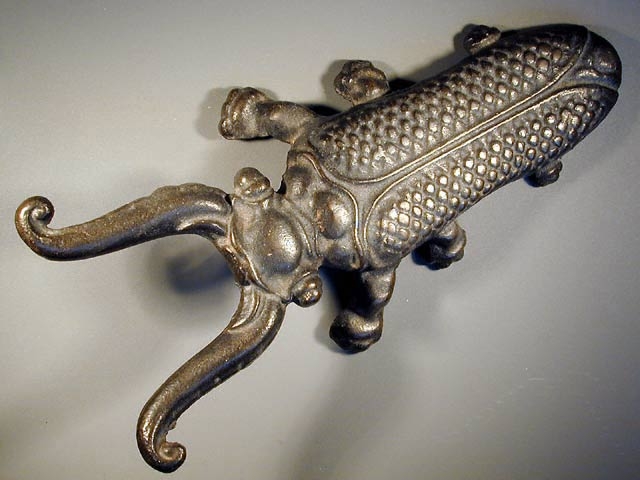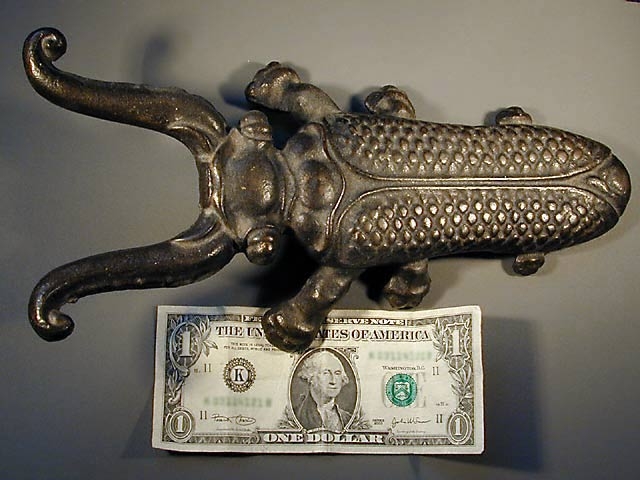 John went to work for James Lawson at his blacksmith shop on 2nd West and 1st North. He also worked at the church blacksmith shop, and for the Utah Central Railroad, where he lost his sight in one eye, "It was here that he got a piece of steel in his eye, requiring him to have an operation on it. Several people at work helped to raise the money for the surgery, but it was not a success, and he went blind in that eye." (Gladys Haslam Drennan) Shortly after that he found that he had a cataract in the other eye, and needed another operation. By 1883 he was totally blind.

His Death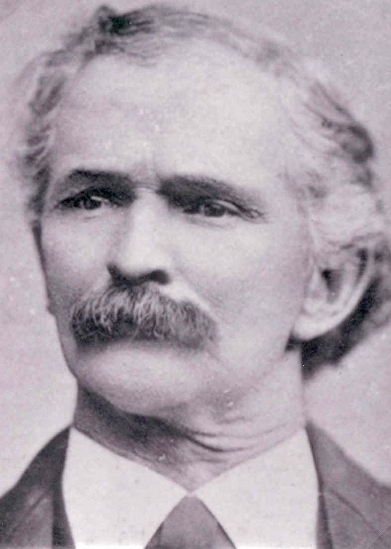 John S Haslem
(picture courtesy of Marilyn Groneman)
John became ill with bronchitis in the end of 1883. He was sixty years old. He died on November 27, 1883. His obituary stated, "The death of Brother John S. Haslem is among the sad events to be chronicled. He expired yesterday at his home in the Sixteenth Ward, his disease being consumption. The funeral will be held in that Ward meeting house on Thursday, November 19th, at 10 o'clock a.m., to which the friends of the family are invited. The deceased was aged 60 years, 5 months and 26 days. He was born in Bolton, Lancashire, England, was baptised in 1842, and emigrated in the autumn of 1842 in the same ship with Elder Orson Hyde on his return from Jerusalem. He tarried in St. Louis until the summer of 1844, and then went to Nauvoo, and remained there until the Saints were expelled in the fall of 1846. He was at Winter Quarters the same fall, and emigrated to Utah in 1851. He was ordained a Seventy in Nauvoo, and belonged to the 29th Quorum. He lived a faithful Saint and died in the hope of a glorious resurrection."
In a column called "Our Gallery of Pioneers" the story of John S Haslam's life is told: "This veteran, one of the pioneer blacksmiths of Utah, was born at Bolton, Lancashire, England, in the year 1823. In 1842 he joined the Latter-day Saints and immigrated to the United States two years later. He tarried at St. Louis two years and then proceeded to Nauvoo, Ill. With the expelled community who had built and who occupied that fair city, he started westward in 1846, working at his trade while on the way, his services being in such demand at the point of outfitting for the journey across the plains that his own arrival in Salt Lake valley did not occur until 1851. Thereafter he was employed in the Church blacksmith shop and in other places where his skill was needed. He made his home in the Sixteenth Ward, Salt Lake City, where he resided until his death in November 1883. He was a clever and conscientious workman, and a highly respected citizen." Perhaps the best tribute to John S Haslam was a note scrawled over this column, written by a descendant, saying, "This is a nice thing to keep. There could have been lots more. He sure was a good man."


Additional biographies of John S Haslam:
John S Haslam by Carl E. and Velda H. Johnson
Biography of John "S" Haslam by Martha Gladys Haslam Drennan
History of John S. Haslam by Katie Haslam Horrocks
John S. Haslem by John Henry Haslem
Letters to John Haslam from his family in England

FAMILY GROUP RECORD OF
JOHN S HASLAM
AND MARTHA HAMER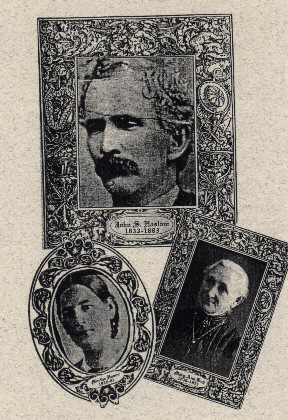 JOHN S HASLAM was born 31 May 1823 in Bolton, Lancashire, England to Elizabeth (Betsy) Haslam. He married Martha Hamer 4 March 1845 in Nauvoo, Hancock, Illinois. Martha was born 1 July 1826 in Bolton to Samuel Hamer and Jane Thornley. She died 16 June 1867 in Salt Lake City. John married again, to Mary Ann Kay 12 September 1836. Mary Ann was the daughter of Thomas Kay and Mary Ann Collins, born 20 April 1836 in Haywood, Lancashire, England. John died 27 November 1883 in Salt Lake City, Utah; and was buried 29 November 1883 in Salt Lake City. John and Martha had the following children:
1.Jane Ellen, born 5 February 1846 in Nauvoo; married Joseph Heaps Spencer in 1869; died 25 February 1916.
2.John Joseph, born 2 March 1848 in Winter Quarters, Nebraska; married Sarah Ellen Entwistle; died 7 October 1908.
3.Samuel Hamer, born 2 March 1851 in Ferryville, Pottawattome, Iowa; married Margaret Elizabeth Huffman 20 July 1887; died 22 July 1924.
4.Martha Ann, born 13 February 1852 in Salt Lake City, Utah; married Charles Holmes in 1871; died 1 February 1904.
5.Thomas, born 26 February 1855 in Salt Lake City; died 7 May 1872 in Salt Lake City.
6.Elizabeth, born 19 September 1857 in Salt Lake City; married George Bennett; died 27 June 1937.
7.Brigham,born 21 March 1860 in Salt Lake City; died as a child.
8.William, born 20 June 1861 in Salt Lake City; died 27 November 1875 in Salt Lake City.
9.Mary, born 25 April 1863 in Salt Lake City; died 3 March 1873 in Salt Lake City.
10.Joshua, born 2 February 1865 in Salt Lake City; married Alice Southam 27 July 1887; died 4 August 1934.
11.Ruth, born 6 June 1867 in Salt Lake City; died 6 September 1867.
John S Haslam and Mary Ann Kay had the following children:
1.Maggie Kay, born 8 August 1868 in Panaca, Lincoln, Nevada; died 5 June 1874 in Salt Lake City.
2.James Kay, born 16 February 1871 in Panaca; married Martha Willden 9 September 1896; died 28 September 1950.
3.Zina, born 13 July 1873 in Salt Lake City; died 8 December 1879 in Salt Lake City.
4.Enos Moroni, born 29 August 1875 in Salt Lake City; died 11 December 1879 Salt Lake City.
5.Annie Isabel, born 20 February 1878 in Salt Lake City; married Alfred J. Luce 27 December 1899; died 14 June 1960.
Mary Ann also had child by a previous marriage to George Openshaw: Martha Jane Openshaw, born 8 April 1864 in Salt Lake City. Mary Ann died 12 September 1925 in Salt Lake City.

If you have any additional information about this family, please contact me at alice@boydhouse.com.