JOSHUA HASLAM
By his daughter, Katie
Haslam Horrocks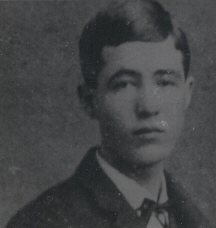 Joshua Haslam was born February 2, 1865, the son of John S Haslam and Martha Hamer. He was born in Salt Lake City, Utah. He was the tenth child in the family. His father had joined the church in England, having been converted to the Gospel by Apostle Orson Hyde. Grandfather Haslam suffered many hardships along with the other pioneers who gave their all for the Church and came across the plains.
Joshua was born after his parents arrived in Salt Lake City. They built a home on the ten acres that was allotted to the pioneers in Salt Lake. They lived in the 16th Ward. For a while the family moved to Panaca, Nevada, as Grandfather was sent there by Brigham Young to help settle the country. They later moved back to their home in Salt Lake City.
Joshua was two and one half years old when his mother died of childbirth when his baby sister Ruth was born; the baby also died. Grandfather later married Mary Ann Kay of Salt Lake City, who was a wonderful mother and a great blessing to the family. The children loved her very much. She had a child named Martha Jane who was two years old at the time of her marriage to Grandfather.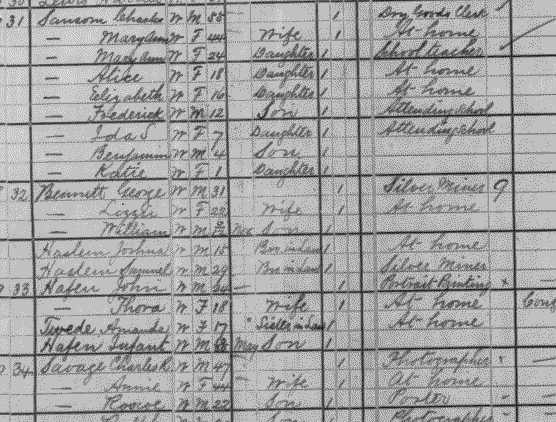 1880 census, Salt Lake City, Utah
Grandfather John S Haslam had five children by his second wife. Three of them died as children, but James and Annie lived long, useful lives. Grandfather died when Joshua was nineteen years old.
Joshua Haslam had a sister, Martha; she and her husband Charles Holmes were going on a trip to Vernal, Utah, and Joshua decided to go with them to see the country. He got a short leave from his work and planned to return; but he liked Vernal and the Uintah Basin so well that he stayed, working around at different jobs, helping stockmen and doing some prospecting.
Uncle Harry Southam tells of his acquaintance with Joshua Haslam thus: "The first time I saw Joshua was up at the old Pack Allen mine about 1886, he was working in the coal mine. I got a wagon load of coal at the time and paid $1.25 for it, one ton. Joshua was living with his sister Martha Holmes and family down on the Creek on a homestead which Mr. Holmes had taken up. The Holmes' had quite a family at this time. Joshua worked around at different jobs. He helped a great deal in supporting the Holmes family as it took some time for them to get started on their farm, as times were hard and the money was scarce. He could not see the children go without things that they needed. He worked a the coal mine for awhile and then in the spring he worked for the Lillie Park Cattle Company on the Yampa River. He received $40 per month wages. Before leaving on this job, he told his sister to got to the store and get what they needed and he would pay the bill, so when he got his first month's wages and went to pay the bill it was just $40- which took all of his wages. But he said he just could not see them go without, as this was in the spring before the crops began coming in. Then later on he and Nate Hunting did some prospecting on Blue Mountain. It was on their return home from one of these from one of these trips that they met Butch Cassidy, an outlaw. They had made camp on the banks of Green River just above Sam Haslam's Ranch in Jensen as that is where the ferry was at that time. Seeing the ferry on the opposite side of the river they knew they would have to stay there until someone came across the river to bring it to them. They were in the act of preparing supper at the time Mr. Cassidy rode up on his horse. He asked them where they were going, they told him. When he saw them preparing supper and that they had no meat he asked them if they had any meat and they said "no", so he left them. He soon returned with a leg of beef. He said, "Here is some meat, this is God's country, we are God's children, these are God's cattle and He put them here for us to eat, so have some meat."
In their conversation he asked them how they were going to get the ferry over. They said they would have to wait until someone brought it over. He said, "I will get it for you in the morning. So, in the morning he swam his horse over the river and got the ferry so they could go home. He may have been an outlaw, but he was a big-hearted man. Father, Nathan Hunting, and Dick Pope, were some of the first men to discover Gilsonite at Bonanza. They were down there herding cattle at the time. They noticed some of the black mineral on top of the ground, so picked it up thinking it must be coal. When they put it on the fire and saw that it melted like grease and caused such black smoke, they decided there must be oil in it so they staked out some claims and later sold the claims to people from Salt Lake City.
Mother, Alice Southam, tells of her first meeting with Joshua Haslam: "It was at the time I was working for Mr. Gibson who lived at Old Ashley town, when I first met Josh at a dance in Maeser. But once before that he was riding with a friend on a horse when they saw me and a girlfriend walking down the street, and he remarked, "See that girl with the dark hair and the brown eyes, she is going to be my wife one of these days." Then in the spring after that I was living with Mrs. Hadlock who lived in Vernal, downtown, and I was there until June. Joshua and I were well-acquainted by this time and we decided to go with them and get married in the Logan Temple. The Salt Lake Temple was not yet completed. We went by way of East Bridger and Evanston, Wyoming. Aunt Lizzie Bennett lived near Evanston, so we visited a day or so, then went on to Logan and were married in the Temple July 27, 1887. After we were married we stayed in Salt Lake until fall. During this time Joshua worked for Bishop Brighton on a farm and earned enough money to buy his own team and wagon to take back home to Vernal; also the other expenses to come home with. Joshua was offered his old job back working for the railroad, but I did not want to live in Salt Lake, so we came back home in the fall and took up a homestead in Naples Ward, Vernal, Utah. We had 160 acres of farm land there." After Joshua was first married he did some prospecting, as well as farming. He and some other men had a mine at Browns Park in Jessie Ewin Canyon. It was a copper mine. They staked out claims, and worked this for two years- he made quite a little money out of this when he sold it. He also worked at the Dyar Mine up Brush Creek Mountain. Mother has told about how she and Johnny, our oldest brother driving the team and wagon from their farm in Naples up to the mine with supplies for the men. Teddie Longhurst and Nathan Hunting were working at the mine for a short time. Alice's brother, George Henry remembered: "My sister, Alice, and her husband, Josh Haslam, lived down on Ashley Creek in a one room, 14 by 16 foot, log house. We lived with them until I could get logs out and build a house on some ground I had homesteaded on the Creek. We were as happy as young people could be under those circumstances."

A life history of John Henry Haslem, their oldest son, gives some insight into their early married life: "John was born on August 11, 1888 in John Chiverís granary on Ashley creek in Vernal, Utah. He was born in a granary because the two-room log house his parents, Joshua and Alice, were building was not complete. It was also a safe place, as there was a fear of the Indians at the time. They would go through to Colorado in large bands to hunt deer. They would bring back a yearís supply of meat. They would tie the meat onto a conveyance which the horse would drag. There would be 20 to 30 horses loaded in each band. John was the first child born to Joshua and Alice. He was fed horseís milk, as there was no baby formula at the time. Grandmother Southam took one of her seven petticoats to wrap him in because cloth was very hard to come by. The women wore very long skirts as it was considered immodest if you could see the girl's shoe tops. Even though the family was quite poor, they were considered better off than the average family. They did not have a dirt floor in the house but one made of wood planks. When John was about two years old, a band of Indians came to the house and wanted bread. If you did not give them what they wanted they could become quite troublesome. Johnís father, Joshua was not afraid of the Indians and could get rid of them quite easy. Mother was out of bread and they were not happy. After they left, John was nowhere to be found. Mother looked high and low but he was could not be found. Mother and Father decided that the Indians must have hauled him off. Dad took off to catch the Indians and get him back. About that time John woke up out of a pile of clothes behind a door. Mother had to get the neighbor, John Chivers, to go on his horse after Dad. When he got there, Dad and the band of Indians were having an awful argument. Everything worked out all right." (
History of John Henry Haslem on www.familysearch.org
)
At the time Joshua took up his homestead at Naples, the ward was called River Dell Ward; most of the families lived down on the Creek at that time. Father's farm was just above the Bench. Some of the families living there at that time were: Nathan Hunting, Charles Holmes, Nelson Merkeley, Dick Velton, John Shivers, Nathan Hunting, Jr., Harry Southam, three families of the McCarrels, Doctor Hullinger, Marion Mecham, John Rasmussen, John Neilson. At this time Nathan Hunting, Sr. was Bishop of the Ward, John Chive, a First Counselor, and Moroni Meacham, Second Counselor. Father was First Counselor in the Sunday School, and both he and Mother worked in the Mutual. One year the potato crop was a failure, and potatoes were scarce. There were only two families on the Creek who had any potatoes, and some Government men from Fort Duchesne came and bought all they had, offering them a very good price.
One Sunday after having Stake Conference, Bishop Hunting called Father and Uncle Harry Southam, Will Hunting and Teddie Longhurst to a meeting and said, "I want you to go on a mission down to Burns Bench (now Jensen), and find out who are Mormons and who are not. There has been a lot of new people move in and we do not know who they are and what kind of people they are. You find out, and bring us back the record"- so that was their mission for that year. Soon after this the Chapel was burned and all records lost. Also some of our family records of baptism were lost. Uncle Sam Haslam and family lived with Father and Mother when they first came to Vernal, before they bought the old Burton Ranch at Jensen. The ferry was by their house when they bought the Ranch. Alice's brother George Henry was also called on the same mission, and remembered: "At about this time Bishop Hunting called on Joshua Haslam, my sister Aliceís husband., Edward (Ted) Longhurst and me to come and see him. He said, ďI have been authorized by the Stake President to call you brethren to go to the Burns Bench District as missionaries. We have been down and looked over the district and it consists of many people moving in from settlements throughout Utah and other places and there are some good church members and the other element too. The area reaches along the mouth of Ashley Creek up along Green River to Brush Creek. Go among the people, live with them, if necessary, but bring us a report of conditions, membership and also do some preaching and instructing." We did as we were told and found some members. Some have been members who were dead branches who came to life afterward and were very active members; others who could not see it and never did. We had some wonderful experiences and made some lasting friendships. Did a lot of blessing babies and blessed some larger children where it had been neglected and the Lord blessed our efforts when we were called in to administer to the sick." (Life of George Henry Southam)
One year when wheat was scarce, Leslie Ashton gave Charles Holmes ten sacks of wheat for flour for his family, as Mr. Ashton happened to have a good crop of wheat, and knew Mr. Holmes had a large family, and needed it. Bill Reynolds ran the flour mill in town at this time.
Joshua Haslam spent twenty years farming and had nine children, five sons and four daughters. They lost two babies, George, who was born Dec. 20, 1890, died of croup on April 7, 1892. Willie died at birth in 1905.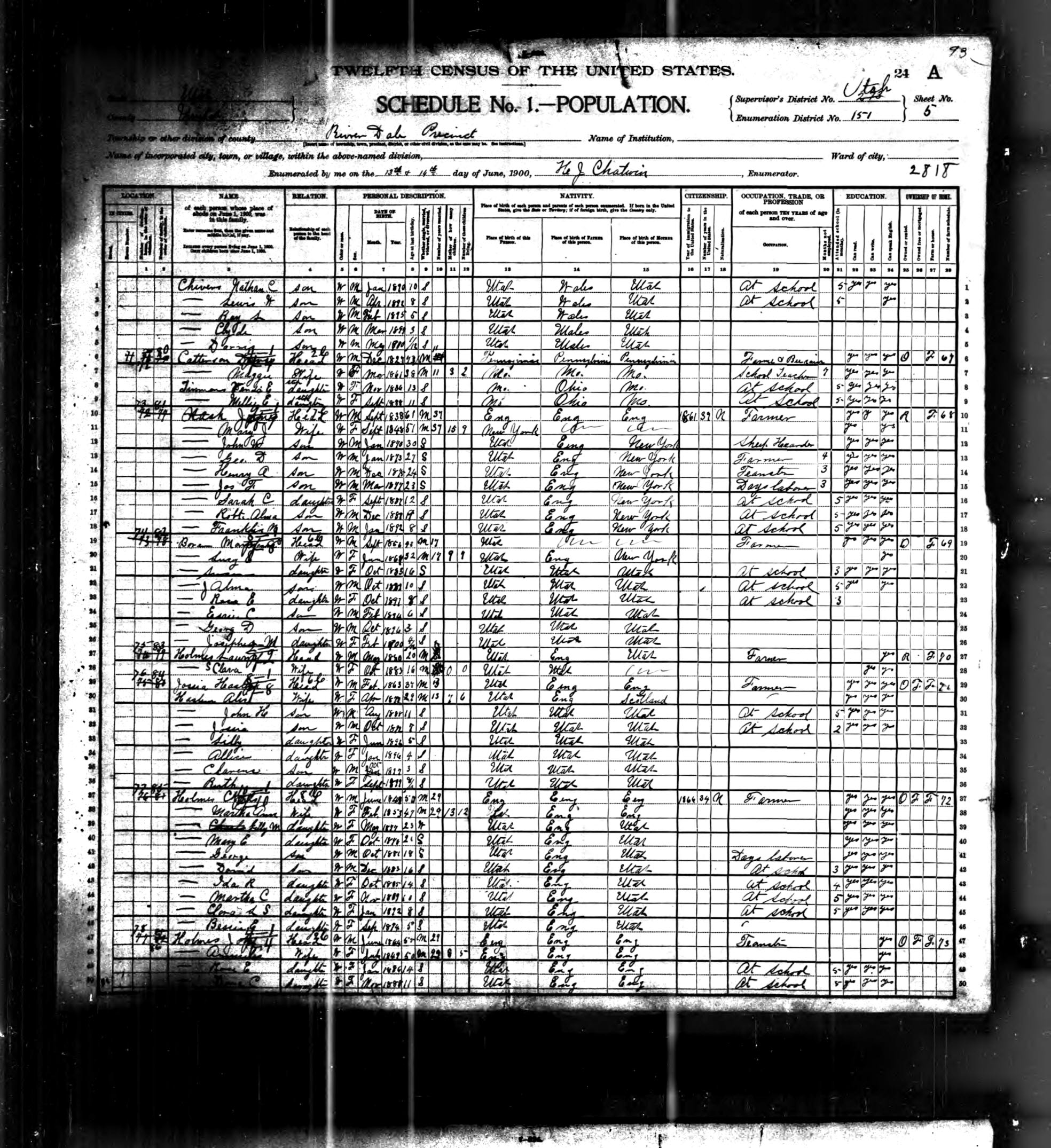 1900 census, River Dale, Utah
In 1904, Father sold his home in Vernal for one in American Fork, Utah County, Utah.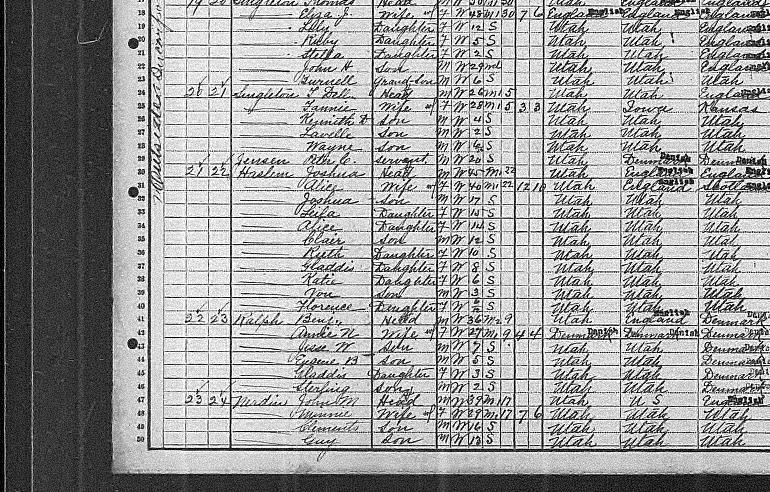 1910 census, American Fork, Utah County, Utah
In American Fork the home was in Second Ward for a few years. While living there a daughter, Katie, was born. Then the Haslam family moved to a larger farm in Third Ward. At this time the oldest son John had married. While living there Mother was a Relief Society teacher. The family all had typhoid fever, and as the mother was sick, Mrs. Wagstaff took care of the youngest baby, Von. Grandmother Southam came and helped nurse the family, then later on Joshua traded for a home and farm in First Ward. There was a lovely fruit orchard as well as farm land. They also rented land down by Utah Lake and raised sugar beets. At this time there were eleven living children. Three of the oldest had married. In 1916 Joshua traded his farm on American Fork First Ward to John Bennett in Uintah County for 160 acres of land. Again the family moved to this little country farm in Bennett, Uintah County. Here they raised cattle and farmed.
A year or so after moving to Bennett, World War I started. It was during this time that the terrible epidemic of influenza broke out among the people every where. There were may lives lost. Our oldest son John and his family were all ill with this flu as they called it. Flossie, John's wife, died leaving him with five small children. One was a baby ten months old. John was living in Salt Lake City at the time. At that time Mother had gone in to help nurse. Also, Ruth was in Salt Lake going to Business College. She had the flu also, and when she heard about Flossie's death she got out of bed and came to Johnnie's to help care for the children. As soon as they were able and things could be arranged, John and family moved to Bennett, leaving the baby, Glen with his Grandmother, Mrs. Wagstaff, Flossie's mother. She loved him so much that she could not let him leave. He lived with her until he was married.
John and four children: Kenneth, Niles, Helen, and Dean moved in with the Joshua Haslam family at Bennett. The children were loved and cared for as much as our own family. John bought him a large truck and hauled freight from Bennett to Price, Utah for some time. In 1921 he married Rebecca Alice Hartle, a nurse, and taking his four children, they moved to a house and farm two miles south.


Vernal Express, July 14 1922
While living in Bennett, Mother was First Counselor in the Primary, and also Counselor to the Relief Society President, Mrs. Earnshaw.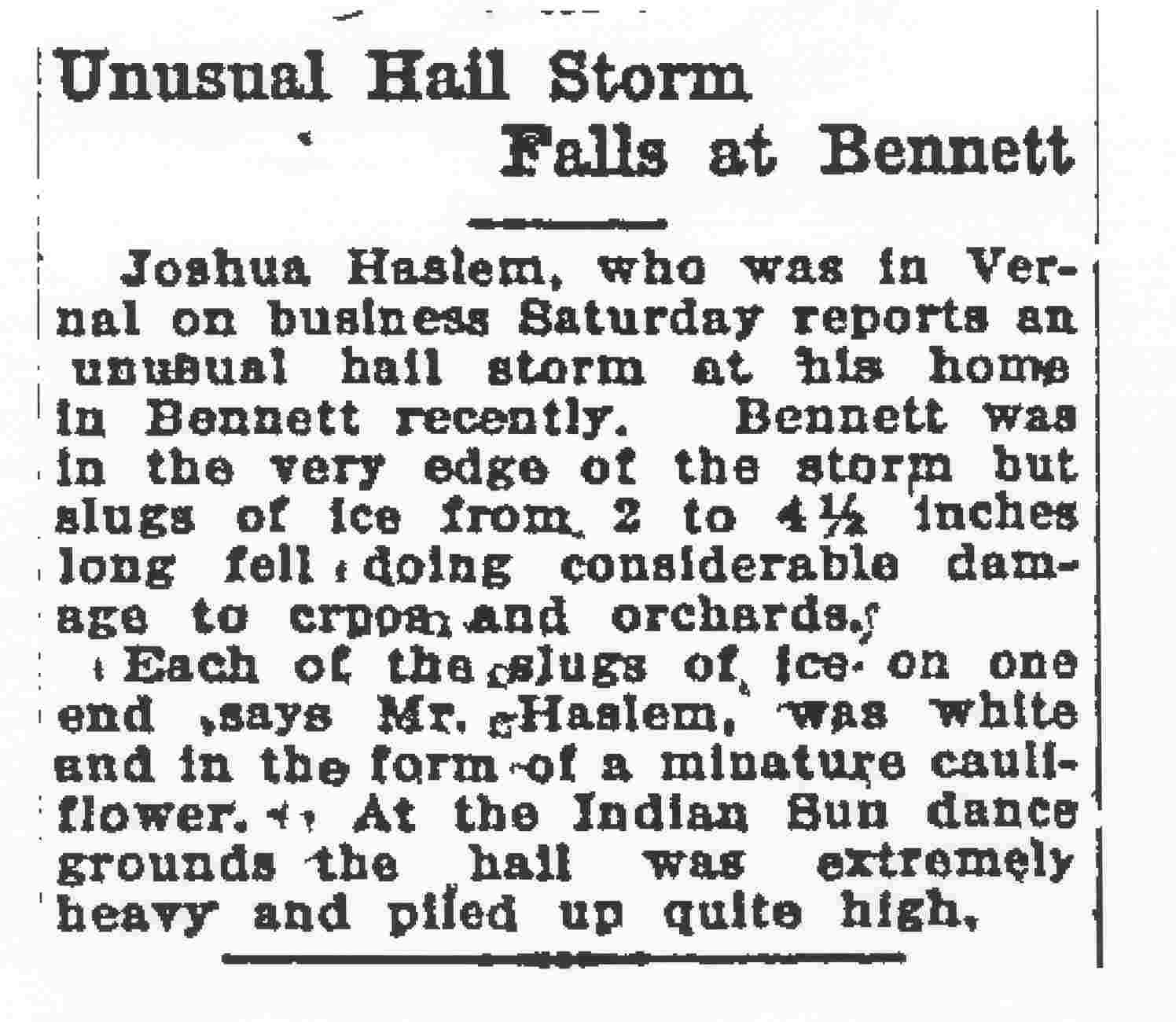 Vernal Express, August 29, 1924
The Haslam family lived in Bennett for nine years, and then after the older children had married, they moved to a small home in Vernal.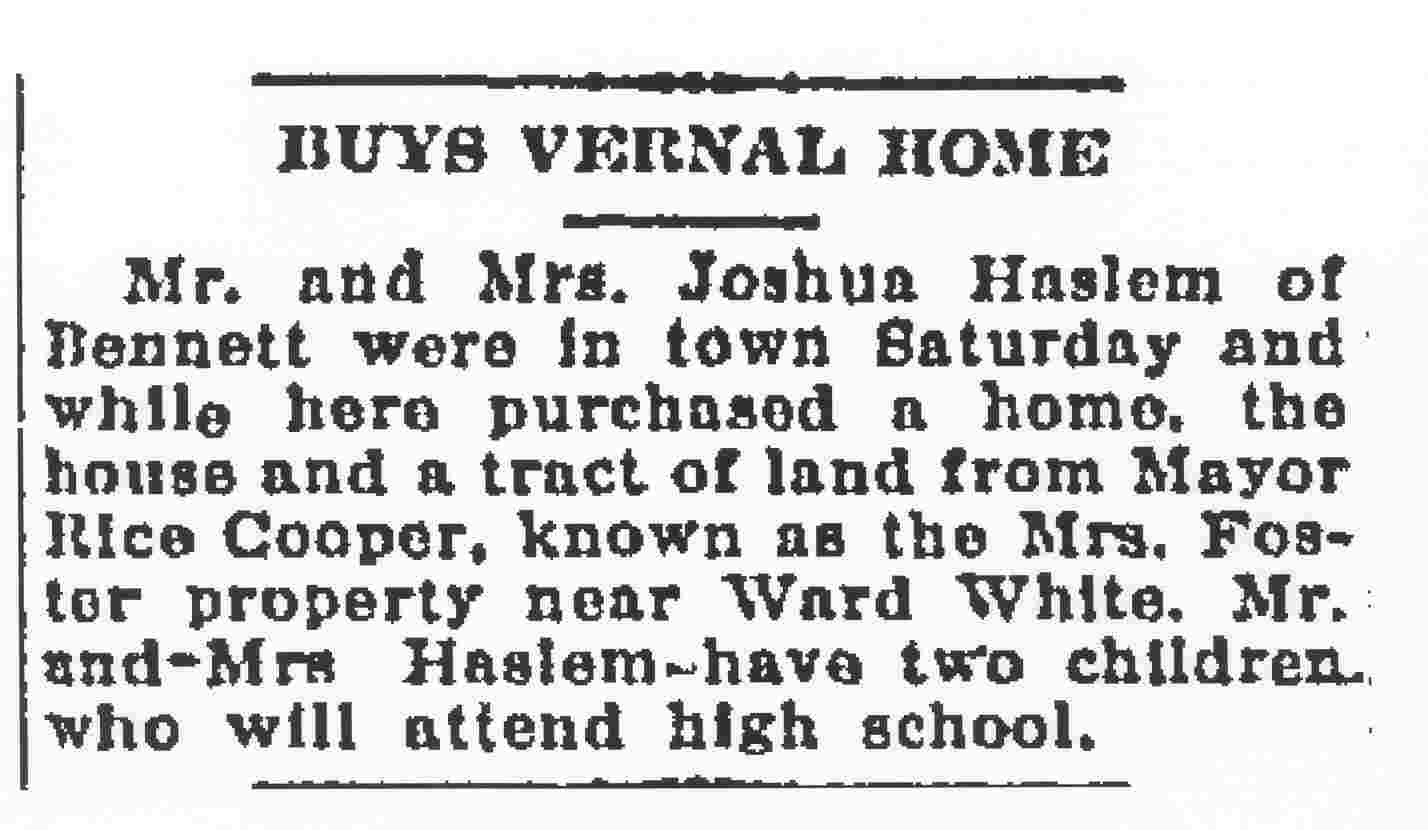 Vernal Express, August 29 1924
There were three children left at home then: Von, Florence, and Velda. This was in 1925. After moving to Vernal, Grandmother Southam came to live with the family. She divided her time at our house and Aunt Emma Holmes'- spending winters with us, and a month or so of the summers with Aunt Emma. She suffered with cancer for many years. Although she was not well, she was independent and of a happy disposition. She made many nice quilts and other useful things. She died during the summer while at Aunt Emma's, August 1929, at the age of 82.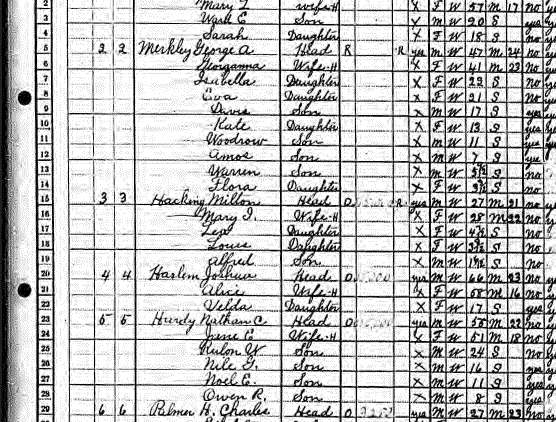 1930 census, North Ashley, Uintah County, Utah
After spending about two years in the small home in town in Vernal, the Haslam family bought the Snow Farm in Maeser Ward, just two miles out of town. There were a little over thirty acres of land, a large two-storied house made of stone block, east and north of town near the canal. This was a nice home and had a small apple orchard, a nice garden, and pasture and farm land. There was enough land to raise feed for the live stock. Both Joshua andAlice Southam Haslam lived here the rest of their lives.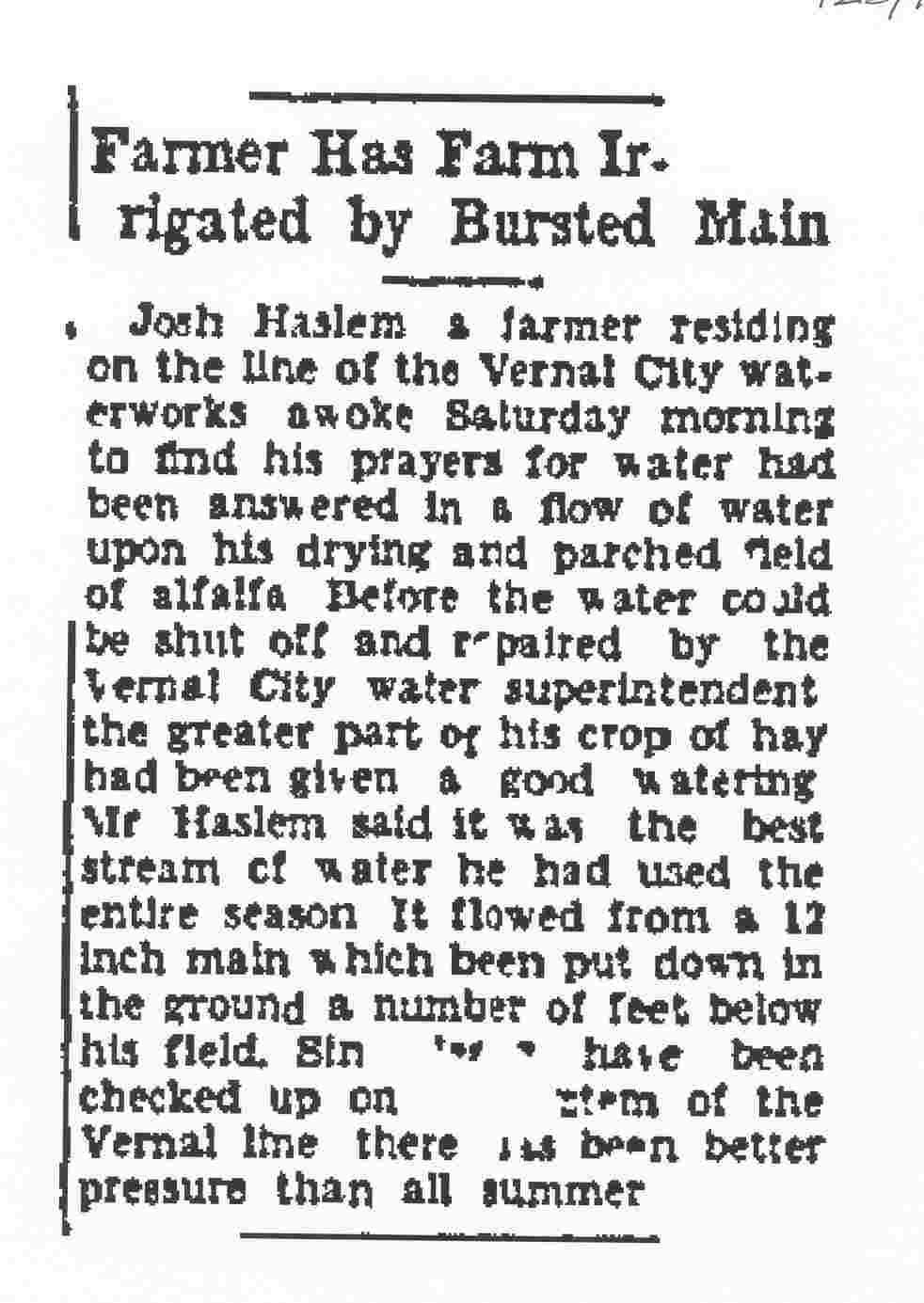 Vernal Express, July 23 1931
Joshua died August 4, 1934 at the age of 69, and Alice died March 6, 1952.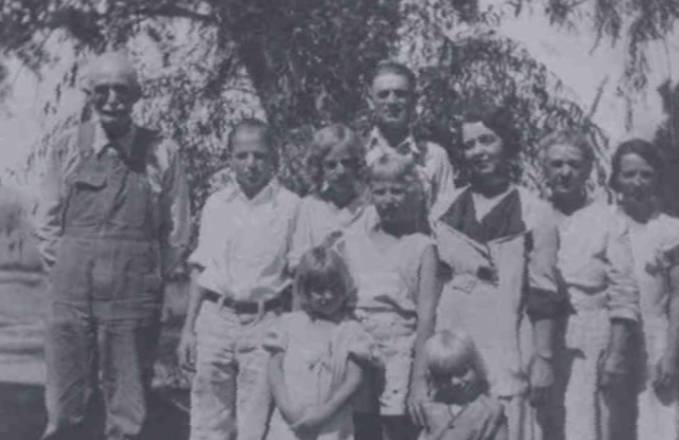 "Last picture of Grandpa"
Joshua Haslam, Keith Green, Beulah Green, Herman Green,
Virginia Morris, Ruth Haslam, Alice Southam Haslam, Alice Haslam Green,
Lawana Green, Jean Green (in front)
In telling the story of the lives of Joshua and Alice Haslam there is much that has not been said. Being the parents of thirteen children is a glorious accomplishment. To say the least, we think of the scriptures when we think of their lives: "They earned their bread by the sweat of their brow", lived wisely, seeking the counsel of our Heavenly Father at all times. Yes, we can say that they indeed did much to make this world a better place to live, living wisely and walking humbly with their God.

Katie Haslam Horrocks

HISTORY OF MY FATHER
JOSHUA HASLEM
Written by his son, John Henry Haslem
Joshua Haslem was born Feb. 2, 1865, in Salt Lake City, Utah. He was the son of John S Haslem (or Haslam), and Martha Hamer, and the tenth child in the family. His mother died when he was two years old, on June 16, 1867. He lived with his sister, first one, then another, until some time after his father married Mary Ann Kay. According to what my father told me, he being the youngest child in his family, his sisters had spoiled him by not making him mind; so when he did go to live with his father and Mary, they didn't get along too will. Father has always said it was nobody's fault but his, as Aunt Mary tried to be good to him; but his sisters kept telling him to run away and come to their house, because they had children that he could play with. I think from what Dad said, his father wouldn't let him live with his sisters any longer. When he was twelve years old he did run away, and he rode the freight train to Idaho. He soon ran out of money. All he had to eat for three days was the orange peelings that he would pick up on the street, but he hated to contact his father. Then he found John L. Sullivan, and a few other prize fighters that were going through the towns of Idaho putting on demonstrations either in saloons for 25 cents a person, or in public halls for 50 cents a person, if they had one in town. Fighting or boxing was their main sport in those early days. John L. Sullivan was one of the best boxers, and he held the crown for many years. He picked Dad up and took him along from town to town, and gave him lessons each day so Dad got to be good at it. They put on preliminary fights with Dad matched against the bully of each town, in which he always won due to his expert training.

(Alice's note: Joshua is found in the 1880 federal census in Salt Lake City, living with his sister Lizzie's family:

George Bennett, age 31, born in Missouri, occupation: Silver miner
Lizzie Bennett, wife, age 22, born in Utah, at home
William Bennett, son, age 6 months, born in Utah
Joshua Haslem, brother-in-law, age 15, born in Utah, at home
Samuel Haslem, brother-in-law, age 29, born in Iowa, occupation: Silver miner
Census place: 20th Ward, Salt Lake City, Utah
After he settled in Vernal, Utah, he furnished all the boxing entertainment that they had there until his Bishop Merrill told him to quit or he would cut him off the church. His former bishop, Bishop Hunting, was very disappointed at Bishop Merrill's decision, as he said they needed prize fighting in Vernal as there wasn't enough other sports there in Vernal. My Dad received no pay for this. Dad had travelled with John L. Sullivan for more than a year before he came back home. Soon after he returned, his sister Martha and husband Charles Holmes were moving to Vernal, so they asked his father if he could go too. Grandad consented. It was the last time he saw his Dad. Dad always felt bad that he didn't get to see his father again, especially after he went blind, but it was too far to come on horseback, and that was his only way then. He wanted to go back to tell Aunt Mary that he appreciated what she had done for him before he went to Idaho, as he knew that she had done the best she could for him. After he married my mother, Alice Southam, when he was 22 years of age, he built a new two room cabin of logs with a board floor which was quite a luxury. Most floors were dirt, and dirt on the roof also. The boards were 16 inches wide, and when they would shrink, the mice could come in through the cracks until this was corrected, by removing the boards and placing them closer together.
We had no screens so the flies were bad. We would drive them outdoors with towels two or three times a day. We were always glad for cold weather to get rid of the flies. One day Mother reached into the wood box in back of the stove and almost put her hand on a four-foot rattlesnake that was there to keep warm. It must have come in when the door was open.
Dad farmed all summer. He and nine others owned the gilsonite mines in what was later called Watson, Utah, seventy or eighty miles from Vernal. He worked the mines all winter. When he left Vernal in 1904 he sold his interest in the mines for $780. The present owners have sold many millions of dollars worth of gilsonite from it. This product was used in paint for ships, as it was the only product that the barnacles couldn't stick to. He also had copper mines in Jesse Ewing Canyon on Green River. They had a one-room cabin there, and when they went there the year after the Montpelier Bank in Idaho was robbed, they found the outlaws had taken possession of their cabin. The outlaws told them they would keep it as long as they wanted to. They invited Dad and his three partners in, and made them welcome all winter. It was just a little crowded, so many in one big room, but Dad said he never lived better. They had everything that they needed that money could buy (plenty of T-bone steaks). Dave Lant was the outlaw that got the meat. Dad thought that he bought it from farmers twenty miles up the river. He only brought the back end portion of the freshly killed beef. Dad asked him how he got such good beef. "They are the Lord's cattle", he said.
Dad also sold the copper mines when he left Vernal, but only got $200 or $300 for his share. When we moved to American Fork, Utah in 1904, he only had two acres of orchard. He got a job at building the new Latter-Day Saints Hospital in Salt Lake City. John Shepherd was the contractor, and he taught Dad how to mix and lay cement. They mixed all with flat point shovels on a 16-foot square board platform. When he completed the job in Salt Lake City, he started in business for himself, making cement walks in American Fork for 15 cents a square foot; then made cement foundations for houses. Before that, all of the foundations in American Fork were built with quarried rock. With American Fork being only 3,000 population, it just furnished him this work for a few years, so he bought ten acres of land on which he raised potatoes and beets. Then he purchased a larger farm to raise fruit on. The first year that his peach trees produced, he hauled them to Provo, Utah to the Roylance Fruit Company. They shipped several hundred bushels East. They claimed that they spoiled before they could sell them, so Dad lost the peaches, and 17 cents for the bushel baskets. In 1917 he traded his fruit farm for 160 acres in Bennett, Utah (three miles east, and five miles north from Roosevelt), and lived there until he got hurt falling off a twenty-foot high haystack. He then got a smaller place in Vernal until his death of a heart attack on the fourth of August, 1934.
Now to relate some of Dad's life's experiences that were always interesting to me when he would tell us. The reason that he had such a good big cabin at his copper mines, he was required to do $100 worth of work, or dig each tunnel ten feet, for each mining claim, and I think they had twenty claims; so the work on the house gave them credit as much as on the mines. So they built the best cabin they could without any lumber, as they had to chop the building material all out of the trees that grew there, mostly red cedar. They also were glad that the outlaws were there as they would all help them work their mines for exercise. Dad invited them to join him, but they said they could get their gold much easier than to dig for it.
The one winter that Dad was away up there, all of his kids but me had the whooping cough awfully bad. Mother took the two littlest ones in her bed, andme the older three. One would start choking, and the rest all at once. Mother and I had them all marked up, beating their shoulders to get them out of convulsions. They would cough so hard for seven or eight weeks, that I rode a horse all over Ashley Valley each day to milk mares, as the horses' milk seemed to help the most to stop them from coughing. Dad didn't know about it until he came home late in April.
Dad liked the outlaws as he knew most of them at his fights before they went to robbing banks. Dad said they always boasted that they had never taken one dollar form a poor man or family that needed the money; but they had given much of their ill-gotten money to the poor, and Dad said he had seen them help many poor people. Dave Lant was a swell boy in Vernal until a fellow shot him while in a saloon, and he was a long time recovering. Dad took turns nursing Dave Lant. The first thing he done when he recovered was to kill the fellow that shot him. Then Dave joined the outlaws for security, and was never brought to trial. He eventually enlisted in the Spanish American War under an assumed name and they said he was an outstanding soldier during the war; then he went to South America and that was the last Vernal people heard of Dave Lant. They all loved him just the same. The outlaws always went in pairs so they could defend each other if they got in trouble, so Lant and Tracey, and Butch Cassidy and Elza Lay, and the other four were the ones that never got caught. (I can't remember their names now, but I have heard Dad name them dozens of times.) Butch Cassidy's real name was George LeRoy Parker.
One year there wasn't much snow in the Vernal Mountains, so Dad knew that he couldn't raise many crops. So he and John Shivers got a contract to sell the U.S. government 200 tons of hay for the army at Ft. Duchesne. The soldiers were cavalry and all rode horses. With hay being scarce in Vernal, and 35 miles to haul it, they decided to rent Little Joe's farm five miles from the fort, and raise the hay there. Little Joe was one of the more intelligent Indians that the U.S. government had educated to be an interpreter when the U.S. officers dealt with the Indians. It was a good job and good wages. He had a good farm mostly in alfalfa hay, and his was the only farm that raised much on the whole reservation. Quite a few Indians grew corn, but just for their own use. Some of our Indian neighbors told Dad that he would never harvest his crop, but Dad didn't seem to worry as he had a lot of confidence in Little Joe; but when Dad got most of his hay all bunched ready to deliver to the fort, here came about sixteen young Indians that Little Joe had gotten drunk. Little Joe had a still out on the hills three miles east, so we learned later, and he would steal the Indians' corn and make whiskey out of it, and sell it to the Indians. Nobody else dared to sell or give an Indian any liquor in those days, but Little Joe had loaded these young ones up. They were from 18 to 22 years of age, I think, and Little Joe had told them not to shoot us, but to scare Dad and John Shivers so badly that we would go back to Vernal and leave him the hay. So here they come on their horsed, hollering and shooting their .38 pistols over the house and into the roof as they rode around the house as fast as they could go on their horses. (When the soldiers discarded these guns every two years, the Indians picked them up.) Mother shoved me under the bed, and tried to get there too, but the bed was not high enough. John Shivers was trying to get under the other side of the bed as he was as scared as Mother was. I was only six years old, and not old enough to be very frightened. Also I had a lot of confidence that Dad would stop them some way. We had a 45.70 rifle all loaded. Dad could have shot them all, as drunk as they were, but he wouldn't, nor would he let John Shivers either. So against Mother's and John's advice, Dad decided to go out and try to talk to them; but they kept racing around the house on their horses and still shouting. So he would grab their legs, as they had no saddles on, and then he would pull them off; and as they hit the ground he would take their guns. If they would try to get up, he would hit them with their guns, so they crawled away. The very last one was named Grant, about nineteen years of age and 190 pounds, so Dad couldn't pull him off. The wagon was parked only seven or eight feet from the house, and Grant had to come between it and the house as the corral was on the other side of the wagon. Dad picked up the neck yoke, which is about four feet long, and three inches through, and the next time around Dad hit Grant over the head with it, and knocked him cold. We all thought he was dead. We couldn't see him breathe, and very little heart beat if any, so Dad went on his horse to Ft. Duchesne and told the officer that he had killed Grant. The Colonel just laughed and said he had expected it; that it had happened other years, and then the United States would have to buy Little Joe's hay. He told Dad not to worry, as he thought after a clubbing like that, the Indians wouldn't bother us again, and they didn't bother us any more. Dad thought the Colonel told Little Joe to lay off his rough stuff, as the Colonel knew Little Joe was causing all the trouble. It was real hot in July, so about ten o'clock in the morning, the Indians hadn't come to get Grant, and Dad could see a little life by then; so we all got a hold of him and drug him into the shade of the house; then Dad went to get their Medicine Man, and some more Indians, to take him away. By then Grant had bloated up until we thought he would burst, but nobody showed up until about four o'clock p.m. the next day. Here come six of their Indians with their Medicine Man, and Grant had started to moan a little by then, so we thought he would soon come out of his stupor. He had been unconscious until now, and had never said a word. The Medicine Man had them all hold hands and ki-yi around him (I guess they were praying). We couldn't understand them, but it looked like a religious ceremony. Then they stretched him out on his back,and held his hands and feet, and the Medicine Man just tromped on his stomach with his feet. Grant's stomach looked like it would burst with gas anyway after lying in the heat of summer two days; but the gas sure went out of him, and then they all left and took him away, we didn't know where, but we were sure glad to get rid of him. He recovered as we saw him about three months later, and he had lost about forty pounds of weight. But this isn't the end of the hay story. Dad had only hauled a few tons of hay to Ft. Duchesne and it rained and made the hay quite black, so the Colonel turned it down. Dad knew the hay wasn't molded enough to hurt the horses, but he was stumped and didn't know what to do. He knew if he had to buy the hay in Vernal, and haul it 35 miles, he would be broke. So he told John Shivers that he was going to try bribing the Colonel, so he went to Vernal and got the store to loan him ten $20 gold pieces, as there were no banks in Vernal at this time. So Dad took a load of hay back and the Colonel still said no, so Dad got close enough to him to slip a $20 gold piece into his pocket, and started back to the wagon as if to drive home. The Colonel said, "Here, wait a minute. Let me sample the hay again", so he shoved his hand in and pulled out a couple of handfuls and said, "That is better hay than I thought. We will take it", and was Dad and Mr. Shivers happy! But he had to repeat the bribe seven times to get the Colonel to buy the 200 tons of hay. It was a good wage for Dad and John Shivers. If I remember it right they got $12 per ton for the hay, and I think they only paid Little Joe about $200 rent for his farm this summer, plus $100 for some hired help. This was the only dishonest (?) thing I ever saw my Dad do, but he was in a pinch. It was the stores in Vernal that asked Dad and John to get this hay contract, as it was during President Grover Cleveland's reign and I think during the worst depression the United States ever had. You just could not get cash in Vernal. All the trading was exchange, or scrip on the stores. But they had to pay cash for new merchandise, and it was so scarce their shelves were getting very low, so the stores must get the cash that Ft. Duchesne paid of hay and grain for their horses. So Dad's $2,000 that he got in gold sure helped the merchants out.
Now in Vernal, we lived in the last house in Ashley Valley that had drinking water, until they (the Indians) got to the Green River; so they always would stop for dinner in our yard, and Mother would usually take them a loaf of bread. It made them so happy as they never cooked except for flapjacks, and usually out of cornmeal. Quite often they would have a baby born, in not over 1 1/2 hours, while stopped for dinner. They would wash him in the cold ditch water as soon as he arrived, (how he would yell!) then they would strap him on his mother's back, and put her on her pony, and jog on their way. I never heard of a mother or baby dying. Dad would take a bucket of hot water out, but they wouldn't use it for the baby, but used it themselves to wash in when they were leaving the campground. Dad asked why, and they said if the baby couldn't stand cold water, he wasn't worth saving. In the late summer they would travel with about thirty in each band. They went to Colorado for deer to dry for their winter meat. They were plentiful there, and easy to trap. They had no wagons then; just a pole tied on each side of the pony, with the big end dragging on the ground; and cross sticks across the back end. They had about twenty ponies in each band, loaded with 150 to 200 pounds of jerky. They loaded on deer hides first, then the jerky wrapped inside to keep the dust off on the way home. They travelled slowly as the ponies were loaded heavily, and everyone walked that was able; but going over empty, everyone would ride, and travel on a jog trot, probably twenty miles a day. The little kids were so dusty behind those dusty drags they could hardly open their eyes when they would stop. They looked like little mummies, until they blinked, or opened their eyes. They were tied on so they wouldn't fall off. It was always a mystery to me why the ponies didn't kick them to death, riding so close to their heels. I don't think white people could train horses to be so gentle; and they always just turned the ponies loose with these drags, and I never heard of a pony running away, or hurting the little Indians.
This is all for this time, and maybe more than you will enjoy hearing about.
John (Johnnie) H. Haslem
Thanks to Jim Drennan for taping this on Feb. 10, 1971. Typing was done by Gladys Haslam Drennan, (niece of Joshua Haslem) from handwritten notes of John Henry Haslem, age 82 Ĺ years old.

If you have any additional information about this family, please contact me at alice@boydhouse.com.