Alice Haslam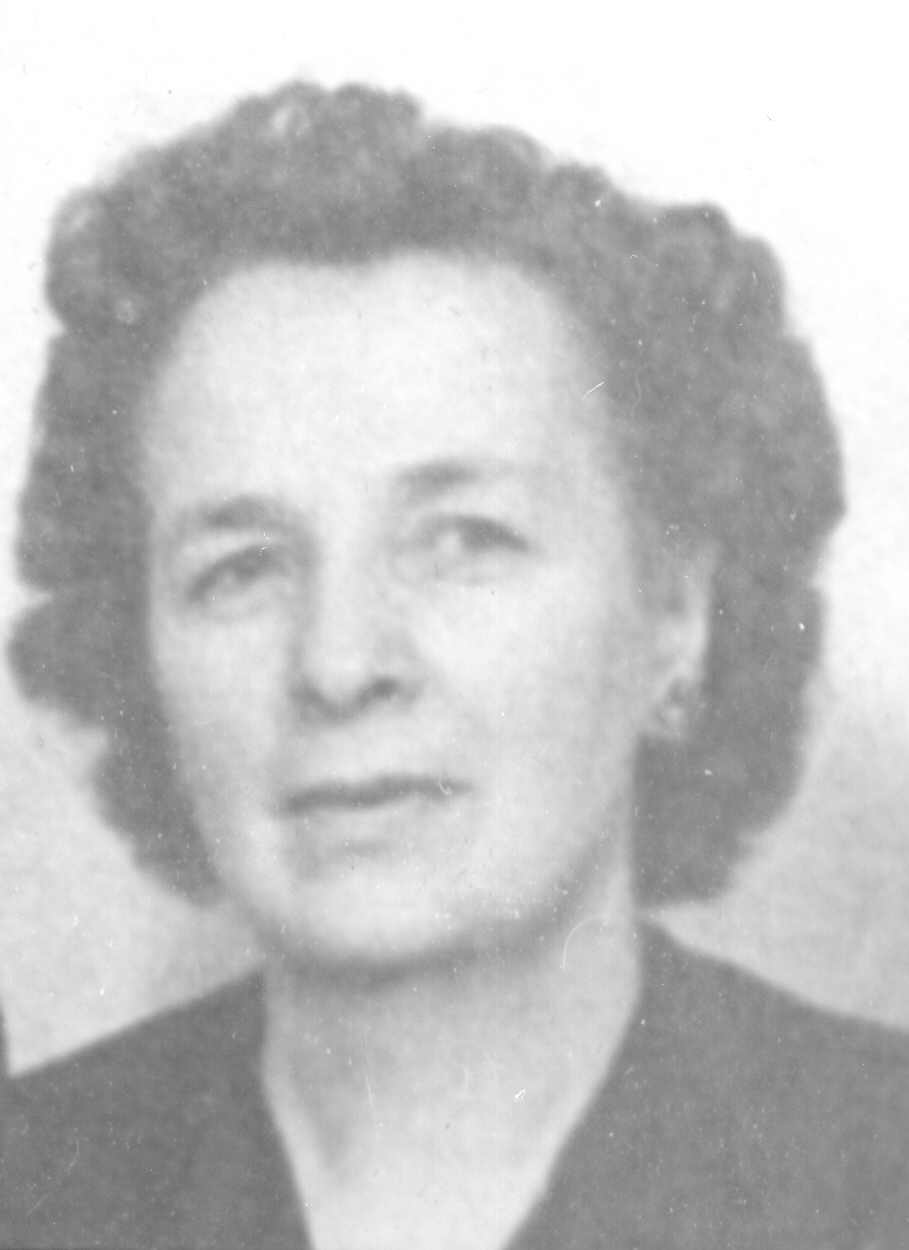 Alice was born 31 January 1896 in Vernal, Uintah, Utah to Joshua Haslam and Alice Southam, the fifth of thirteen children. When Alice was born she had an eight-year-old brother, Johnnie, a four-year-old brother, Josh, and a two-year-old sister, Lila. (A baby, George, was born in 1890, but he died two years later.) Alice was born in 1896, and then a brother, Clair, was born the next year.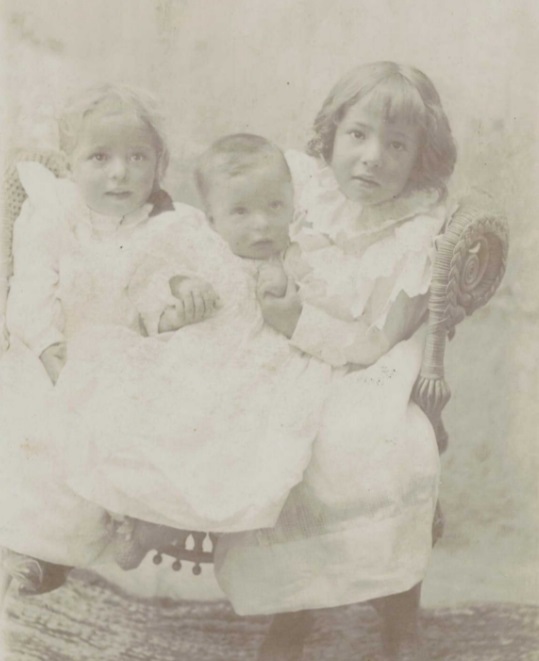 Alice, baby Clair, and Lila Haslam

Next a sister, Ruth, was born when Alice was three years old. Two years later a sister, Gladys, was born. Alice's father worked as a miner and farmer in Vernal.
Alice as a young girl
One year while Josh was away copper mining, the children came down with whooping cough: "The one winter that Dad was away up there, all of his kids but me had the whooping cough awfully bad. Mother took the two littlest ones in her bed, and me the older three. One would start choking, and the rest all at once. Mother and I had them all marked up, beating their shoulders to get them out of convulsions. They would cough so hard for seven or eight weeks, that I rode a horse all over Ashley Valley each day to milk mares, as the horses' milk seemed to help the most to stop them from coughing. Dad didn't know about it until he came home late in April." (John Henry Haslam)
In 1903, when Alice was seven, the family moved to American Fork. A baby boy, William, was born there, but he died the same day. They lived on a farm with a fruit orchard. One year later a sister, Katie, was born. Alice was nine years old when her brother, Von, was born. A sister, Florence, was born two years later. The last child, a sister named Velda was born when Alice was 16 years old.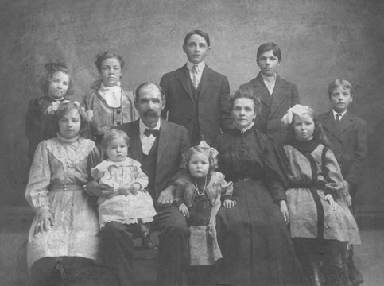 The Haslam family - Alice is in the front row, first on the left
In 1916 the family moved to Bennett in Uintah County. Alice was twenty years old. Alice's mother remembers, "A year or so after we had moved to Bennett, World War I started. It was during this time that the terrible epidemic of influenza broke out among the people everywhere. There were many lives lost. Our oldest son Johnny and his family all had it very badly. Flossie (his wife) died, leaving him with five small children. One baby was ten months old (Glen). He was living in Salt Lake City at this time. Alice, my daughter, was there helping with the nursing. Also, Ruth was in Salt Lake, going to Business College. She had the flu, as it was called, and when she heard about Flossie's death she got out of bed, and went to Johnny's to help care for the children. As soon as they were better and things could be arranged, John and family moved to Bennett, leaving the baby, Glen, with Mrs. Wagstaff, his grandmother. She loved him so much she could not let him leave her, so he lived there with her until he was married." Alice's daughter Beulah records, "My Uncle Johnnie's wife died of the flu during World War I, and my mother moved in with Uncle Johnnie, and helped raise the children for a while."
Alice met Herman Green at a dance in American Fork. Their daughter Beulah remembers, "My Mom and Dad first met at a dance in American Fork, I think it was. My Dad didn't know how to dance, and he saw my mother – she was wearing a red hat, and he said, "I'm going to marry that girl." So he came over and asked if he could take her home. She let him take her home, and he asked her for a date. When he came she said she could see the buggy, and nothing pulling it. He had a little teeny, tiny horse pulling this big buggy! My mother told him she wouldn't go out with him unless he knew how to dance because she loved to dance. So he went and took dancing lessons and learned to dance, and his partner was a chair at a dance studio. They were married in 1919." Alice was 23 years old when she and Herman were married. Herman went to work for the railroad.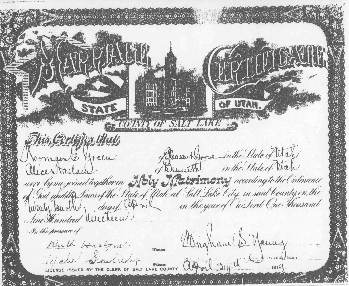 Herman and Alice's first child, a son Keith, was born later the same year in American Fork. Two years later a daughter, Beulah was born in Payson. She said, "I was named Beulah, because my Dad's cousin was Beulah, and they thought it was a pretty name." They lived in Payson for another six years, and then moved to Salt Lake City. The family moved from Payson to Salt Lake City, and Beulah remembers "When we moved to Salt Lake we lived just about two blocks from Liberty Park, so we used to go over there and play and have lots of fun. The park at that time had the zoo and the park. Then we moved to Highland Park when I was about nine years old. I was baptized in the font in the Salt Lake Tabernacle. It was after that that we moved to Highland Park in a new brick house, and I grew up there in a neighborhood of young families, and we had lots of fun.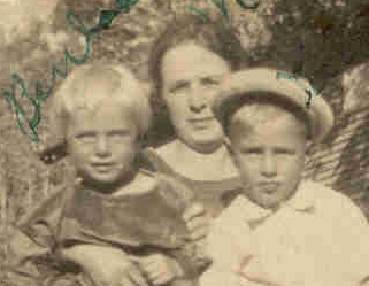 Beulah, Alice and Keith
Another girl was born and they named her Lawana. Beulah recalls, "My sister Lawana was born at home, and in those days the women stayed in bed for two weeks. The nurse that came there had gone to see "Pagan Love Song", and the gal in the movie was named Lawana, from the South Sea Islands. Grandma thought that was a pretty name." Four years passed and a daughter, Jean, was born in Salt Lake City. Alice's father, Joshua Haslam, passed away in 1934 in Vernal. Two years later the last child, a son they named Tracy, was born.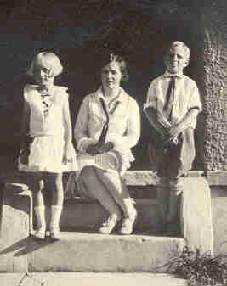 Beulah, Alice and Keith
Alice was a good mother to her five children. Beulah remembers, "I have two brothers, and two sisters. My Mom used to whack us with a fly swatter once in a while, but she was a mild-mannered woman. She got along all right with the kids. She saw that we behaved, and were polite. She was a good mother. I know in later life whenever I wondered what I should do with my children I always thought back to what she did. My Mom was very mild, a hard worker, nice looking, and because my Dad was gone so much, she did most of the raising of the whole family. My mother was a good cook. She used to cook stuffed veal birds, good ice cream, the best lemon pie you ever tasted, real good cream of tomato soup. On wash days she would go down in the basement – Salt Lake houses have basements, and instead of heating up the upstairs she would heat up the coal stove down in the basement, and heat water for the wash, and in the oven she would put bread and great big, huge beef pot pie, or beans. That was Monday's food. She worked in the Primary. She saw that all of us went to church."
Beulah remembered that her mother was not fond of cars: "My mother was very nervous about riding in cars because once she was in an accident on Armistice Day when they were going to see the parade, and I think she sprained her arm. Another time she was going down to American Fork, around the point of the mountain, and the car went out of control, and hung on the precipice above the cliff while they crawled out along the running board. So she did not feel too good driving on hills or going fast in cars. My mother learned to drive while we lived in Payson, because my Dad kept telling her she should drive, then she could get out and go do her own things. We went to pick up a bushel of peaches to can one day, and she didn't put the brake on properly, and the car started running down the hill. She ran, and clambered on the running board, and got the brake pulled on. But she didn't drive after that. She said that was enough. She didn't feel safe in cars."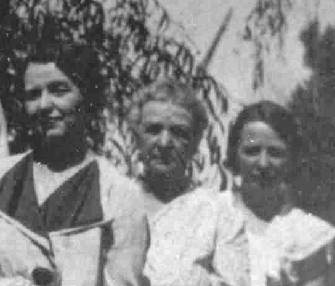 Ruth Haslam, Alice Southam Haslam and Alice Haslam Green
Alice and her sister Ruth stayed close all their lives: "She and my Aunt Ruth used to have a good time. Aunt Ruth would jokingly say, "Didn't we have fun?" and my mother would say, "Yes, wasn't it fun taking our first children, and going down, doing our wash together?" My mother was a hard worker. Aunt Ruth was the party gal." (Beulah Green Carey)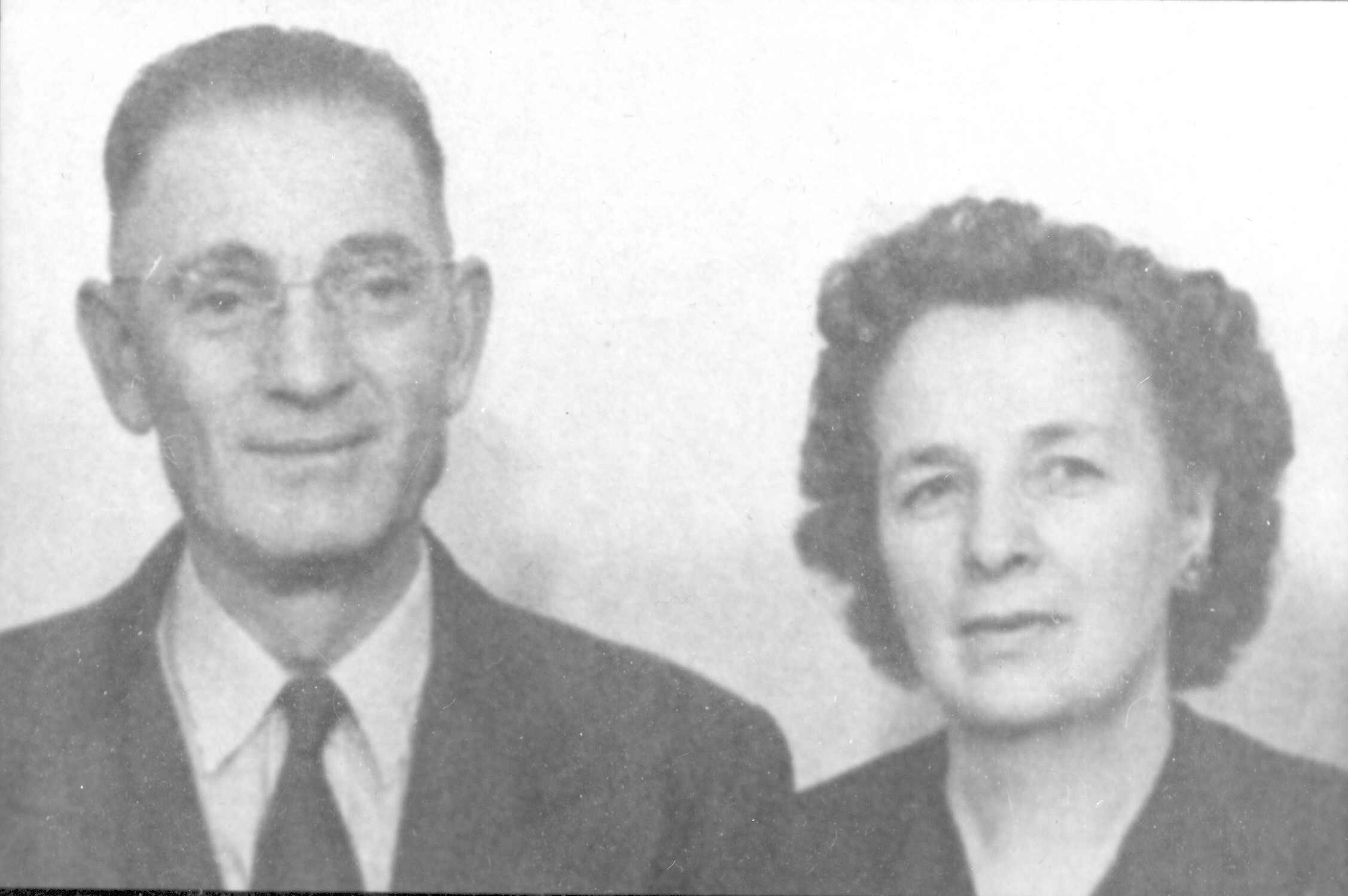 The family moved again in the Depression: "Then we lived there until during the Depression; my father had a problem with ulcers, so he went away to the VA Hospital. They used to go into the hospital for six months, and live on a cream diet. That was the cure for ulcers, and bland food. So he went away and during that time, of course, there was no income, except their savings. So my Dad got scared and sold the new house, and we moved down into Granite Stake, which was Third East, and about 35th South, in a little old house. My mother didn't like it. After a brand new house she was not satisfied, so she found another house, which was a big two-story home with a wraparound porch in front, and big, huge bedrooms upstairs. We lived there for four or five years. Then she found another house, which was a brand new brick house that a man that owned a hardware store built for himself and his son – two identical houses. We lived there until I left home." (Beulah Green Carey)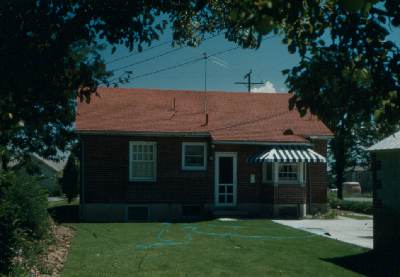 The Green's home in Salt Lake City
Alice's children married and left home. Herman quit working for the railroad, and worked as a file clerk for the railroad. He retired and then worked for the school district as a janitor. Alice did volunteer work at the LDS Hospital, then was hired as a nurse's aide, and then became head of the laundry department at the hospital.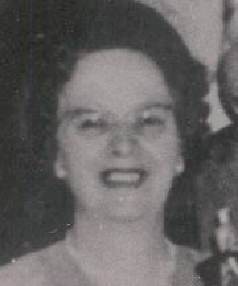 Alice in 1950
By 1960 Alice had ten grandchildren. Keith had five boys: Keith, Kevin, Bill, Kelly and Lamont. Beulah had three children: Charles, Alice and Raymond. Lawana had two children: Kathy and Michael. Seven more grandchildren were born after Alice's death in 1960. Beulah had another son, Bill. Jean had three children: Pamela, David and John. Tracy had three children: Russell, Angela and Tim.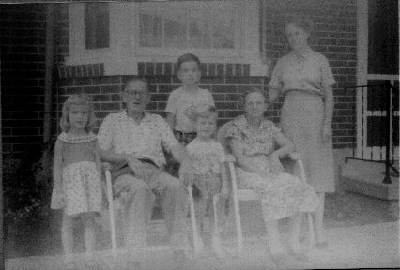 Alice Carey, Herman Green, Charles Carey, Ray Carey, Alice Haslam Green,
and Beulah Green Carey in about 1959
Alice died on 19 February 1960 in Salt Lake City at the age of 64. Beulah remembers: "Mama died in 1960 in Salt Lake. She had three hemorrhages, and on her death certificate it said arteriosclerosis." Alice was buried in Salt Lake City.





Recipes of Alice Haslam Green

Lemon Meringue Pie
1 cup sugar 1/4 cup lemon juice
3 Tbs. corn starch 1 Tbs. margarine
1-1 cups cold water 1 baked (9-inch) pie shell
3 egg yolks, slightly beaten 3 egg whites
Grated rind of one lemon 1/3 cup sugar
In a 2-quart saucepan, mix 1 cup sugar and corn starch. Gradually stir in water until smooth. Stir in egg yolks. Stirring constantly, bring to a boil over medium heat and boil 1 minute. Remove from heat. Stir in the next three ingredients. Add additional lemon juice, if desired, until the filling tastes lemony enough. Grandma Green liked it really lemony. Cool. Pour into a baked pie shell. In a small bowl, with mixer at high speed, beat egg whites until foamy. Gradually beat in 1/3 cup sugar; continue beating until stiff peaks form. Spread some meringue around the edge of the filling first, touching the crust all around, then fill in the center. Bake in a 350 degree oven for 15-20 minutes, or until lightly browned. Cool. Serves 6-8.



Mahogany Cake
2 cups cake flour
1/2 cup cocoa
1/2 teaspoon salt
1 teaspoon baking soda
2 tablespoons vinegar
1/2 cup shortening
1 cup sugar
1 1/2 cups milk
Sift cocoa, salt and flour three times. Cream shortening and sugar. Add milk and dry ingredients at intervals. Beat after each addition until it is all mixed together. Add vinegar and milk. Bake about 30 minutes at 350 degrees.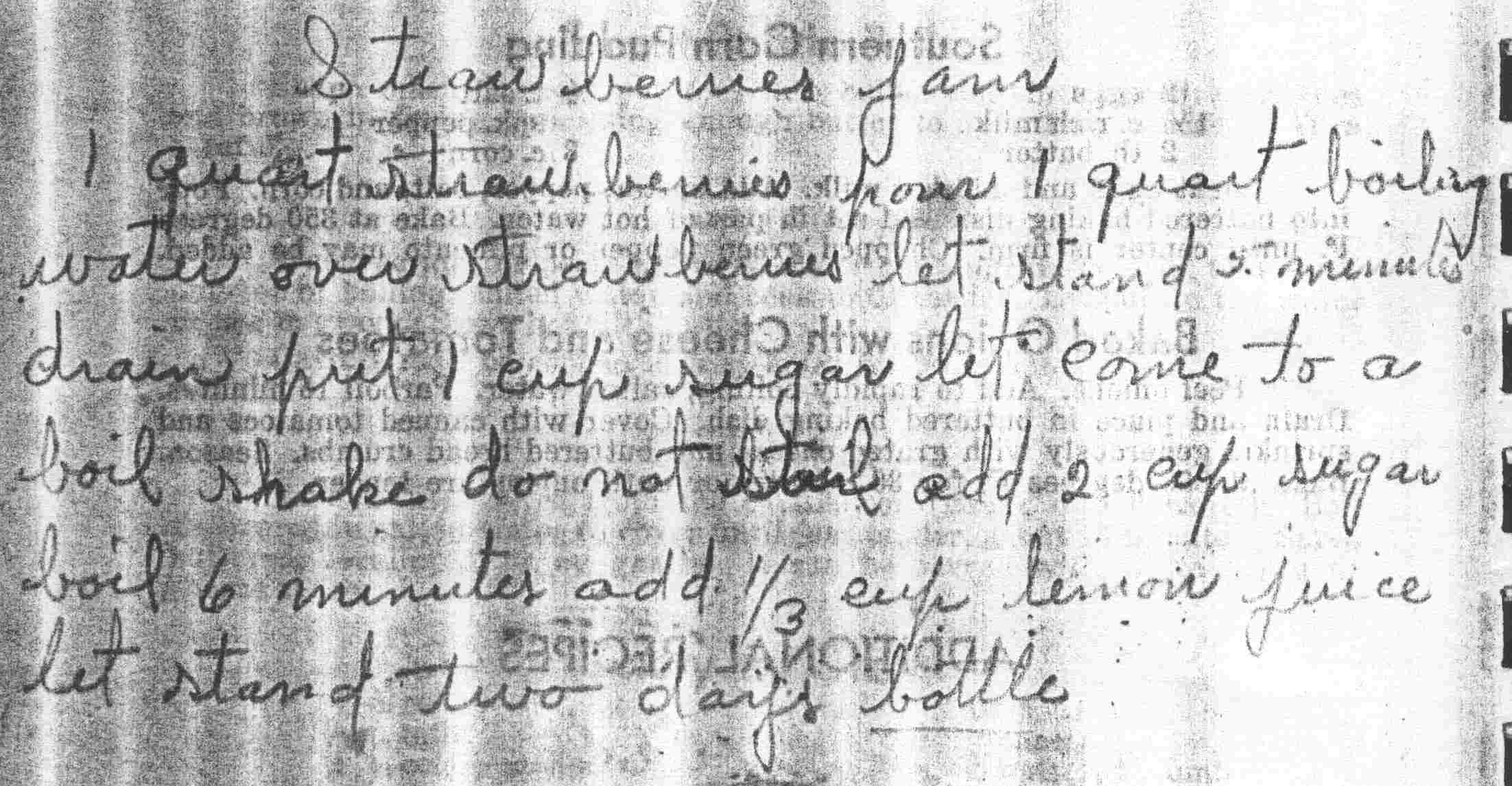 Strawberries Jam
1 quart strawberries
Pour 1 quart boiling water over strawberries. Let stand 5 minutes. Drain fruit.
1 cup sugar
Let come to a boil. Shake, do not stir. Add 2 cups sugar. Boil 6 minutes. Add 1/3 cup lemon juice. Let stand two days. Bottle.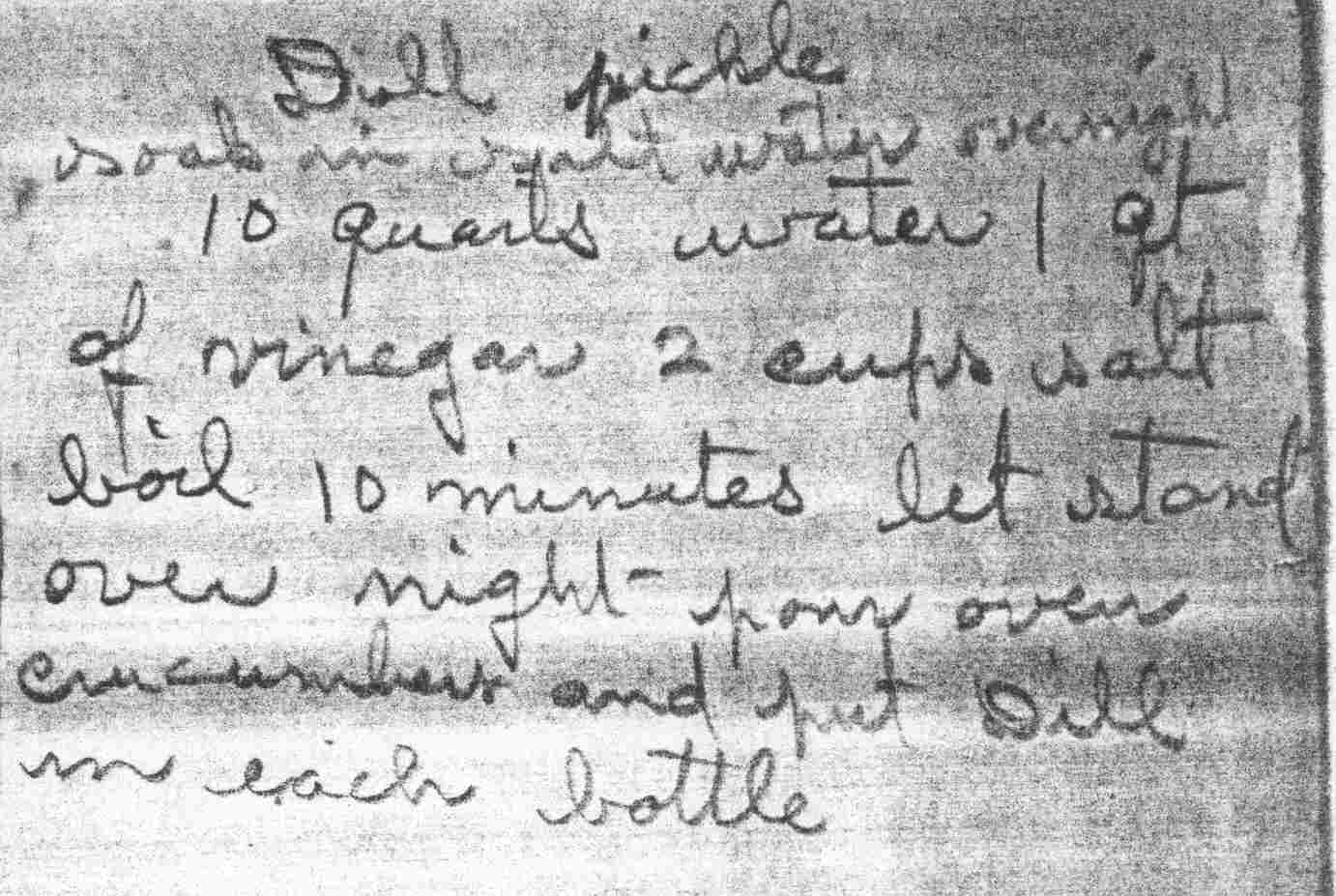 Dill Pickle
Soak in salt water overnight.
10 quarts water
1 quart of vinegar
2 cups salt.
Boil 10 minutes. Let stand over night. Pour over cucumbers and put dill in each bottle.




Chili Beans
Soak three cups red beans over night. In morning add enough cold water to cover and cook slowly for 30 minutes. Drain, cover with boiling water. Add a chopped onion and small amount of chopped bacon. When beans begin to get tender, add 1 cup tomato catsup, salt to taste and 2/3 tablespoon chili powder. When heating up to serve, add some crumbled fried hamburger.





FAMILY GROUP RECORD OF
HERMAN ELIAS GREEN
AND ALICE HASLAM
HERMAN ELIAS GREEN was born 9 April 1895, in Pleasant Grove, Utah, Utah to Charles Edward Green and Harriet Ann Aston. He married Alice Haslam 24 April 1919 in Salt Lake City, Utah. She was born 31 January 1896 in Vernal, Uintah, Utah to Joshua Haslam and Alice Southam. Herman died 16 January 1971 in Torrance, Los Angeles, California, and was buried in Salt Lake City, Utah. Alice died 19 February 1960 in Salt Lake City and was buried there 23 February 1960. Herman and Alice had the following children:
1. Keith Charles, born 13 November 1919 in American Fork, Utah, Utah; married Ilian Patricia Kelly 12 June 1943.
2. Beulah, born 3 May 1921 in Payson, Utah, Utah; married James A. Carey 20 August 1950.
3. Lawana, born 9 November 1928 in Salt Lake City, Utah; married Jerry Toombs 18 July 1947.
4. Jean, born 9 February 1932 in Salt Lake City, Utah; married David W. Irwin 28 September 1957.
5. Tracy H., born 13 October 1936 in Salt Lake City, Utah; married Janet Haymond 6 January 1962.
SOURCES: Personal information given by Beulah Green Carey; marriage certificate Herman and Alice; death certificate Herman and Alice.