FAMILY GROUP RECORD OF
ALEXANDER NORRIS AND
CHRISTIANA LONGWORTH




Alexander Norris was born in about 1550 of Bolton, Lancashire. He married Christiana Longworth, the daughter of George Longworth.


Alexander was a prosperous woolen merchant in Bolton: "Alexander Norris, who died in 1603, was successful clothier and woolen draper in Bolton. He had four sons – Robert, Ralph, John, and Christopher; all four sons married and founded families; while Robert and Christopher followed in their father's footsteps, and prospered exceedingly. Robert died in 1620, leaving several sons, among them one of his own name, who was a Master of Arts of Cambridge University, but died comparatively young. Christopher, however, seems to have been the most prosperous member of the family, and to have invested his money in real estate." (Notes on the History of Hall i' th' Wood and Its Owners; by William Fergusson Irvine, 1903)

Alexander was mentioned by George Ormerod in Parentalia: "Alexander Norres, with whom the recorded pedigree commences, was living in the reign of Henry VIII; and his eldest son was born in or about 1563. A demise of lands in Bolton, from Richard Bolton of Bolton, Esq. dated June 5, 34 Eliz. 1592, mentions him as having been an occupier of the same previously; and the will of his eldest son, Robert Norres, mentions a part of his own estate in Bolton as having been purchased from Raphe Asheton of Great Lever, Esq., by his father, and as having been his father's former residence. On July 9, 1603, he was buried within the church of Bolton, surviving his wife Christiana, who had been interred there August 2, 1601." (Parentalia, Genealogical Memoirs, by George Ormerod)


Christiana died and was buried 2 August 1601 in Bolton.



Burial record for Christiana Norris: "Christiana Norrice wife of Alexander inter eclesiam -2 of August"


Alexander lived another two years, then died and was buried 9 July 1603 in Bolton:


Burial record for Alexander Norris in Bolton:
"Alexander Norris of Bolton - 9 of July"


Alexander died in 6 July 1603, leaving a will:

Abstract of the Will of Alexander Norris of Bolton, 1603
"24th March 45th (1603) Elizabeth I Alexander Norris of Boulton in the Mores Co Lanc: woolen draper.
Children: Ralph Norris, John Norris, Christopher Norris my sonnes and Ellen Norris and Margrett Norris my daughters"
"Sonne Robert Norris his children"
"Margrett Norris late wyeff of George Norris my sonne of Leigh deceased" who clames a shop etc in Boulton, testator protests – son George recd shop etc at testator's hand and afterwards sold "the wares to Thomas Brears of Boulton" and returned the shop to testator – "children of said George Norris" – "To Richard Harrobin £23" – "Elizabeth Peareson late wife of Alexander Peareson my daughter" – "To my Maister Richartt Boulton xls" – To the Preacher of Boulton 5s. for 8 years – "My brother James Norris" – Goddaughters named Crumpton" – Robert and John Parks xs ea.
Exors: John and Christofer N. my sons.
O'seers: Christofer Longworth gent, Wm. Lightboune, Thos Brers and Robte Norris my sonne
Inv: 29th Julie 1603 by Wm. Lighboune John Wilkinson Thos Breares and John Leaver
[Inter alia] Two kyne in Flixton
Pd 20 Aug 1603 by both Exors.
(Chester Probate Registry)"
(Notes on the History of Hall i' th' Wood and Its Owners; by William Fergusson Irvine, 1903)


Alexander and Christiana had the following children:


1. Robert, married 1) Ellyn Morris 27 October 1595; married Isabell Fyldes; died 17 June 1620; left a will dated 10 June 1620; buried 20 June 1620 in Bolton; "Robert Norres, eldest son and heir, born in or about 1563 was purchaser or lessor of various lands and premises in Bolton parish, in demises of which he occurs with his three younger brothers, who are also named as overseers of his will. He is described as aged forty-six years, or thereabouts, in pleadings in the Duchy Court, April 7, 1609, and died June 17, 1620, and was buried in the parish church of Bolton, June 20, his will being dated June 10, 1620, codicil June 17." (Ormerod)


2. Ralph, born about 1570; married Ales Ouldam 9 September 1589 in Bolton; mentioned in father's will of 1603; mentioned in brother Robert's will of 1620; "He was born in or about 1570, is mentioned first of the three brothers in his brother Robert's will, in 1620; and, in 1632, described himself as aged sixty-two years, when witness on behalf of his niece, Catherine Norris, in the Duchy Court. His burial was at the parish church of Bolton, as by mention of him on the gravestone of his grandson, still remaining there." (Ormerod)


*3. Elizabeth, married Alexander Peareson.


4. John, "overseer of his brother Robert's will in 1620, is mentioned as aged fifty-two years, in the pleadings of 1632; as brother of Robert Norres, and as father of John, in pleadings mentioning a demise of "the Roundhills" to them from Thomas Ireland of Bewsey, Esq.; and as a deceased uncle in the will of Alexander Norres of Tonge, dated in 1672. His family, who were of Little Bolton, were very numerous, and included John and Alexander, seemingly the two Royalists thus named who compounded with the Parliament for their sequestrated property in 1646." (Ormerod)


5. Christopher, occupation: clothier; married Alice; had children Alexander, Henry, Alice, and Christian; owned the home Hall i' th' Woods; died 22 December 1639; buried 25 December 1639 in Bolton; left a will dated 1636, asking to be buried in the "usual place in the Churchyard of Bolton where my auncestors have been buried".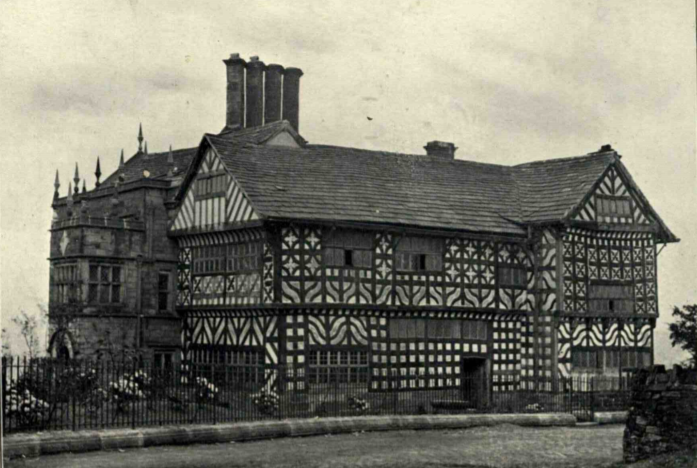 Hall i' th' Wood near Bolton (now a museum)


6. George; married Margrett


7. Ellen


8. Margrett



SOURCES: Will of Alexander Norris; Notes on the History of Hall i' th' Wood and Its Owners; by William Fergusson Irvine, 1903; Parentalia Genealogical Memoirs, by George Ormerod, 1851



Earlier Norris beginnings are discussed in Parentalia by George Ormerod: "The narrative now turns more particularly to that formerly settled in Bolton. The evidences of this house ascend to the time of Henry VIII. They are deficient as to precise proof of the link of connexion with Speke, but the general fact of their descent from it has been admitted by all genealogies who have noticed the family, and their right to the Arms of the Speke line, unvaried by any heraldic mark of difference, and to the Crest adopted by the house of Speke after the alliance with Erneys is formally admitted by the College of Arms.
The settlement of this line at Bolton was nearly contemporary with that of the nephews of Sir William Norres at Park Hall in Blackrod, in the same parish, under successive demises madeby him to them in and shortly after 1566; but minute calculations from dates in deeds shew that they were a distinct branch from that of Park Hall, so far, as least, as regards original settlement and male descent.
There is an intricate intermingling of them in legal transactions with Anderton of Lostock, in Bolton parish, Norres of Orford, and its representatives, the Tyldesleys of Wardley, all of whom were closely connected with Speke, by mixture of property and intermarriage. All the first acquistitions of Alexander Norrres and his sons in Bolton, were from the Anderton family, or its near relatives; but the recitals of these facts, in such Wills and Inquisitions as have been preserved, give no further identification." (Parentalia, Genealogical Memoirs, by George Ormerod)