FAMILY GROUP RECORD OF
JOHN JOLLIE AND
JANE HAYDOCK




John Jollie was born in about 1530 of Standish, Lancashire, England, possibly the son of Seth Jolie. He married Jane Haydock 13 December 1552 in Chorley, a parish about three miles from Coppull.




Marriage record for John Jollie and Jane Haydock in Chorley:
"John Jolye maried Jane Haydock 13 day October"



The Jollie family had their roots in Standish: "A family of the name of Jolly, Jolley, or Jollie, was settled in Lancashire certainly in the sixteenth century, but probably at a much earlier date. They were then living in the parish of Standish. In the time of Edward V! (1547-53). James Standish and Seth Jolly were defendents in the Duchy Court touching the alleged tortuous possession of a messuage and lands called Bradley, situate in Standish. This Seth Jolly was buried at Standish 18th December, 1560. He was probably the father of John, Robert, Alexander, and others, but the positive proof is wanting. " (The Jolly Family of Standish, Gorton and Altham, The Note Book of the Rev. Thomas Jolly)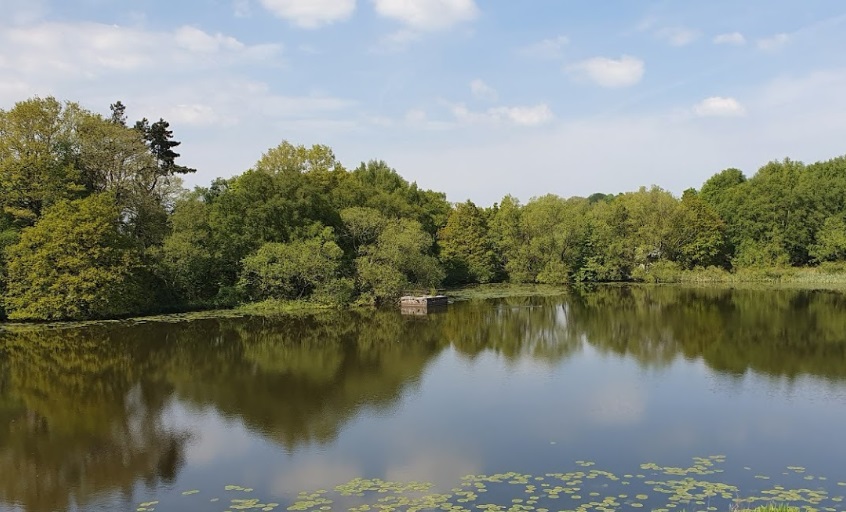 Standish



John and Jane had the following children:


*1. Cecilia, christened 14 February 1562 in Standish; married Richard Wills in about 1580.





Baptism record for Cecilia Jolley in Standish: "Cecilia filia Johnnus Jollie et Jane uxoris euis xiv die February"


2. Seth, christened 3 March 1565 in Standish.


3. Robert, christened 7 November 1568 in Standish.


4. James (Jacobus), christened 9 September 1571 in Standish.


5. Francis (male), christened 20 February 1574/5 in Standish.





Baptism record for Francis Jolley in Standish: "Ffranncisus filius Johes Joley et jane uxoris euis xx die ffebruarij"



SOURCES: Standish parish register; www.ancestry.com.



Earlier Jolleys in Standish:

Other Jollies having children at the same time as John in Standish were:


Robert and Joan had children: Helen (1563), William (1565), Elizabeth (1568), Robert (1570), John (1572)
James and Anne had children: Lawrence (1562), Edward (1563), Helen (1565), Margaret (1568), John (1569), Thomas (1571)
Edmund and Helen had a son: John (1574)

Possibly these were John's brothers.

Marriages in Standish:

Robertus Joley married Johanna Wilde 30 May 1563 in Standish.
Radus Joley married Elizabeth Prescotte 24 October 1573 in Standish.


Burials in Standish:

Seth Joley was buried 14 December 1560 in Standish.

Burial record for Seth Joley in Standish: "Seth Joley xiiij die Decembris" 1560
Margareta Jolley was buried 16 June 1568 in Standish.

Johes Jolley was buried 31 March 1570 in Standish.

Burial record for John Jolley in Standish: "Johes Jolley - Staindishe xxiiij die Martij"
Johanna Jolley was buried 20 January 1578 in Standish.
Robertus Jolley was buried 31 June 1580 in Standish.
Robertus Jolley was buried 30 May 1583 in Standish.

The Note Book of Rev. Thomas Jolley proposes this pedigree for the Jolly family in Standish: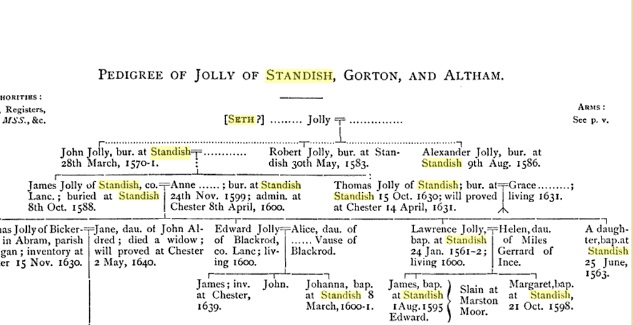 Thomas guesses that Seth Jolly was possibly the father of John Jolly, Robert Jolly and Alexander Jolly. All were buried in Standish.


The burial date for John Jolly in 1570/1 is after the birth of John and Jane Jolley's son Francis. Was this another John Jolley or was Francis baptized later? No later burial record is found for John.


The origins of the Jolley name are said to be Norman: "The name Jolley has a history dating as far back as the Norman Conquest of England in 1066. It was a name for a person originating in France, and was associated with the French Huguenots. This nickname surname originated with an early member who was a happy and lively person. But we must look to Normandy where the earliest records of the root name was found. As a variant of Jolliffe, it was found there as early as 1195 with N. Giolif. Three years later Robert Jolif was listed in a census in the same area of Normandy. The surname Jolley was first found in Yorkshire where there are numerous variations of the name listed in the Yorkshire Poll Tax Rolls of 1379 including: Johannes Yoly, Agnes, servienes Joly Johnan, Henricus Joly; Ricardus Jolyman; Willelmus Jolyman and Johannes Jolyman. This distinguished Huguenot family were granted lands firstly in Staffordshire. Many moved north into Scotland where records there show Alan and Bervy Jolly were granted lands in the county of Edinburgh in 1450." (House of Names)