FAMILY GROUP RECORD OF
RICHARD EAVES AND
ELIZABETH CORNOW




Margret Eves was born in about 1680 of Woodplumton, Lancashire, England. No christening record is found for her, but the only Eves/Eaves family having children in Woodplumpton in the 1670s and 1680s were the families of Richard and Thomas Eaves. Thomas Eaves had his first child in 1685, and had a daughter Margret in 1698, so is not likely to be Margret's father. Richard is the most likely Margret's father.


Richard Eaves was christened 14 September 1635 in Preston, Lancashire, the son of Raph Eyves, shoemaker. Richard married Elizabeth in 1656 in Preston, a town about four miles south of Woodplumpton. Richard's occupation was shoemaker. He married Elizabeth Cornow, the daughter of Robert Cornow of Woodplumpton on 31 January 1656 in Preston. Both Raphe Eyves and Robert Cornow were witnesses at the wedding. The Eaves children were christened in Woodplumpton. Woodplumpton parish included the townships of Woodplumpton, Bartle, Catforth and Eaves. Richard is shown as being of Catforth in his children's christening records.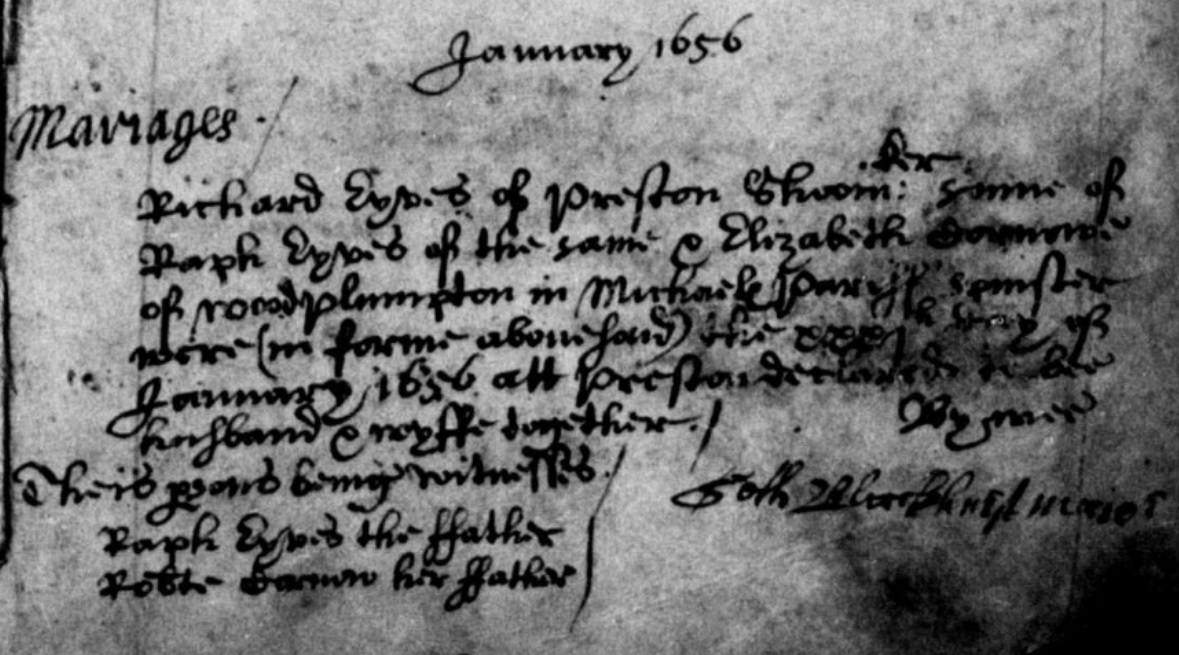 Marriage record for Richard Eaves and Elizabeth Cornow in Preston:
"Richard Eyves of Preston shoomaker sone of Raph Eyves of the same & Elizabeth Cornow of Woodplumpton in Michaeles parish spinster were (in forme above said) xxxi day of
January 1656 att Preston declared to bee husband & wyffe together. Theis psons being witnesses Raph Eyves the ffather, Robte Cornow hir ffather, Seth Blackhuet weaver"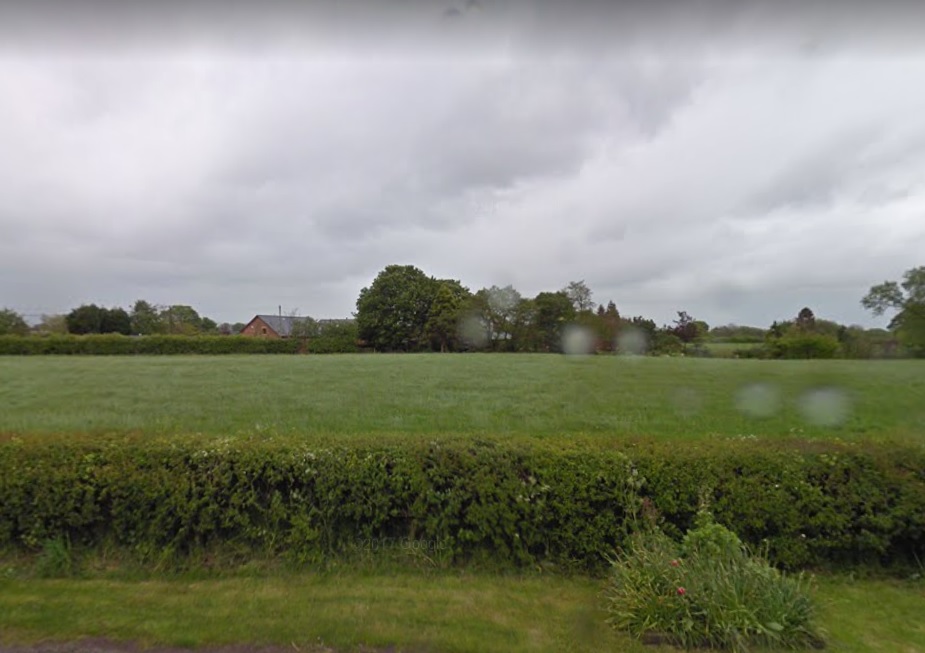 Catforth village in Woodplumpton parish


Richard and Elizabeth had the following children:


1. Margrett, christened 22 November 1657 in Woodplumpton, "of Catforth"; buried 23 May 1678; "of Catforth".


2. (Female), not named, christened 23 August 1660 in Woodplumpton.


3. Ellin, buried 17 September 1663, "of Catforth".


3. Ellin, christened 28 February 1669 in Woodplumpton.


4. William, christened 9 June 1672 in Woodplumpton.


5. Elizabeth, christened 21 December 1673 in Woodplumpton.


6. Ann, christened 13 January 1678 in Woodplumpton; buried 26 May 1678 in Woodplumpton.


7. William, christened 18 May 1679 in Woodplumpton.


*8. Margret, born in about 1681 of Woodplumpton; married Thomas Jackson 1 December 1706 in Leyland, Lancashire.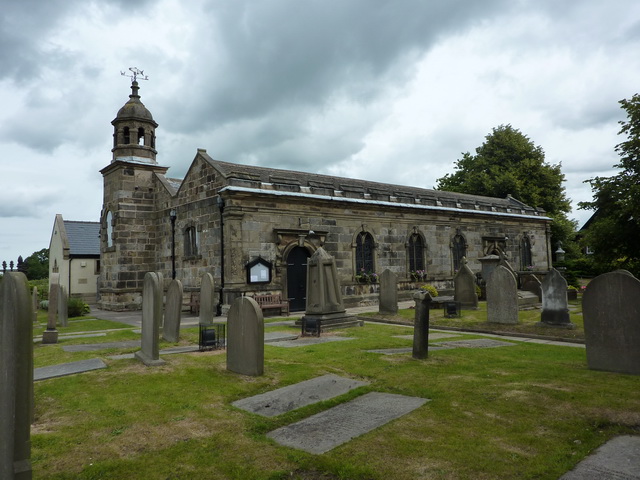 The church at Woodplumpton


SOURCE: Woodplumpton parish register, extracted on www.familysearch.org.





FAMILY GROUP RECORD OF
RAPH AND MARGARET EYVES




Raph Eyves was born in about 1610 of Preston, Lancashire, England. He was a shoemaker. Raph married Margaret.


Ralph was listed in the 1665 Hearth Tax in Preston, with one hearth:




Hearth Tax 1665: "Ralph Eaves Senr - 1"


Margaret died and was buried 30 April 1670 in Preston.


Ralph died and was buried 28 August 1681 in Preston.




Burial record for Raph Eaves in Preston:
"Ralph Eyves of Preston bur 28 day Aff 30"



Ralph and Margaret had the following children:


1. George, christened 23 August 1634 in Preston.


*2. Richard, christened 14 September 1635 in Preston; married Elizabeth Cornow 31 January 1656 in Preston; occupation - shoemaker.





Baptism record for Richard Eyves in Preston: "Ric: filius Raphe Eves bapt - 14"


3. Ralph, born in about 1640 of Preston; married Jennet Jackson 18 October 1666 in Preston.


4. Anne, married Martyn Maybury, blacksmith of Preston on 14 April 1655 in Preston.



SOURCES: Preston parish register, www.findmypast.co.uk.