MARY BENNETT

Mary Bennett's birth and childhood have been a bit of a mystery. Family records indicate that she was born 7 November 1796 in Bridgnorth, Shropshire, England to William and Elizabeth Bennett (History of the William Henry Green Family) . No christening record exists for her in Bridgnorth. Other cited birth dates are 7 November 1799 in Stafford or Cagerock, Staffordshire (Family group sheet filed in SL Family History Library, no sources cited); 1796 in Bridgnorth, Shropshire to Edward and Elizabeth Bennett (Henson Walker Genealogy); 7 November 1796 in Birmingham, Warwickshire, England to William Bennett and Elizabeth White, and christened 22 August 1796 in St. Phillip's Parish, Birmingham, Warwickshire (Ancestral File). During her lifetime, Mary Bennett Green was sealed to her parents, William and Elizabeth Bennett (5 December 1862), and so we know that we must search for Mary, daughter of William and Elizabeth.
A search of the parish registers in and around Bridgnorth provide some clues. The town of Bridgnorth is made up of two parishes - St. Leonards and St. Mary Magdalene. A search of these parish registers shows no christening record for Mary Bennett, and no William and Elizabeth Bennett having children in that parish. A search of the nearby parishes of Claverley, Alveley, Bobbington, Trysull, Wombourn, Pattingham, Patshul, Quatford and Worfield also show no William and Elizabeth Bennett having children in those parishes. A search of the parish registers for Quatt provide an important clue. The Quatt parish registers show the following entries for William and Elizabeth Bennett:
Thomas, son of William and Elizabeth Bennett, privately baptized at Birmingham, brought to church April 1, 1803.
William, son of William and Elizabeth Bennett, baptized December 14, 1807.
Source: Quatt parish register (FHL# 501467)

This provides an important link. The IGI shows a name extraction record for:
Mary Bennett, christened 22 August 1796 at St. Phillips parish, Birmingham, the daughter of William and Elizabeth Bennett.
The 1851 English census also lists Mary's birthplace as Birmingham.

It appears that William Bennett moved to Birmingham, married Elizabeth White, had several children, and then moved to the parish of Quatt in 1803. The parish of Quatt is just south of Bridgnorth, and it is likely that Mary grew up there. Quatt also borders on the parish of Claverley, where Mary and her husband, William Henry Green, had their four children between 1831 and 1841. Other children for William and Elizabeth Bennett are found in Birmingham:

Edward, son of William and Elizabeth Bennett, christened 30 September 1793 in St. Philips, Birmingham.
Elizabeth, daughter of William and Elizabeth Bennett, christened 9 April 1798 in St Phillips, Birmingham.
William, son of William and Elizabeth Bennett, christened 17 August 1801 in St. Phillip, Birmingham.
Source: St. Philips parish register (FHL# 813713); IGI.

These dates show that a brother, Edward, was born in Birmingham in 1793, and then Mary was born in Birmingham in 1796, followed by a sister, Elizabeth in 1798, and brothers, William in 1801 (who may have died), and Thomas before April 1803. The family moved to Quatt, where Thomas was formally christened in April of 1803, and then another brother, William, was born in 1807. Mary and her siblings grew up in Quatt, just south of Bridgnorth, which she gave as her birthplace. William Bennett married Elizabeth White 23 May 1793 in St. Martins, Birmingham.

Mary Bennett and William Henry Green were supposedly married in 1829. No marriage record has been found for Mary Bennett and William Henry Green, but a birth certificate for their daughter, Mary, gives us some clues to find this marriage. Mary Bennett is listed as Mary Green, formerly Thomason. A search was made for a Mary Bennett marrying a Mr. Thomason.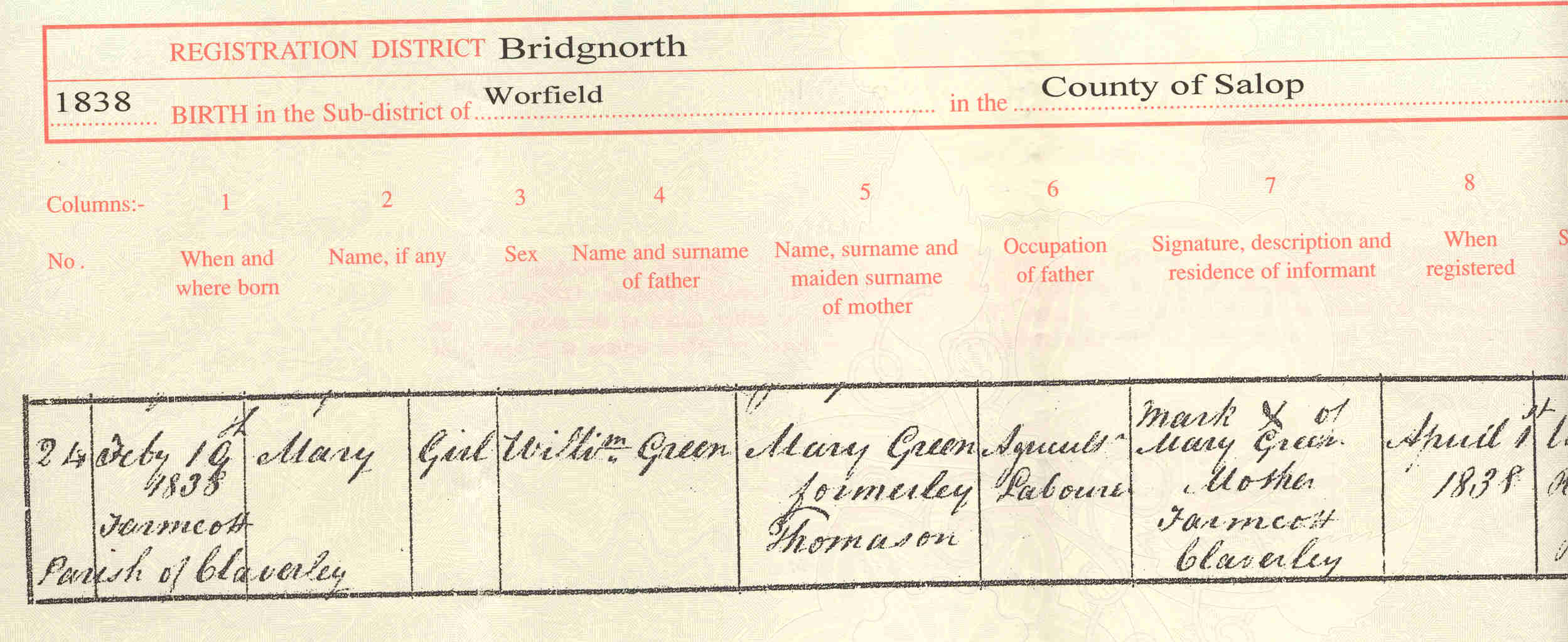 Birth certificate for William and Mary's daughter, Mary
A marriage record is found for Mary Bennett and Samuel Thomason in Kidderminster, Worcestershire, England:

Samuel Thomason, of this parish, a bachelor, and Mary Bennett, of this parish, a spinster were married in this church by banns, with consent of _______ this twelfth day of April in the year one thousand eight hundred and nineteen, by me, T. Cook Larch.
This marriage was solemnized between us: Samuel Thomason, his mark
Mary Bennett
In the presence of : Elizabeth Maddox
Edward Bennett
Source: Kidderminster parish register, FHL# 435266
Edward Bennett, Mary's oldest brother, acted as a witness to this marriage. The parish of Kidderminster is about ten miles southeast of Claverly. This is the first marriage for Mary. Samuel and Mary moved to Bobbington, and had a daughter, Sarah, christened 26 May 1822 in Bobbington, Staffordshire. Bobbington is a parish which borders Claverly on the southeast. No other children are found in the Bobbington parish register for Samuel and Mary. Samuel must have died, and Mary married William Green in Kingswinford:

William Green, of this parish, and Mary Thomason, of this parish, were married in this church by banns, with consent of ________ this twentieth day of July in the year one thousand eight hundred and thirty, by me, Edward Davies, Curate.
William Green, his mark
Mary Thomason
In the presence of: Ann Embry
William Bennett, his mark
Source: Kingswinford parish register, FHL# 435779
Mary's younger brother, William Bennett, acted as a witness for this marriage. Mary Bennett was 33 years old when she married William Henry Green, who was 21 years old. She had a seven year-old daughter, Sarah.

They settled in the townland of Farmcott, in the parish of Claverley, Shropshire. The Henson Walker Genealogy states: "Although several years his senior, Mary proved to be a very capable and efficient helpmate. A small cottage of rough lumber located in the market town of Claverley, in the All Saints parish, was the first abode shared by William and Mary. William, a common laborer, earned his daily bread by the sweat of his brow. Mary, young and industrious, added comfort and refinement to their home and surrounding. In times of scarcity, even though William worked fourteen hours a day as a farm laborer, his income was small."A son, Samuel, was born to them in 1831. Another boy, John, was born three years later, in 1834. A daughter, Mary, was born in 1838, followed by another girl, Hannah, in 1841. William's occupation is listed on his daughters' birth certificates as an agricultural labourer.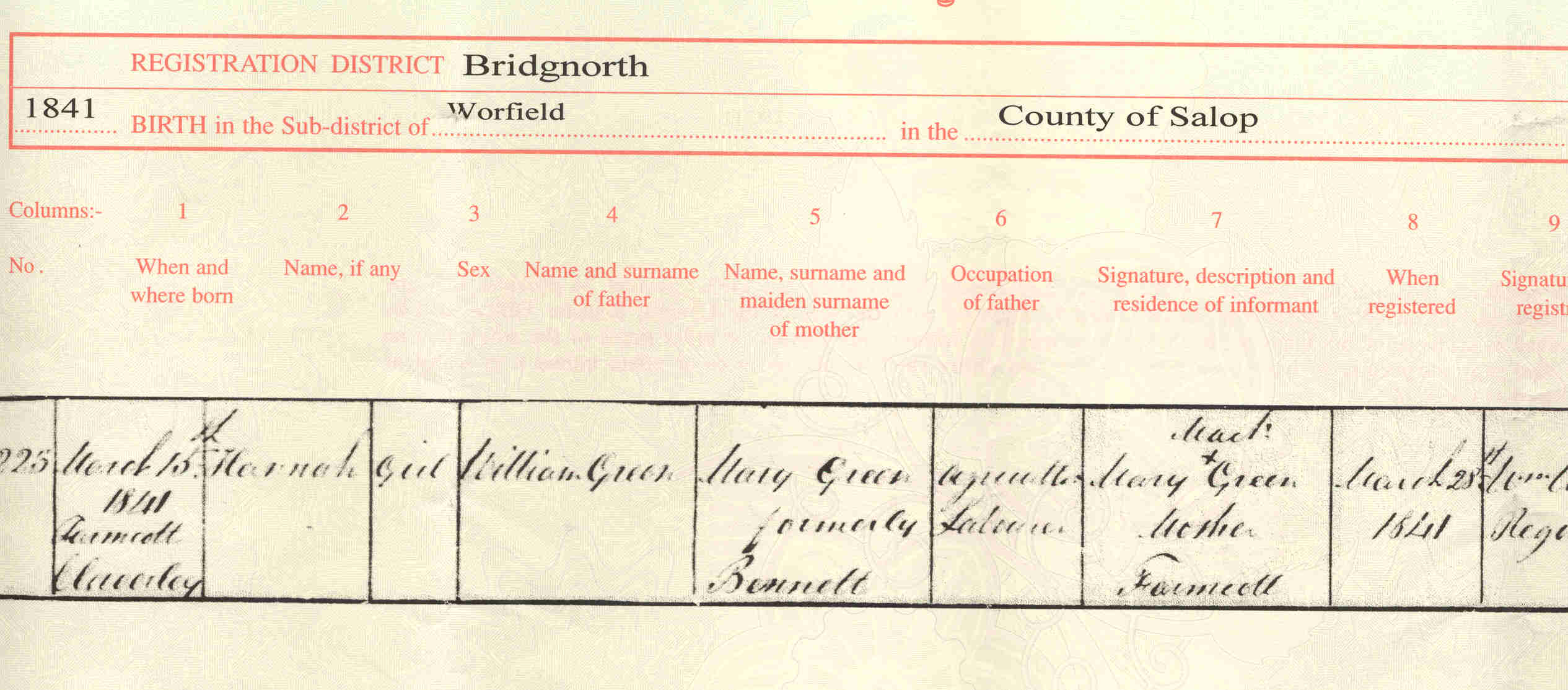 Hannah Green's birth certificate
The Green family are found on the 1841 census in the townland of Farmcott, in the parish of Claverley:
Name Age Occupation Born in this county?
William Green 30 Ag. Lab. Y
Mary " 40 Y
Samuel " 9 Y
John " 6 Y
Mary " 3 Y
Hannah " 2 months Y
Edward Bennett 40 Ag. Lab. Y
Eliza " 7 Y
Source: 1841 census, Claverley, FHL# 474583

It appears that Mary's brother, Edward is living with the Green family, along with his daughter, Eliza. Both Edward and William are agricultural laborers on the farm of Vincent Edwards, a yeoman farmer of Farmcott. The listing under Mr. Edwards' farm includes six agricultural laborers, one male servant, and two female servants. Altogether, six families are included under the Vincent's farm, for a total of 26 people. The townland of Farmcott includes 191 people. Sarah Thomason is not listed with the Green family. She would have been 19 years old, and was most likely working away from home.

(Notes on Mary's brother, Edward Bennett's family: Eliza, seven years old in the census, was christened 2 March 1834 in Quatford, Shropshire, to Edward and Sarah Bennett. Edward married Sarah Holland 18 November 1824 in Worfield. Edward and Sarah also had the following children:

1. John, christened 16 September 1825 in Worfield, Shropshire
2. Harriot, christened 2 September 1827 in Worfield
3. William, christened 10 October 1829 in Quatford
4. Joseph, christened 8 January 1832 in Quatford)

As the Green children grew they went to work to help support the family. At the age of five, daughter Mary attended the village school three months out of the year, and learned to read and write. At the age of nine, she worked three days a week, for 12 hour shifts at a cotton mill five miles away. Samuel and John found work in Gloucestershire and Staffordshire.


The greatest change in the family came in about 1849. They came in contact with missionaries of the Church of Jesus Christ of Latter Day Saints, and were baptized. Mary Bennett Green was the first to be baptized, on 17 September 1849, then daughter Mary in 1849, then William on 28 October 1850. Later, Samuel and John were baptized, 5 November 1851. Hannah's baptism date is unknown. (Some family records place the Green family in the Studham or Kensworth branches in Hertfordshire. However, they are not found in the LDS branch records for that time, and these locations are a considerable distance from the other known homes of the Greens. There is a William Green in the branch, but he is recorded as being married to Susannah Hews Green. They had a young daughter, Amy. This family is shown as moving to Watford in November, 1853. There is also a Mary Green in the records, but she is not married. Source: LDS Record of Members, 1837-1858, Bedfordshire Conference, FHL# 086979)

Mary Bennett Green's daughter, Sarah Thomason, was also baptized. She married Thomas Crowther 7 May 1849 in Dudley, Worcestershire. They had a daughter, Mary Ann, in 1851, and a son, Francis, in 1853. Both were born in Staffordshire. Francis died at one year old. The Crowther family emigrated to America, and in 1855 is found in St. Louis, Missouri. Sarah died soon after giving birth to a son, who also died, on 4 March 1855 near St. Louis. Sarah is buried near St. Louis. Samuel and his young daughter, Mary Ann, continued to Utah. Mary Ann died in 1934 in Manti, Utah. (Source: Ancestral File)

In an Autobiographical Sketch of Thomas Crowther, Sarah's husband tells about his conversion and their life together: "I went from one sect to another but I still felt an aken void. I seemed to be hunting something that none of the religious sect had got. About this time I was 22 years of age when I quit farmer's service and went into Staffordshire and worked at blast furnaces, that is manufacturing of iron. I continued to work at this business the remainder of the time I stayed in England. When I was about 26 years of age I married a young woman by the name of Sarah Thompson. About the time that we got married I went and paid a visit to my mother-in-law. When for the first time my eyes beheld the Book of Mormon. This was about 1849. There happened to be a Mormon Elder at her home, by the name of Thomas Shelly, he presented me with a copy of the Book of Mormon which I took home with me and read it through, and truly I thought I had found the pearl of great price. My father and mother-in-law had already been baptized into the Church of Jesus Christ of Later-day Saints, and had two of their children healed in a miraculous manner. They were both healed by the power of God, which cased quite a stir in the neighborhood. Several joined the church there about this time, and as I stated I read the Book of Mormon through and was very much interested in the little light that I had gained through reading that precious record. It caused me to long for more. I was not long in hunting up the place where the Latter-day Saints held their meetings, and the first or second time I went to see them, one elder spoke in Tongues and another interpreted the Tongue. The substance of it was, that branch should grow and prosper and many should be added to the church. I shall never forget the sensation that came over me at that time, for I was satisfied that these men spoke by the power of God. I saw that prophecy fulfilled to the very letter.

In the next three months there were 44 added to that branch, myself and wife included among them. We were baptized Oct. 13th, 1850, into the Tipton Branch of the Birmingham Conference, By Elder George Hill, President of that branch.

In 1853, three years after joining the Church, myself and wife agreed to save out of my wages ten shillings a week, equal to $2.50, as we had a great desire to gather with the Church in America. We carried out our plan for six months, then by selling our furniture we had enough to pay our way to Saint Louis, Missouri, USA. We had one little girl named Mary Ann, three and a half years old. We lost one little boy who lived twelve weeks, named Francis. It was the counsel for all Latter-day Saints who could pay their way to St. Louis, Missouri, to do so, for they could get an outfit there to cross the plains easier than they could in England.

On November 13th, 1854, we embarked on a ship, the Clara Wheeler, a sailing vessel, bound for New Orleans, Louisiana, with 421 Saints on board. We were almost wrecked on the Irish channel for a day and night, was towed back into the River Mersey, Liverpool, and had to wait two weeks for favorable winds. President of the mission, Franklin D. Richards, came to our ship and told us if we would fast and pray, and keep the commandments of God, we should have favorable winds and a prosperous journey across the ocean. This we did and the next day the wind turned in our favor and we started again. In five weeks we landed in New Orleans safe, in fulfillment of Apostle Richards's promise. That was January 1st, 1855.

A steamboat was chartered to take us up the Mississippi River immediately and we landed at St. Louis, January 10th, 1855. The next day I met a former acquaintance, one Richard Jewkes, who had preceded me from the Tipton Branch. He came and took me, my wife and child to his abode, five miles distant, a place called the Grovois. We stayed with him as long as we remained in that part. I dug coal and made some money. The 4th of March 1855, my wife gave birth to a boy baby that was dead when he has born. Two days after, she died, and was buried at a place called the County Farm. This was sad indeed, leaving me and the little girl to make our way to Zion.

At Sweet Water a false alarm of an Indian raid gave us quite a scare. We were wonderfully blessed. At this place my wife that is dead visited me, put her arms round my neck, told me many things I have seen come to pass since that time. She looked so beautiful. When I asked her of how it was in the sphere where she moved, she signified she was not at liberty to tell. I knew she was dead, and where she was buried. At this point I was aroused by the false alarm. On arriving at Salt Lake City, I walked immediately to Pleasant Grove, forty miles south, and visited my wife's parents, who had emigrated three years previous. I stayed there and worked until the October conference, which I attended. I left Mary Ann with her grandparents and went with this John Weston to Cedar City, Iron County, Utah." (Autobiographical Sketch of Thomas Crowter on familysearch.org)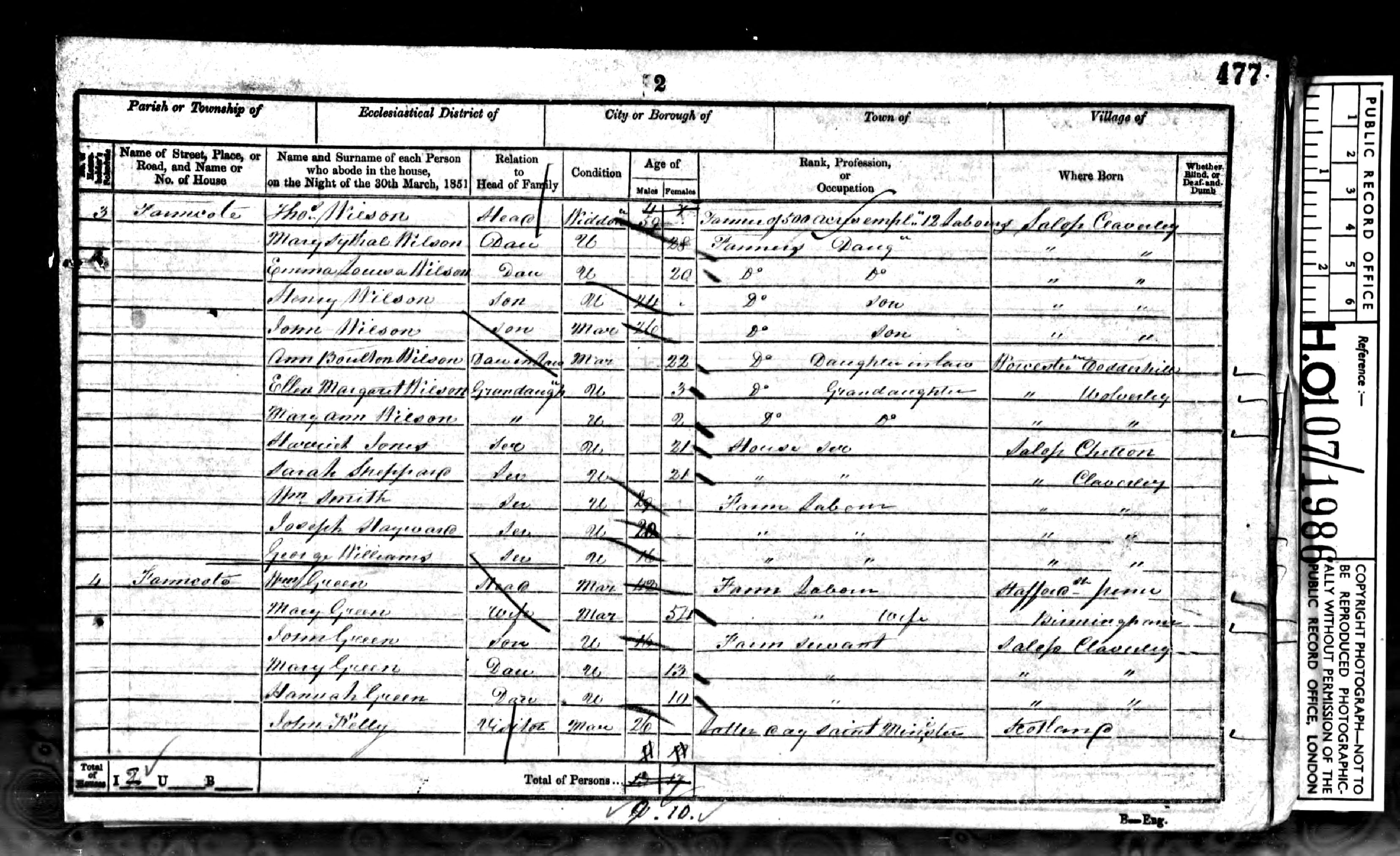 1851 census, Claverley parish, showing the Green family, and Mary's birthplace as Birmingham
The Green family appears in the English census in Farmcote, Claverley parish in 1851, and an LDS missionary was staying with the family:
Wm Green, head, married, 42, Farm laborer, born Staffordshire, Penn
Mary Green, wife, married, 54, Farm laborer wife, born Birmingham
John Green, son, unmarried, 16, Farm servant, born Salop, Blaverley
Mary Green, daughter, unmarried, 13, ", "
Hannah Green, daughter, unmarried, 10, ", "
John Kelly, visitor, married, 26, Latter Day Saint Minister, born Scotland


The Green family found work in the cotton mills. Thirteen year-old Mary learned to run the cording and spinning machine, and make and pack quilt batts for shipment to other countries. The family saved their money to come to Zion. In December of 1852 they left their little grey stone cottage on McRowan Street in Worcestershire to travel to Liverpool.

"Arriving at Liverpool, William deposited six thousand shillings to pay for their transportation to America. After making all arrangements, they were told the sea was rough and dangerous and that no ships would sail until the middle of January, which was more than two weeks away. The only thing William could do was rent a small place and wait." (Henson Walker Genealogy)


The family was assigned to the Ellen Maria, but at the last moment the captain told them that only Samuel could go. He sold his ticket, and waited with the family. They prepared to sail on the Golconda, but were transferred to the Elvira Owen. They finally set sail on 12 February 1853. 345 Saints traveled under the leadership of Joseph W. Young. Mary Green remembered "Mother Green always had a story to tell about when she was a little girl back in England." (Henson Walker Genealogy)

Mary Bennett Green was listed as being 57 years old when she crossed the ocean. After seven weeks the shipped landed at New Orleans, on 31 March 1853. They took a boat up the Mississippi River to St. Louis. They traveled to Montrose, Iowa, and prepared to cross the plains. On the morning of 3 June 1853, Cyrus Wheelock led a company of 321 Saints and 32 wagons. The family walked almost the entire distance of 1500 miles to the Salt Lake Valley. A history of John Green talks about the challenges Mary faced: "They had to walk the whole distance as there weren't enough wagons and oxen for them to ride. Their mother (Mary Bennett Green) was a very frail little lady and the trip was very hard on her. Her two sons, Samuel and John would put her on a cart and push her part of the way." (Life of John Green) After a short rest, they traveled south to Pleasant Grove in their covered wagon.


In Pleasant Grove, the fort had just been completed. The Green family lived in their covered wagon, until a one room house could be built inside the fort square. This was a large one-room log cabin. A map of early Pleasant Grove showed the William Green family in Lot 1 on South Street. Opposite them, in Lot 1 on North Street, is a lot labeled "Bennett". It is not known if this was a relation of Mary's.


1855 was a difficult year for the Saints in Pleasant Grove. Crickets destroyed the crops. Mary and her daughters gathered sego, thistle and red roots to feed the family. William moved his family to a two-story soft rock home he built. (It is still standing, at 309 South 100 East in Pleasant Grove, and stayed in the Green family until 1975.) In a history of Hannah Green, she remembered that "after the family settled in Pleasant Grove, her older sister helped their mother in the house and the two older boys and she worked on the large farm with their father". (Quoted in the History of the William Henry Green Family, on file with the Daughters of Utah Pioneers)


William and Mary's children married and set up homes of their own. Mary married Bishop Henson Walker in 1856. John married Sarah Alexander the same year. Samuel married Pamelo Wishaw in 1858. Hannah married George Meyrick in 1862.





1860 census, Pleasant Grove, Utah


Mary Bennett Green was endowed 27 May 1856, and sealed to her parents, William and Elizabeth Bennett, on 5 December 1862. She and William were sealed to each other on the same day, 5 December 1862, in the Endowment House.


William farmed his land, and the family was considered industrious and hard-working. William and Mary enjoyed having their family around them, and the grandchildren who joined the family. In a biography of her daughter, Mary, is a description of Mary Bennett Green's last years: "Many happy hours Mary spent visiting with her mother, when time would permit. She loved to walk through the garden and converse with her mother beneath the sheltering branches of the trees, planted by her father. Twenty one years had slipped away since they had left their native land to seek a new home in Zion. With unfaltering love in their hearts for God and His holy laws, they had braved severe hardships and experiences, but each task had added strength and courage to their weary souls. Now Mother Green's eyes were growing dimmer, her step more insecure and slow. July 6, 1874, baby Perry's arrival added sunshine to the Walker home, only to be darkened somewhat three days later, when Mary's mother passed to the great beyond at the advanced age of 78." (Henson Walker Genealogy)


Mary Bennett Green died on 9 July 1874, aged 78, and was buried in the Pleasant Grove Cemetery.



If you have additional information about this family, please contact me at alice@boydhouse.com.