Herman Green

Herman Elias Green was born 9 April 1895, in Pleasant Grove, Utah, Utah to Charles Edward Green and Harriet Ann Aston. He was the fifth child in the family of five boys and five girls. Only five of the children lived to adulthood: Curtis, Vera, Herman, Mabel and Leo.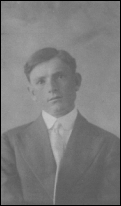 The family lived on a farm on the east side of the Utah State Highway on the outskirts of Pleasant Grove. Charles worked as a farmer, and also hired out as teamster around Utah County. He was known for his great strength. Charles died at the age of 44 of a heart attack, when Herman was only17 years old. His daughter, Lawana remembers: "My father's father died at about 43 on my Dad's 16th birthday. He was out currying a horse and died of a heart attack. My Dad had to quit school and run the farm till he went to France in World War I."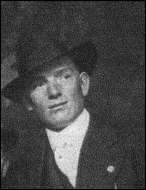 Herman met Alice Haslam at a dance in American Fork. Beulah recalls, "My Mom and Dad first met at a dance in American Fork, I think it was. My Dad didn't know how to dance, and he saw my mother – she was wearing a red hat, and he said, "I'm going to marry that girl." So he came over and asked if he could take her home. She let him take her home, and he asked her for a date. When he came she said she could see the buggy, and nothing pulling it. He had a little teeny, tiny horse pulling this big buggy! My mother told him she wouldn't go out with him unless he knew how to dance because she loved to dance. So he went and took dancing lessons and learned to dance, and his partner was a chair at a dance studio."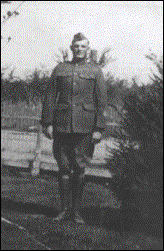 Herman joined the Army in World War I. He trained at Camp Kearny in San Diego, California, then shipped out for France in the latter part of 1918, as part of the 42nd or "Rainbow" Division. The Rainbow Division became one of the first sent to Europe in 1918 to support French troops in battles at Chateau-Thierry, St. Mihiel, the Verdun Front, and Argonne. On 14 July 1918 the Division, acting as part of the 4th French Army, assisted in containing the final German offensive at the Battle of Champagne. The U.S. Army's first offensive occurred at St. Mihiel where upon hearing of the forthcoming attack the Germans ordered a partial withdrawal of troops, which was in progress when the U.S. Army attacked on 12 September 1918. Within four days, the U.S. and French troops brought the area under Allied control. Nearly two weeks later the Division participated in an attack at Meuse-Argonne, the purpose of which was to cut off the German Second Army. The German troops held onto the area until 4 November, when additional troops from the U.S. assisted in strengthening the Allied advance. On 11 November 1918, the Armistice was signed at Compiègne in France. (from www.state.ne.us)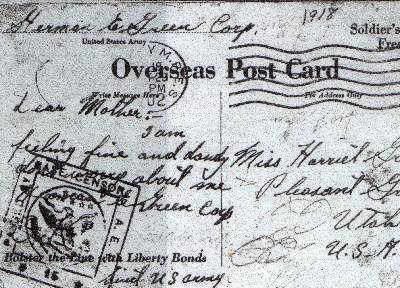 His daughter Beulah remembers, "In World War I, Dad volunteered, went to Camp Kearny for his training, and helped train troops, and then he went to France. He was in the Rainbow Division until the war ended. He went back through Paris, came home, and as they were marching down the street in Salt Lake City, my mother and my Aunt Ruth were watching the parade. My mother said, "There he is!" Aunt Ruth ran out, grabbed Dad around the neck, knocked down a full line of soldiers, and embarrassed him." Herman married Alice on 24 April 1919 in Salt Lake City. His sister Mabel and Alice's sister Ruth were the witnesses at the wedding.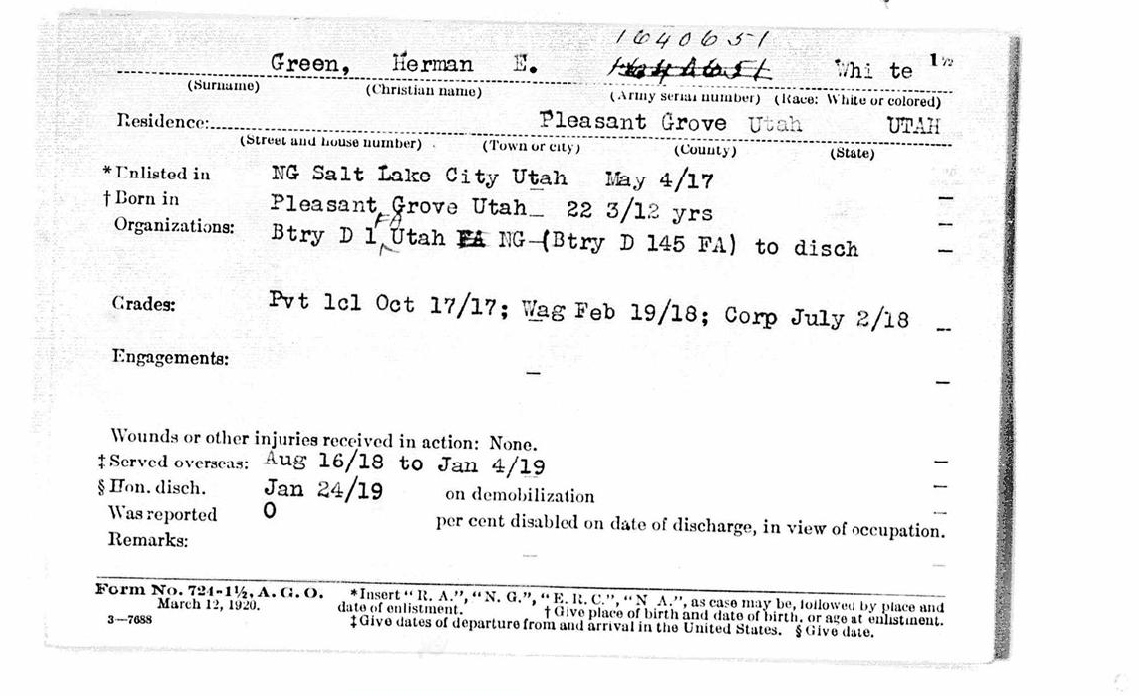 Herman Green military record
Herman worked for the railroad to support his family. "A well-used electric rail line ran through Pleasant Grove for thirty-two years, 1914-1946. The Salt Lake and Utah Railroad was unofficially called the "Orem" after- A. J. and W. C. Orem, who arranged the corporate financing to build the line. When the line was constructed as far as Provo, new, especially-built cars began running. They were dark-red, thirty-six passenger capacity cars, each divided into a freight compartment and two passenger compartments, smoking and non-smoking. Each car was heated, lighted, and powered by four 110 horsepower Westinghouse motors, which drew electricity from overhead cables. Several cars were usually hooked together. Thirty-eight passenger trains ran daily. A permanent schedule began on August 15, 1914, with seven daily stops, each way, made at Pleasant Grove. Travel time between Pleasant Grove and Salt Lake City was one hour and twenty-seven minutes. Ridership was lively before the family car became popular in the mid 1920s. During the Depression, and through WWII when gas was rationed, people again patronized the convenient rail system, which, due to its deterioration, was then referred to as "The Red Heifer" or "Leaping Lena". After the war when cars, trucks, and gasoline became plentiful and affordable, patronage drastically dropped and the rail line closed." (From www.plgrove.org)
Herman's daughter Beulah remembers, "My father was a conductor on the Orem Railroad, running from Salt Lake to Payson, when we were in Payson, Utah, and then he got a promotion to Chief Dispatcher. That's why we moved to Salt Lake. Dad was first a track walker, then he was a brakeman, then he was a conductor for the Orem Railroad, then he was Chief Dispatcher, and then he quit the Orem Railroad and worked for the Denver and Rio Grande Western Railroad, from Salt Lake to Denver, as a brakeman."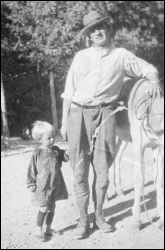 Herman and daughter Beulah
Herman had a lot of personality: "My Dad would get mad, blow up, my mother would cry, and they would settle things at an oak table that we had, a big oak table, kind of a family meeting. My Dad loved to joke, and when he was happy there was no more pleasant person to be around, but when he was mad you'd just as well get out of the way. When we moved he'd get mad, and cuss because he couldn't get the coal stove and stovepipe out, and he would scatter soot all over, and Mama would shoo us all outside."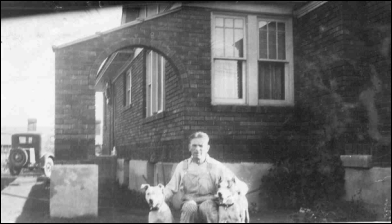 Christmas was fun at the Green house: "Mom and Dad, when my brother Keith and I were the only children, used to make a big thing about Christmas. When we lived in Payson, they brought in all the gifts, and Dad used to put an orange in the toe of our stocking, then some coal, and then a hair brush or two, and then some candy and nuts. One year he decided to have a joke. He went to a neighbor that had a white horse, and asked him if he could have a part of its tail. He stuck it in the front door. When we got up he told us that Santa Claus was in such a hurry he went out the door, got his beard caught in the door, and Dad had to get the lawn mower and cut it off. So we went all around the neighborhood showing the kids Santa Claus's beard."
Herman was a good singer. Beulah remembers, "My Dad loved to sing. He had a good voice, and he loved to whistle. When he was Chief Dispatcher, they had a radio hook-up with all the station agents, and he would sing and whistle. They would say, "It's getting dull around here, Herman. Sing us a song." So he'd sing. He sang songs from World War I, like "Darktown Strutter's Ball", and "How You Gonna Keep Them Down on the Farm", and things like that."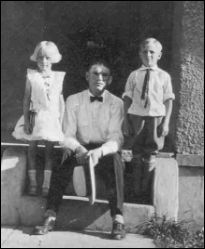 Beulah, Herman and Keith
Herman's mother, Harriet Aston Green died in 1931 in Salt Lake City. She was buried next to Herman's father, Charles Green, in the Pleasant Grove Cemetery.
During the Depression Herman had a problem with ulcers: "During the Depression my father had a problem with ulcers, so he went away to the VA Hospital. They used to go into the hospital for six months, and live on a cream diet. That was the cure for ulcers, and bland food. So he went away and during that time, of course, there was no income, except their savings. So my Dad got scared and sold the new house, and we moved down into Granite Stake, which was Third East, and about 35th South, in a little old house. My mother didn't like it. After a brand new house she was not satisfied, so she found another house, which was a big two-story home with a wraparound porch in front, and big, huge bedrooms upstairs. We lived there for four or five years. Then she found another house, which was a brand new brick house that a man that owned a hardware store built for himself and his son – two identical houses. We lived there until I left home." (Beulah Green Carey)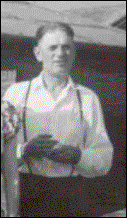 Herman quit working for the railroad when he was diagnosed with cancer. Beulah said, "When Dad was retired from the railroad because they found he had cancer, had his cancer operation, then he went to work for the Veteran's Administration as a file clerk. That was the second job that he had, and he got to be chief file clerk. Then he said he was tired, and he retired from that."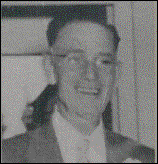 Retirement wasn't enough to keep Herman busy: "Then he couldn't stand retirement, and he went to work as a custodian for the school district in Salt Lake. He got older and got tired of working and lifting heavy boxes, so he retired from that, and did handyman work for people around, and things like that." (Beulah Green Carey)
Alice died in 1960, leaving Herman alone. Beulah remembers, "After my mother died he sold the house, and moved to Torrance and lived in my sister Jean's house while they were in Cocoa Beach, Florida. Then when they came back he moved in with my sister Lawana for a while, but he was getting a little forgetful, and he used to get up and eat during the middle of the night, and he caught the curtains on fire in the kitchen one night. So they decided he'd be better off in his own apartment, and he liked the independence. He lived there until they put him in a rest home. Then his circulation became worse and they put him in a convalescent home, and that's where he died of heart trouble, diabetes, and cancer."

Herman died 16 January 1971 in Torrance, California, and was buried in Salt Lake City. He was the father of five children and grandfather of seventeen grandchildren.