FAMILY GROUP RECORD OF
ROBERT COWLEY AND
MARY PEER

Robert Cowley was born in about 1735 of Coates, Gloucestershire. Robert married 1) Anne Stephens 20 December 1754 in Coates. Anne died and was buried 20 November 1761 in Coates. He married Mary Peer 26 August 1765, Rodmarton, Gloucestershire, England. Mary was christened 12 October 1737 in Long Newnton, Wiltshire (about 4 miles from Rodmarton), the daughter of Richard and Elizabeth Pere.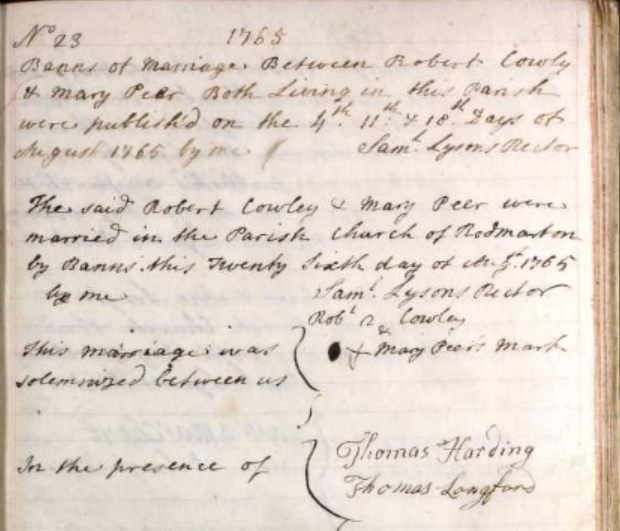 Marriage record for Robert Cowley and Mary Pear in Rodmarton

Robert died and was buried 18 July 1792 in Coates, Gloucestershire, about three miles from Rodmarton.

Death record for Robert Cowley in Coates
Mary died and was buried 8 February 1823 in Coates, aged 84 years.

Death record for Mary Cowley in Coates
Robert and Anne had the following children:

1. Hannah, christened 2 October 1755 in Coates.

2. Sarah, christened 23 July 1758 in Coates.


Robert and Mary had the following children:

1. John, christened 26 January 1766 in Coates.

2. Ann, christened 6 December 1767 in Cherington, Gloucestershire "of Aston". Cherington is about five miles from Coates.

*3. Susannah, christened 25 March 1770 in Cherington "of Aston"; married Thomas Merrick 25 December 1788 in Coates, Gloucestershire; buried 28 July 1826 in Tenbury, Worcestershire.



Baptism record for Susanna Cowley in Cherington


4. Robert, christened 16 February 1772 in Coates.

5. Kezia, christened 13 March 1774 in Coates; married John Smith 18 February 1798 in Coates.

6. Thomas, christened 2 June 1776 in Coates; soldier in the 3rd Foot Guards, wounded in the foot at the Battle of Talavera in the Napoleonic Wars in 1809, discharge after nine years, four months of service; occupation - laborer.

7. William, christened 7 February 1779 in Coates; married Elizabeth; listed in the 1861 & 1871 censuses in Cirencester, Gloucestershire.

8. Maria, christened 6 May 1784 in Coates; listed in the 1841 census in Coates.

9. John, christened 14 January 1787 in Coates.


SOURCE: IGI; John Meyrick's diary; Cherington parish register; Coates parish register on www.ancestry.co.uk; Royal Hospital Chelsea Pensioner Register of Who Served in Canada, 1743 - 1882 on www.ancestry.co.uk .



If you have additional information about this family, please contact me at alice@boydhouse.com.