FAMILY GROUP RECORD OF
SARAH BRUFF


Sarah Bruff was christened 10 November 1720 in Tettenhall, the daughter of Richard Bruff and Esther Taylor.


Sarah had the following child:


*1. Esther, christened 23 May 1748 in Wombourne; married William Green 27 August 1764 in Wombourne.



Baptism record for Esther Bruff in Wombourne: "Esther base child of Sarah Bruff May 23"



SOURCE: Wombourne parish register, www.findmypast.co.uk.


FAMILY GROUP RECORD OF
RICHARD BRUFF AND
ESTHER TAYLOR



Richard Bruff married Esther Taylor 24 February 1719 in Tettenhall, Staffordshire, England. Esther was christened 7 May 1699 in Tettenhall, the daughter of John Taylor and Sarah Davies. (Esther is shown as Hester at her christening and Esther at her marriage.)


Richard died 28 May 1729 in Tettenhall. Esther died less than a month later on 12 June 1729. They left three orphaned daughters.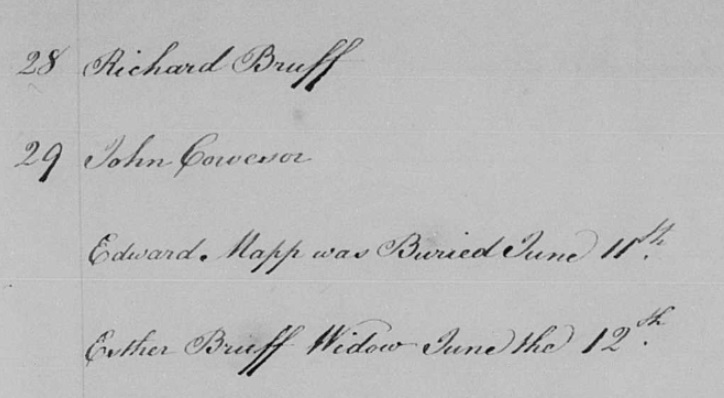 Richard and Esther had the following children:

*1. Sarah, christened 10 November 1720 in Tettenhall; (mother of Esther Bruff).

2. Elizabeth, christened 25 January 1723 in Tettenhall.

3. Anne, christened 28 June 1727 in Tettenhall.


SOURCE: IGI; Tettenhall parish register.




If you have additional information about this family, please contact me at alice@boydhouse.com.