Twenty-Seventh Generation

27-1 Rhodri "Mawr" ap MERFYN, son of Merfyn ap Gwriad and Esyllt verch Cynan,was born about 789 in Caer Seiont, Carnarvonshire, Wales. He died in 878 in Anglesey, Wales. He married Angharad verch MEURIG.

"Rhodri Mawr (the Great) ap Merfyn, Prince of Wales, who became King of Gwynedd in 844 on the death of his father Merfyn Frych, King of Powys in 855 on the death of his uncle Caell ap Brochwell, and King of Seisyllwg in 871 on the death of his brother-in-law Gwgon. Rhodri Mawr was the first ruler recognised as Prince of Wales. He defeated the Danish leader Horn in 856. Died in 877 or 878, killed in battle with the English as was his son Gwriad. Rhodri Mawr ap Merfyn married Angharad, daughter of Meuric ap Dyfnwal ap Asthin ap Sitsllt, Lord Caerdigan."

http://www3.sympatico.ca/robert.sewell/deheubarth.html


"Chroniclers of his generation hailed Rhodri ap Merfyn as Rhodri Mawr (Rhodri the Great). Rhodri's fame sprang from his success as a warrior. That success was noted by The Ulster Chronicle and by Sedulius Scottus, an Irish scholar at the court of the Emperor Charles the Bald at Liege. It was his victory over the Vikings in 856 which brought him international acclaim. Wales was less richly provided with fertile land and with the navigable rivers that attracted the Vikings, and the Welsh kings had considerable success in resisting them. Anglesey bore the brunt of the attacks, and it was there in 856 that Rhodri won his great victory over Horn, the leader of the Danes, much to the delight of the Irish and the Franks.

It was not only from the west that the kingdom of Rhodri was threatened. By becoming the ruler of Powys, his mother's land, he inherited the old struggle with the kingdom of Mercia. Although Offa's Dyke had been constructed in order to define the territories of the Welsh and the English, this did not prevent the successors of Offa from attacking Wales. The pressure on Powys continued; after 855, Rhodri was its defender, and he and his son, Gwriad, were killed in battle against the English in 878."
http://www.castlewales.com/rhodri.html


27-2 Angharad verch MEURIG, daughter of Meurig ap Dyfnwallon, was born about 825 in Ceredigion, Wales.

"The eleventh (successor) was Gwgan, who was accidentally drowned in 870, after which event, Rhodri Mawr, or Roderic the Great, sovereign of North Wales and Powys, became possessed of this principality (which at that time held supreme authority over the other petty states of South Wales), in right of his wife Angharad, who was Gwgan's daughter."
http://www.genuki.org.uk/big/wal/CGN/Lewis1833C.html


27-3 Eystein "Glumra", "The Noisy" IVARSSON, Earl of Orkney, Jarl of the Uplanders, son of Ivar Halfdansson and Eysteinsdatter,was born about 800 in Maer, Nord Trondelag, Norway. He married Ascrida (Aseda) ROGNVALDSDATTER, COUNTESS OF OPPLAND about 846 in Maer, Nord Trondelag, Norway.


27-4 Ascrida (Aseda) ROGNVALDSDATTER, COUNTESS OF OPPLAND, daughter of Rognvald Olafsson, was born about 804 in Maer, Nord Trondelag, Norway.


27-5 Hrolf NEFJA (NEFIA) was born about 826 in Norway.


27-7 Constantine I, King of SCOTLAND, son of Kenneth I "Macalpin", King of Scotland, was born about 836 in Scotland. He died in 877 in Inverdovat, Forgan, Fifeshire, Scotland.

"King of Scotland or Alba, the united kingdom of the Picts and Scots (862-877), who succeeded his uncle Donald I. Constantine's reign was occupied with conflicts with the Norsemen. Olaf the White, the Danish king of Dublin, laid waste the country of the Picts and Britons year after year; in the south the Danish leader Halfdan devastated Northumberland and Galloway. Constantine was slain at a battle at Inverdovat in Fife, at the hands of another band of northern marauders. His heir was his brother Aed, who was killed by the Scots after a year and was succeeded by a nephew, Eochaid."
http://www.corriebusinessgroup.com/research/kings2.php


27-9 Rutpert (Robert) III, of WORMSGAU, COUNT OF OBER-RHEINGAU, son of Rutpert Wormsgau, and Theodorata of Wormsgau, was born about 789. He married Wiltrud (Waltrada) of ORLEANS.


27-10 Wiltrud (Waltrada) of ORLEANS was born about 795.


27-11 Louis "The Pious", Emperor of the HOLY ROMAN EMPIRE was born about 799. He married Ermengarde.

"With the death of Charlemagne, his son Louis the Pious inherited the throne. Around the year of 840 AD after Louis the Pious' death, warfare broke out between his three sons."

http://campus.northpark.edu/history/WebChron/WestEurope/VerdunTreaty.html


"Louis I (Holy Roman Empire), called The Pious (778-840), Holy Roman emperor (814-40), king of France (814-40), king of Germany (814-40), and king of Aquitaine (781-840). He was the son of Charlemagne, king of the Franks. In 817 Louis made plans providing for the posthumous division of the Carolingian Empire among his three surviving sons, Lothair I, Holy Roman emperor, Louis II, king of Germany, and Charles II, Holy Roman emperor. His reign, however, was troubled by quarrels with his sons, who were dissatisfied with his arrangements for the succession. Louis was physically strong but was easily influenced and was unequal to administering the large empire that he inherited from his father."
http://www.pa.uky.edu/~shapere/dkbingham/d0003/g0000066.html


27-12 Ermengarde was born about 800.
"Daughter of Ingramm (Ingerman), the Duke of Hesbaye" www.wikipedia.com


27-13 Pépin II Quentin, Count of VERMANDOIS Lord St Quentin, son of Bernard, King of Italy, and Cunigunde.


27-15 Liudolf, Duke of East SAXONY, son of Bruno, Duke of East Saxony,was born in 806 in Saxony. He died in 866. He married Oda of SAXONY in 816 (betrothed).


27-16 Oda of SAXONY, daughter of Billing of Saxony and Aeda, was born about 810 in Saxony.

27-17 Reginhart, Count of RINGELHEIM, son of Wolpert von Ringelheim,and Alburgis, was born about 828 in Ringelheim, Goslar, Hannover, Germany. He married Matilda.


27-18 Matilda was born about 833 in Ringelheim, Goslar, Hannover, Germany.


27-19 Gottfried was born about 820 in Friesland, Germany. He married Matilda.


27-20 Matilda was born about 820 in Friesland, Germany.


27-21 Ranulph I, Count of POITIERS, son of Bernard I, Count of Poitiers, and Bilichilde d'Anjou, was born about 835 in Poitiers, Aquitaine. He died in 875.


27-23 Louis II "The Stammerer", King of FRANCE, son of Charles II "The Bald", Emperor of the Holy Roman Empire, and Ermentrude, Countess of Orleans, Queen of the West Franks, was born on 1 Nov 843 in France. He died on 10 Apr 879 in Compiègne, Neustria. He married Ansgarde, Princess of BURGUNDY in 862 in France. The marriage ended in divorce.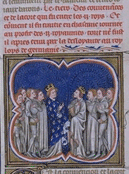 Treaty of Fouron between Louis the Stammerer, king of France,
and Louis the Younger, king of Germany (878)
"Louis II, French king or Louis the Stammerer, 846–79, French king. He succeeded (877) his father, Emperor of the West Charles II, as king. On Louis's death his kingdom was divided between his sons Carloman and Louis III." http://www.bartleby.com
"LOUIS II.2 (846-879), king of France, called " le Begue " or ' the Stammerer," was a son of Charles II. the Bald, Roman emperor and king of the West Franks, and was born on the 1st of November 846. After the death of his elder brother Charles !n 866 he became king of Aquitaine, and in October 877 he succeeded his father as 'king of the West Franks, but not as emperor. Having made extensive concessions to the nobles both clerical and lay, he was crowned king by Hincmar, archbishop of Reims, on the 8th of December following, and in September 878 he took advantage of the presence of Pope John VIII. at the council of Troyes to be consecrated afresh. After a feeble and ineffectual reign of eighteen months Louis died at Compiegne on the 10th or 11th of April 879. The king is described as " un homme simple et doux, aimant la paix, la justice et la religion." By his first wife, Ansgarde, a Burgundian princess, he had two sons, his successors, Louis III. and Carloman; by his second wife, Adelaide, he had a posthumous son, Charles the Simple, who also became king of France."
http://60.1911encyclopedia.org/L/LO/LOUIS_IV_OF_FRANCE.htm


27-24 Ansgarde, Princess of BURGUNDY, daughter of Count Hardouin, was born about 844 in Aix-La-Chappelle, Austrasia. She died after 2 Nov 879.


27-25 Alfred "The Great", King of ENGLAND, son of Ethelwulf, King of Wessex, and Osburh, was born about 848 in Wantage, Berkshire, England. He died on 26 Oct 901 in Winchester, Hampshire, England. He married Ealhswith in 868.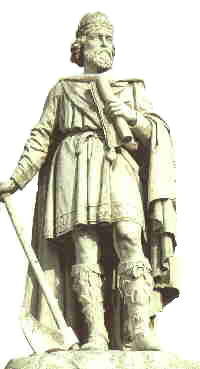 "King Alfred the Great reigned in England from 871-899. The title "great" was given to him because of his great leadership over the land and the people he served. This great leadership was shown most through his resistance to the Danes (Vikings) as they invaded the northwest portion of England trying to conquer the Anglo-Saxons in the 800's.
Alfred was born to his father, Aethelwulf, King of Wessex and his queen, Osbutga, in 849 in Wantage, Oxfordshire, England. He was born of the royal house of the Jutes of Wright. He was the fourth son born and had one younger sister. He became king only after each of his older brothers had ruled for some time.
King Alfred's education as a child was important to his reign. He did not have a formal education and learned to read and write only after he became king in 871, but he did receive great instruction throughout his life. At the age of four, Alfred went to see Pope Leo IV in Rome for instruction. The Pope later adopted King Alfred as his spiritual son. Most of the Pope's instruction to Alfred was concentrated on Christianity and not the liberal arts. This instruction was well suited for his future role as he would spend most of his reign defending the Christian Anglo-Saxons.
In the year 871, Alfred undertook the government of the kingdom after his brother, Ethelrod, had ruled in peace for about five years. After taking over the land, King Alfred was faced with some military choices. He was already somewhat experienced in battle because he had led several campaigns against the invading Danes. Alfred did not want to go into battle, so he kept the peace by paying tribute to the Danes for four years. The next year, 876, when the Danes came to collect their tribute, they did not leave the land. Instead they stayed and lived off of Alfred's people for the next two years. By 878 Alfred was fed up with supporting the Danes in his land, so he attacked them and won, forcing them to comply to his terms and pay tribute to him. The Danes, however, still had power in many other places. In 886 Alfred decided to attack London, a Danish-held city. He hoped to diminish the lands ruled under the Dane law since he thought of them as heathens. He succeeded in capturing it and making the West Saxons quite powerful. It is said that at this point Alfred earned the title of "King of England" because of his great success. In late 892, the Danes decided to make a violent return. Alfred was taken off guard, but, with a new tactic at sea, was able to defeat the Danes once again.
Although Alfred's greatest achievement during his reign was the defeat of the Danes, he also had other accomplishments. He pushed for better education and helped make learning important in the lives of the people of his land. This was necessary during his reign because education had declined due to the fact that the Danes were looting the monasteries and churches which were the center of education. Alfred believed that learning "makes life more rewarding and enjoyable;...the worst thing of all is ignorance" (Alfred University). He also kept the Anglo-Saxon Chronicle and established a code of law based on the teachings of the Bible. This helped maintain social order.
King Alfred the Great died on October 26, 899 and was buried in the Old Minister at Winchester. He is the only English monarch to be known as "the Great". He is well-deserving of this title. He defeated the Danes and protected his people, but he also contributed his ideas for better education and social order."
http://campus.northpark.edu/history/WebChron/WestEurope/AlfredGreat.CP.html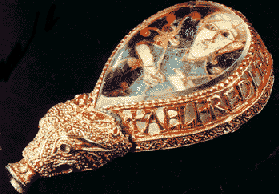 The Alfred Jewel
27-26 Ealhswith of the Gaini, daughter of Ethelred "Mucil", Eald of theGainai,and Eadburh Fadburn, was born about 852 in Mercia, England. She died on 5 Dec 905.
"She became a nun at widowhood. Reputed as a saint after death." http://nygaard.50g.com/files/1673.htm


27-27 Ethelhelm (Earl) was born about 848 in Wessex, England.


27-29 Tertulle, Count of ANJOU, son of Torquat de Rennes, was born about 821 in Rennes, Anjou, France. He married Petronilla about 844 in Anjou, France.


27-30 Petronilla was born about 825 in Rhineland, Prussia.


27-31 Emund ERIKSSON, son of Erik Refilsson, was born about 832 in Sweden.


27-33 Leszek IV, Prince of POLAND, son of Ziemowit, Prince of Poland,was born about 865 in Poznan, Poland. He died in 921.


27-35 Vratislav I, Duke of BOHEMIA, son of Borijov, Duke of Bohemia, and Lidmila ze Psova, was born about 877 in Praha, Czechoslovakia. He died on 13 Feb 921. He married Drahomíra ze STODOR PRINCESS OF LUTICE.


27-36 Drahomíra ze STODOR, PRINCESS OF LUTICE was born about 881 in Praha, Czechoslovakia. She died in 937.


27-37 Giselbert, Count of the MOSELLE (MAASGAU) was born about 830 in Moselle, Austrasia. He died about 892. He married Ermengarde (Irmgard) in 846.


27-38 Ermengarde (Irmgard), daughter of Lothaire I, Emperor of the Holy Roman Empire, and Ermengarde, Countess of Tours, was born about 832 in Alsace-Lorraine.


27-39 Charles II, the Bald King, son of Louis I "The Pious", Emperor of the Holy Roman Empire, and Judith, was born on 13 Jun 828 in Frank. He died on 6 Oct 877.


27-41 Ugaire, King of LEINSTER, son of Oilliol, King of Leinster, was born about 860 in Leinster, Ireland. He died in 915.




Click here to go the the Twenty-Eighth Generation of ancestors from Henry Salisbury