FAMILY GROUP RECORD OF
RICHARD AND JOHAN COLLAS




Richard Collas was born in about 1550 of Withington, Herefordshire. He married Johan.


Richard and Johan had the following children:


1. John, christened 25 September 1574 in Withington.


2. Catherine, christened 23 March 1577 in Withington.


3. Anne, christened 16 October 1580 in Withington.


*4. Margaret, christened 27 January 1582 in Withington; married

15 June 1615 in Withington

.


5. Richard, christened 24 June 1585 in Withington.


6. Johan, christened 11 August 1588 in Withington.



SOURCE: Extracts from the Withington parish records, www.findmypast.co.uk.



In 1542, a muster roll was created in Withington of men sixteen years and older. The muster roll listed men and weaponry that could be used to defend the parish.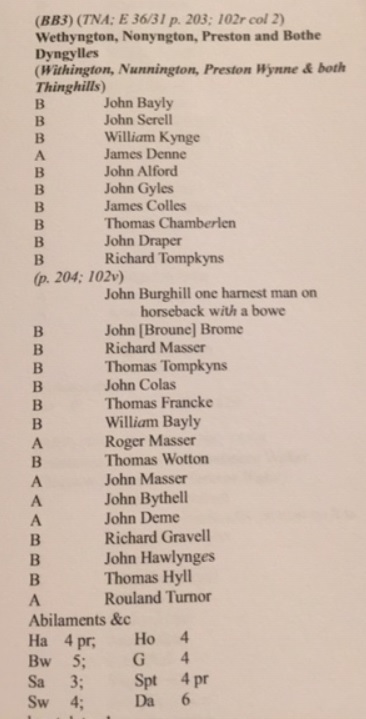 Withington muster roll, 1542
Two men are listed and either may be Richard's father - James Colles and John Colas. Richard's firstborn son is named John, and there are no sons named James, so John Colas is more likely the father.


If you have additional information about this family, please contact me at alice@boydhouse.com.
Return to table of contents