Valuation Lists are land records created in connection with Griffith's Valuation. Some were created in preparation for Griffith's Valuation, and some were created as a continuation of the primary valuation. These are often overlooked resources that can add value to your Irish research, and may help you reconstruct families.
In preparation for the primary Griffith's Valuation, three types of book were created:
House Books
Land Books
Tenure Books
These books have been microfilmed, and the films can be ordered from the LDS Family History Libraries.


Understanding a House Book

House Books were books that recorded the size and quality of each house to determine its value. If you have found your ancestor in Griffith's Valuation, then you can check the House Book to see what kind of house they lived in.
James R. Reilly explains the details of these records in Richard Griffith and His Valuations of Ireland. The valuator "measured each house in the townland and recorded the data in a house book". Then "supplied with their house books, each valuator "having examined the building with care...is to enter in his book...the quality letter...which according to the tables determines the price". Reilly further explains that "houses were of three classes: new, medium, and old; within each class a house was assigned a quality letter that best described its state of repair, age and construction.
Medium
B+ Medium (not new) but in sound order, and good repair
B Medium, slightly decayed, but in good repair
B- Medium, deteriorated by age, and not in perfect repair
Old
C+ Old, but in repair
C Old and out of repair
C- Old, and dilapidated, scarcely habitable
Each letter was further qualified with the number 1, 2, or 3:
1 Slated roof house of stone or brick with lime mortar
2 Thatched roof house of stone or brick with lime mortar
3 Thatched house of stone walls with mud mortar or mud walls of the best kind
4 Basement stories of slated houses used as dwellings" (Reilly, J.R. (2000). Richard Griffith and His Valuations of Ireland. Baltimore, MD, Clearfield)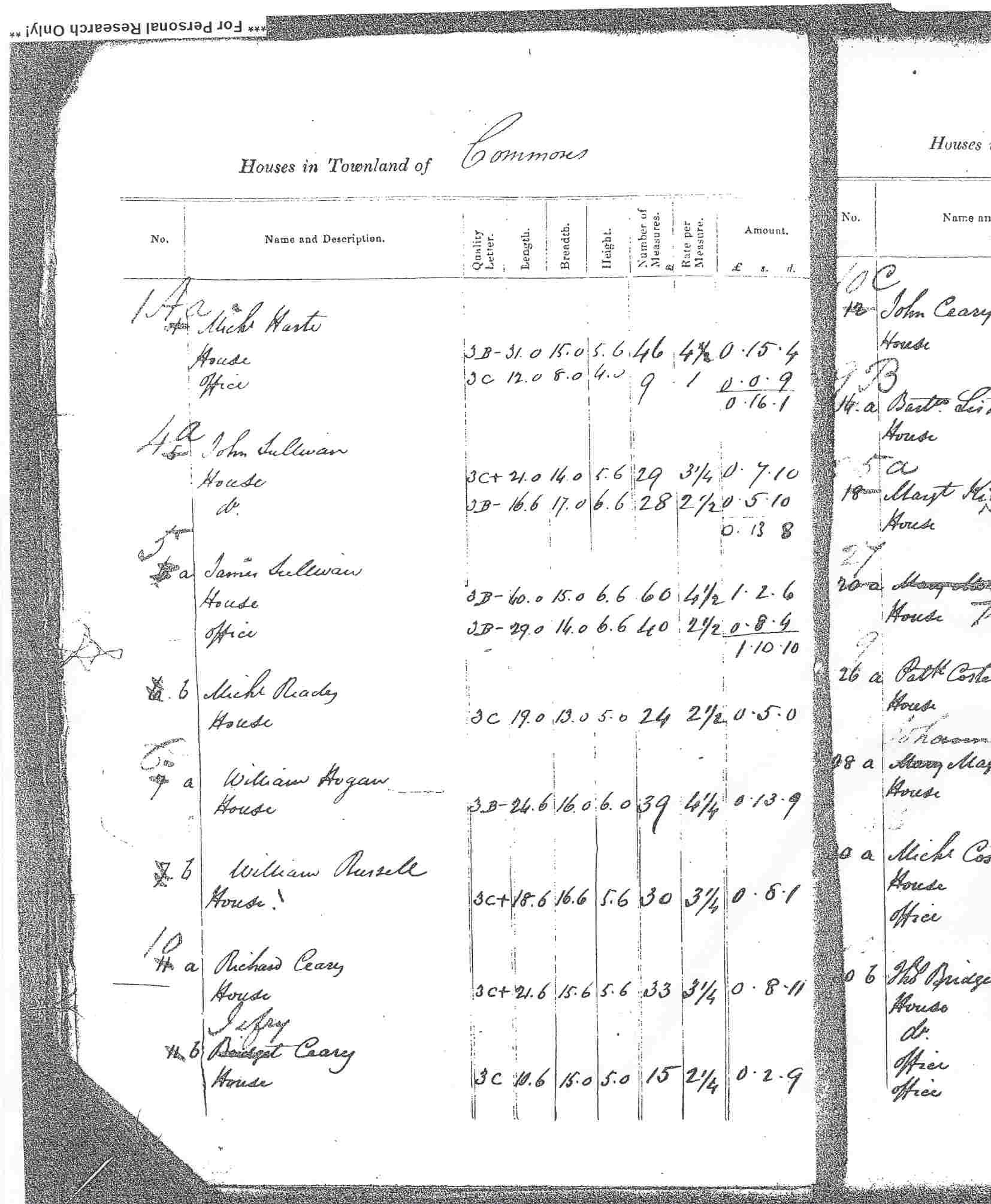 Understanding Land Books
Land Books
were created in preparation for Griffith's Valuation to evaluate the quality of the land and soil. These land or field books required the valuator to dig up the surface of the soil to "determine the nature of the soil, its depth and the nature of the subsoil". This was done so that "by analyzing the kind and quality of soil (arable, stony, sandy, grassy, wet, etc.) a valuator would individually estimate the amount of wheat, for example that the given lot could produce, and set a value by the acre for such soil" (Reilly, 2000).
Understanding Tenure Books

Tenure Books
, or Perambulation Books, were created in preparation for Griffith's Valuation. These books helped in determining the value of the property. According to Reilly, "the surveyor asked the occupant or the landlord, "What is the rent?" and "How is the tenement held (by lease, by the year, owned)?
These books allow you to see how your ancestor paid for their dwelling, and their economic status. "An occupier of five acres or less was generally designated as a cottier or laborer. He held his house and land from year to year...Often the laborer paid his rent by working on the landlord's land at 5 or 6 pence a day rather than paying with hard cash. Five acres or less of inferior soil were rented to these occupiers to raise food for their families, since landlords were often unwilling to let good land to a laborer. An occupier holding between five and thirty acres was considered to be a small or medium farmer who usually paid his rent in cash. Small farmers requently rented from year to year, while medium farmers often had a lease for better quality land. An occupier who held thirty acres or more was a strong farmer or grazer of livestock who held a favorable lease on the land" (Reilly, 2000).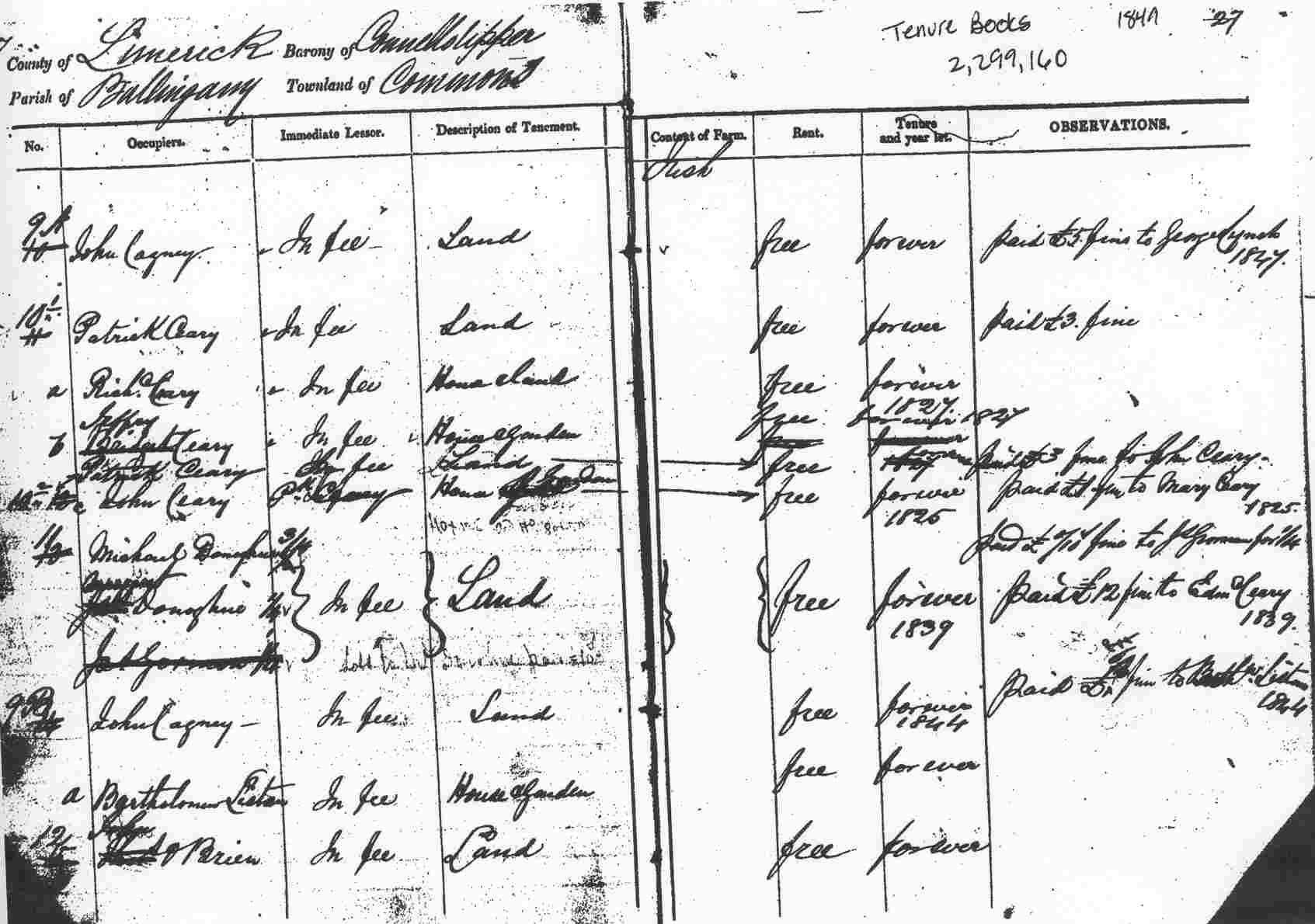 How Do You Use Valuation Lists?
Even after the primary Griffith's Valuation in the 1850s, the creation of valuation lists continued. The lists continued from just a few years after Griffith's Valuation, to as late as 1970.
These records, as well as the House Books, Land Books, and Tenure Books can be ordered on microfilm at the LDS Family History Library for your parish.
The books continued and the land was revalued every few years. If the previous occupant no longer occupied the property, then their name was crossed out, and the new occupier added. This can often indicate the death or emigration of an ancestor, and the land was often passed on to a wife or son. By following a plot of land through the years, you can see how the family changed. In addition, you can use the property information to look up the current occupier online. In my case, I was able to do this, and found a fourth cousin, the descendent of my great-grandfather's older brother, still on the land my great-grandfather left in the 1850s.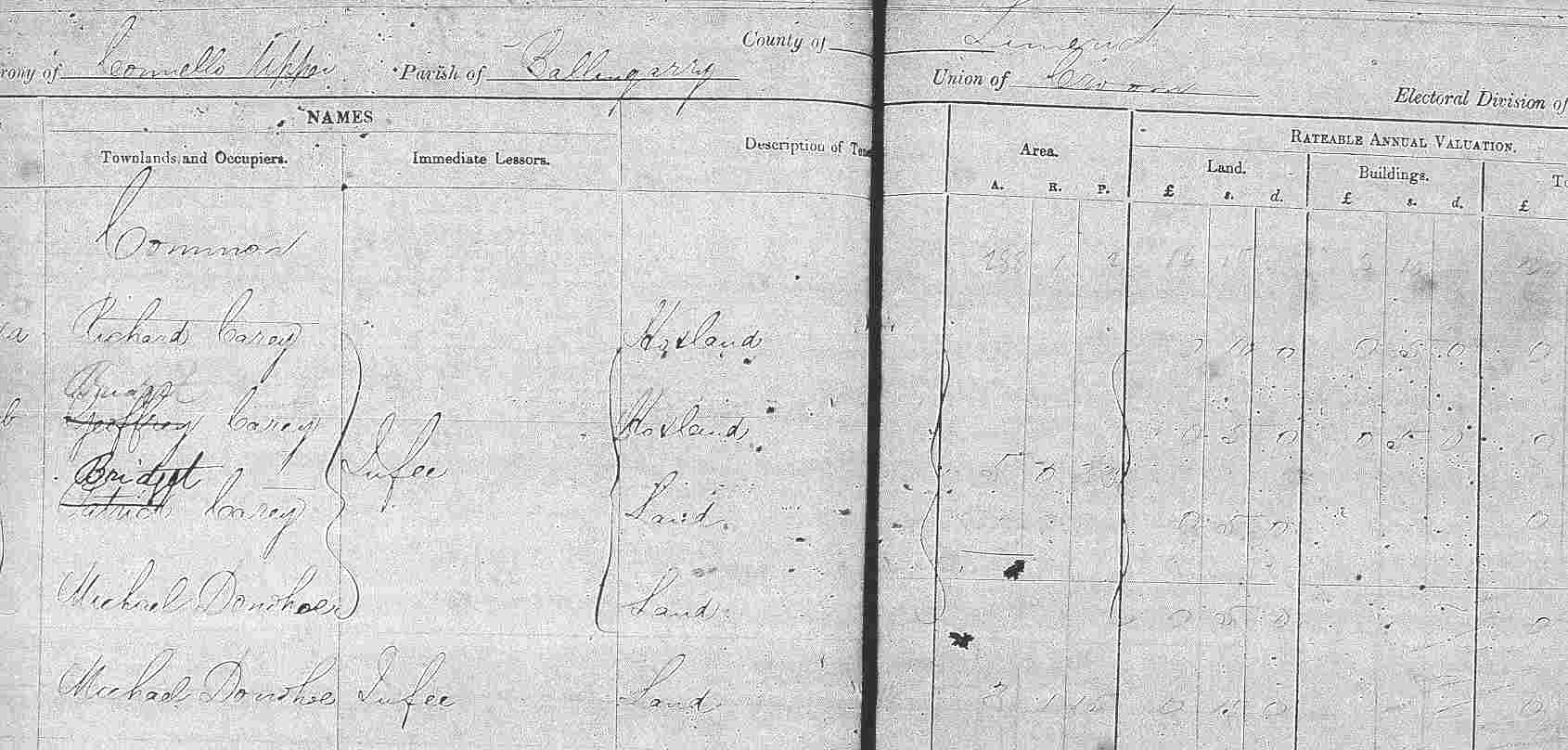 1865 Valuation List, showing Jeffrey Carey's property passing to Bridget Carey, Richard Carey lined out due to emigration, and Patrick Carey's property also passing to Bridget Carey. Jeffrey and Richard had emigrated; it is assumed that Patrick died.


How Do You Find the Current Occupier?

If you know the lot number of the property, you can look up the current occupier at the Valuation Office. This may allow you to contact a distant cousin.

Module Eight Assignments
Assignment One:
Review the House Book for the Carey family shown above in the House Book section. Determine the size of the house. Use the chart to decide its quality - condition, type of roof, and construction.
Assignment Two: Use the FamilySearch website to find the Library Catalog for your parish, and determine if House Books, Tenure Books, Land Books, and Valuation Lists are available for your parish.