Why did they leave? The most common reason for emigration for native Irish was the potato famine of the mid-1800s.
"If you have Irish ancestry, the chances are that they were immigrants after 1845. In that year a potato blight in Ireland caused that food staple to rot in the ground, and thousands chose America over starvation. Many of those who left were so weak that they did not survive the trip; in 1847 alone, 15,000 Irish died aboard ship. Nevertheless, over two million Irish, mostly Catholics from central and southern Ireland came in thirty years. In all, nearly 4.4 million Irish have come (abd are stil coming) to this country as immigrants. They clustered together in eastern cities, and along the industrially developing shores of the Great Lakes. Although most had bee farmers at one time, because the land had betrayed them they turned their backs on it, preferring to trust their stomachs to wages instead of crops. Many took tough construction jobs for 30 cents a day, and few early canals or railroads were built without their labor."
(Westin, Finding Your Roots)
If your ancestor came to America in the 1700s they may have been Scots-Irish:
"Millions of Americans are descended from the 250,000 Scotch-Irish immigrants who came to America between 1717 and 1775. These people were actually transplanted Lowland Scots who, in one of many English schemes to subdue the Irish, had been urged to emigrate to Ulster in Northern Ireland a century earlier by James I. It was thought that the hard-nosed Presbyterian Scotsmen could better control the Irish than England's standing army, but by 1717 the Scotch-Irish were in trouble themselves. A depression in the flax industry, higher rents, severe frosts, a sheep disease, and a smallpox epidemic scourged Ulster. They emigrated in waves to the Shenandoah Valley of Virginia, the Piedmont country of North Carolina, to New Jersey, Delaware, Maryland, New Hampshire, Maine, and Pennsylvania. By the time the Declaration of Independence was written, one out of every ten Americans was Scotch-Irish."
(Westin, Finding Your Roots)


What's the Difference between Emigration and Immigration?
"Migration is the term to describe the movement of people from one country to another. Immigration is when someone moves to a country. So someone could immigrate to England. Emigration is when someone moves from a country. So someone could emigrate from England."
(www.answers.com)
For an overview of Irish immigration/emigration records, read
Ireland Emigration and Immigration
.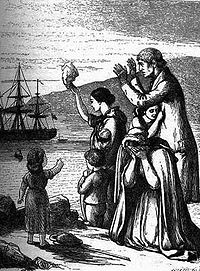 Finding the Year of Immigration
Finding the year of immigration in U.S. records can lead to clues about when your ancestor left Ireland. The best sources for finding this information are:
The 1900 and 1910 U.S. federal censuses - On these censuses, individuals who were not born in the U.S. were asked the year of immigration.
Naturalization records.
City directories - City directories are found in large cities. They were like telephone books without telephone numbers. Many times in these books the head of household was asked how long they had been in the country.
Death certificates and obituaries - Some of these records indicate the length of time the deceased person had been in the country.
Where Do I Find Ship's Lists?
Ship's passenger list are usually found at the port of arrival. The names of other passengers may give clues about family relationships.
Most Irish immigrants came through the port of New York, although there are other possible ports of arrival. The information found of the passenger lists may indlude name, age, occupation, destination, birthplace (usually listed as Ireland), date of departure, and date of arrival.
Where do you find these lists? Ancestry.com has the largest collection on the web. You can also check:
The Olive Tree Genealogy - This is a busy-looking website, but has good links to many major collections, including New York, Philadelphia, Boston, Baltimore, and New Orleans. There are also links to smaller ports and Canadian ports.

Ellis Island (New York) has a very interesting website for arrivals from 1897.
Castle Garden was Ellis Island's predecessor, from 1820 until Ellis Island opened. You can search their database.

Read more about
ship's passenger lists
on the FamilySearch wiki.
Module Three Assignments
Assignment One:
Think about why your family may have emigrated from Ireland. This about the natural, social, and political factors that may have impacted their decision to leave and where they chose to settle.
Assignment Two:
Remember Where's Jeffrey? Use FamilySearch to find Jeffrey's son, Thomas in the 1900 federal census in Chicago, and determine his date of immigration. He was born in about 1850, and was married to Mary. Thomas was born in Ireland, and his wife was born in New York. Find the date of his immigration.
Assignment Three:
Now try to find the date of immigration for one of your ancestors.