THE CHILDREN OF
JOHN LEDDIN AND MARY MORRISSY

John Leddin was born in about 1820 of Garrynalina townland, Galbally, Limerick, Ireland. He is most likely the son of Patrick Leddin and Margaret Gleeson. John's brothers, Patrick and Michael are found in the Galbally parish records.
John and Mary Morrissy were married 27 February 1838 in Galbally parish, County Limerick, Ireland. The witnesses were Michael Morrissey and Catherine Morrissey.

Marriage record for John Leddin and Mary Morrissy in Galbally:
"27th John Leddin & Mary Morresy
Michl Moressy & Catherine Moressy

John Leddin is found in Coolboy, Emly in the late 1840s in the House Books, and
The History of Emly
also shows John Leddin in Coolboy in 1850. He is found in Coolboy townland, Emly parish in Griffith's Valuation of 1851.
The area of Coolbea (or Coolboy) is 157 acres. A history of Emly lists the residents of Coolbea: "
Four of the six tenants in Coolboy in 1830 were Bourkes — Edmund Sen. and Jun., David and William. The other tenants were John Glasheen who did not live here and the Rev. John Seymour who lived in the Glebe house (Emly House). There were seven houses in Coolboy in 1841 and six houses ten years later. The population fell from 55 to 46 during the same period. There were still four Bourke families here in 1850 — Michael, Tobias, Edmund and Mary. John Leddin and Michael Corbett each had a house and garden here then. The G.S. and W. Railway had built the railway station here in 1849 and their property covered four acres of townland.
" The parish priest of Emly explained that John most likely came to Emly with the railroad and worked for the railroad.
Land records called Tenure Books were created in 1847 in preparation for Griffiths Primary Valuation of Ireland. They give details of John Leddin's lease.

Tenure Book for Coolboy townland, Emly, County Tipperary for John Leddin, 1847

The Tenure Book shows that John Leddin leased a house and garden from Mary Bourke at cost of £2-15-0 yearly.

The House Books are other records created for Griffiths Valuation. They show John Leddin in Coolboy in 1849.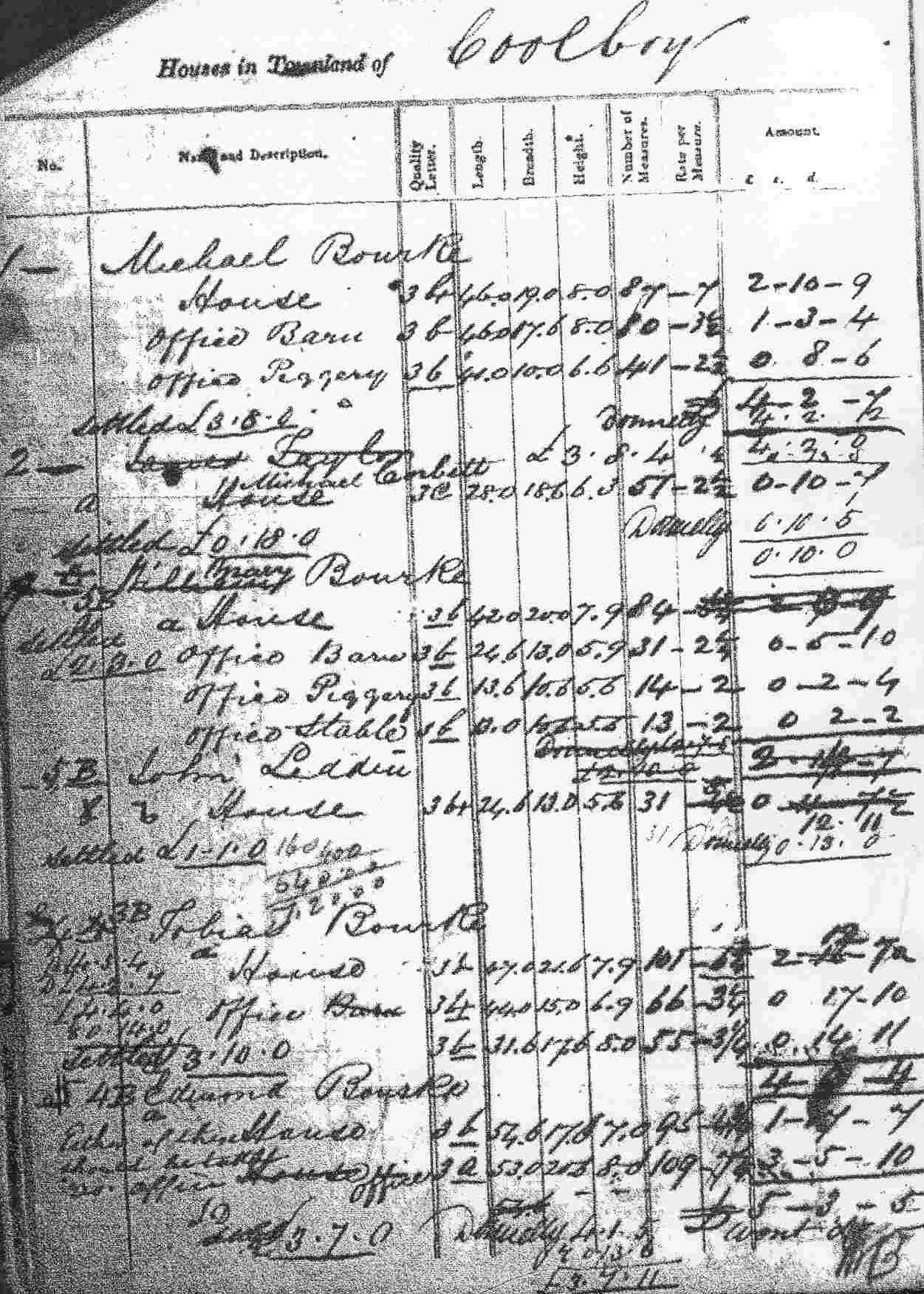 House Book, Coolboy, Emly parish

John Leddin lived in a house that was 24.6 feet long by 13 feet wide, and 5.6 feet high. The condition of the house was 3b+. That means that is was a thatched house of stone walls with mud mortar, or mud walls of the best kind. The condition was medium (not new), but in sound order, and good repair. There were no barns, stables, piggeries or other outbuildings.



Griffiths Valuation, Coolboy, Emly parish, 1851


Griffiths Valuation of 1851 shows John on the same property, with a house and garden. He has less than an acre of land, so is not farming. It is now known when John or Mary died.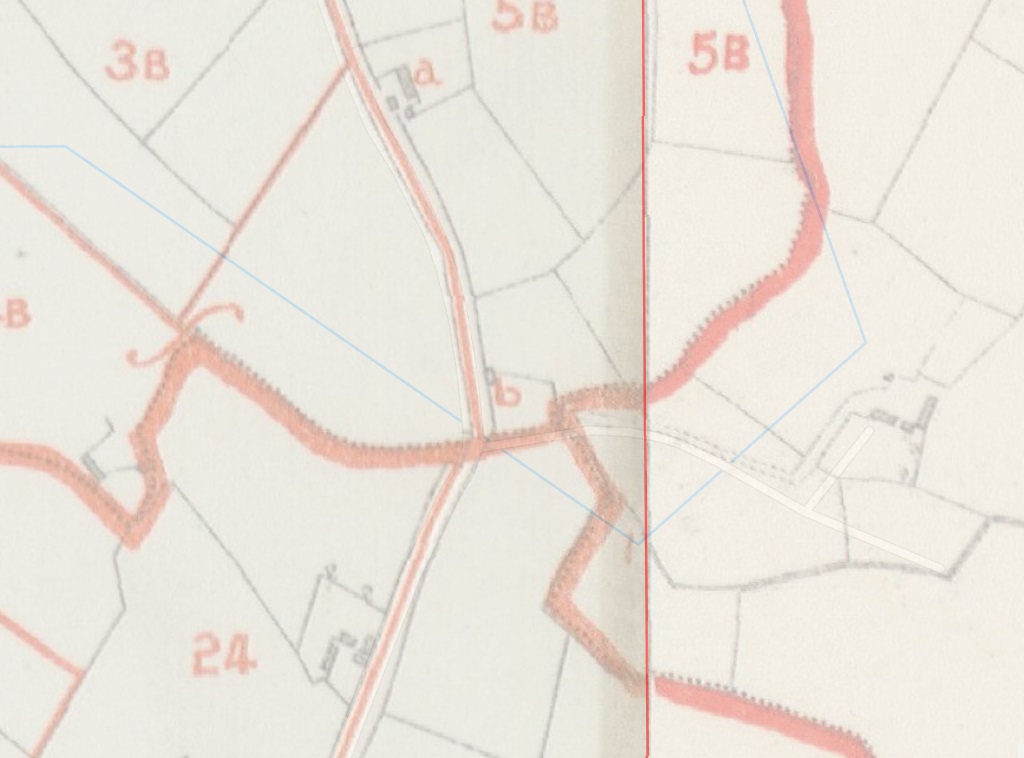 Ordinance Survey map of Coolboy
John Leddin's home is Lot 5b, the tiny lot in the center.
A small house can be seen at the top of the lot.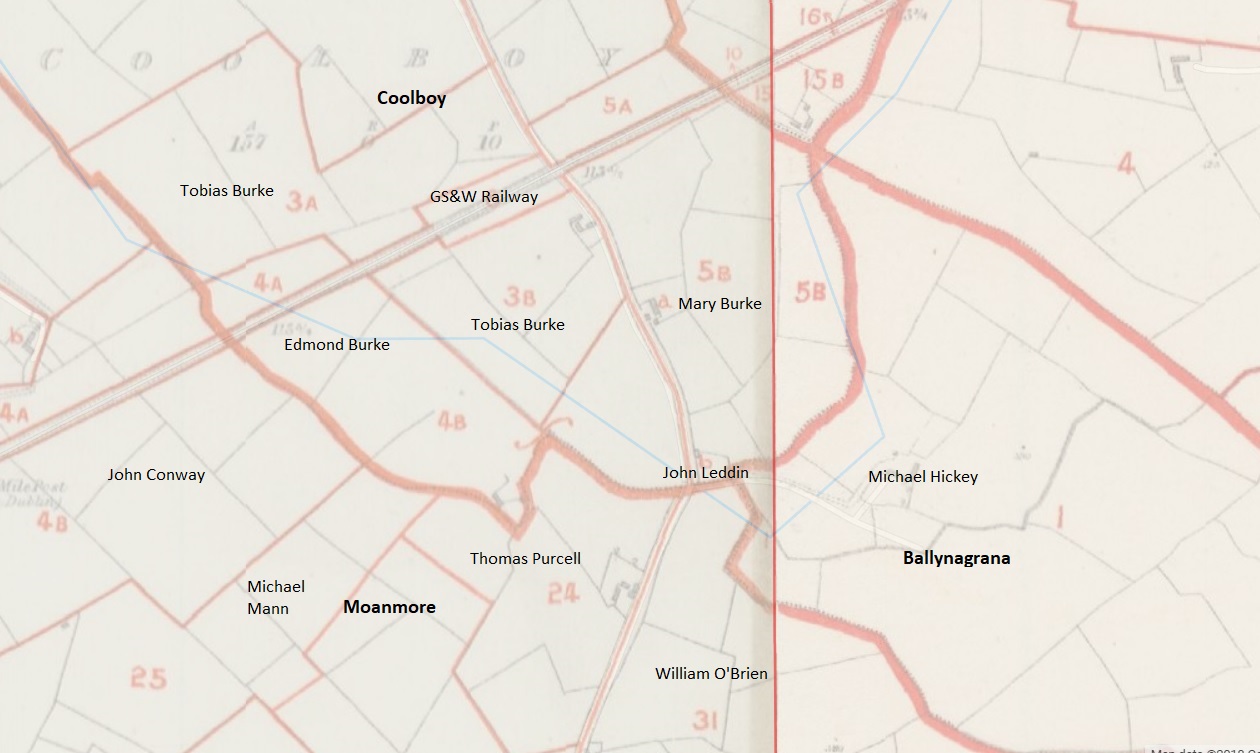 The neighbors - John Leddin's home was at the bottom of Coolboy, near the intersection of Coolboy, Moanmore and Ballynagrana
His neighbors on the north were the Burke family
John and Mary had the following children:

*1. Margaret was christened 8 March 1841 in Emly. Margaret emigrated to Chicago in 1868. She married Maurice Hickey 5 February 1872 in Chicago, and had four children (Ellen, Mary, Margaret and Joseph). Margaret died 19 July 1925 in Chicago, and was buried 24 July 1925 in Calvary Cemetery.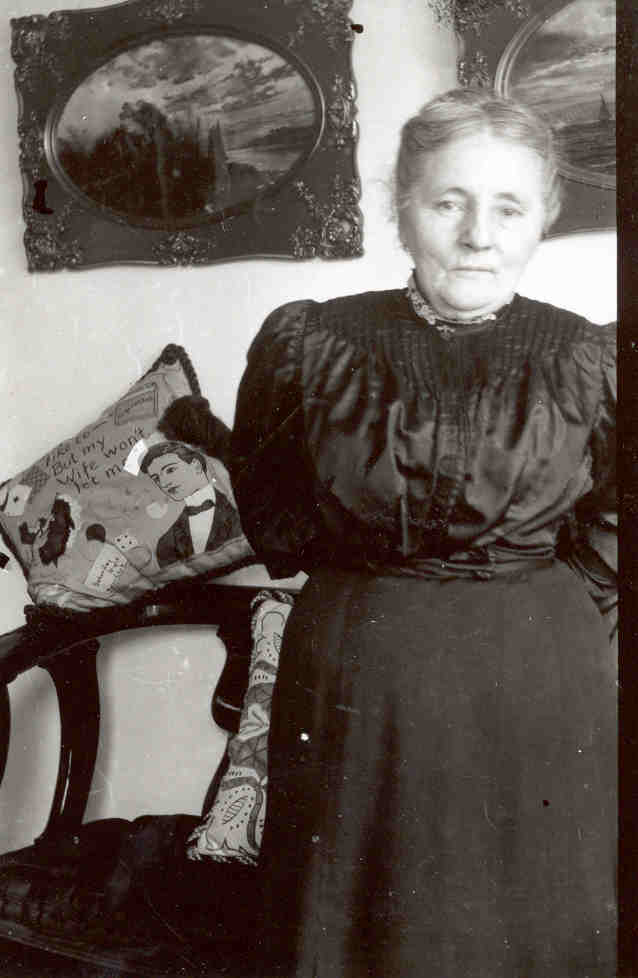 Margaret Leddin
2. Michael was christened 1 November 1844 in Emly. He immigrated to Chicago and married Bridget Cosgrove. Michael and his family are found in the 1880 census in Chicago:

Michael Ledden, age 29, born Ireland, occupation - works on railroad
Bridget Ledden, wife, age 25, born Ireland, occupation - keeps house
John Ledden, son, age 6 mo., born Illinois
Source: 1880 census, Chicago, Cook, Illinois on www.familysearch.org.


John was born 2 November 1879 in Chicago, baptized 9 November 1879 in Sacred Heart parish. Another son, Patrick Joseph was born 14 March 1881 in Chicago, baptized 20 March 1881 in Sacred Heart parish.


Michael died 14 January 1893 in Chicago. His obituary read: "Ledden, Michael, Jan. 14, 1893, husband of Bridget, nee Cosgrove, and brother of Mrs. Maurice Hickey, aged 42 yrs., native of Emly, Co. Tipperary. Funeral from Cook County Hospital to St. Jarlath's Church to Calvary." Chicago Irish Families, 1875-1925, citing Chicago Daily News, in ancestry.com.

SOURCE: Emly parish register; Galbally parish register by corresp.; Sacred Heart parish register, Chicago; 1880 census, Chicago; Chicago Irish Families.



THE CHILDREN OF
PATRICK LEDDIN AND MARGARET GLEESON

Patrick Leddin, the son of William and Elizabeth Leddin, was born in about 1782 of Knocklong. He married Margaret Gleeson. Margaret was born in about 1785 of Emly, and she died 30 June 1844 in Knocklong (her gravestone reads 30 Dec 1841).
Margaret is buried in the old Knocklong Cemetery. Her gravestone reads: "This small testimony of sorrow was erected by William Leddin of Ballencarroona in memory of his mother Margret Leddin alias Gleeson who died the 30 Dec 1841 aged 59 yrs"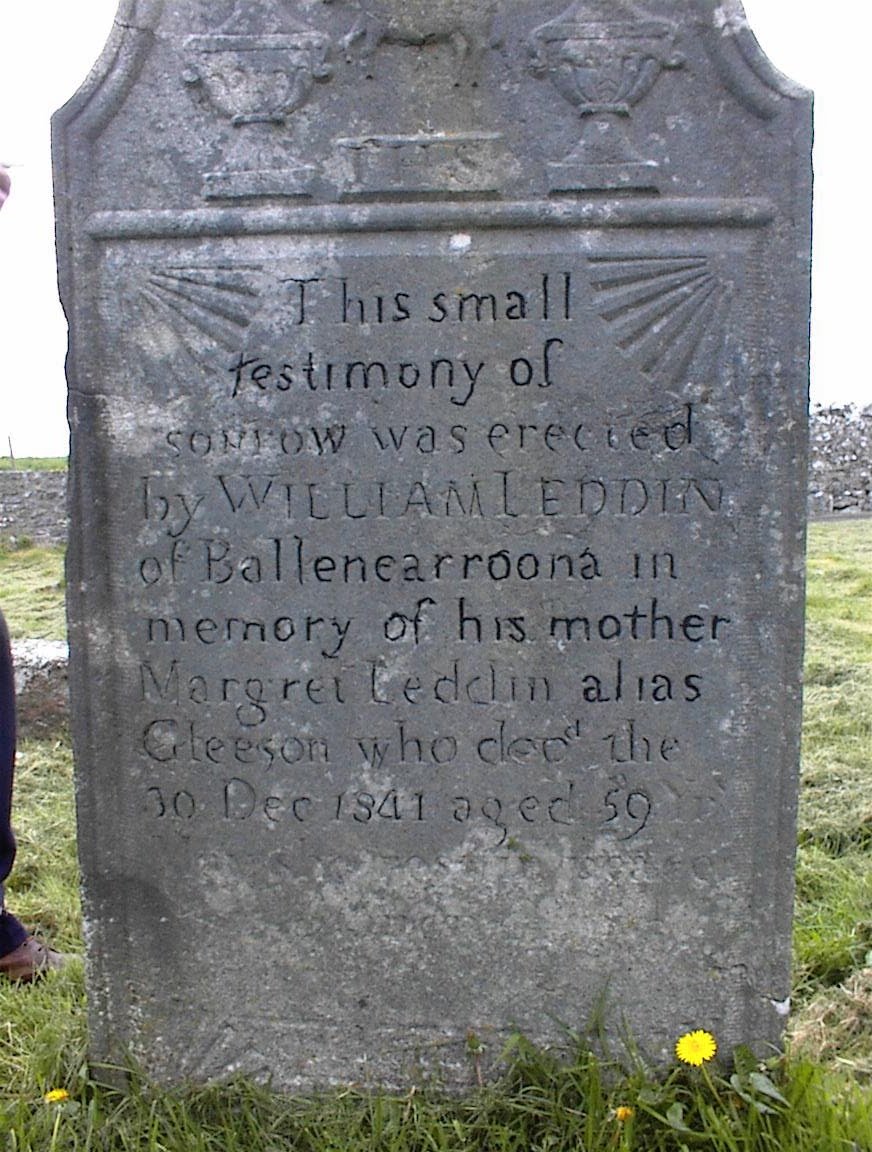 Both Patrick and Timothy Leddin are mentioned as tenants in the estate records for the Earl of Kenmare in 1843 in County Limerick:

Ballycahill and Corbally

William Kean, Patrick Connolly, Roger Daly, Owen Irwin, James Ryan, William Hayes, David Heeland, Michael Glesson, John Kiley, Widow Harris, Michael Regan, Widow Davern, Patrick Leddin, Timothy Leddin, John Donovan, Patrick Reardon, Michael Reardon, Edmond Carroll, Patrick Curtin, Jeremiah Crowe, Richard McCann, James Barry, Andrew Quish, Edmond Day, Michael Walsh, Patrick Day, Edmond Kean, Thomas Walsh, Michael Kiley, Patrick Heeland, Widow Regan, John Fitzgibbon, Denis Leahy Senr., John Walsh, Denis Leahy Junr., Widow Harris, Patrick Real, Widow Heeland, James McMahon, James Hanrahan, Widow David Ward, Patrick Dillane, Widow James Ward, John Casey, William Heeland, Sir Charles Coote, Messrs Wise, The Earl of Limerick, Edward J Cooper esq., Joseph Gubbins esq., The Earl of Kenmare.(Estate Maps of County Limerick, PRONI 4151.s.3.a.13, http://www.limerick.ie/sites/default/files/atoms/files/estate_maps_of_county_limerick_0.pdf )


Patrick is found in the House Books that were created in preparation for Griffiths Valuation in 1849, living next to Timothy Leddin. Patrick has a very large house, 47 feet long by 20.6 feet wide, and 7 feet high. The condition is 3C+. That means that it is a thatched house of stone walls with mud mortar or mud walls of the best kind. The condition is old, but in repair. There is also a porch house that is 6.3 feet long by 0.6 feet wide and 7 feet tall. It is rated 2C+, or a thatched roof house of stone or brick with lime mortar, that is old, but in repair. Patrick also has a cow house and stable.
Timothy is on the next lot, with a large house that is newer, with a dairy and stable.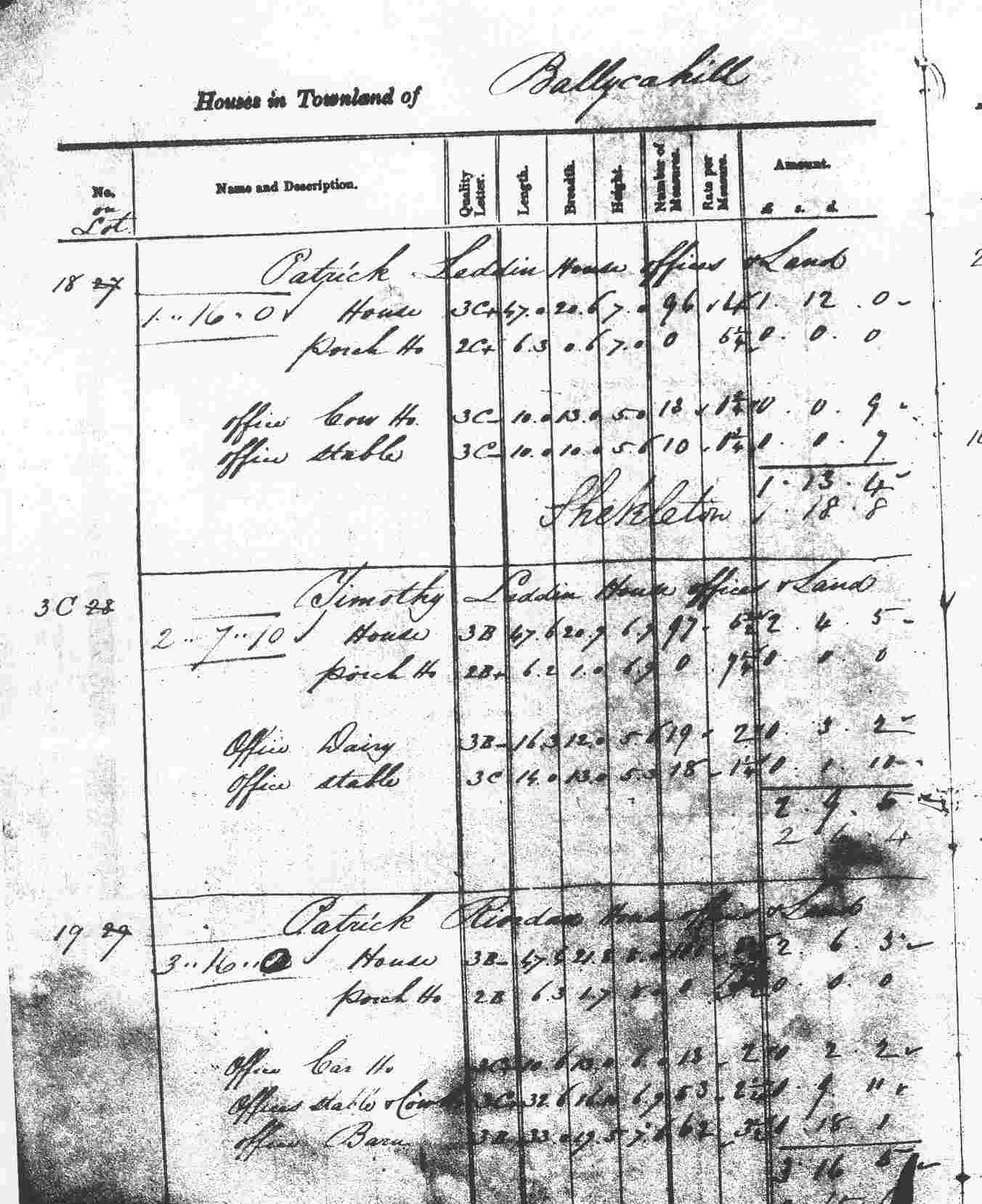 House Book, Ballycahill, Hospital parish

Land books were also created in preparation for Griffiths Valuation. They provide information about the land.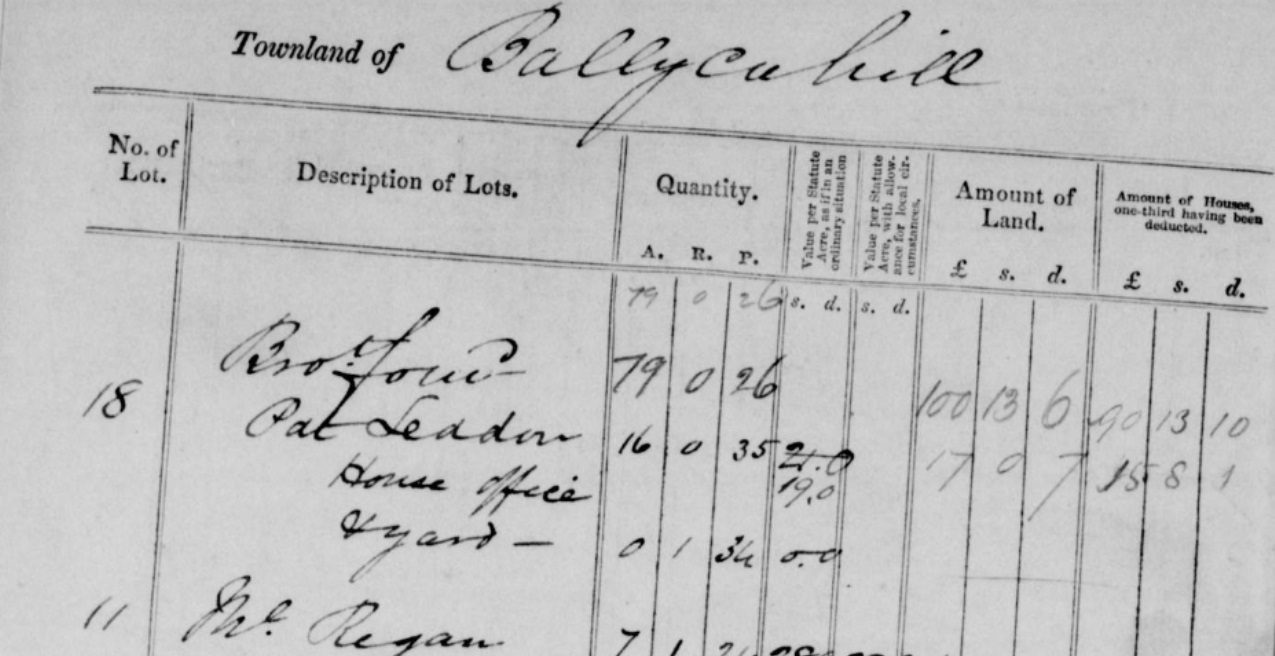 Land Book, Ballycahill, Hospital parish, 1849
Patrick had over 79 acres of land, with a house, offices and yard.

Tenure Books provide information about Patrick Leddin's lease.

Tenure Book, Ballycahill, Hospital parish, 1849

Patrick leased Lot 25 from Standish Grady, Esq, with a house, offices, and land. The annual rent was £22. The lease was for three lives, starting in 1830. A lease of three lives continued for the lives of three specified people, such as Patrick, his son, and a grandchild. The lease expired when the last named person died.

Patrick Leddin is found in Griffith's Valuation of 1851 in Ballycahill and Newtown. He has 16 acres of land in Ballycahill. He is a medium farmer with that quantity of land. Timothy Leddin also has land in the same townland, totaling 24 acres.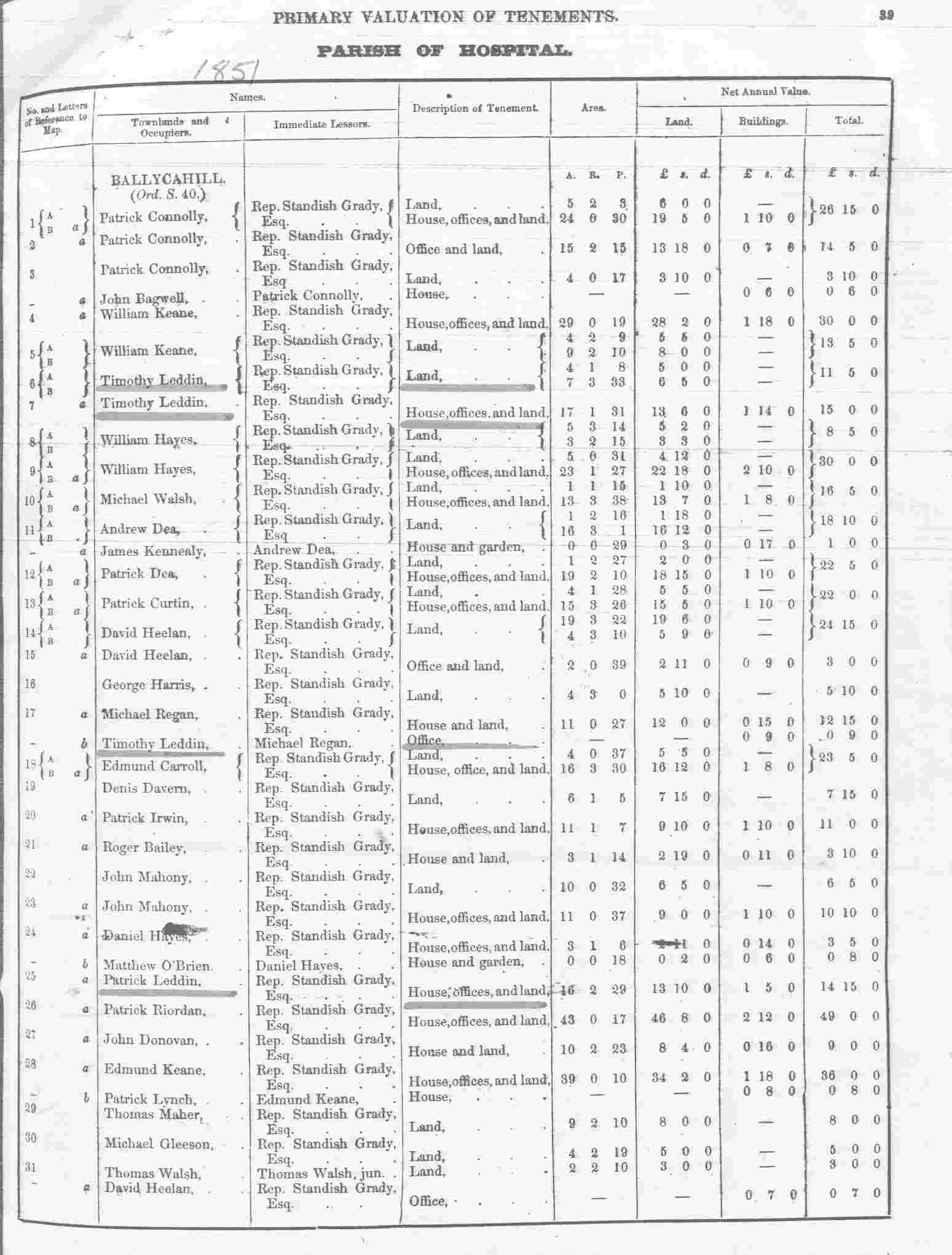 Griffiths Valuation, Ballycahill, Hospital parish, 1851
Patrick also has an office (farm outbuilding), possibly a barn, stable or piggery in the parish of Newtown.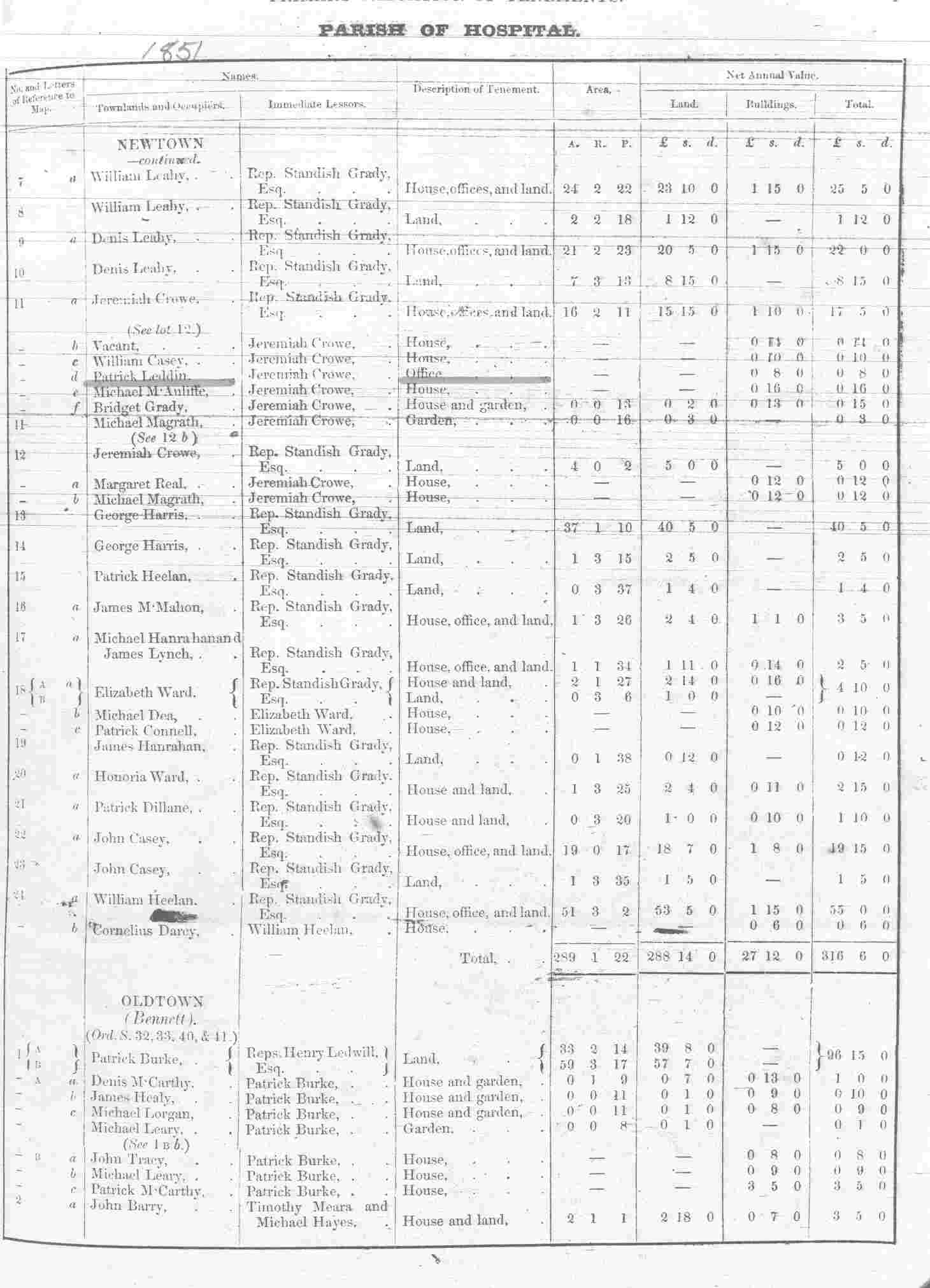 Griffiths Valuation, Newtown, Hospital parish, 1851

Patrick Leddin is next found in Ballycahill in the Valuation Lists in 1862.

Patrick and Margaret had the following children:

1. William, about 1810 in Emly; married Johanna Condon 9 February 1834 in Galbally.

2. Mary Ann, (christened 31 March 1813 in Hospital); married Lawrence Bourke 1 May 1831 in Hospital.

3. Margaret, christened 28 May 1815 in Hospital.

4. Catherine, born in Emly; married John Bourke.

5. Patrick, who married Anne Irwin.

6. Michael, who married Mary Lenihan.

*7. John, who married Mary Morrissy.

SOURCES: Hospital parish register; IGI; Ancestry.com; Griffiths Valuation; House Books; Tenure Books, Land Books, Valuation Lists; death record online - Limerick Research.




THE CHILDREN OF
WILLIAM AND ELIZABETH LEDDIN



William Leddin, was born in about 1750 on a farm near Knocklong; married Elizabeth, the daughter of Patrick; and had these sons:


*1. Patrick, born in about 1782 of Knocklong; married Margaret Gleeson in 1800. Patrick died in early 1867. (Death Registration Index, Kilmallock Registration District, Q1 1867, Vol. 5, Pg. 307 for Pat Leddin, age 75.)

2. Timothy, born in 1792; married Mary Judith Murphy on 26 July 1816 in Emly; died 30 November 1880 in Ballycahill. From the Limerick Evening Post on 13 June 1828: "Yesterday two men, named Timothy Leddin and John Hurley, were taken into custody, charged with being leaders in the late dreadful fight at Knocklong. They were fully committed to the County Limerick Jail by Joseph Gubbins, Esq. of Kilfrush." Timothy Leddin of Hospital is mentioned in the Petty Session Court Records on 21 July 1859 for "being drunk and disorderly on the public road", and had to pay a fine.


3. Michael, may be another child for William and Elizabeth. He may also have been involved in the fighting: From the Limerick General Advertiser 30 November 1819: "Committals to the County Gaol, by Joseph Gubbins, Esq. Michael Leddin, charged with the murder of John Woods."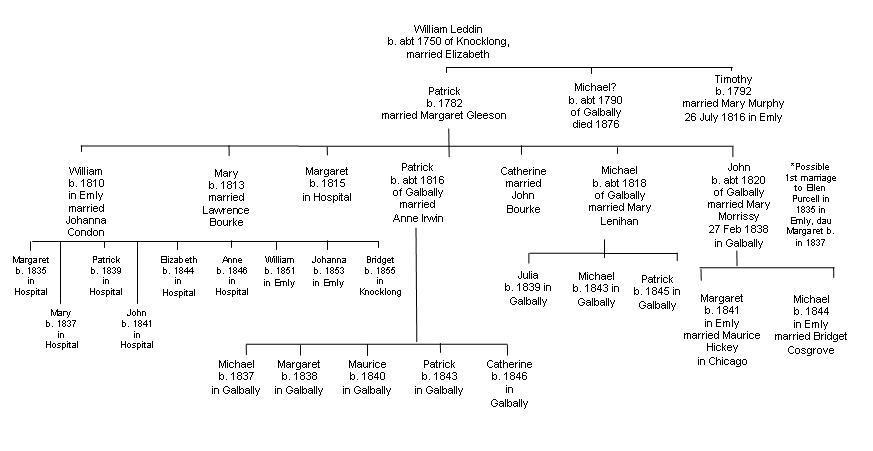 It is possible that William Leddin married again, to Catherine Madden. A gravestone in the Knocklong Cemetery reads: Erected by Catherine Madden alias Lidden in memory of her husband Wm Lidden who died June 29 1808 aged 47 yrs. This is about the right age and location for William.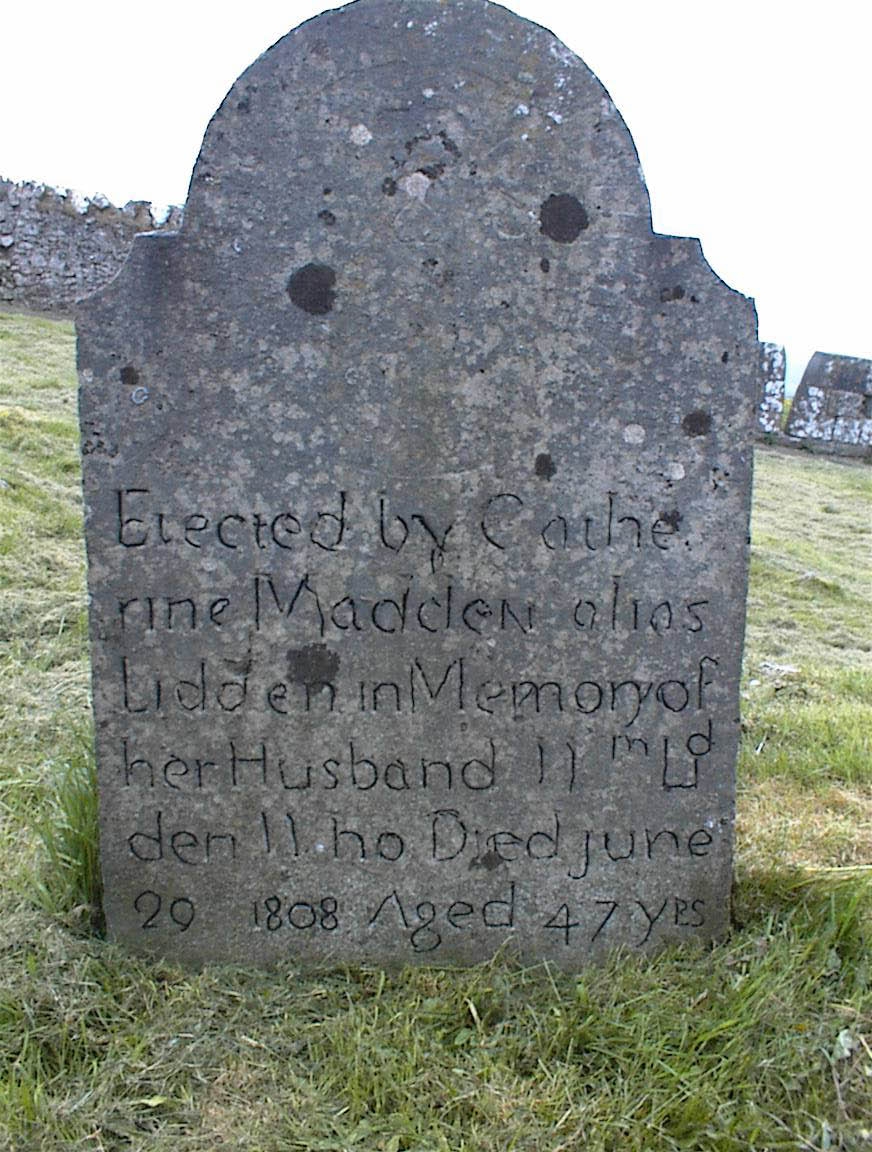 William Lidden's gravestone
Photo taken by Marian Leddin Walters

Another gravestone in the Knocklong Cemetery was erected by William to his brother John, who was born in about 1769:

Erected by Wm Lidden
in Memory of His Brother
John Lidden who
Died August 27 1809
Aged 40 years
My He Rest in Peace Amen


(Knocklong Cemetery; www.historicgraves.com)




If you have additional information about this family, please contact me at alice@boydhouse.com.