THE HICKEYS OF LOUGH GUR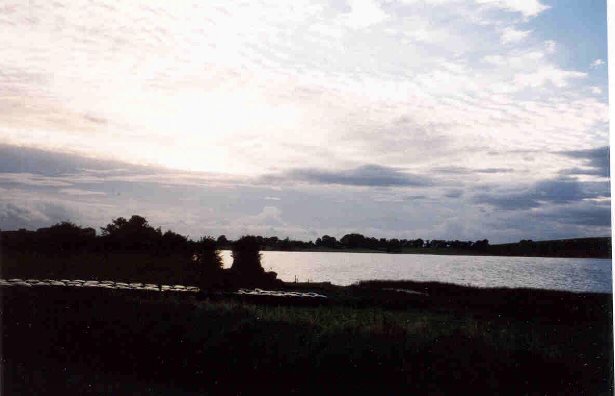 Thomas and Ellen Hickey and their family lived in a small stone house with a thatched roof by Lough Gur, the Enchanted Lake, in County Limerick. The house had 2-4 rooms with two windows in the front. They also had a stable. The family leased Lot 11a, which was about 6 acres from the Count de Salis. Thomas was a small farmer with this quantity of land.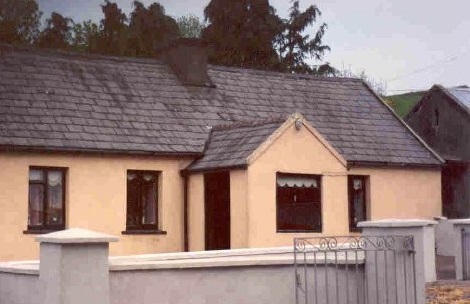 The Hickey's home in Lough Gur
The following Hickey families are found in Knockainy parish during the early 1800s:

John Hickey and Anne Donovan had these children baptised in Knockainy parish:
Mary, christened 11 August 1821
Bridget, christened 26 November 1825

James O'Neill Hickey and Mary Hickey had a child baptised in Knockainy parish:
William, christened 7 January 1816

John Hickey and Mary Slattery had a child baptised in Knockainy parish:
Patrick, christened 22 February 1817

Patrick Hickey married Sally Carroll 1 February 1815 in Knockainy, and had these children, all baptised in Knockainy parish:
Margaret, christened 29 June 1816
Mary, christened 26 August 1818
Catherine, christened 29 March 1820
Bridget, christened 26 January 1822
John, christened December 1823
Michael, christened 5 March 1826
Patrick, christened 4 April 1828
Edmond, christened 24 March 1830
James, christened 4 February 1832 (possible twin)
Edmond, christened 4 February 1832 (possible twin)
Edmond, christened 24 June 1833 (sponsor: Margaret Hickey)
James, christened 7 June 1835 (sponsor: Mary Hickey)
Daniel, christened 19 February 1837
Catherine, christened 27 August 1838 (sponsor: Ellen Hickey)

John Hickey and Anne McCarthy had a child baptised in Knockainy parish:
Anne, christened January 1824
Maurice Hickey married Ellen Sherwin 27 November 1823 in Dromin and Athlacca parish (a neighboring parish), and had these children baptised in Knockainy parish:
Mary, christened 6 December 1824
Thomas, christened 29 September 1827
William, christened 1 January 1830 (sponsor: Mary Hickey)

Matthew Hickey and Eliza Cherry had a child baptised in Knockainy parish:
Mary, christened 7 August 1830

Bridget Hickey of Knockroe townland married John McGrath 27 May 1816 in Knockainy. This is most certainly Thomas' sister, as she is the right age, and the McGraths are found living next to the Hickeys in the land records. The others listed above may be brothers, or even a father for Thomas.


The Limerick Chronicle newspaper in 1838 mentions the Hickeys of Lough Gur:


"Limerick Chronicle 10/03/1838, report, John Hickey struck on the head with a stone by William Hawe, found guilty of manslaughter

County Crown Court – Thursday.

Mr. Sergeant Greene took his seat this morning at 9 o'clock, and was engaged until eleven fiating the presentments. The prisoners were then arraigned , for the first time since the opening of the Commission, and the Long Panel called over, from which the following Jury were sworn – Thomas Travers Adams, John Peppard, Hugh Finch, John Barry, Thomas Bennett, James Barry, Henry Bouchier, Paul Erson, James Ievers, Myles J. Mason.

William Hawe was indicted for that he, on the 16th February, in the 6th of his late Majesty, at Loughgur, did assault John Hickey, giving him a stroke of a stone on the right side of the head, of which he died.

Garrett Punch sworn – Knew John Hickey; he is dead; was returning from a funeral the day Hickey was beat; there were several returning along with him; saw a row on the road between the deceased and a party of men who were with the prisoner; saw the deceased struck, but cannot say the prisoner struck him; he was among the party that were beating the deceased.

Cross-examined – Drank no whiskey that day; did not want it; there was a race after the funeral, but did not wait to see it; there is a public-house near the place where the deceased was beat; did not see a man of the name of Connell strike deceased.

Maurice Hickey sworn – The deceased was brother to witness; knows the prisoner Hawe; saw the prisoner and a man named John Connell strike his brother; the prisoner struck him with a stone which knocked him down; the prisoner struck deceased in the head when down; Connell also struck him; his brother was brought to his sister-in-law's by neighbours that found him on the road; he was afterwards taken to the house of Doctor Fitzgerald, who said his head was fractured, and directed that he should be taken to Hospital, which was done.

This witness's evidence was given in Irish through the interpreter, and previous to being examined, he was asked by Mr. Freeman if he could speak English, in which language he replied "I could not".

Dr. Twaites sworn – The deceased was admitted in the County Infirmary, on the 17th February, 1836; he had an extensive fracture on the right side, of the back of his head; the bones were broken and the brains came out; he died of the wound on the 7th March.

Owen Rourke, policeman, sworn – Is stationed in Bruff; when he received orders to arrest the prisoner, he searched for him, but to no effect.

Constable Chas. Hickson proved to having arrested the prisoner at Rahee, on the 26th last December; when conveying him to prison, he said, without being asked about anything – "If I am transported for this, I'll have revenge for it." The prisoner was found lying under some straw, naked.

Doctor Gerald FitzGerald sworn – The witness examined in the Irish language was for some time in his employ; often heard him speak some sentences in English.

James Raleight, John Dwyer, and Daniel Dwyer were sworn for the defence, with a view to shew that the prisoner was not present when the deceased was struck. Guilty of manslaughter. To be imprisoned six months at hard labor."
Thomas Hickey appears in the Tithe Applotment of 1833 in Knockrough townland. John McGrath is listed in the next lot.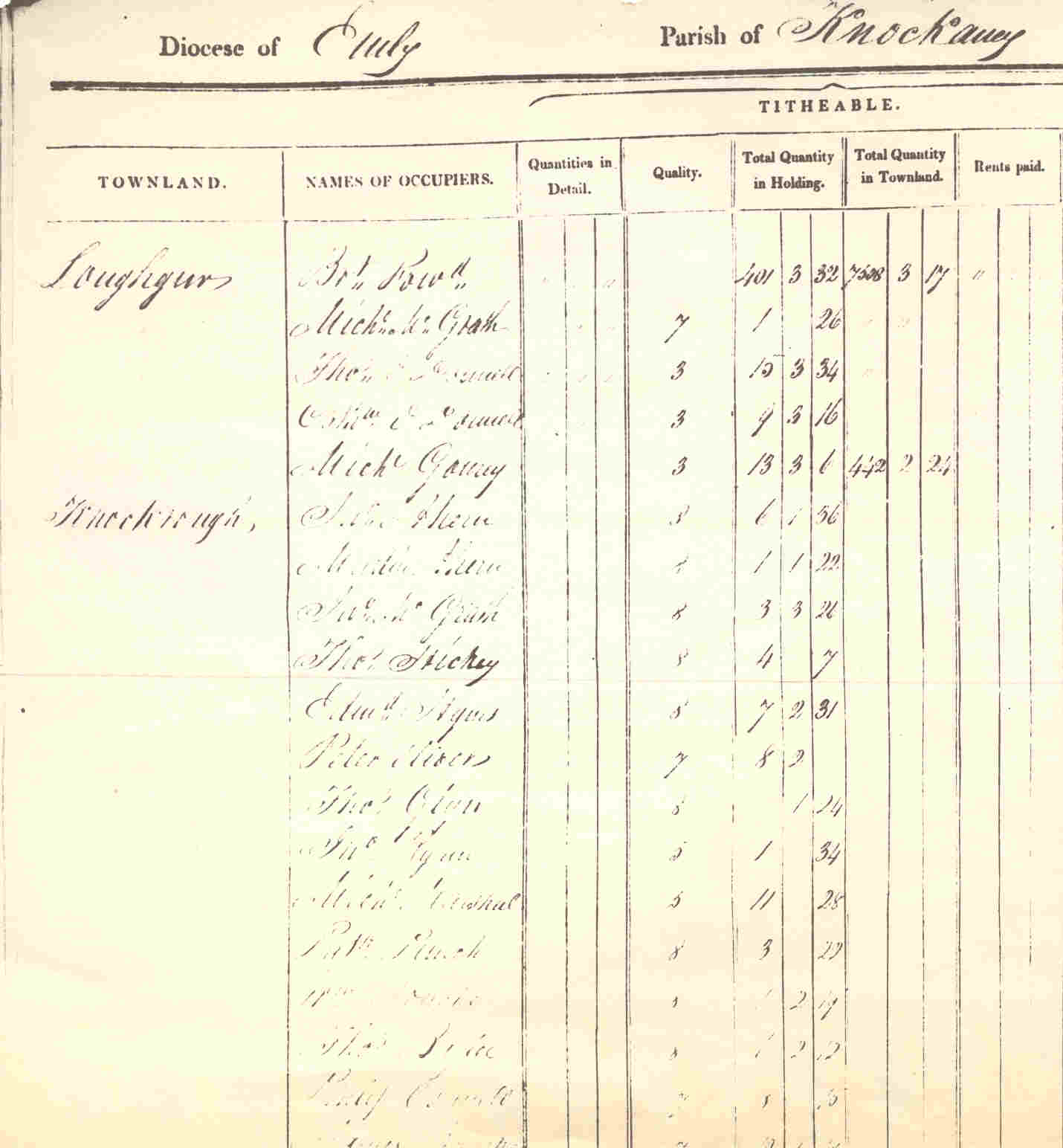 Tithe Applotment, Knockrough, Knockaney parish, 1833


The occupants of Knockrough townland at that time were:
John Ahern
Martin Ahern
Jno McGrath
Thos Hickey
Edmd Hynes
Peter Oliver
Thos Glyn
Jno Ryan
Mich Marshal
Patk Punch
Wm Roache
Thos Baylee
Philip Connell
James Bourke
Darby Ryan
James Rawleigh
Mich Rawleigh
Wm Punch
Wm Quilty
Jno Dooley
James Downes
Mich Farrell
Garret & Edward Fitzgerald
James Brennan
Ptk Pillion
Jno Brennan
Edmd Hayes
The Hickeys of Lough Gur are mentioned in a newspaper article in the Limerick Leader on 7 March 1845, when Maurice was a witness at a murder trial:

"
Maurice Hickey sworn and examined by Mr. Plunkett - Lives near the Gorey's; knew the deceased, with whom he walked towards the cross in company with his mother; on getting to the cross he saw a number of people there doing nothing; saw Punch, Healy, and Molony, wheeling; saw Molony strike the deceased. (Here he identified the Punche's, Molony, and Healy.)
" (
Limerick Leader, 7 March 1845
) Wheeling was a ritualized form of taunting and challenge used in faction fights.
The House Books created in 1848 in preparation for Griffiths Valuation show Thomas Hickey in Lough Gur, with Bridget McGrath next door.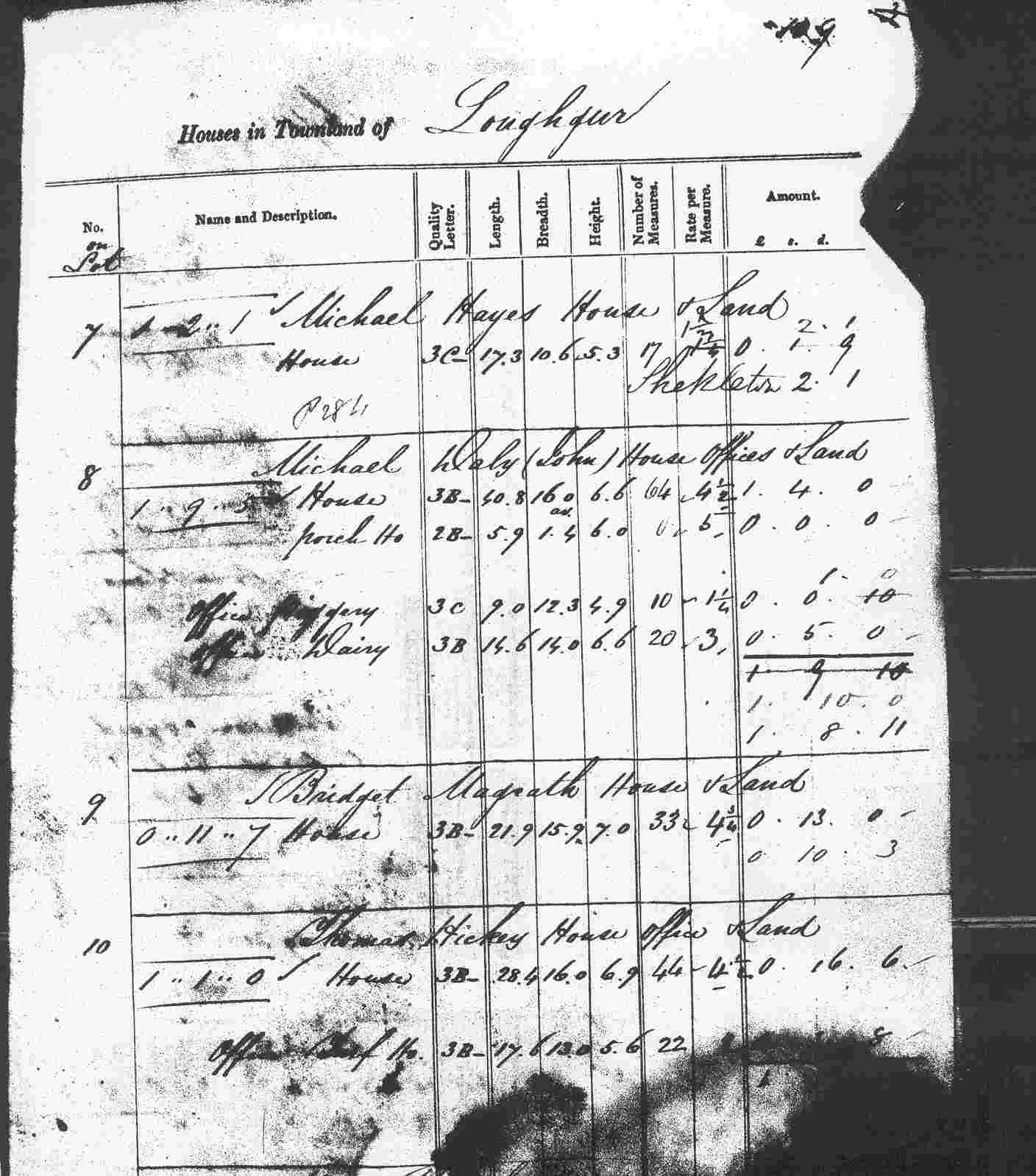 House Book, Loughgur, Knockaney parish

Thomas Hickey has a house that is 28.4 feet long by 16 feet wide, and 6.9 feet high. The house is rated 3B-. That means it is a thatched house of stone walls with mud mortar, or mud walls of the best kind. The condition is medium - deteriorated by age, and not in perfect repair. He also has a turf house that is 17.6 feet long by 13 feet wide, and 5.6 feet high. The property included a house, outbuildings, and land.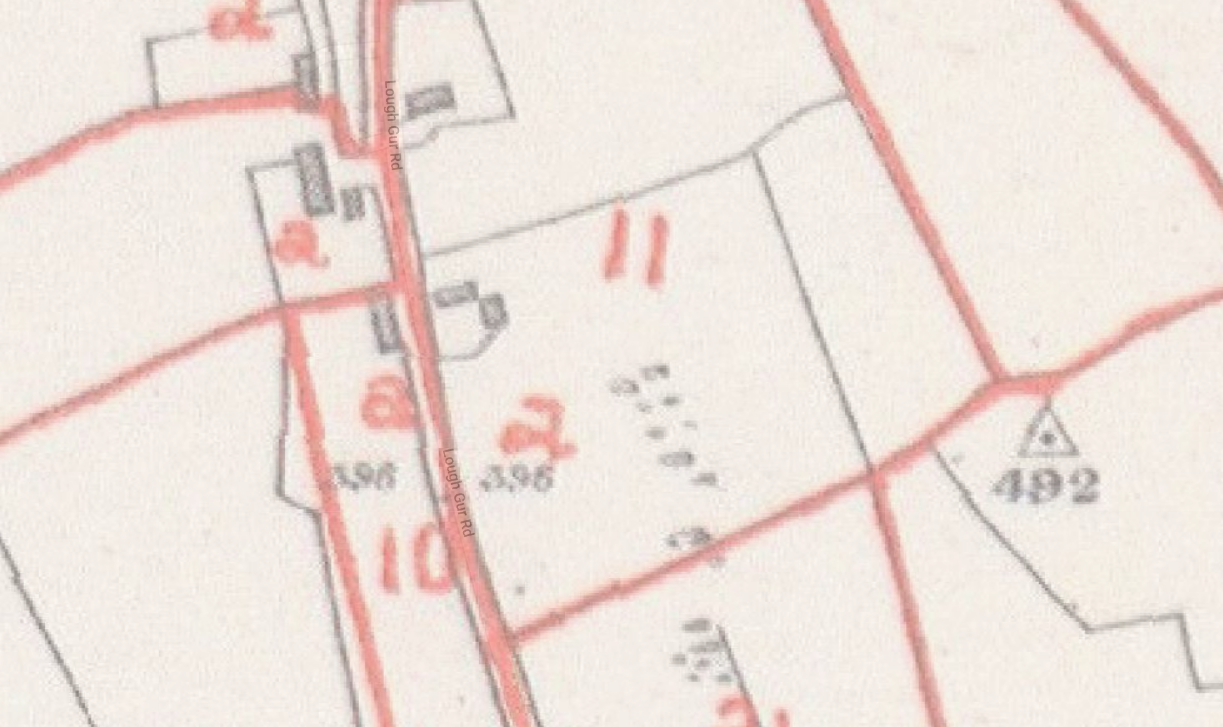 Ordinance Survey map showing the Hickey property in Lot 11.
This map was created in preparation for Griffiths Valuation in 1851.
The detail shows the location of houses and outbuildings.



The Tenure Book created at the same time, on 16 November 1848, shows that Thomas Hickey leased the house and land from the Count de Salis. The lease was created in 1809, and was for the longer of 31 years or three lives. Since the time period of 31 years had passed in 1840, and Thomas Hickey must have been a small boy of about nine years old when the lease was created, he must have been listed as one of the lives by his father or perhaps grandfather. This type of lease had been very common in Ireland in the 1700s, but was becoming rare in the 1800s, as landlords sought short-term leases.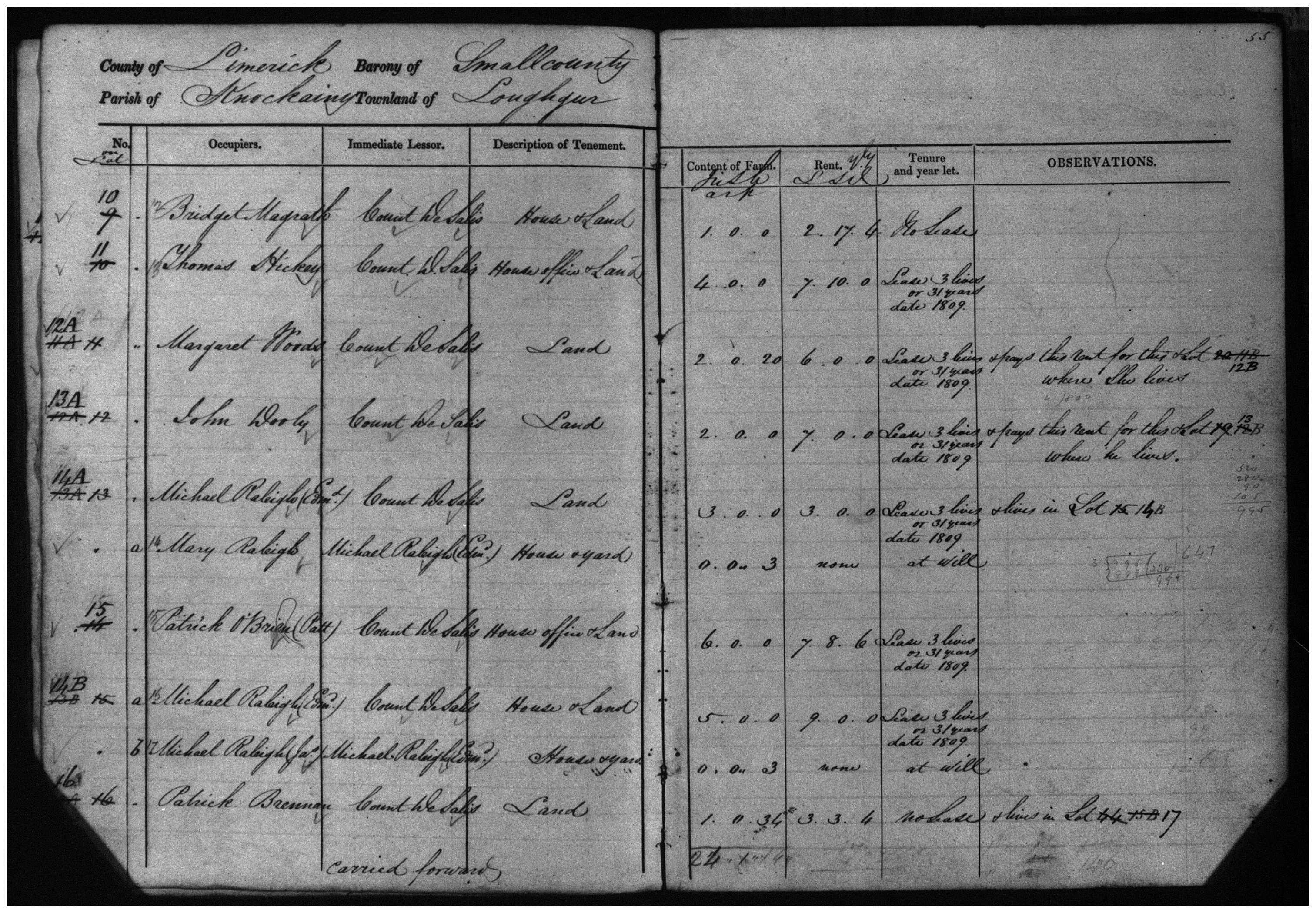 The other piece of property leased by a Thomas Hickey is also found in the House Books. It is a house only, with no land. The house is 23.9 feet long by 12 feet wide, and 5.6 feet high. It is rated 3C-. That means it is a thatched house of stone walls with mud mortar, or mud walls of the best kind. The condition is old and dilapidated, scarcely habitable. The house was leased from Patrick Gourey, at will. This was a lease for the house only, with no land. Patrick rented the house, offices and land from the Count de Salis.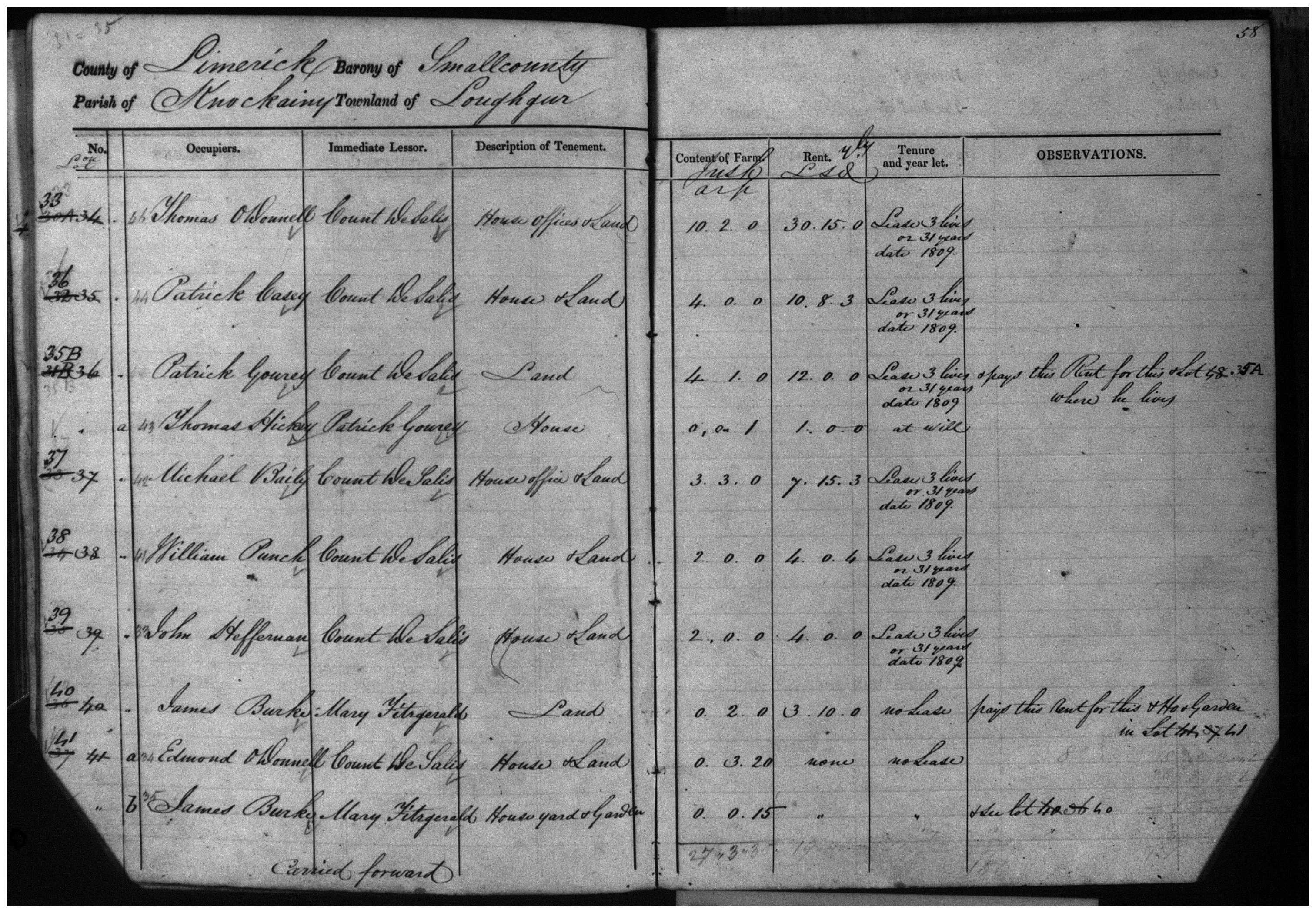 Tenure book - Thomas Hickey rented the house at will, not on a long-term lease.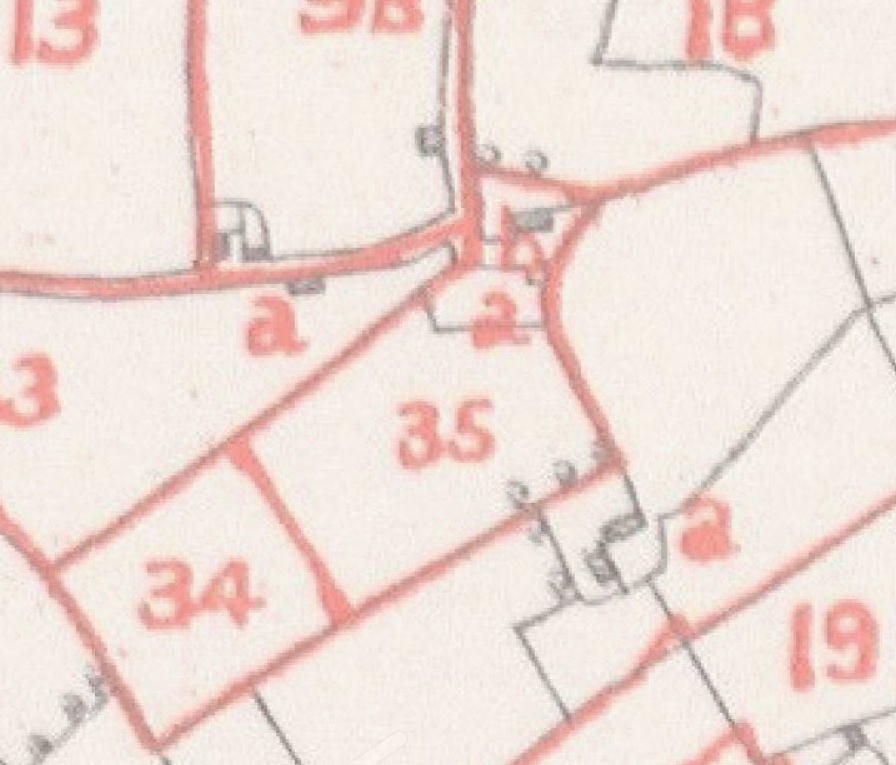 Ordinance Survey map showing the Hickey property in Lot 35b.
This map was created in preparation for Griffiths Valuation in 1851.
The detail shows the location of the house on the lot.

The fact that Thomas Hickey leased two houses in 1848 leads to the possibility that the Thomas Hickey listed in the Tithe Applotment in 1833 was really Thomas Hickey's father, with the same name, and that Thomas Senior and Thomas Junior each occupied a house in 1848. The smaller house with no land may have been occupied by the elder Thomas Hickey, and the house and farm occupied by the younger Thomas Hickey and his family. In considering the naming patterns for the family, our Thomas' first son was Patrick, and his second son was Thomas. His first daughter was named Mary. Bridget, his sister, had a first son named Thomas and a first daughter named Mary. His possible brother, Maurice, had a first son named Thomas and a daughter named Mary. Another potential brother, John, had his first daughter named Mary. It is worth considering the possibility that our Thomas' parents may be Thomas and Mary. The three lives lease created in 1809 would provide information that may resolve the question if it can be found in estate records.


The landlord, Count de Salis has been described as a kind and lenient landlord: "The Lough Gur estate fell into the hands of the Count de Salis and he proved himself a kind and just landlord to his tenants.
He was well known for his leniency to his tenants. He built many houses in his estates and the tenants afterwards became the possession of those houses when the estate was divided." (The Landlord: Count del Salis; www.duchas.ie)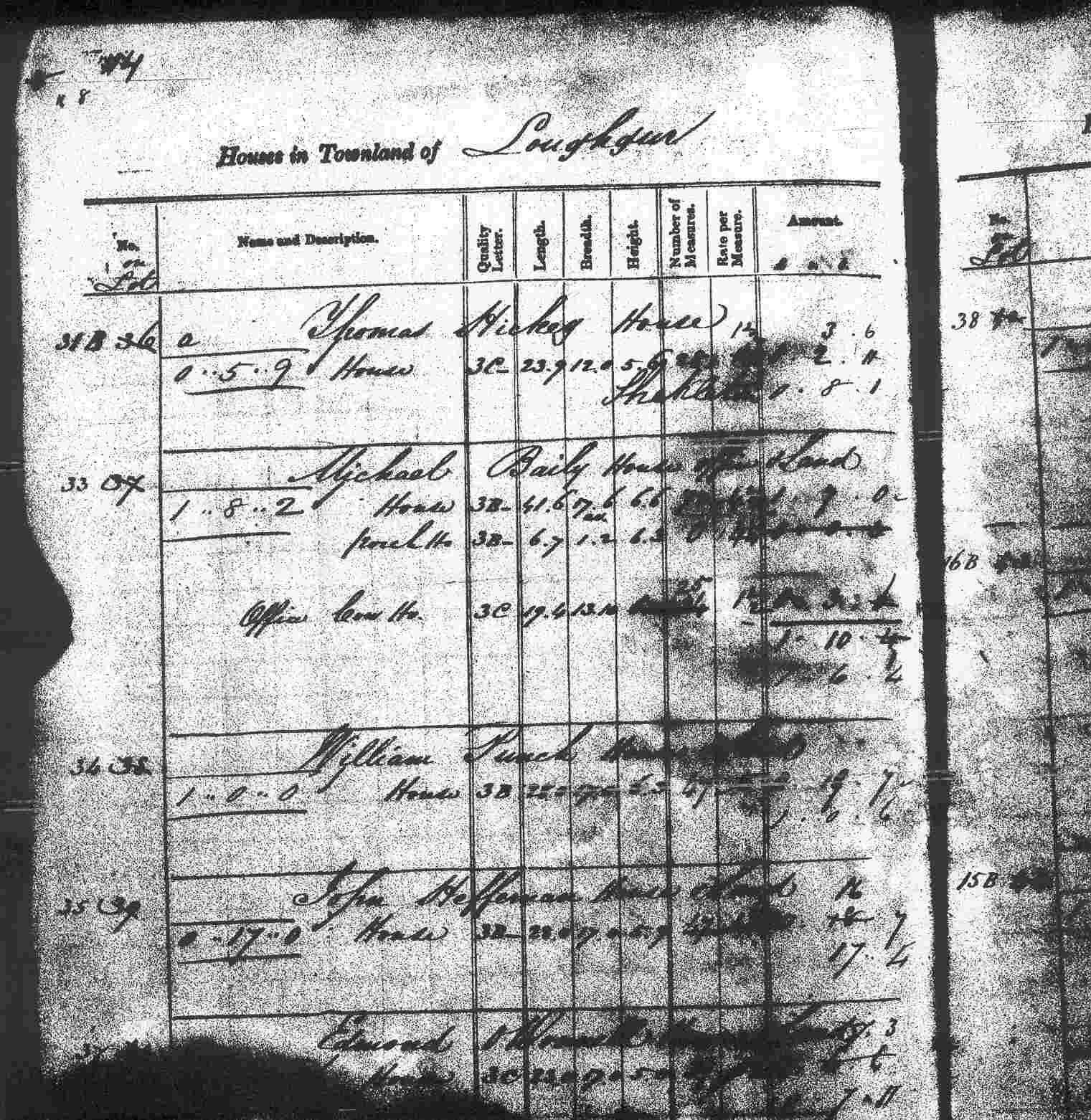 House Book, Loughgur, Knockaney parish


In Griffiths Valuation of 1851, the Hickeys are found on two pieces of property, in lot 11a and lot 35a. In lot 11a, Thomas is renting a house, office and just over six acres of land from the Count de Salis. Bridget McGrath is show in Lot 10a. In lot 35a, Thomas is renting a small house only (worth eight shillings) with no land, from Patrick Gourey. This is the old, dilapidated property shown in the House Books.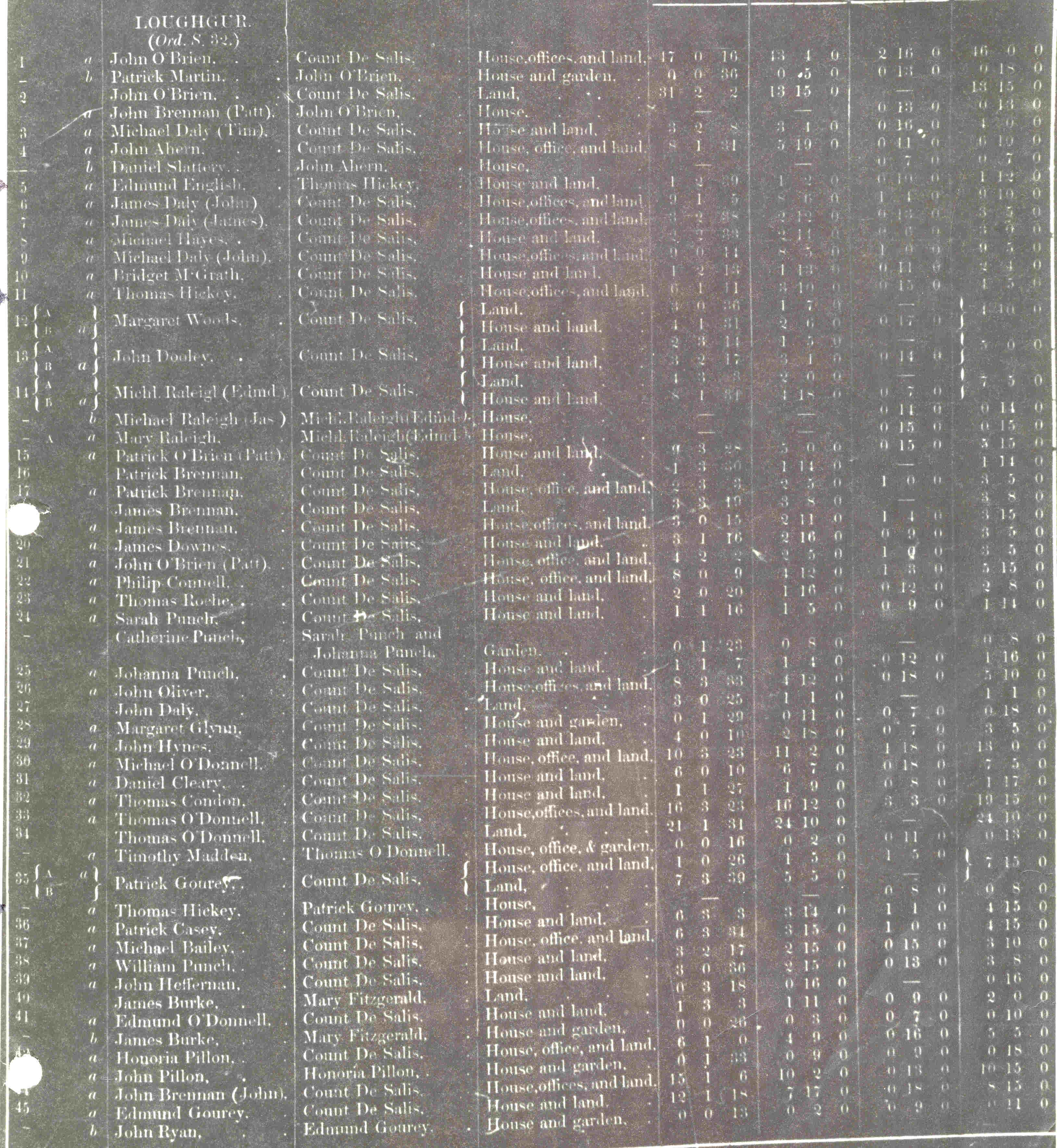 Griffiths Valuation, Loughgur, Knockaney parish, 1851
Their neighbors were the Dalys, the O'Donnells, and McGraths. The Dalys and the McGraths were sponsors at the baptisms of the Hickey children. Another neighbor was Edmund English, who leased a small lot from Thomas Hickey.

The land valuations continued, and in 1862, Ellen Hickey is shown renting the house, offices and land. Thomas must have died between 1851 and 1862, and left Ellen as head of household. The smaller house is still shown as being rented by Thomas Hickey. This cannot be Thomas's son, Thomas, as he emigrated to America in 1857, had children in Chicago, and died in Chicago in 1865. Patrick Hickey's son, Thomas, who later inherited the farm is still too young to be the Thomas Hickey listed, as he was only about seven years old.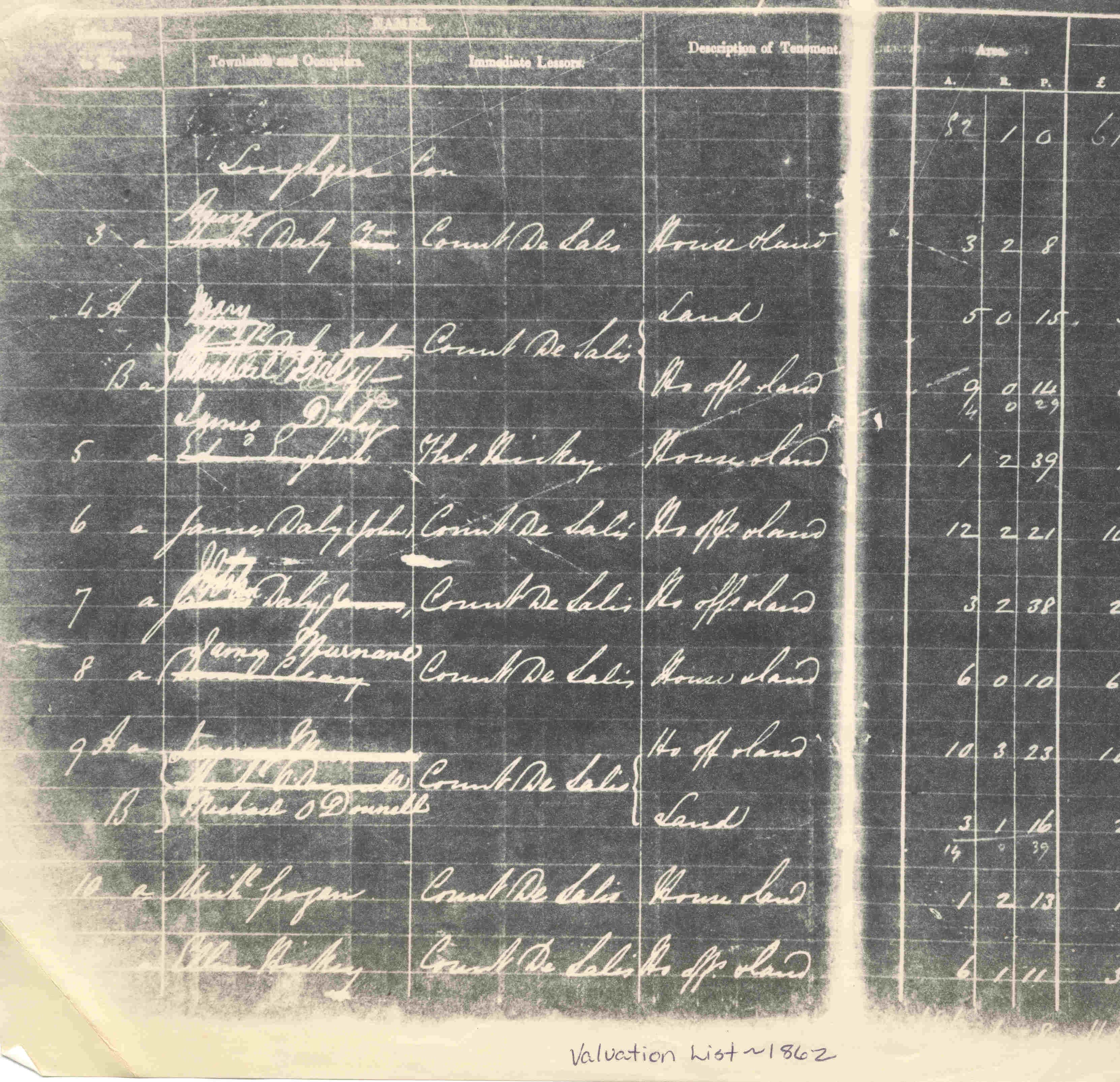 Valuation List, Loughgur, Knockaney parish, 1864

Ellen is still shown on the same property in 1864, 1865, 1870 and 1873. The smaller house is still rented by Thomas Hickey. In 1870, Thomas Hickey is lined out on the valuation, and the house is shown as down. Thomas may have died or moved in with family.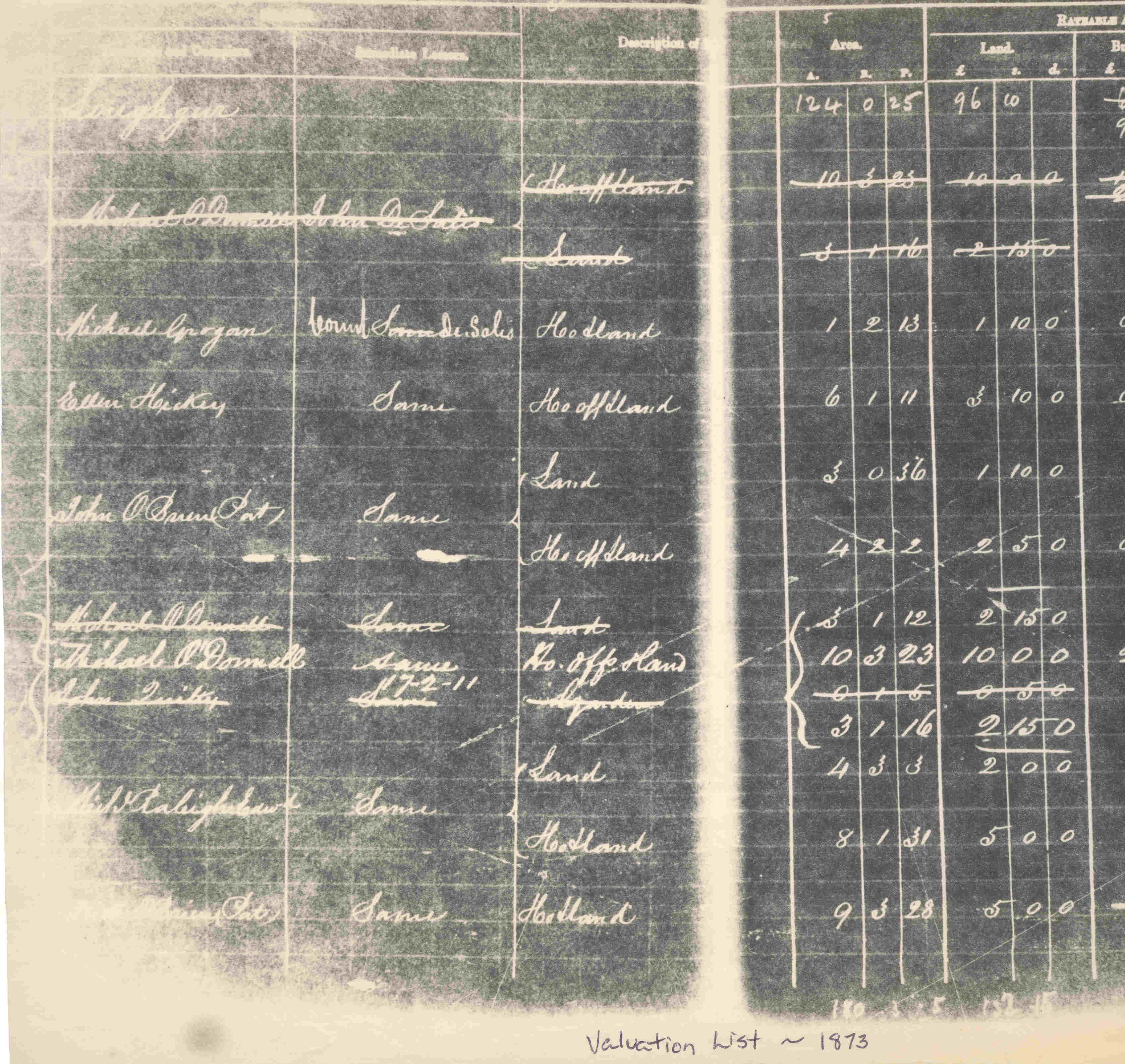 Valuation List, Loughgur, Knockaney parish, 1865-1873

In 1889 Ellen Hickey is crossed out, and the land passes to Thomas Hickey. This Thomas (born 1855) is the oldest son of Patrick Hickey, Thomas and Ellen's oldest son. Patrick had died of bronchitis in 1867.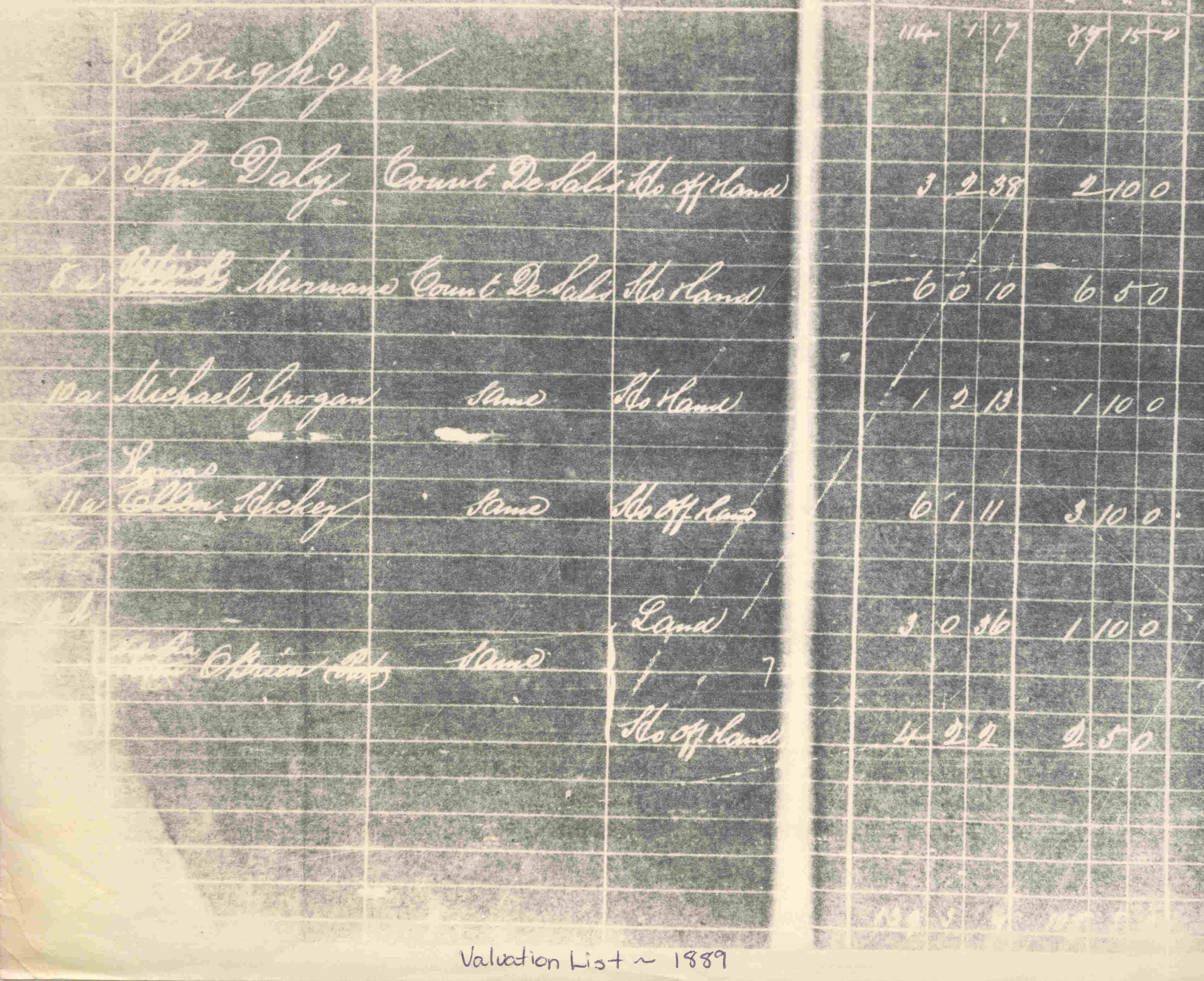 Valuation List, Loughgur, Knockaney parish, about 1889

Lot 11a passed from Thomas Hickey to Ellen Hickey, his widow, to Thomas Hickey, their grandson. It then passed to Thomas' widow, Mary, and then to Michael Hickey. The land still belongs to the Hickey family. It is currently owned by Thomas Hickey, a great-great grandson of our Thomas Hickey. He and his family live in the house, which he says is about 200 years old. The walls are of thick stone, and a beam with hooks for hanging hams is high above the fireplace. On the hill near the house, under a berry bush, is the foundation of the old house, which Mr. Hickey says is probably 400 years old or more. The Hickey family is considered to be one of the oldest names in the town, and has been there as long as anyone can remember.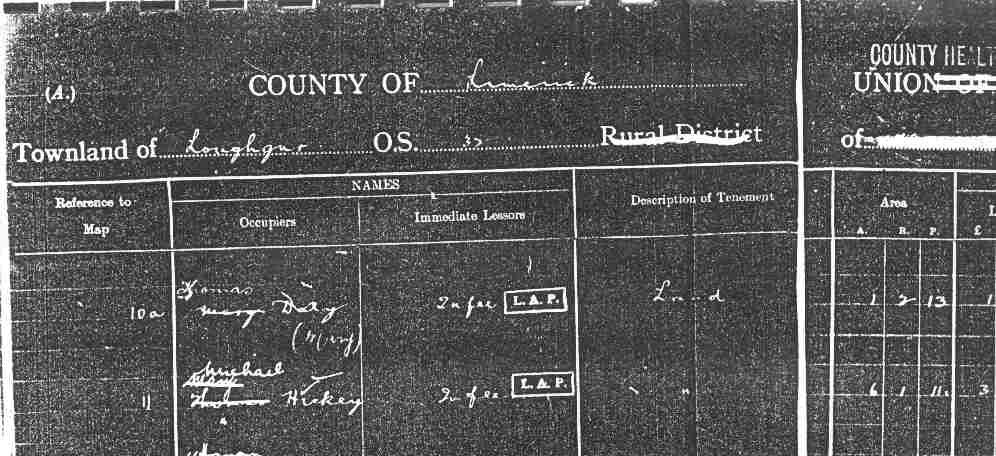 Land Valuation list of 1933-1940, showing Lot 11 passing from Thomas Hickey to Mary Hickey and then Michael Hickey

Lough Gur is a flat, silvery lake of about four miles in circumference. It has two beautiful islands. The ruins of a castle, Bourchier's Castle can be found in a farmyard next to the lake. A description of Lough Gur is given in the book "The Farm by Lough Gur" by Mary Carberry. This autobiographical book describes the life of a young girl, born in 1858, who grew up by Lough Gur. Her father was John O'Brien, a close neighbor of the Hickeys. Tom Hickey, Thomas and Ellen's son was the head man on the O'Brien's farm. She describes Lough Gur in this way: "When I think of home I see first Lough Gur, lying in summer sunshine like a bright mirror, in which are reflected blue sky, bare hills, precipitous grey rocks and green pastures dotted with cattle and sheep; then a small white house, half-hiding the farm buildings behind it. Lough Gur with its ruined castles; Knockadoon and Knockfennel with their caves ancient forts; the stone-circles, the cromlechs and gowlauns were enchanting places to play in. The green hills were covered with sheets of ragweed and willow herb, loosestrife and furze, tiny pansies in the short turf, and bog cotton. Lough Gur dominates the scene. It was to us a personality loved, but also feared. Every seven years, so it is said, Gur demands the heart of a human being. Drownings were not infrequent and, as the bodies of the drowned were sometimes not recovered, Gur was said by some to be a bottomless lough. In the lake is Knockadoon hill, joined to the land by a causeway built on the isthmus, once guarded by two fortresses where now only one, the ruined Black Castle, remains. Sometimes we children climbed by a steep and stony way to the summit of Knockadoon, where, when father was a boy, eagles made their nest and flew about the hills searching for leverets and newborn lambs to feed their young. From the top of Knockadoon we could see Garret Island, interesting for its prehistoric remains which were visited from time to time by antiquaries who gave my mother curious implements of the stone age in return for her hospitality."


Lough Gur is the site of a major archeological find. A Neolithic (about 3000 B.C.) settlement site was found in the light limestone soils around Lough Gur. In Lough Gur, farmers from Neolithic into Bronze Age times, and herdsmen, lived on the same sites in dwellings of stone and sticks. Other Lough Gur finds include Bronze Age pottery, and Irish ritual circles, and pillarstones. In Lough Gur townland is a National Monument, a wedge-shaped gallery grave, in which were buried more than twelve individuals. Mary Carberry recounts local beliefs about ancient peoples: "Lough Gur has been called the Enchanted Lake; some say that in ancient days there was a city where the lake is now, before an earthquake threw up the hills and filled the hollow with water so that the city was submerged. The hills round Gur are bare of trees, but once they were covered with forest. Great giants, who were among Ireland's first people, hunted in the woods. On Baile-na-Cailleach one of these giants lies buried in a stone coffin with a long gold sword beside him. Old people who lived on the shore believed that the giants built the stone circles which stand near the lake, for who but giants could move such great stones?"


Lough Gur townland is in the parish of Knockainy. Knockainy (or Aney) is a parish in Smallcountry Barony, in County Limerick. In 1837, Knockainy had a population of 4542 inhabitants. Knockainy takes its name from Cnoc Aine, which means the hill of Aine. In Irish mythology, Cnoc Aine is the Otherworld seat of the sun-goddess, Aine. Until 1879, men used to bring flaming cliara (bunches of hay and straw on poles) to the summit of Cnoc Aine. Then they would visit villages, fields, and herds to bring good luck. The cemetery sits atop the hill overlooking the ruined castle of the Ormonds.


Lough Gur had its own legend. Gerald the Rhymer, Earl of Desmond, who disappeared in 1398, is said to sleep beneath its waters. Every seventh year he emerges to ride the moonlit ripples of the lake, on a horse with silver shoes.


There were also many local beliefs and superstitions associated with holidays. May-Eve was supposedly a night when evil powers were most powerful. Mary Carberry recounts the stories she heard on a May-Eve from Tom Hickey (Thomas and Ellen's son):


"Tis not the Good People I'd be in dread of in the dark of night," Tom told them, "but to hear the cry of the Ould Kings. There's them that thinks they'll be on the move once more. The last time was in '48. My father was on the top of Knockfennel, tending the Bel-fire with a score of the neighbors when the cry of the Ould Kings struck upon them. It came rolling like thunder over the mountains from south to north, from east to west it rolled, from sea to sea! And the ground heaved and broke, and rising from the clay came the army of the dead. Ould warriors were there with their ould war-horses; foot soldiers and trumpeteers and drummers and all, waiting for the word of command! Up the Shannon it came, along the rally and over Lough Gur, loud as judgement-day, so everyone, living and dead, must hear the cry of the Ould Kings. Then the army gave an answering shout, clashing their shields and rattling their swords, and letting out the ould war-cries of the people." "Whatever for?", asked Bridgie, who was rather matter-of-fact. "There's but the one thing," Tom answered, "and that's Ireland! 'Twas to encourage the living to fight for her like them ould warriors fought."


On Halloween night chairs were set out for deceased family members to return to their old homes in comfort. Mary Carberry remembers, "Father read the litany for the Dead. We made the responses in hushed voices as if we were listening for the rustling of home-faring souls. Father prayed for his own dead and for mother's by name. He prayed for Tom Hickey's father:



Eternal rest grant to them, O Lord
And may perpetual light shine upon them."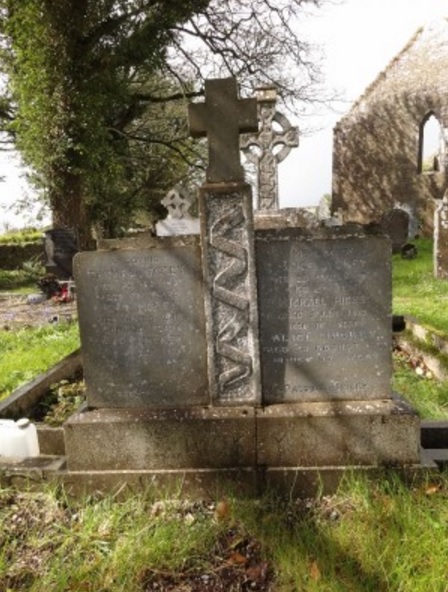 The Hickey family gravestone in New Church, Lough Gur
The first person on the stone is Thomas Hickey, born about 1853, died 1931.
This is most likely where the other Hickey family members are buried.
(http://historicgraves.com/new-church-lough-gur/li-lgtn-0035/grave)



The O'Hickeys were formerly Chiefs of a district in the vicinity of Killaloe, County Clare, also a cantred in the barony of Upper Connello, County Limerick. They were hereditary physicians to the O'Briens, Kings of Thomond, to the MacNamaras, lords of Hy-Caisin, and to the O'Kennedys of Ormond. Several of them are said to have compiled and translated valuable medical works, including a Latin Medical work, "The Rose". The O'Hickeys possessed a copy of "The Rose", a celebrated medical work compiled in 1344. The Hickeys are one of the Milesian families of Ireland, and it is said that a banshee attends the death of a member of the family.




This ordnance survey map shows the area of Knockroe in Lough Gur, where the Hickeys lived. The names of their neighbors have been added from Griffiths Valuation. Griffiths Valuation was a land census taken in 1851. This shows what the neighborhood was like when Maurice Hickey was a boy, at about 12 years old. Many of his neighbors acted as witnesses for family christenings. The Hickey family is found in Lots 11A and 35B, and also leasing to neighbor Edmund English in Lot 5A. Bridget McGrath, Thomas' sister occupied lot 10a. John O'Brien, whose daughter wrote "The Farm by Lough Gur" is found in Lot 1.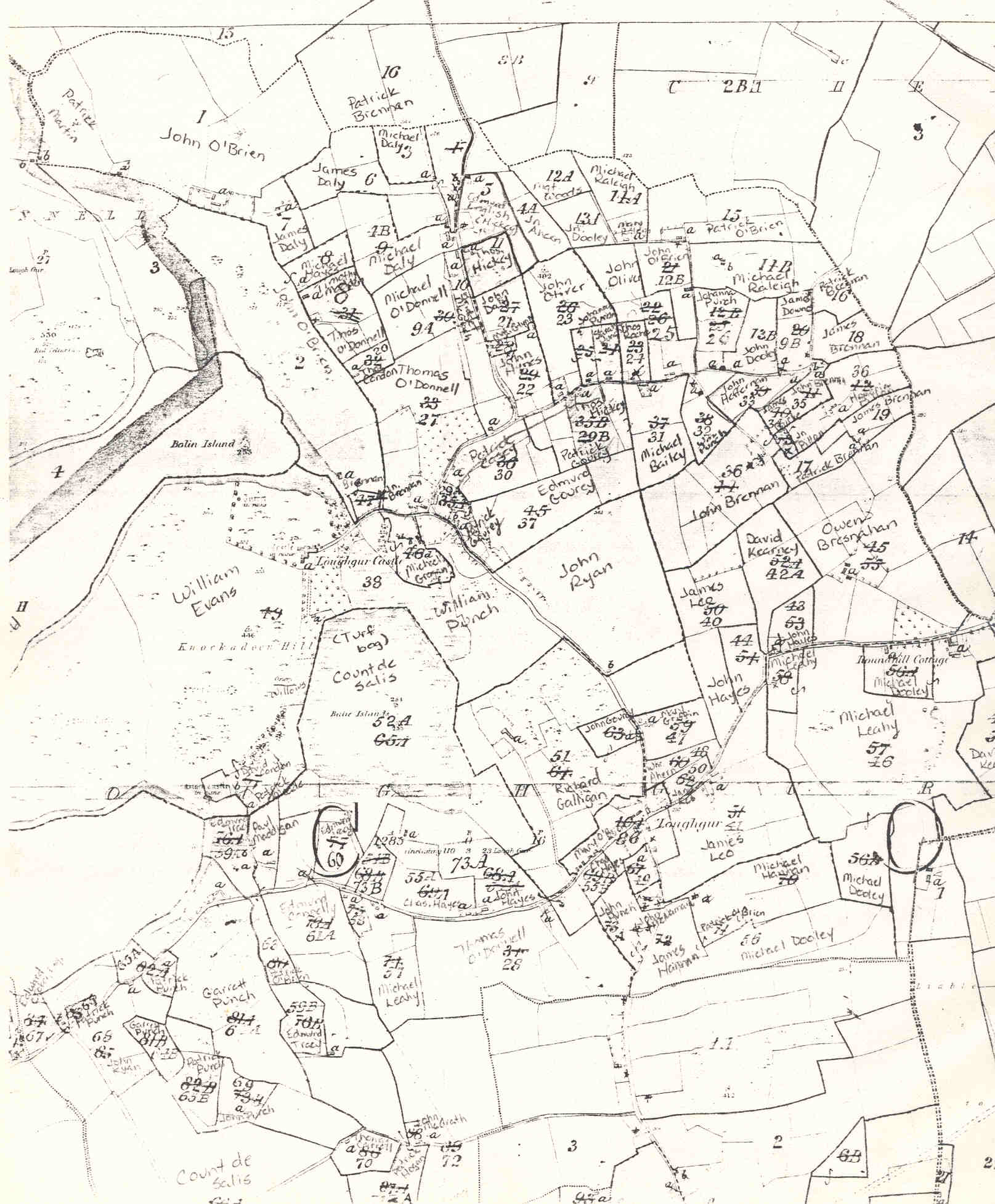 The occupants of Lough Gur townland in 1851 as found in Griffiths Valuation were:
John O'Brien
Patrick Martin
John Brennan (son of Patrick)
Michael Daly (son of Tim)
John Ahern
David Slattery
Edmond English
James Daly (son of John)
James Daly (son of James)
Michael Hayes
Michael Daly (son of John)
Bridget McGrath
Thomas Hickey
John Dooley
Margaret Woods
Michael Raleigh (son of Edmund)
Michael Raleigh (son of James)
Mary Raleigh
Patrick O'Brien (son of Patrick)
Patrick Brennan
James Brennan
James Downes
John O'Brien (son of Patrick)
Phillip Connell
Thomas Roche
Sarah Punch
Catherine Punch
Johanna Punch
John Oliver
John Daly
Margaret Glynn
John Hynes
Michael O'Donnell
Daniel Cleary
Thomas Condon
Thomas O'Donnell
Timothy Madden
Patrick Gourey
Thomas Hickey
Patrick Casey
Michael Bailey
William Punch
John Heffernan
James Burke
Edmond O'Donnell
Hanoria Pillon
John Pillon
John Brennan (son of John)
Edmond Gourey
John Ryan
Michael Grogan
David Condon
Daniel McNamara
Denis and Mary Halvey
John Brennan (son of Patrick)
William Evans
John Dooley
James Leo (son of Patrick)
David Kearney
Michael O'Brien
John Hayes
Owen Bresnahan
Michael Dooly
Michael Leahy
Mary Griffin
William Ahern
James Leo (son of James)
John Gourey
Richard Galligan
Michael Grady
Phillip Dooly
Patrick Meade
David Condon
John Hayes (son of Charles)
Charles Hayes
Michael Hannan
Patrick O'Brien (Hannan)
James Hannan
John Punch
John McNamara
John Condon
Edmund Tracy
Paul Maddigan
Edmund Connolly
James Fitzgerald
Patrick O'Brien (son of John)
Garrett Punch
Patrick Punch
Edward J. Croker, Esq.
John Ryan
Sarah Kelly
Catherine Punch
Thomas Carroll
Patrick Hogan
John McGrath
Johanna Kelly
Mary Casey
Patrick Hennessy
Thomas Hayes (Batt.)
Hames Fitzgerald
Timothy Mulcahy
Michael Ryan
Edmond Ryan
Patrick Kennedy
Thomas Hayes (Michael)
Patrick Carroll
Michael Dwyer
Patrick Dooly
Thomas Dooly
Michael McCann
Timothy Dooly
Margaret Dooly
Edmund Connolly (son of Edmund)




FAMILY GROUP RECORD OF
THOMAS AND MARY HICKEY



This family group is speculative. Based on the family naming patterns, and the property occuped by Thomas Hickey, it is possible that the parents were Thomas and Mary Hickey. Their children would be:



1. Bridget, born in about 1795; married John McGrath 27 May 1816 in Knockainy, listed as being of Knockroe township; had children Mary (1817), Bridget (1820), Thomas (1822), and Ellen (1825); died between 1851 and 1862.


2. Thomas, born in about 1800; married Ellen Allen 8 August 1823 in Bruff; of Lough Gur; died between 1851 and 1862.


3. Maurice, born in about 1802; married Ellen Sherwin 27 November 1823 in Dromin and Athlacca; had children Mary (1824), Thomas (1827), and William (1830).


4. John, born in about 1804; married Anne Donovan; had children: Mary (1821) and Bridget (1925); died of head injuries from a fight in Lough Gur 7 March 1836, brother Maurice testified at trial in 1838.

SOURCES: Tithe Applotment; Griffiths Valuation; Valuation Lists; 1901 census; The Lough Gur & Districk Historical Society Journal, 1988; Knockainy parish register; Limerick Ancestry at www.limerick.brsgenealogy.com; Limerick Journal at http://www.limerickcity.ie/Library/LocalStudies/ObituariesdeathnoticesetcfromtheLimerickChronicle/1838/.


If you have additional information about this family, please contact me at alice@boydhouse.com.
Return to table of contents