THE CHILDREN OF
THOMAS HICKEY AND ELLEN ALLEN
Thomas Hickey married Ellen (sometimes called Nell) Allen 26 August 1823 in Bruff, County Limerick, Ireland. Thomas was listed as being of Lough Gur, and Ellen was of Bruff. They lived a few miles east in the townland of Lough Gur, Knockainy parish.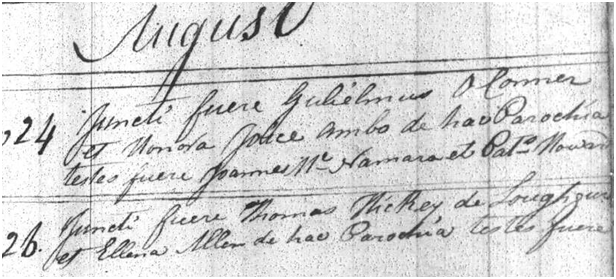 Marriage record for Thomas Hickey and Ellen Allen in Bruff:
"Juncti fuere Thomas Hickey de Loughgur et Ellena Allen de parochia"

Thomas and Ellen had the following children:


1. Mary was christened 11 January 1825 in Knockainy. She died young.


2. Patrick was christened 4 March 1827 in Knockainy. He married Bridget Dooly 7 February 1853 in Knockainy, and had children: Thomas (1853), Mary (1854), Maurice (1857), John (1858), David (1861), and Bridget (1866). Patrick's occupation was a thatcher. He died 18 October 1867 in Lough Gur, after having bronchitis for nine months. Patrick Hickey of Loughgur is mentioned in Petty Session Court records in 1866 when he "did on the 18th October 1866 assault one Edmond Ryal of Rathjordan in the town of Bruff by striking him on the hat which was on the crown of his head", and was fined "five shillings and costs three shillings and sixpence or one week in jail in default of payment". (Irish Petty Sessions Court Registers on www.findmypast) Patrick's son Thomas married Mary Bresnahan, and they had the following children: Patrick (1897), Bridget (1898), John (1901), Michael (1903), Mary (1905), and Nora (1907). Thomas is mentioned in the book "The Farm by Lough Gur" which is quoted in this record. Thomas appears in the Dog License Registers from 1908 to 1913, owning a black and white terrier. Thomas is mentioned in a collection of Lough Gur folklore at the time of his death in 1931: "I remember once, in 1931, I think it was. I worked at Jim Murnane's above in the hill. Tom Hickey's grandfather (Thomas Hickey) he was dying this night and the banshee was around the whole place. As a matter of fact, I went from Hickey's back to Murnane's for Mick Hickey was there - that's Pat's father, and the banshee was with me along the fields as I was going back. Now I didn't see anything. I could only hear the sound. And as I said while ago, it was like the drone of bagpipes, that kind of sound, a nice sound. I liked it, but I was very anxious to know who was doing it because I could see nobody." The banshee was claimed only by families of pure Milesian descent - the O's and the Mac's. The banshee was frequently considered to be a friendly spirit who never abandoned the family she followed, even when they left Irish shores. (Lough Gur Historical Society Journal, No. 7, 1991, 1991 - Danny O'Riordan, 8/16/88)


Patrick's grandson Michael, fought in the Irish Rebellion from 1916 to 1922 with the East Limerick Brigade, D (Lough Gur) Company of the Irish Republican Army. His wife, Alice Hanley Hickey, received a widow's pension, and also recounted giving assistance in the fight: She "claimed membership of Cumann na mBan, Elton Knocklong Company, 2 Battalion, East Limerick, 2 Southern Division," and "claimed that she while in Cumann na mBan she 'took dispatches, was the first to dress a wounded man after the Grange Ambush, fed that man for 3 weeks, and my home was open day and night to the Flying Column' . She also claimed to have gone 'into enemy lines to put them astray in order that the Flying Column could get away''. The descendants of Patrick Hickey still occupy the family farm in Lough Gur.




Baptism record of Patrick Hickey in Knockainy:
"Patrick of Thomas Hickey and Nell Allen, spr: James Daly and Margaret Hayes"

3. Thomas was christened 16 March 1829 in Knockainy. He married Catherine Ryan, another Lough Gur resident, in about 1857 in Ireland or Chicago, and they had the following children: Ellen (1858), and Thomas (1862) who married Ellen Cleland. Thomas, Sr. died in about 1865 in Chicago, and was buried in Calvary Cemetery. Catherine then married James Daly, and had a son, John. James' obituary reads: ""Daly, James, Husband of the late Katherine (nee Ryan), father of John Daly, stepfather of Thomas and the late Ellen Hickey, brother of Mrs. John Cooper, Mrs. John Helen, and Michael Daly, native of Parish Loughgur, Co. Limerick, at residence, 601 S. Jefferson St. Funeral from Holy Family Church to Calvary Cemetery." March 16, 1905 from Chicago Irish Families, 1875-1925, citing Chicago Daily News, in ancestry.com.


4. Catherine was christened 6 March 1832 in Knockainy. She married James Gorman of Ballybricken 5 February 1856 in Knockainy. Her marriage record shows her as being of Knockroe townland. Witnesses were Patrick Ryan and Patrick Hickey. They had children: Margaret (1856), Ellen (1859), James (1861), Mary (1863), John (1866), Thomas (1869), and John (1871), all christened in Ballybricken.


5. Bridget was christened 6 April 1833 in Knockainy. Bridget immigrated to Chicago and married John Farrell 12 February 1861 in St. Mary's parish, Chicago. John and Bridget had three sons, Thomas, born 20 December 1863 in Chicago, baptized 25 December 1863 in Holy Family parish, John Henry, born 26 July 1865 in Chicago, baptized 6 August 1865 in Holy Family, Maurice Edward, born 4 September 1870 in Chicago, and baptized 11 September 1870 in Holy Family parish. Bridget died 16 March 1887 in Chicago. Her obituary read "Farrell, Bridget, nee Hickey, on March 16, 1887 at 1613 S. Dearborn St., wife of John, of Laughguir, Co. Limerick, aged 50 yrs. Funeral from St. John's Church to Calvary." Chicago Irish Families, 1875-1925, citing Chicago Daily News, at ancestry.com.


6. Mary was christened 10 June 1836 in Knockainy.


7. Maurice (or Morris) was christened 26 December 1838 in Knockainy. He emigrated to America in 1857. He married Margaret Leddin 5 February 1872 in Chicago, and they had four children: Ellen, Mary, Mary Ellen (Margaret), and Joseph. Maurice died 1 July 1914 in Chicago, and was buried 3 July 1914 in Calvary Cemetery.



Baptism record for Maurice Hickey in Knockainy:
"Maurice of Thos. Hickey & Ellen Allin, sp Michl Hayes"
8. John was christened 15 November 1840 in Knockainy. He immigrated to Chicago, and was the sponsor at the baptism of his brother Maurice's son, Joseph, in 1883.

9. Ellen was christened 10 July 1844 in Knockainy. Ellen immigrated to Chicago with her brother, Maurice in 1857. She was the sponsor at the baptism of Maurice's first child, Ellen, in 1873. Ellen lived with her brother Thomas and his family at 21 Liberty in Chicago. After Thomas' death in 1865, she continued to live with Thomas' wife, Catherine, and her nephew, Thomas, and niece, Ellen. She died on 28 July 1892.

Sources: Knockainy parish register, Bruff parish register, Holy Family parish register, Sacred Heart parish register; death certificate of Patrick Hickey on rootsireland.ie; Irish Petty Sessions Court Registers on www.findmypast.com: Dog License Registers on www.findmypast.com.



If you have additional information about this family, please contact me at alice@boydhouse.com.
Return to table of contents