MAURICE HICKEY

Maurice (or Morris) Hickey was a farmer's son — the child of Thomas Hickey and Ellen Allen. He was born in 1838 in a small thatched cottage on a farm by Lough Gur. The cottage where he was born is not still standing, but the land is still owned by the Hickey family today. The land has belonged to the family as far back as anyone can remember, and the Hickeys are thought to be one of the oldest families in the town. Lough Gur is a lake and a townland in the parish of Knockainy in County Limerick. Maurice was christened in the parish church of Knockainy on December 26, 1838. He had three brothers - Patrick, Thomas, and John; and five sisters — Mary, Catherine, Bridget, Mary, and Ellen.



At age 20, Maurice left for America. He sailed on the ship Cynosure with his younger sister, Ellen. The passenger list shows:

7 September 1857 Cynosure Liverpool to New York
Maurice Hickey, age 20, shoemaker, Ireland
Ellen Hickey, age 12, servant, Ireland
Source: Ancestry.com
They came to Chicago in 1857 and Maurice found work as a laborer on the railroad. His older brother, Thomas had settled in Chicago.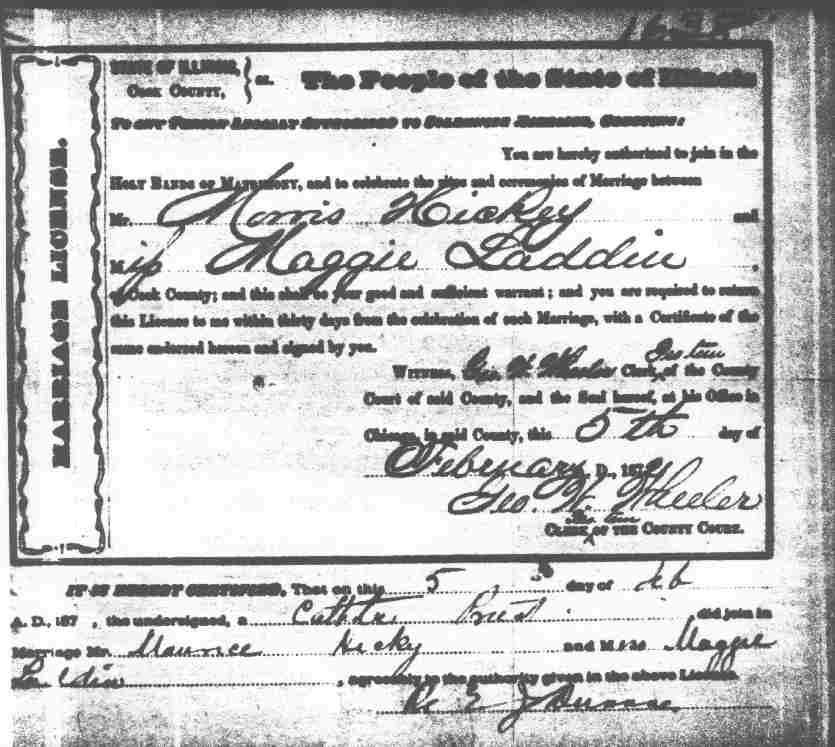 Marriage certificate for Maurice Hickey and Margaret Leddin
Maurice married Margaret Leddin on February 5, 1872 in Chicago. They had four children — Ellen, Mary, Margaret, and Joseph. Maurice's sister, Bridget also came to Chicago, and married John Farrell. Ellen Hickey and John Hickey also acted as sponsors at the baptisms of Maurice's children.

Maurice's work on the railroad took him to Pueblo, Colorado, to build a spur line. The couple were saddened when their four-year-old daughter, Ellen, died there. His daughter, Mary was born there in 1878.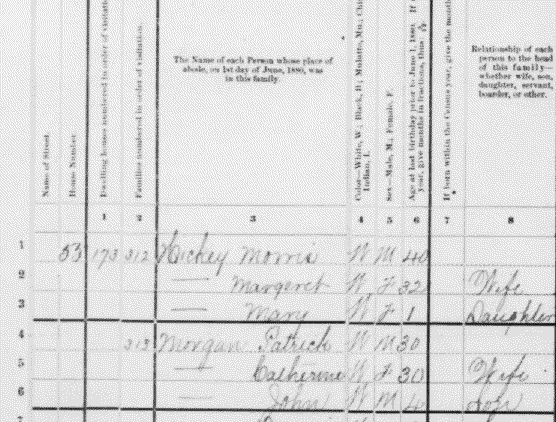 1880 census, Chicago

The family returned to Chicago by 1880 and Patrick and Mary Ellen (Margaret) were born there, and baptized in Providence of God Church. The family lived at 55 Wright in Chicago. Maurice became a naturalized citizen. By 1900, they moved to 403 W. Polk Street. Mary worked as a cashier at Marshall Fields, Margaret was a dressmaker, and Joseph was a laborer like his father.

Maurice returned to Lough Gur in Ireland only once, to see his family and friends. He died on July 1, 1914, at the age of 76, in Cook County Hospital, and is buried in Calvary Cemetery.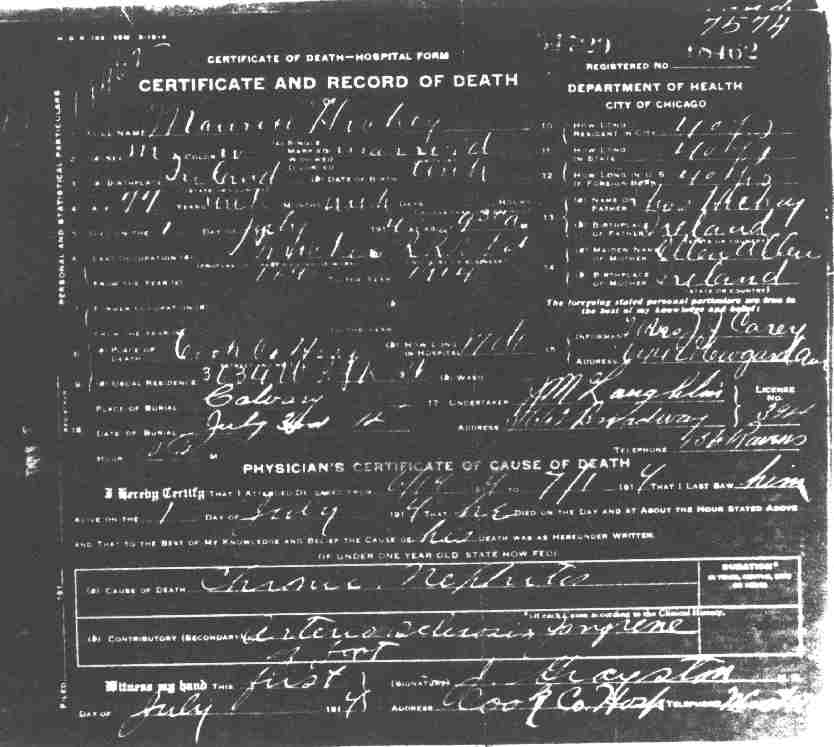 Death certificate for Maurice Hickey
Obituary notice of Maurice Hickey (Chicago Daily Tribune, Thursday, July 2, 1914):


Maurice Hickey, beloved husband of Margaret, nee Ledden, father of Mrs. John J. Carey, Margaret and Joseph Hickey. Funeral Friday at 9 a.m. from late residence, 3634 W. Polk St. to Presentation Church, carriages to Calvary.




If you have additional information about this family, please contact me at alice@boydhouse.com.