JOHN JOSEPH CAREY, SR.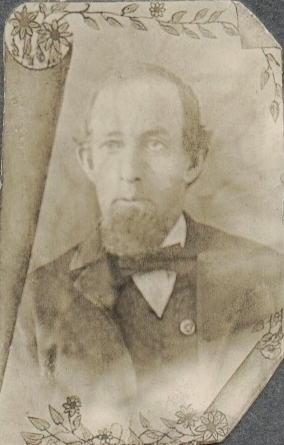 John Joseph Carey, Sr.

John Joseph Carey was born in about 1839. He came from County Limerick in Ireland. A letter from John's daughter, Anne, says "Don't know much of Father's people, other than that they came from Knock near Limerick". John's parents are believed to be Richard Carey and Johana Cullinane, who were married in Mahoonagh, County Limerick. John had an older brother, Patrick, and a younger sister, Margaret. Patrick was born in Mahoonagh in 1838. He married a woman from Ballingarry. Margaret married a man who was born in Mahoonagh. The Mahoonagh parish registers are known to have gaps in the late 1830s. Land records place Richard Carey in the nearby parish of Ballingarry in 1852, in the townland of Common. This townland is near Knockfierna, the tallest hill in County Limerick. This is most likely the Knock mentioned above.

John came to the United States as a young man, and settled in Chicago in 1862. His sister, Margaret emigrated in 1862. John worked as a laborer for the railroad. Richard and his brother, Jeffrey emigrated in 1863, and he must have died in Chicago. The first of the Carey family to appear in the Chicago city directories was Johana, widow of Richard, in 1865 at 128 Bunker Street. Johana, John, a laborer, and Edward, a sewer builder, are shown at 130 Bunker Street in the 1865-6 Chicago City Directory. Edward died in 1868, at the age of 27, and is buried in the Carey family plot.

John married Mary Harrigan on July 13, 1866, at St. Mary's Church in Chicago. John was 28 years old, and Mary was 18 years old. They had fourteen children, all baptized at Holy Family Church in Chicago. They were Richard (1867), James (1868), Anna (1870), Edward (1871), Joanna (1873), Mary (1874), Margaret (1875), Mary (1877), John (1878), Patrick (1880), Thomas (1882), Joseph (1884), Anne (1886), and William (1888). Twelve of the children lived past infancy. The sponsors at the children's baptisms included Patrick Carey, Edward Carey, James Carey, Thomas Carey, Margaret Carey, and Mary Carey.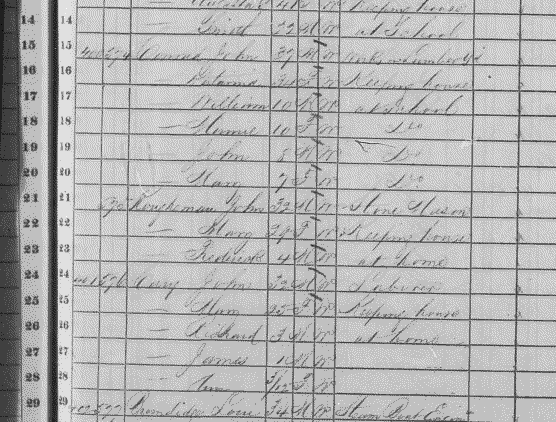 1870 census, Chicago
In the 1870 federal census, John and Mary are shown in Ward 8, with children Richard, age 3, James, age 1, and Ann, 3 months. Bunker Street was one street over from DeKoven Street, where the O'Learys lived when the Chicago Fire of 1871 started, so the Great Fire must have been a memorable event for the Carey family. Fortunately, the fire blew in the opposite direction from the Carey's house. In the Chicago City Directory of 1873, John and his brother Patrick both lived at 158 Bunker Street. They are both shown with the occupation of laborer. John and Patrick's mother, Johana was shown in the 1872 Chicago City Directory at 158 Bunker Street, and this is the address listed as her residence in cemetery records. John and Patrick are still shown at 158 Bunker Street in the 1874-5 city directory.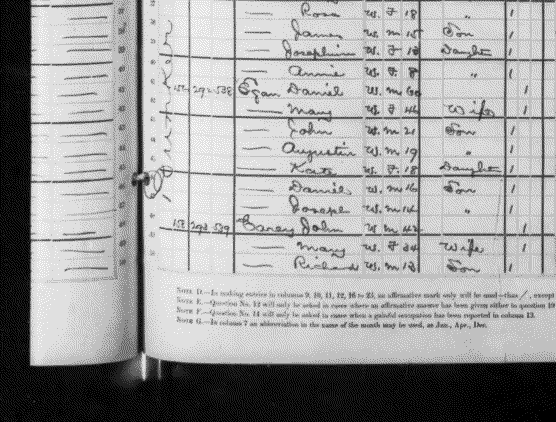 1880 census, Chicago, first page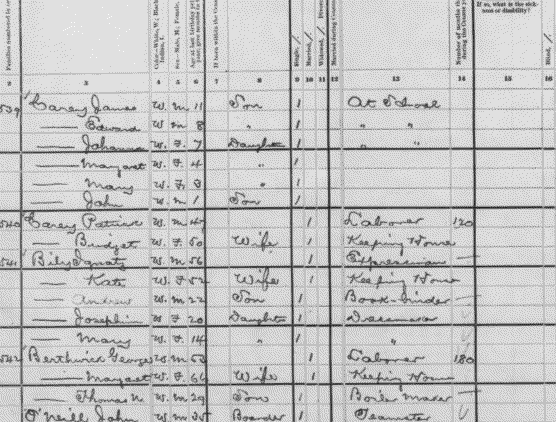 1880 census, Chicago, top of next page
In the 1880 census, the family was still found living at 158 Bunker Street. John's brother, Patrick and his wife Bridget also lived there. It is interesting to note that John couldn't read and write in the 1870 census, but has learned to read and write by the 1880 census.

The family moved in 1881. John is found in the Voter Registration rolls for 1888. He is shown living at 640 21st Street, and was naturalized with papers filed in 1886. His son, Richard, was also registered at the same address. John's sister-in-law, Bridget died the next year, in 1889, and her address was also given as 640 21st Street.

The family moved again in 1890. John is found in the Voter Registration rolls in 1890 and 1892. He was listed as living at 237 Ewing Avenue. In 1890 he states that he has lived at that address for four months. In 1892, he states that he has lived in the county and state for 30 years, making his arrival in Chicago in 1862. John's brother Patrick is shown at 247 Ewing Avenue, and he had also lived in the county and state for 30 years.

John died June 12, 1897 at the age of 56. At that time he lived at 250 Ewing Avenue, in Chicago. He was buried in Calvary Cemetery on June 15, 1897.

The obituary of John Carey (Chicago Tribune, Sunday, June 13, 1897):

John Carey, at his residence, 250 Ewing St., beloved husband of Mary Carey, nee Harrigan. Member of St. Aloysius Court No. 27, I.O.F. Funeral notice later.






If you have additional information about this family, please contact me at alice@boydhouse.com.