GLEESON OF BALLINCAROONA




Margaret Gleeson was born in about 1780 of Knocklong, County Limerick, Ireland. Her birth pre-dates the start of the parish registers in Knocklong, and her parents are not known. She married Patrick Leddin in about 1800. Patrick was a farmer in Ballincaroona (Ballinacaroona), County Limerick.


Patrick was listed in the Tithe Applotment in 1833 in Ballincaroona. Ballincaroona is a small townland in County Limerick of 613 acres, covering less than one square mile. The Tithe Applotment was a tax list of leaseholders. James Gleeson was a near neighbor in Ballincaroona, possibly a brother or father for Margaret.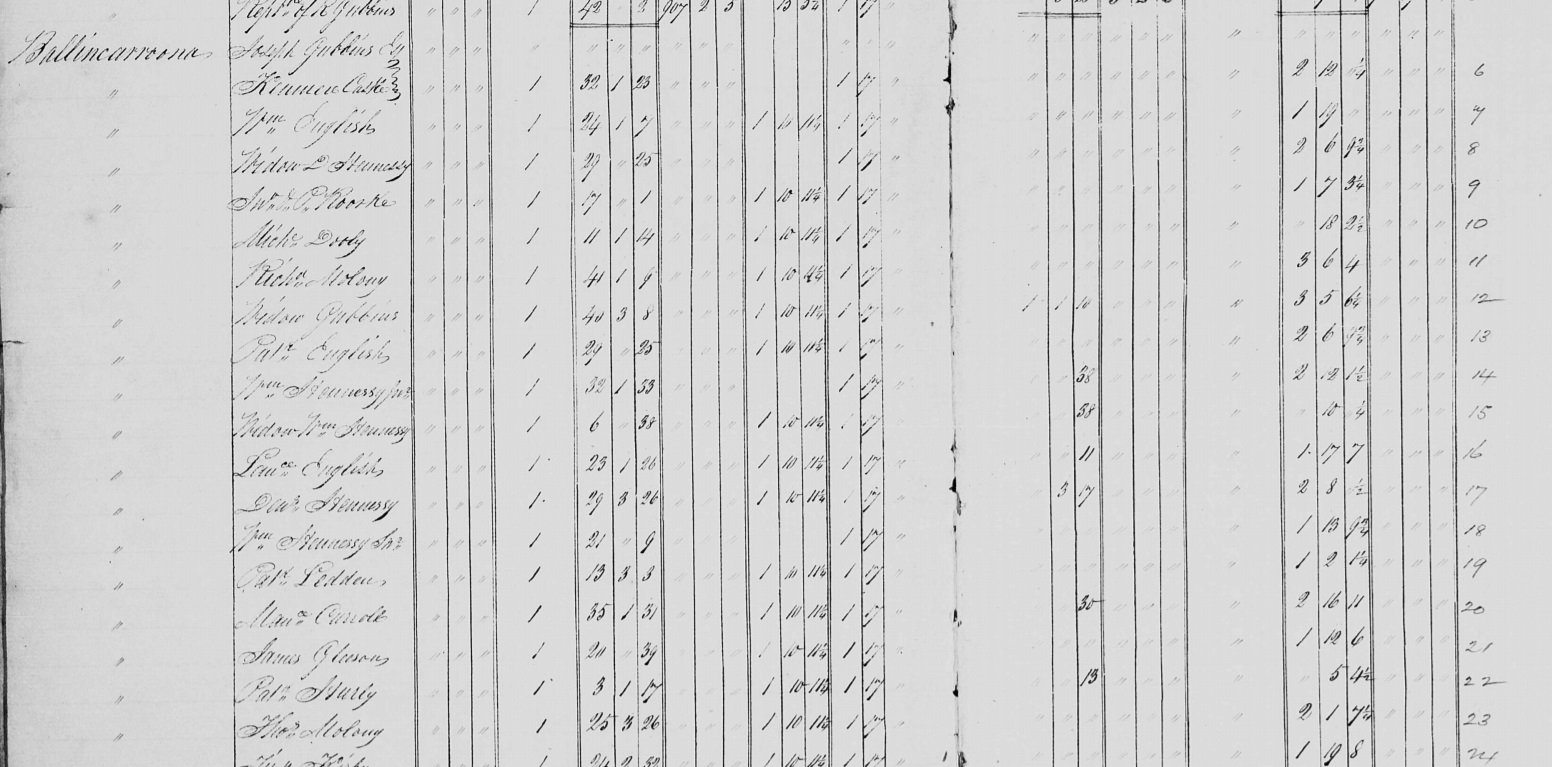 Tithe Applotment, Ballinacaroona, 1833



Margaret was buried in the old Hill of Knocklong Cemetery. Her gravestone reads: "This small testimony of sorrow was erected by William Leddin of Ballencarroona in memory of his mother Margret Leddin alias Gleeson who died the 30 Dec 1841 aged 59 years."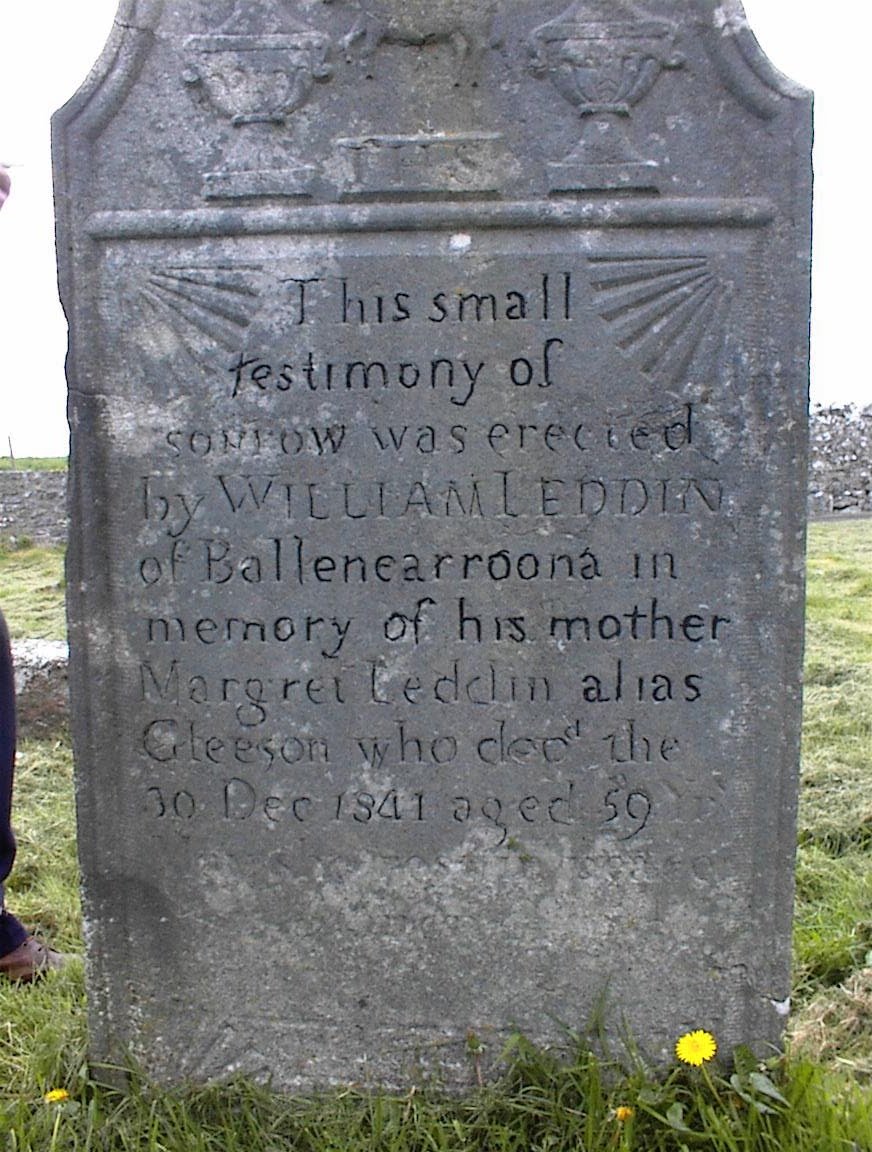 Margaret Gleeson Leddin's gravestone in the Hill of Knocklong cemetery

In Griffiths Valuation in 1851 in Ballincaroona, James Gleeson had died, and Patrick Gleeson occupied house, offices and land in Ballincarroona.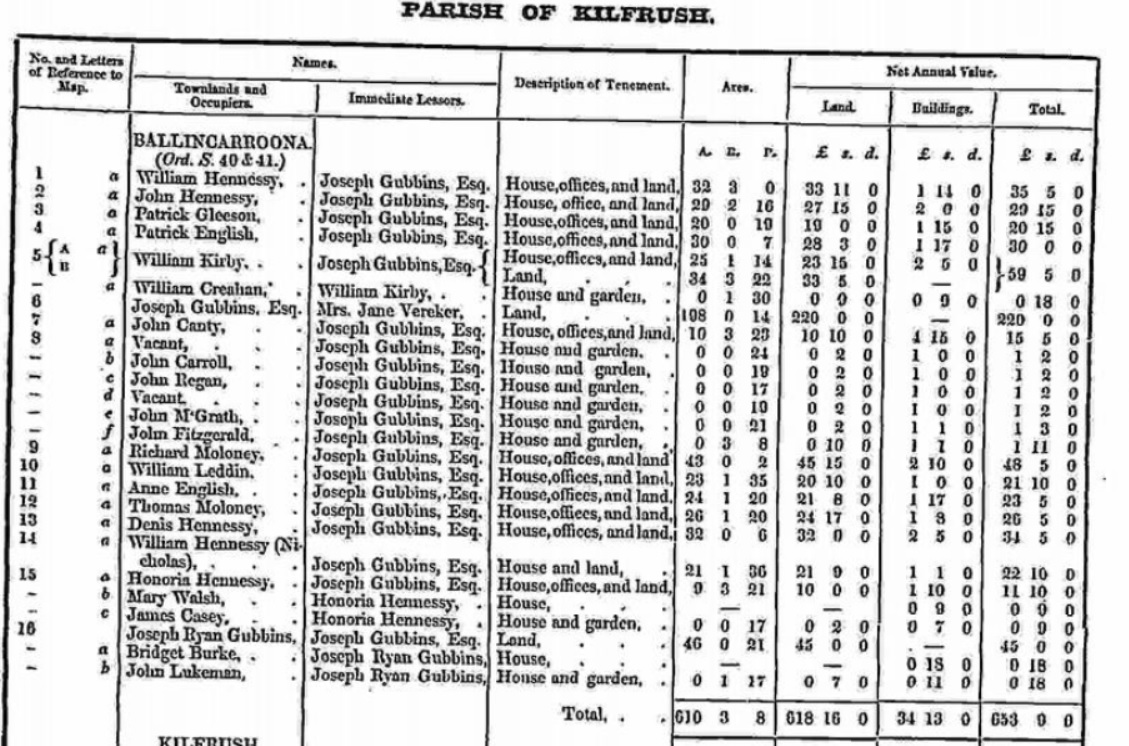 Griffiths Valuation, Ballincarroona, 1851





Patrick leased just over twenty acres of land from Joseph Gubbin. His house was large, 52 feet long by 19 feet wide, and 6.9 feet tall. He also had a porch house that was 6 feet long by .8 feet wide and 6.9 feet tall. The house was rated 3B-, which was a thatched house of stone walls with mud mortar or mud walls of the best kind, in medium condition, deteriorated by age, and not in perfect repair. The porch house was rated 2B, a thatched roof house of stone or brick with lime mortar, medium, slightly decayed, but in good repair. He also had a stable and barn. This may be the house that Margaret grew up in.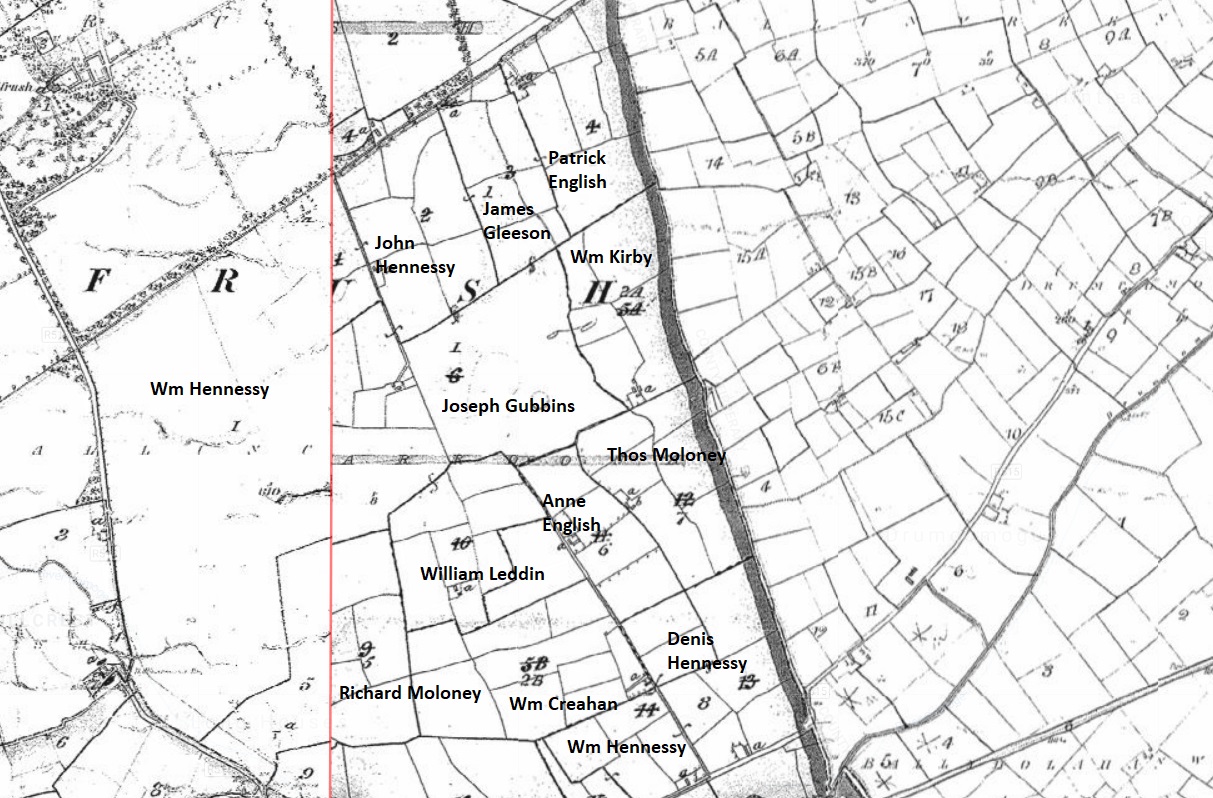 Ordinance Survey map of Ballincarroona, 1851, showing James Gleeson
and William Leddin's properties,


The Ordinance Survey map of the townland of Ballincaroona shows the changes taking place in the townland. James Gleeson in Lot 3 lived just footsteps from the Leddin's home in Lot 10a. Lot numbers were lined out on the map, as the land is consolidated. By the 1901 census there were no Gleesons or Leddins in Ballincaroona.
In
A List of Defaulters Summoned to Petty Sessions
court in 1847, many of the farmers of Ballincaroona are listed: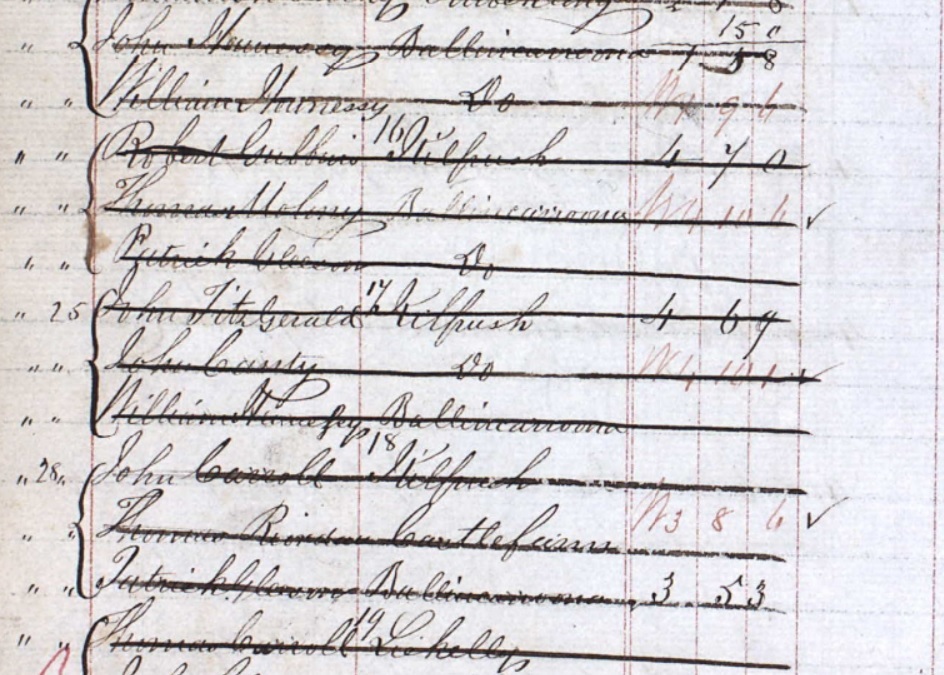 A List of Defaulters Summoned to Petty Sessions, 1847
From Ballincaroona, the list includes:
John Riordan
William Leddin
John Hennessy
William Hennessy
Thomas Molony
Patrick Gleeson
William Hennessy
Patrick Gleeson

Daniel Molony
Thomas Mitchel
Patrick English
Thos Mitchell
John Hennesy
John Woods
William Hennesey
Thomas Molony

(Ireland, Sustainability Loan Fund, 1812-1868, www.ancestry.com)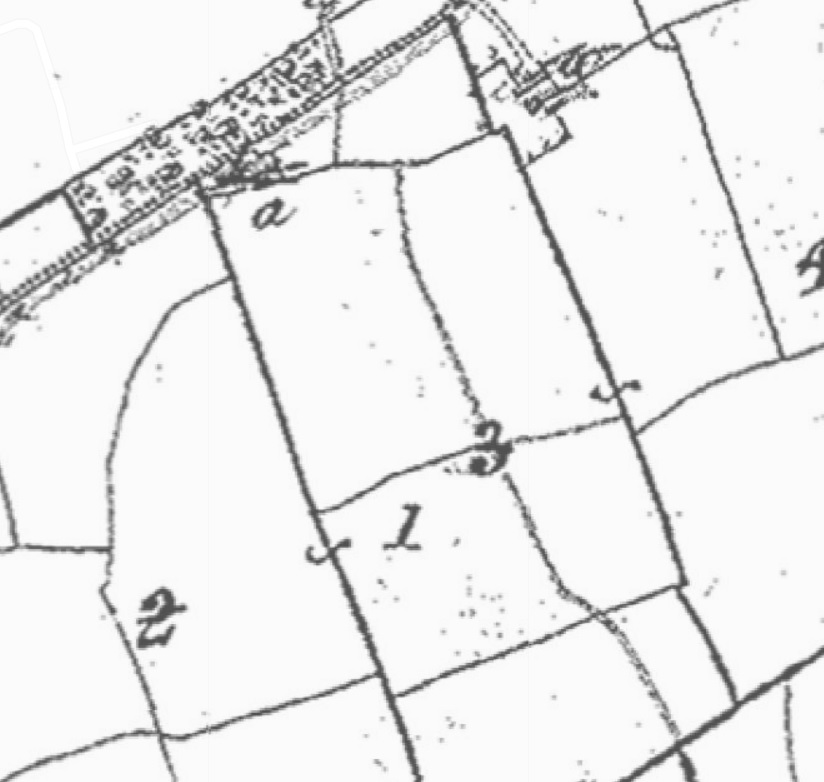 Ordinance map of the Gleeson home in Lot 3a.
The house is shown at the top of the lot, near the road.



These Gleesons are found in the early Knocklong parish records, from 1809 up until 1820:


James and Alice Gleeson of Ballenchruch had children:

Catherine, christened in 1818

James Gleeson, farmer and Ellen McNamara of Ballincaroona had children:

Mary, christened 4 April 1813, sponsors were John McNamara and Mary Keys

James, christened 3 July 1817, sponsors were John Gleeson and Mary Meagher

Pat Gleeson and Maria Morroney of Ballingarry had children:

Daniel, christened in 1813.

Patrick Gleeson, farmer and Mary Harney (Meany?) of Ballincaroona had children:

Margaret, christened 17 December 1814. Sponsors were Timothy Kerwick and Ellen Walsh.
Mary, christened 25 May 1817. Sponsors were Thomas Rourke and Margaret Meany.


Pat Gleeson and Margaret Bourk had children:

John Gleeson married Margaret Carroll in 1819


John Gleeson of Ballincaroona married Mary Meagher 19 November 1815. Witnesses were Jeremiah McCarthy and William Meagher.
John and Mary had children:

Patrick, christened 2 February 1817. Sponsors were Patrick Gleeson and Catherine Gleeson.

Bridget, christened 29 June 1819. Sponsors were John Hennessy and Catherine Meagher.



Peter Gleeson and Caty Clearey had children:

Caty, christened in 1817.

Laurence Gleeson of Knockgarrin married Ellen Cafferty 5 February 1810 in Knocklong. They had children:

Margaret, christened in 1811.

George Gleeson and Mary Ryan of Ballinfruta had children:

William, christened in 1809.
Tim, christened in 1813.
Margaret, christened in 1816.

Timothy Gleeson and Mary Carroll of Kilfrush had children:

Bridget, christened in 1816. A sponsor was John Gleeson.


The Gleesons in Ballincaroona - James, Patrick and John, were likely siblings of Margaret. They were all having children born and christened in Knocklong at the same time. John and Patrick were sponsors for John and James at their children's baptisms. The Gleeson home was only a few hundred feet from the Leddin home, and they surely knew each other.



Gleeson Family Name

"The surnames Gleeson and Gleason developed from the Irish name O Glasain, which originated in East County Cork. The Gaelic prefix "O" means male descendant of, and Glasain derives from "glas," literally meaning "green" in the sense of inexperience as opposed to the color. There are many variations of the name, including Gleason, Glisane, Glison, Glyssane, O'Gleasane and O'Glassane. The Gleesons belonged to the ancient territory of Mac Ui Bhriain Aradh's country, the area between Nenagh and Lough Derg in North County Tipperary." (www.irishcentral.com)