DWYER OF BALLINGARRY




Bridget Dwyer was born in about 1780 of Ballingarry, County Limerick. Bridget's birth pre-dates the parish register, so no record of her birth has been found. She married Patrick Carey in about 1800, and the family lived in Ballinaha and Commons townlands in the parish of Ballingarry.


Only one Dwyer is found in Ballingarry in the Tithe Applotment of 1830 - John Dwyer, Esq leases two properties in the townland of Lisskinnill. Other Dwyers may not be listed if they leased properties under five acres.



Tithe Applotment for Ballingarry, 1830


There are several Dwyers found in Griffiths Valuation in Ballingarry in 1852: Michael Dwyer in Ballingarry, Thomas Dwyer in the townland of Kilgarriff, Catherine Dwyer in the townland of Knocklary, and Thomas Dwyer in the Carey's home townland of Common. Perhaps he is a relative of Bridget Dwyer Carey.




Griffiths Valuation in Ballingarry in 1852, for the townland of Common - Thomas Dwyer is listed in Lot 57. The Careys are in Lot 10 in Common.


The Dwyer family anciently is associated with the territory of Kilnamanagh on the County Tipperary and County Limerick border.

"Outside of Ireland, the "Dwyer" form of the name, without the "O" prefix, is more widely used, but both share the same clan roots. The dropping of the prefix dates back to the mid-seventeenth century, and was brought about by the policy of the English government to suppress the ancient Irish Celtic culture and clan system. The original form of the name in the Irish language, and still widely used today, is O'Duibhir (pronounced O Dweer), meaning descendant of Duibhir, an ancestor who, by tradition, lived sometime around the tenth century. The precise meaning of this ancestor's name remains obscure - 'black skirt' has been suggested, but the common modern consensus is 'black and dun-coloured', probably referring to a mixture of hair colouring on the head and face as a personal characteristic.

While the O'Dwyers are strongly associated with south Leinster (the most easterly of Ireland's four provinces), it is beyond doubt that the main territory under their control was an ancient district called Kilnamanagh in County Tipperary, Ireland. The name still survives as a modern civil barony, and extends over perhaps 100 sq. miles in the mountains between Limerick, Tipperary, Cashel and Thurles. The crumbling ruins of nine of the O'Dwyer castles can still be seen on the Kilnamanagh landscape even today.

The territory of Kilnamanagh was lost to the clan in the aftermath of the Cromwellian wars of the mid-seventeenth century, following the ill-fated capture of Cashel, the ancient Celtic seat of the Munster kings, by Philip O'Dwyer, the last clan chief. The clan was scattered - a few were permitted to take up lands west of the River Shannon in County Clare and other places, but the majority were part of the estimated 7,000 Irish who were exiled to mainland Europe with Colonel Edmund O'Dwyer, the leader of the Munster forces who surrendered to the Cromwellian army at Cahir, Co. Tipperary in 1652. Doubtless, many of their descendants are to be found across Europe today, though the surname has probably been modified to suit local pronunciation. For example in France, it appears as 'Haudoire'. It is interesting to note that many O'Dwyers remained or returned to their ancient territory of Kilnamanagh, because, even today, the highest concentration of the surname in the world is still to be found in this corner of Tipperary." (www.dwyerclan.com)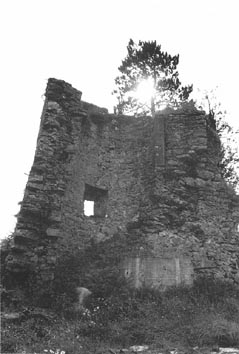 One of the ruined O'Dwyer castles