RAMAGE ANCESTORS


Agnes Ramage married William Smith 11 June 1725 in Newlands, Peeblesshire, Scotland. There are several Agnes Ramages born in the right time period near Newlands:

Agnes Ramage was christened 1696 in Stobo, Peeblesshire to James Ramage: "Agnes natureall daughter to James Ramidge in Easter Happrew was baptized by Mr. Wm Russell minister at Stobo the 2d day of Agust 1696". Stobo is a neighboring parish to Newlands. James had children Agnes, Patrick, William, Janet and James. This Agnes would have been 29 years old in 1725, the year of the marriage of our Agnes Ramage.
Agnes Ramage was christened 1698 in Stobo, the daughter of William Ramage: "Wm Ramadge his daughter called Agnes was baptized ye 21st day at Stobo". William was a tenant farmer in Easter Happrew, Stobo parish. William had children Michael, Thomas, Jannet, Jean, Agnes, Hillin (Helen), and Robert. This Agnes would have been 27 years old in 1725.
Agnes Ramage was christened 1706 in Stobo, the daughter of Adam Ramage: "Agnas the doughter of Adam Ramage tailor in Eister Happrew was baptized the 24 day of Feberwar 1706". Adam was a tailor of Easter Happrew in Stobo parish. Adam had children Margaret, Agnes, William and John. John was christened in Newlands. This Agnes would have been 22 years old in 1725.
Agnes Ramage was christened 1701 in West Linton, the daughter of William Ramage: "William Ramidge in Stonypath had a daughter baptized called Agnes upon ye 6th of Aprile 1701". West Linton is a neighboring parish to Stobo, and Stoneypath is a townland in West Linton. William had children Agnes and John. This Agnes would have been 24 years old in 1725.
The first three possibilities for our Agnes Ramage were from the townland of Easter Happrew in Stobo parish. Easter Happrew is just north of the town of Stobo, and was the site of an ancient Roman fort. It was also the site of a skirmish in 1304 which included Robert the Bruce and William Wallace. Since James, William, and Adam were all from the same townland it is possible that they were brothers. Agnes was certainly a popular name, perhaps their mother's name?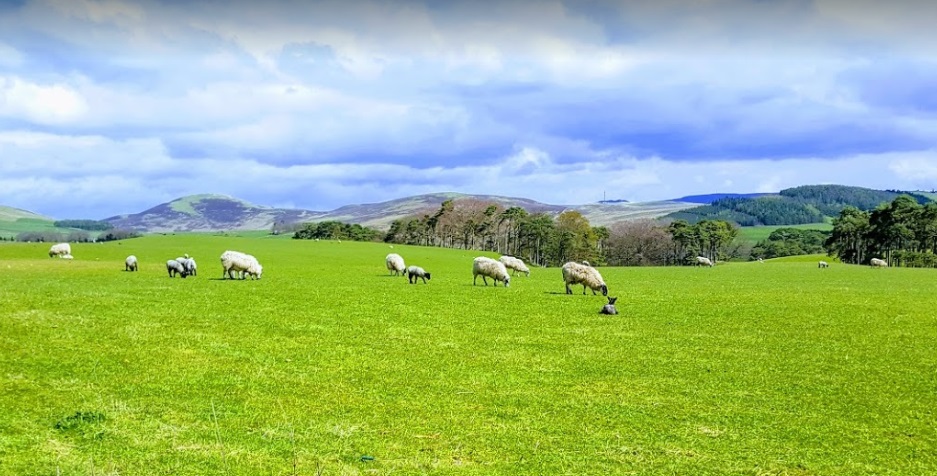 Easter Haprew
The fourth possibility for our Agnes Ramage was from Stoneypath in the village of West Linton. Stoneypath is the site of a ruined tower.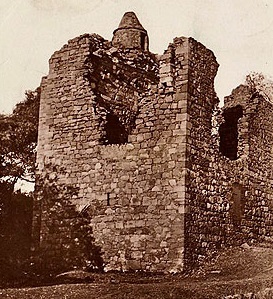 Stoneypath




The Ramage name comes from "the Middle English/Old French word ramage, which meant wild. It is thought to have originally been a nickname for an unpredictable or savage person, which later become a surname". The name was "first found in Peeblesshire, where they held a family seat from early times, and their first records appeared on the early census rolls taken by the early Kings of Britain to determine the rate of taxation of their subjects". (www.houseofnames.com)

The Surnames of Scotland explains: "Payment was made in 1304 to Peter Ramage, 'cokinus,' messenger to the sheriff of Perth, for his expenses (Bain, IV, 483). A family of this name long maintained a connection with Stobo in Peeblesshire. Andro Ramage was rentalit in ane oxgang in the West town of Stobo in 1528, and in 1553 Andro Rammage was rentalit in an oxin gang land in the Hilhows of Stobo, "wakand be deces of wmquhil James Rammaige, his fathyr" (Rental). An oxin gang or oxgang was a unit of measurement. An oxgang was the area that one ox could plow in a year. It was one-half of a husbandland (26 acres), or one-eighth of a ploughgate (104 acres). Andro (Andrew) rented land in Stobo, vacant due to the death of the former James Ramage, his father.


Sir John Rammage was curate of Blanter in 1555 (Protocols, I), John Rammyche in Haddington gave allegiance to the king in 1567 (RPC., I, p. 558), Johnne Rammaige was reidare at Curmannok, 1574 (RMR.), and Edward Rammage was a mason in Edinburgh in 1599 (Edinb. Marr.)."



From Rental Book of the Diocese of Glasgow. 1509-1570:


Barony of Stobo

AD 1533 Eodem die (the same day), Andro Ramage rentalit in ane ox gand land in the said town.



1553 Eodem die, is rentellit Andro Rammaige in ane oxin gang of land in the Hilhows of Stobo, wakand be deces of wmquhil James Rammaige, his fathyr.

1556 Eadem die, is rentallit James Ramage in twa ox gang of land in the wester towne of Stobo, be decesse of Andro Ramage, his father, last rentaillit their in; Marion Alexander brwkand it for hir tyme. (enjoying possession of it).

1556 The second day of August, licence gewin to Margareit Rammaige to mary Jhone Jhonston, and brwk twa ox gang of land in the wester towne of Stobo, nochtwythstanding on our actis in the contrair."


(A Liber Protocollorum M. Cuthberti Simonis Notarii Publici Et Scribi, Volume 1 – Rental Book of the Diocese of Glasgow, AD 1509-1570)

"Broughton Shiels lies between Stirkfield and Cloverhill, and represents the half ploughgate granted by Ralf le Neym, which was held as part of the vicarage of Stobo for behoof of the chapel of Broughton...This church property was feued out at the time of the Reformation in four portions (lying runrig) to Ninian Elphinstone, William Ramage, John Jamieson and John Paterson. The grant to Elphinstone is not on record, but the other three took infeftment - on 30th June, 1560, and to this Elphinstone was a witness...Ramage's one-fourth was conveyed to his brother Robert in 1576, the witnesses to the deed being John and Adam Haldane and Robert Paterson, all in Broughton Shiels, and John Paterson, portioner there. (A History of Peeblesshire, J.W. Buchan)



Other Ramages in early records near Newlands were:


"Isobel, sometime spouse to James Ramage, in Meirburne, par. of Stobo, sher.of Peebles 2 Mar. 1604." (Publications, Part 2, Scottish Record Society - Register of Testaments)

The Book of Stobo Church lists Thomas Ramage as an elder in 1711.

At this point, this is as far as the line has been traced. However, since this is my direct maternal line, I have had the mitochondrial (maternal) DNA tested. Mitochondrial DNA is passed only from the mother to her children. The test results show that my mitochondrial DNA, as inherited from Mary Smith, is of haplotype K. Additional testing refines the results to haplotype K1C2.

Haplotype K originates in the Middle East, is strong anciently in Northern Italy, and migrated across Europe and into Britain and Scotland. It is strongly represented in Ashkenazi Jews. The most prominent member of this haplotype is Otzi the Iceman, an ancient man whose DNA was discovered and analyzed in the 1990s.



If you have any additional information about this family, please contact me at alice@boydhouse.com.