FAMILY GROUP RECORD OF
MALCOLM MACCALLUM AND
ANNE MAXWELL
Malcolm was born in about 1763 in Muckairn, Argyllshire, Scotland, the son of Dugald MacCallum and Anne McGregor. Muckairn is a parish about eleven miles northeast of Kilbrandon. Muckairn was united with the parish of Ardchattan in the early 1600s.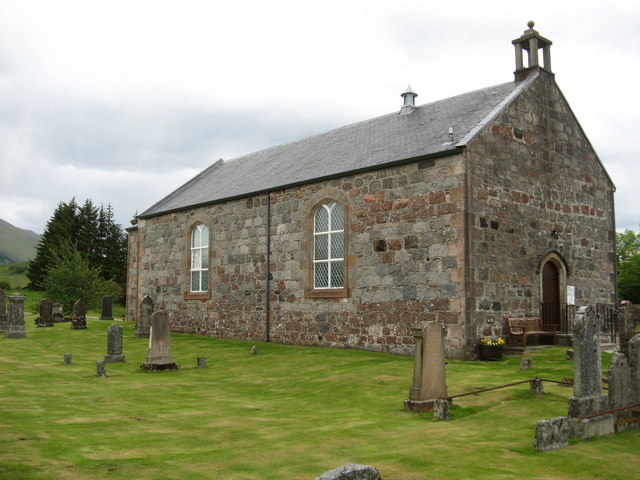 Muckairn

Malcolm married Anne Maxwell in about 1781. Malcolm worked as a crofter and innkeeper in Kilbrandon, then a carter and slate labourer as he became older. Anne is shown as Agnes at son George's christening.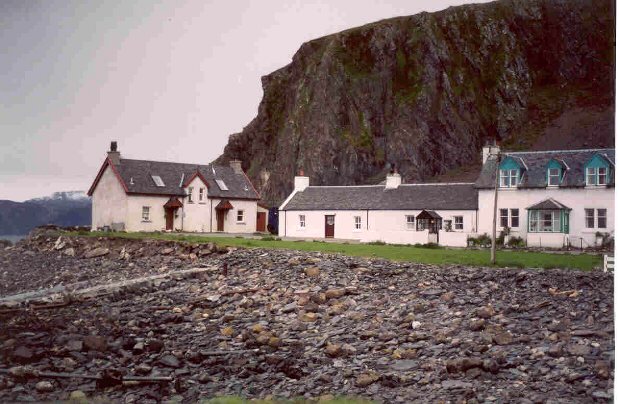 Easdale
Malcolm is found in the 1841 census in Kilbrandon, in the village of Easdale: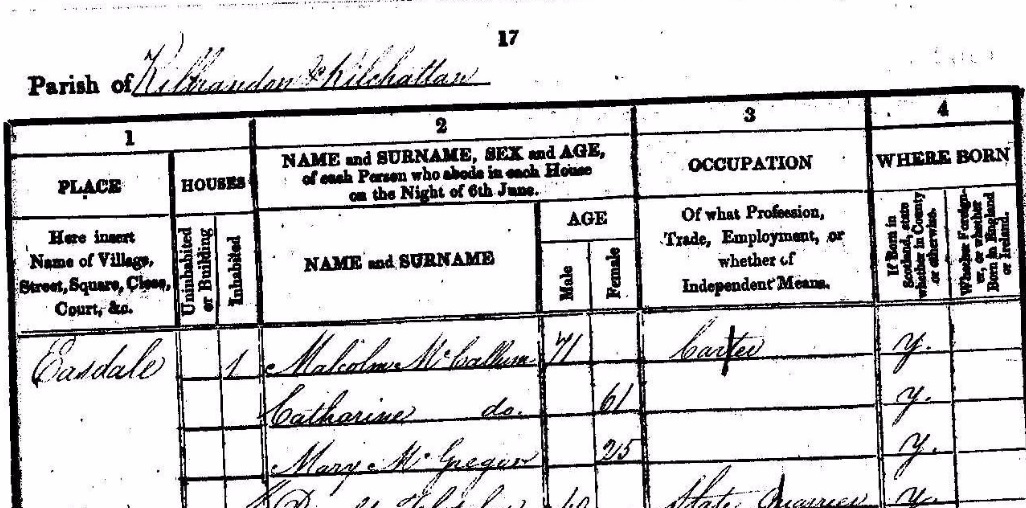 1841 census, Kilbrandon
Easdale Malcolm McCallum, age 71, carter, born in the county
Catherine McCallum, age 61, born in the county
Mary McGregor, age 25, born in the county

It seems that Anne has died, and Malcolm has married Catherine.



In the 1851 census in Kilbrandon, Malcolm is found living with Joseph and Anne MacLean.


1851 census, Kilbrandon
Joseph MacLean, head, age 56, occupation - pilot, born Kilbrandon
Ann MacLean, wife, age 37, born Kilmore
Catherine MacLean, daughter, born Kilbrandon
Jessie MacLean, daughter, born Kilbrandon
Malcolm MacCallum, pauper, age 83, occupation: Quarry Lab., birthplace Muckairn



Joseph was Malcolm's nephew-in-law. Joseph married Ann McGregor, Malcolm's niece. Ann is shown as being "
of Kilninver
" at her marriage 30 November 1845 in Kilbrandon.

Death certificate for Malcolm MacCallum


Malcolm died 24 April 1856 in Kilbrandon. His nephew Joseph McLean was present at his death.

Malcolm McCallum, slate labourer, widower
Died 24 April 24, 1 h. 0 m. a.m., Easdale
Male, 94 years
Parents: Dugald McCallum, farmer, deceased, Ann McCallum, maiden name McGregor, deceased
Cause of death: Infirmity, as certified by Wm Gordon, MD, who saw deceased April 22d
Where buried: Churchyard of Kilbrandon, as certified by Joseph McLean, nephew

Informant: Joseph McLean, nephew present
Registered: 24 April 1856 at Kilbride, Seil, Alex. McMillan, Registrar




Malcolm and Anne had the following children:
1. George, christened 10 July 1782 in Kilbrandon: "George son to Malcom MacCallum and Agnes Maxwell, Balvicar".


2. John, christened 27 January 1787 in Kilbrandon: "John son to Malcom MacCallum Inkeeper at Caolis and Ann Maxwell his wife was born 27 January 1787".


*3. Catherine, born about 1793 in Kilbrandon; married Alexander Cameron 9 December 1813 in Kilmelford; died 18 March 1862 in Strachur. Her death certificate listed her parents as Malcolm MacCallum and Anne Maxwell.

SOURCES: Kilbrandon parish register; FHS# 102373; www.scotlandspeople.org; 1841 census, Kilbrandon; 1851 census, Kilbrandon; Death certificate for Malcolm MacCallum.
FAMILY GROUP RECORD OF
DUGALD MACCALLUM AND
ANN MCGREGOR
Dugald MacCallum was born in about 1730 of Muckairn, Argyllshire. He married Ann McGregor.

Dugald is found in the Farm Horse Tax roll of 1797-8 in Ardchattan and Muckairn:



Farm Horse Tax List 1797-8
The list shows:


Dugald MacCallum, Laitt 2 2 4

(Later, in 1834, Duncan, John and Gregor McGregor are listed in Laitt in a census of male heads of household. Possibly these are Ann's family.)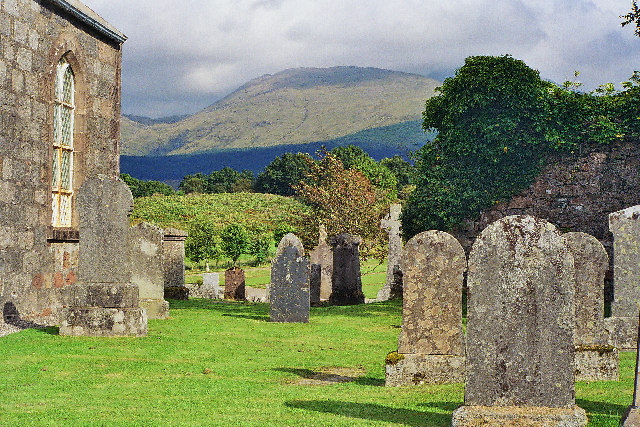 Muckairn
Dugald and Ann had the following child:

*1. Malcolm, born in about 1767 in Muckairn; married Anne Maxwell; died 24 April 1856 in Kilbrandon.

SOURCE: Farm Horse Tax Roll 1797-8, Ardchattan and Muckairn, www.scotlandsplaces.com; Death certificate for Malcolm MacCallum.

Other early MacCallums in Muckairn were:
John MacCallum and his wife Ann MacCallum, who had children baptized in Muckairn: Duncan (1754), John (1756), and Donald (1766).
Archibald MacCallum and his wife Mary MacPherson, married 9 March 1759 in Ardchattan, who had a son baptized in Muckairn: John (1766). A descendant said that there were other children: Donald, Archibald, and Malcolm. (www.genealogy.com)

Malcolm MacCallum and his wife Catharine Colquhoun, who had children baptized in Muckairn: Marion (1774) and Mary (1776).
Duncan MacCallum and his wife Catharine Campbell, who had a daughter baptized in Muckairn: Mary (1773)
John MacCallum married Margaret MacInnes 30 October 1774

In 1774, Janet MacCallum is shown in Muckairn as the mistress of a spinning school, and paid a salary of 3£. (An Account of the Society in Scotland for Propagating Christian Knowledge, 1774)


John MacCallum, born Muckairn, served in the 91st Foot Regiment, discharged at age 48, (born 1768), served as a corporal. He was 5 feet 10 3/4 inches tall, had dark brown hair, gray eyes, and fair complexion, by trade a labourer. He enlisted at age 26, and served in the regiment for 22 years. He was discharged as a consequence of "being worn out". (nationalarchives.gov.uk)


The Farm Horse Tax Roll 1797-8 showed two additional MacCallums in Ardchattan and Muckairn, in the townland of Achnacreemore - John and Archibald MacCallum. (www.scotlandsplaces.gov.uk)


Censuses taken of male heads of household in 1834, 1835, and 1836 listed John and Malcolm MacCallum in Airdeny, Archibald and Alexander MacCallum in Bay, Duncan, James and John MacCallum in Airds and Particles, Hugh MacCallum in Culnadaluch, and Duncan MacCallum in Achlevan.

The 1851 census in Muckairn shows these MacCallums born in Muckairn or Ardchattan: Mary MacCallum, born 1760 in Muckairn, Catharine MacCallum, born 1769 in Muckairn, residence Ardchattan, Janet MacCalllum, born 1773 in Ardchattan, residence Muckairn.


If you have any additional information about this family, please contact me at alice@boydhouse.com.