Roger and Dorothy Neeld were the only Neeld family having children in the Heanor parish record in the early 1600s, so are most likely Richard's parents.
Roger died and was buried 6 May 1611 in Heanor.

Burial record for Roger Neild in Heanor:
"Roger Neald of Shipley was buryed ye 6th day of May"

Dorothy died and was buried 13 September 1624 in Heanor.

Burial record for Dorothy Nield in Heanor:
"Doryithe Nilde of Shiplie widowe was buryed September the xiijth"
Dorothy left a nuncuperative (verbal) will proven 25 November 1624: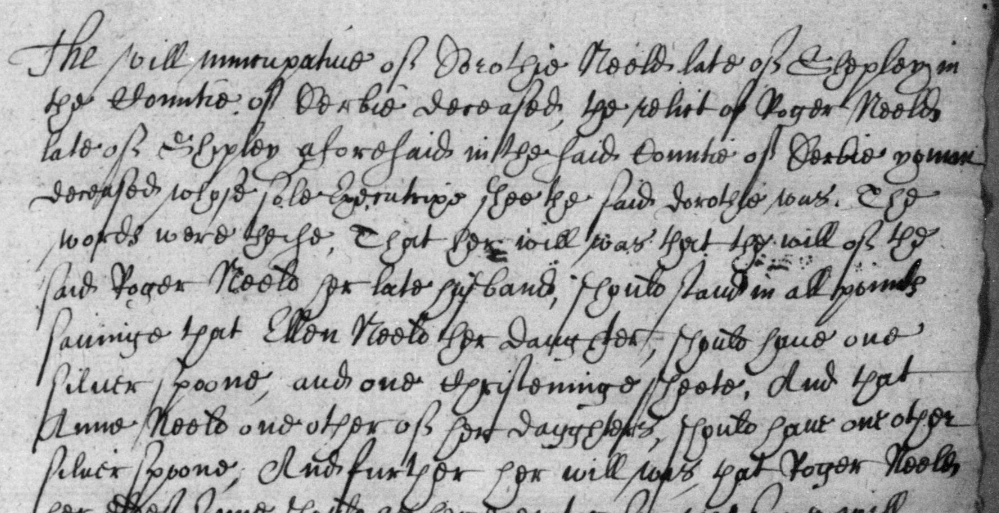 Will of Dorothy Nield, 1624
The will nuncupative of Dorathie Neeld late of Shepley in the Countie of Derbie, deceased, the relict of Roger Neeld late of Shipley aforesaid in the said Countie of Derbie yoman, deceased whose sole executrix shee the said Dorothie was. The words were these, that her will was that the will of the said Roger Neeld her late husband, should be paid in all points saving that Ellen Neeld her daughter should have one silver spoone and one christening sheete. And that Anne Neeld one other of her daughters should have one other silver spoone. And further her will was that Roger Neeld her eldest sonne should, as her executor, see that same will pformed in her behalf whoe demanded of the said Roger her sonne whether hee weare contented soe to doe, whereupon hee consended whose will nuncupative was so pronounced and published by her the said Dorothie in the hearinge and presence of Sara Brentnall the said Ellen Neeld and Anne Neeld the saventh daie of September in the yeare of the raigne of our Soveraigne Lord James by the grace of God of England, Scotland, Ffrannce and Ireland, kinge, defender of the faith and that is to say of of England, Ffrance and Ireland the twoe and twentieth, and of Scotland the eight and fifteeth Anno Dom 1624.
Roger and Dorothy had the following children:
1.
Humphrey
, christened 2 March 1595 in Heanor; buried 2 April 1596 in Heanor.
2.
Roger
; christened 28 March 1596 in Heanor; mentioned as the eldest son in his mother's will of 1624.
3.
Dorothy
, buried 13 April 1601 in Heanor.
4.
Hester
, christened 22 March 1600 in Heanor.
5.
George
, christened 18 April 1602 in Heanor.
6.
Hellen
, christened 5 June 1605 in Heanor; shown as Ellen in mother's will of 1624.
7.
Ann
, christened 28 June 1607 in Heanor; married Henry Lowe in 1633 in Heanor; mentioned in mother's will of 1624.
*8.
Richard
, born in about 1609 in Heanor; married Jeanne Wyllde 6 December 1631 in Heanor.
SOURCE: Heanor parish register; www.ancestry.co.uk, extracted records of Heanor parish; will of Dorothy Nield, 1624, on www.findmypast.co.uk.