HARRIET ANN ASTON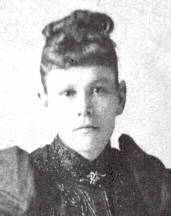 Harriet Ann Aston was born 22 September 1870 in Gainsborough, the daughter of Elias Aston and Eliza Fowlke. Harriet was the tenth child in the family. Elias worked as a blacksmith. The family were members of the Church of Jesus Christ of Latter-Day Saints, and they saved their money to emigrate to Utah.
They were finally able to emigrate to the United States 8 July 1874, on the ship Minnesota. The ship's list shows Elias Aston, Eliza, Joseph, Orson, Eliza, John Frederick, Alfred, Elias Jr., Harriett and Harry.
The transcontinental railroad, completed in 1869, carried the family to Utah. They set up a home in Pleasant Grove, Utah, where Eliza's parents had settled.
Elias bought a home, a little, old four-room adobe house in Lindon, where he settled down and farmed all his life. Elias's granddaughter, Irene Aston Shumway, remembers, "Elias had quite a hard time raising all those children. I have heard Grandmother (Eliza Fowlke Aston) tell about pinning some of the little ones to her apron when she sat down to sew. I remember Elias as a little man with a long beard, walking with his hands clasped behind his back. Grandfather (Elias Aston) studied the Bible and could recite the scriptures by heart. He was very religious."
Above the family home was a large ditch, and in the summer all the boys would go to the ditch for their morning washing. The family worked and played hard together. They all enjoyed square dances. The family also had tragedies. Orson was killed at age 20, as they sat on a hillside eating their lunch. A large rock rolled down, striking him in the back, killing him instantly. Harriet was only eight years old when her brother died.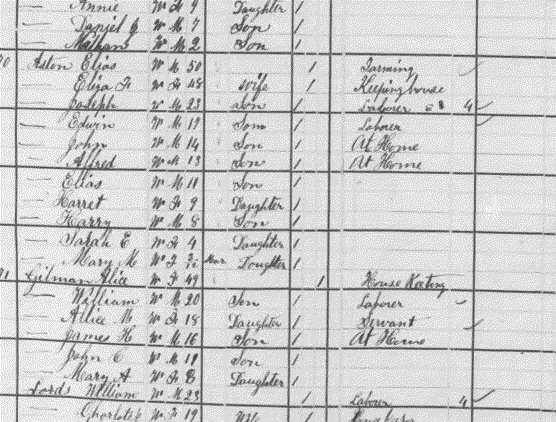 1880 census, Pleasant Grove, Utah
The Astons are found in the 1880 census in Pleasant Grove, Utah:
Elias Aston, age 50, born in England, occupation: Farming
Eliza F. Aston, age 48, born in England, keeping house
Joseph Aston, age 23, born in England, occupation: Laborer
Edwin Aston, age 17, born in England, occupation: Laborer
John Aston, age 14, born in England, at home
Alfred Aston, age 13, born in England, at home
Elias Aston, age 11, born in England, at home
Harret Aston, age 9, born in England, at home
Harry Aston, age 8, born in England
Sarah E. Aston, age 4, born in Utah
Mary M. Aston, age 1, born in Utah
Census place: Pleasant Grove, Utah, Utah
FHL# 1255339
Page #: 298D

Harriet married Charles Edward Green 11 December 1888 in Manti, San Pete, Utah. Charles and Harriett settled on a farm in Pleasant Grove. Ten children were born to Charles and Harriet, but only five lived to adulthood. Their first son, Vernice Samuel was born in 1889, but died when he was 16 months old. Eliza Pamelo was born in 1890, but died at two months old, on the same day as her older brother. Curtis Charles was born in 1892. Vera Harriet was born a year later, in 1893. Herman Elias was born in 1895. Mable Gertrude was born in 1898. Leo was born one year later, in 1899. Ella Lafern was born in 1901, and only lived to be four years old. Arvilla Nettie was born in 1903 and died the same day. Frank William was born in 1909 and died the day he was born.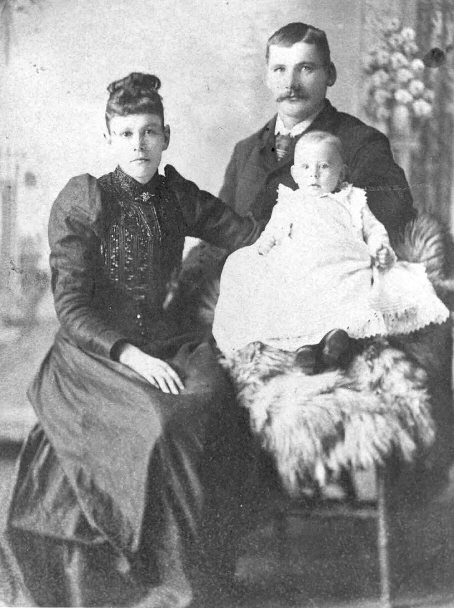 Harriet, Charles and baby Curtis

The family lived on a farm on the east side of the Utah State Highway on the outskirts of Pleasant Grove. Charles worked as a farmer, and also hired out as teamster around Utah County. He was known for his great strength. Charles died when he was only 44 years old, of a heart attack. Harriet was left a widow at the age of 41. Her family was young. The children were all under twenty years of age, the youngest being twelve years old.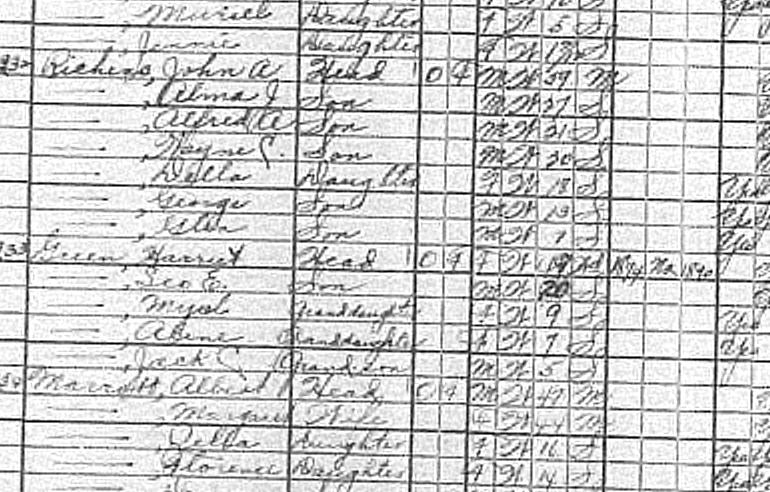 1920 census, Pleasant Grove
Harriet is found as a widow in the 1920 census for Pleasant Grove, Utah:
Green, Harriet, Head, age 49, occupation: None
Green, Leo E., son, age 20, occupation: Laborer
Green, Myrel, granddaughter, age 9
Green, Aline, granddaughter, age 7
Green, Jack C., grandson, age 5
Source: 1920 census, at www.ancestry.com.

Charles' death presented a serious problem for 41 year-old Harriet. She had to work hard to support her family. Her granddaughter, Beulah Green Carey, remembers, "My Grandma Green, when Grandpa died, through some not too wise financial dealings, lost the farm, and most of her money, so she moved to Salt Lake and ran a boarding house. She was a little, tiny, dark-haired woman." Her granddaughter remembered that she had married a Mr. Downs later in life.

Salt Lake City marriage records show that Harriet married John Richard Downes 4 June 1924 in Salt Lake City. He was shown as divorced and 65 years old. Harriet was 53 years old. John had been married twice before, to Eliza Duffin 1886 in Queensland, Australia, and to Sarah Kent 1921 in Salt Lake City. The marriage of Harriet and John did not work out, as Harriet is found living alone in the 1930 census, and John Downes did not die until 7 October 1935 in Salt Lake City.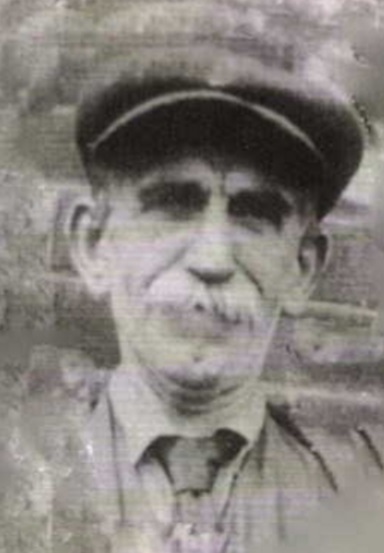 John Richard Downes
In the 1930 census, Harriet was in Salt Lake City, and is listed with a boarder. Her marital status is widowed.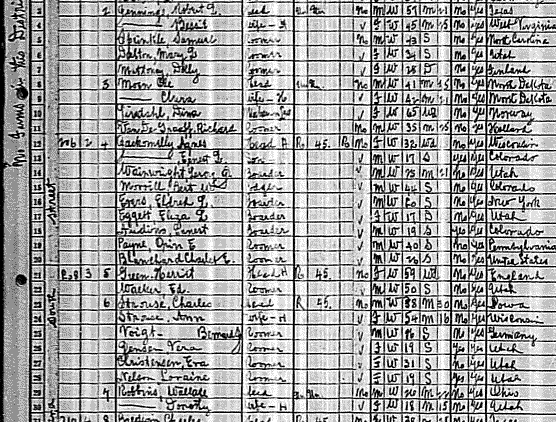 1920 census, Salt Lake City
The 1930 census for Salt Lake City shows:
208 East Third South St.
Green, Harriet Head Age 59, occupation: Proprietor Rooming House
Walker, Ed. Roomer Age 50, occupation Wireman
Source: 1930 federal census, Roll: T626_2420, Page 1A, ED 89, image 0713, at www.ancestry.com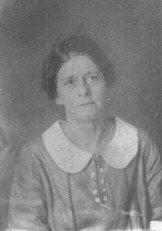 Like her brothers, Harriet suffered from asthma all of her life. Her granddaughter, Beulah, remembers her having a large cupboard full of medicine, in an effort to find relief from the asthma. She died of asthma on 20 April 1931 in Salt Lake City, at the age of 60. She was buried in the Pleasant Grove Cemetery next to Charles.