FAMILY GROUP RECORD OF
EDWARD AND MARGARET STEVENS

Edward Stevens of Wroxeter was most born in about 1620 of Wroxeter, most likely the son of Richard Stevens. Edward married Margaret. Edward died and was buried 29 November 1654 in Wroxeter, and was shown as being "of Donington".



Burial record for Edward Stevens in Wroxeter
Margaret died and was buried 22 September 1678 in Wroxeter, and was shown as being a widow at the time of her death.


Edward and Margaret had the following children:

1. Richard, christened 5 July 1646 in Wroxeter, Shropshire, England; buried .

2. Richard, christened 2 January 1648 in Wroxeter; buried 3 October 1681 in Wroxeter.

3. Mary, christened 21 October 1649 in Wroxeter; buried 21 September 1681 in Wroxeter.

4. *Anne, christened 11 November 1651 in Wroxeter; married Edward Hinley 4 April 1670 in St. Julian, Shrewsbury, Shropshire.


Baptism record for Anne Stevens in Wroxeter

SOURCE: IGI; www.newfamilysearch.org; Wroxeter parish register.



THE FAMILY GROUP OF
RICHARD STEVENS


Richard Stevens was born in about 1600 in Wroxeter. He is listed as a churchwarden in the Wroxeter parish register in 1634.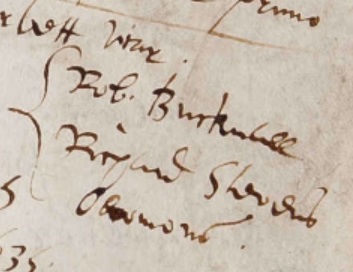 Entry for Richard Stevens, churchwarden, 1634

Richard was buried in Wroxeter on 26 August 1650, and shown as being "of Donington". Donnington is a hamlet in the parish of Wroxeter.



Burial record for Richard Stevens in Wroxeter

Richard had the following child:


1. *Edward, born in about 1620; married Margaret; buried 29 November 1654 in Wroxeter "of Donington".


No wife or other children have been identified for Richard, but several other Stevens are found in the Wroxeter parish register.

Thomas Steppens "of Donnington", buried 1 August 1632 in Wroxeter.

Dorothea Stephens, buried 2 May 1633 in Wroxeter.
Isabella Stevens, buried 9 December 1640 in Wroxeter.
Richard Stevens, buried 11 July 1648 in Wroxeter.
Margery Stevens, buried 2 January 1658 in Wroxeter.


Wroxeter is a village on the River Severn in Shropshire. It is at the site of the Roman city of Viroconium Cornoviorum, which was the fourth largest city in Roman Britain. Standing Roman ruins are found just outside the village. The church is St. Andrew's, and was built partially from re-used Roman stone. The font in the church was made from the hollowed-out base of a Roman column. Wroxeter was abandoned as a Roman city in the sixth or seventh century, and a small village grew around a ford at the southern end of the city. The Roman stone was used as building materials in the local area.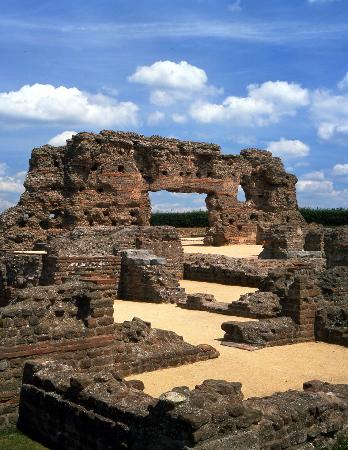 Wroxeter

If you have any additional information about this family, please contact me at alice@boydhouse.com.