FAMILY GROUP RECORD OF
NICHOLAS AND ANNE KILBOURNE

Nicholas Kilbourne was born in about 1635 of Stanley, Derbyshire. He married Anne. Nicholas' occupation was husbandman. Nicholas died and was buried March 1695 in Stanley. He left a will dated 14 April 1695, naming his wife, Anne, son Michael, and daughter Judie Abbott.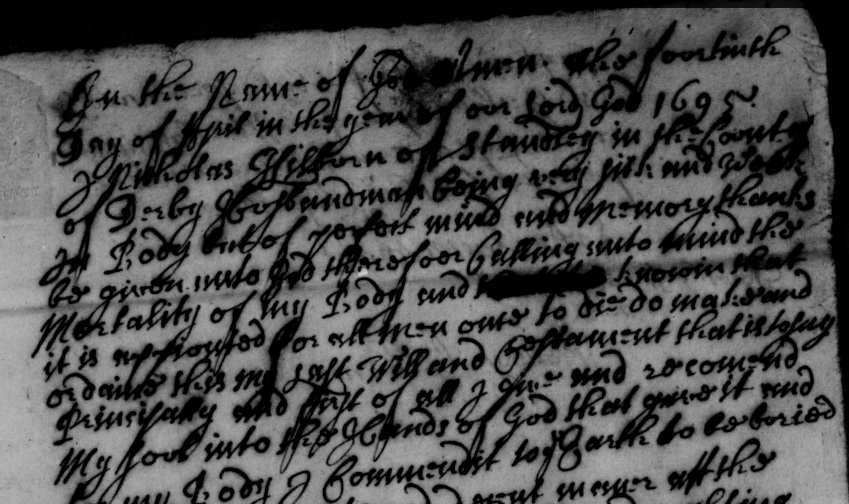 Will of Nicholas Kilbourne, 1695


In the name of God, amen, the fourtinth day of April in the yeare of our Lord God 1695, I Nicholas Kilborn of Standley in the County of Derby, husbandman, being very sick and weak in body but of perfect mind and memory thanks be given unto God, therefoor calling unto mind the mortality of my body and knowin that it is appionted for all men onle to die doe make and ordaine this my last will and testament that is to say prinsipally and first of all I give and do commend my soul into the hands of God that gave it such, and for my body I commend it to earth to be buried in a Christian like and desent manor att the discretion of my executors nothing doughting but att ther good will I shall know the same grace by the mighty favor of God, and as touching such worldly goodes where with it hath pleased God to bles me in this life, I give devise and dispose of the same in the following manor and form:
Imprimis, I give to my well beloved son Michael Killburn five maers and one and one horse and a waggin, and to my daughter Judie Abbot 5 shillings. Lastly, I make, constitute, ordaine, and appionte my dear and well beloved wife Anne Killborn sole executrix of this my last will and testament to whom I bequeath all the remainder of my goods and chattels moveable and immoveable for her life and att her decease my son Michael before mentioned to have one half.
And I do hereby utterly disallow, revoke and disamend all and every other former testaments wills legacies bequeaths and executors by me in any ways after this named wills and bequeaths and certify and confessing this and no other to be my last will and testament in wittnes whereof I have hereunto put my hand and seal the day and year above written.
Nicholas Killbourn

Signature of Nicholas Kilbourne
Nicholas and Anne had the following children:

1. Michael, born in about 1663 of Stanley, Derbyshire, England; married Catherine Morley 26 November 1695 in Horsley.

*2. Judith, born in about 1665 of Stanley; married John Abbott 6 November 1685 in St. Peters, Derby, Derbyshire; buried 15 November 1747 in Morley, Derbyshire.

3. Elizabeth, born in about 1669 of Lichfield, Spondon, Derbyshire.

SOURCE: IGI; will of Nicholas Kilbourne, 1695 on www.findmypast.co.uk.




If you have any additional information about this family, please contact me at alice@boydhouse.com.
Return to table of contents