FAMILY GROUP RECORD OF
WILLIAM BARRET AND
HELLENA SLIGHE



William Barret was born in about 1555 of Derby, Derbyshire, England. He married Hellena Slighe 19 July 1578 in St. Alkmunds, Derby. William left a will proven 19 December 1589: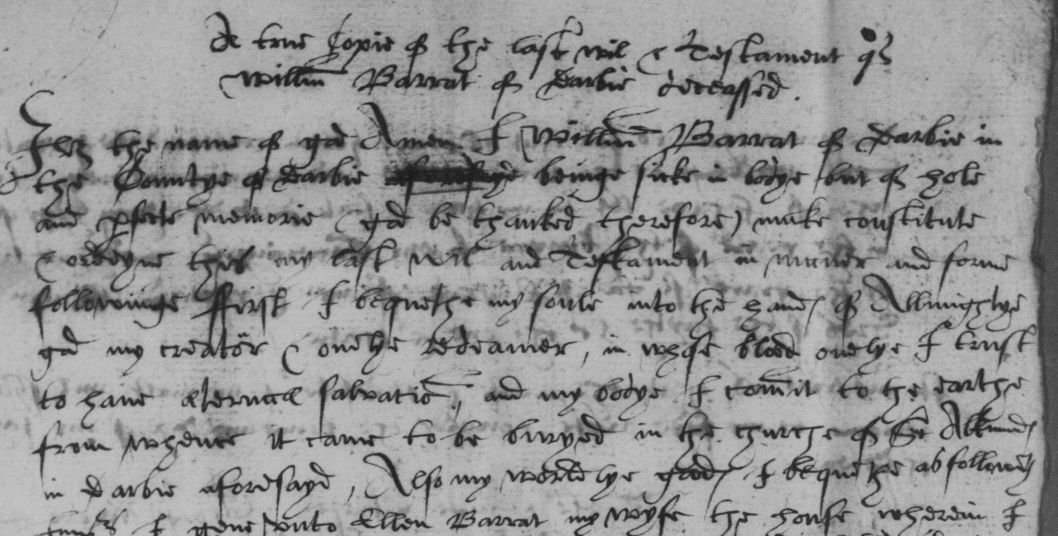 Will of William Barret, 1589

A true copie of the last will & testament of William Barret of Derbie deceased
In the name of God Amen, I Willim Barrat of Darbie in the Countye of Darbie beine sicke in bodye but of hole and pfecte memorie, God be thanked therefore, make, constitute & ordayne this my last will and testament in nammer and form following: Ffirst I bequethe my soule unto the hands of Almyghtie God my creator & onlye redeemer, in whose bloode onlye I trust to gain eternall salvation, and my bodye I commit to the earth from whence it came to be buryed in the church of St. Alkmunds in Darbie aforesayd. Also my worldly good I bequethe as following: First I give unto Ellen Barrat my wyfe the house wherein I dwell the backfield and one acre with all there tenements during her naturall lyfe and after her decease to remain to my sonne William the younger and the heires of his bodye lawfully begotten for ever & for want of heires of his bodye lawfully begotten to remaine to Jervase Barrat my sonne and for want of heires of his bodye lawfully begotten to remain to the next heires of me the sayd William. My will is that my sayd sonne William the yonger twenty shillings, unto my sayd sonne Jervase twenty shillings, to my daughter Elizabeth twenty shillings, to my daughter Dorothie twenty shillings & to my daughter Ellen twenty shillings upon each of them cominge to age of fourteen yeares, if they so long live. Item, I geve unto my elder sonne William, my best doblet, my best hose and the sum of twenty shillings to be payd by the hands of William my younger sonne in maner & forme following: that is to say ten shillings at the ffeast of St. Michael the Archangel being ad 1590 and other ten shillings ad 1591 as the feast aforesayd. The rest of my goods not bequeathed, my debtes payd my loyalties pformed and my bodye honestlye and decently buryed I geve unto my sayd wyfe and my children aforesayd, namely William Barrat the yonger, Jervase Barrat, Elizabeth Barrat, Dorothie Barrat & Ellen Barrat to be equally divided amongst them at the first and disposed of by my executors. I do constitute and ordayne my well beloved wyfe Ellen Barrat and William Barrat the yonger my sonne my true and lawfull executors of this my last wil and testament, and I make ordayne my wyttnesses in Chryst – Henry Rudham, Richard Worker, and Thomas Swetnam minister, overseers of this my sayd testament desiring them to se that all things herein conteyned by executed and done according to the true entent and meanings in witness hereof I have set to my hand & seale the 14 day of October in the yeare of the raign of our Soverayne Ladye Elizabethby the grace of God of England, Ffrance & Yreland Queen, defender of the faythe for the one Christ.
Item, my will is that the lease & benefits of my malt mil should remaine to my sayd wyfe towards the bringing up of my sayd children.
William and Hellena had the following children:


1. William, christened 16 October 1578 in St. Alkmunds.


*2. Elizabeth, christened 14 March 1580 in St. Alkmunds; married Thomas Fowlke 20 July 1601 in St. Alkmunds, Derby, Derbyshire.


3. Jervase; mentioned in father's will of 1589.

4. Gerald, christened 31 July 1584 in St. Alkmunds.


5. Dorothy, christened 24 January 1586 in St. Alkmunds.


6. Helen, christened 17 September 1589 in St. Alkmunds.



SOURCES: IGI, www.familysearch.org; Phillimore's Marriage Index, Derbyshire; will of William Barret, 1589, on www.findmypast.co.uk..

If you have any additional information about this family, please contact me at alice@boydhouse.com.
Return to table of contents