ELIAS ASTON AND ELIZA FOWLKE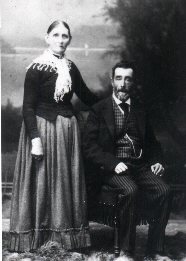 Elias Aston was born October 24, 1830 in the city of Nottingham, England, the son of Elias Aston and Mary Elliott. His father, Elias Sr., was a nail manufacturer in Nottingham. Elias grew up in a family of two brothers and four sisters: Joseph, Alixe, William, Mary Ann, Martha, and Phoebe. His maternal grandmother, Martha Elliott, also lived in the home, and worked as a chevener-someone who embroidered designs on knitted stockings (The hosiery industry employed a great number of "out workers" who were known as cheveners. These women would embroider beautiful designs onto the stockings, and so earn extra money to supplement the family income).

Elias married Eliza Fowlke on January 5, 1851. Eliza was the daughter of John Fowlke and Harriet Raynor, and was born in Nottingham 20 April 1832. John and Harriet were converted and immigrated to Utah in 1861. Both Elias and Eliza embraced the gospel and were baptized in December of 1856. They became the parents of fourteen children: Drucilla, William, Joseph, Orson, Eliza, Edwin, John Frederick, Alfred, Elias, Harriet Ann, Harry, Louisa Martha, Sarah Elizabeth, and Mary Maria. Elias worked as a blacksmith.


William H. Aston, aged 21, Elias's brother sailed to the United States 5 February 1853. Later that same year he married Eliza's sister, Drucilla. Drucilla Aston,
In 1871 the Astons are found living in Gainsborough: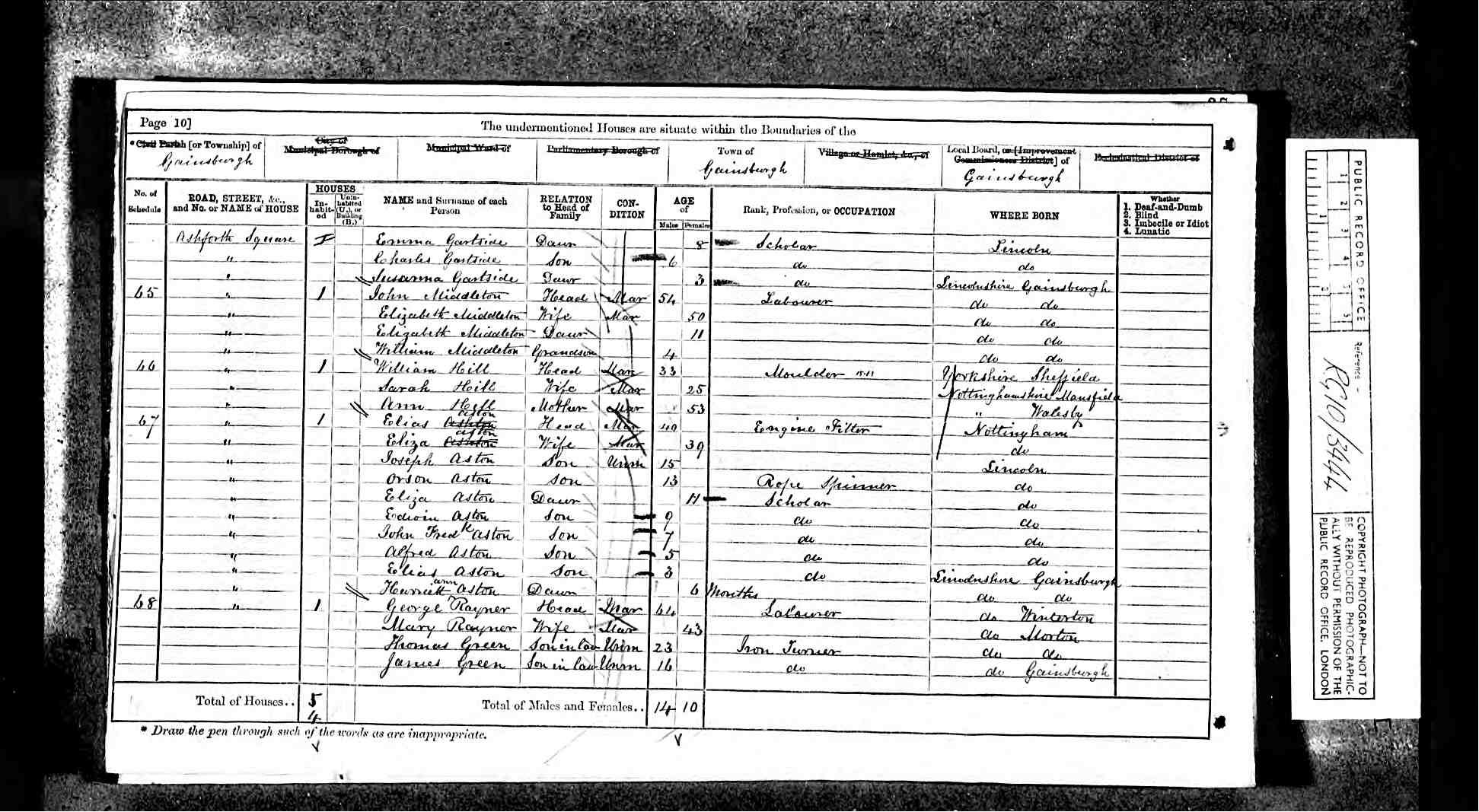 The 1871 English census shows the family living at 67 Ashforth Square:
Elias Aston, head, married, 40, Engine Fitter, born in Nottingham
Eliza Aston, wife, married, 39, born in Nottingham
Joseph Aston, son, unmarried, 15, born in Lincoln
Orson Aston, son, 13, Rope Spinner, born in Lincoln
Eliza Aston, daughter, 11, scholar, born in Lincoln
Edwin Aston, son, 9, scholar, born in Lincoln
John Frederick, son, 7, scholar, born in Lincoln
Alfred, son, 5, scholar, born in Lincoln
Elias Aston, son, 3, scholar, born in Lincolnshire, Gainsborough
Harriett Ann Aston, daughter, 6 months, born in Lincolnshire, Gainsborough
Elias's oldest daughter, Eliza, was able to sail for the United States 22 October 1873 on the ship Idaho. Elias was indebted to the Perpetual Emigration Fund in 1873 and 1874. The rest of the family saved their money, and were finally able to emigrate to the United States 8 July 1874, on the ship Minnesota. The ship's list shows Elias Aston, Eliza, Joseph, Orson, Eliza, John Frederick, Alfred, Elias Jr., Harriett and Harry.



Ship's passenger list for the Minnesota

The transcontinental railroad, completed in 1869, carried the immigrants to Utah. They established a home in Pleasant Grove, Utah, where Eliza's parents had settled, and worked at farming the land.

In 1861 a few of the families from Pleasant Grove had moved out onto the land south of town, settling along a wagon route which had once been an Indian trail. At first these settlers lived in dugouts, but later they built homes out of logs hauled from the mountains. Some houses were built from adobe, a few of which are still standing. Although this area still belonged to Pleasant Grove, this string of homes became known as Stringtown. Some of the first settlers of Stringtown, later Lindon, were the Cullimore, Wooley, Brown, Nerdin, Howard and Gillman families, along with Frederick Fowlke. Other early settlers were the White, Davis, Lord, Bezzant, Holland, Harris, Ash, Parks, Fage, Dittmore, Wright, Mayhew, Rogers, and Wadley families, along with the Elias Aston family. The first couple married in the new settlement were Eliza's sister, Clara Fowlke, and James Cullimore. The first baby girl born in this town was James and Clara's daughter, Elizabeth. She was born in a dugout with a dirt roof and floor. Frederick Fowlke and James Cullimore later started a coffin-making business.

The first homes of the settlers were meagerly furnished. Most of the furniture was handmade from native wood. Their beds and chairs were made of willows tied with buckskin. They slept on ticks stuffed with straw, feathers, or cattail down. Their clothing was homemade. Most families owned a few sheep, and the wool was spun into cloth. The men's trousers was made from buckskin. The children went barefoot until cold weather, and then they wore moccasins of buckskins. There was usually no great shortage of food. A variety of vegetables was raised in their gardens, and there were plenty of fish and wild game. (Lindon—Our Town, 1983)

Elias bought a home, a little old four room adobe house in Lindon, where he settled down and farmed all his life. Elias's granddaughter, Irene Aston Shumway, remembers, "Elias had quite a hard time raising all those children. I have heard Grandmother (Eliza Fowlke Aston) tell about pinning some of the little ones to her apron when she sat down to sew. I remember Elias as a little man with a long beard, walking with his hands clasped behind his back. Grandfather (Elias Aston) studied the Bible and could recite the scriptures by heart. He was very religious." Above the family home was a large ditch, and in the summer all the boys would go to the ditch for their morning washing. The family worked and played hard together. They all enjoyed square dances. The family also had tragedies. Orson was killed at age 20, as they sat on a hillside eating their lunch. A large rock rolled down, striking him in the back, killing him instantly.Mary Maria was sickly all her life and never married. All the boys and Harriet suffered from asthma, and eventually died from its effects.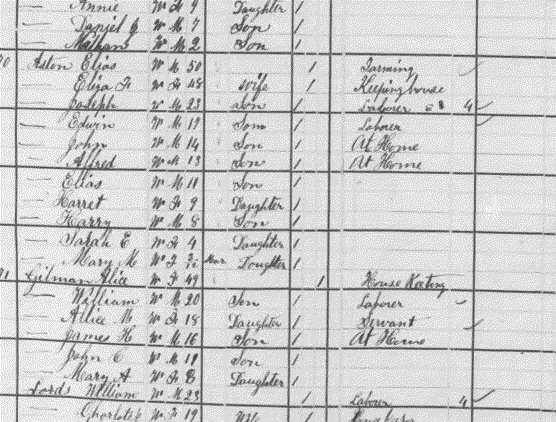 1880 census, Pleasant Grove, Utah County, Utah
The Astons are found in the 1880 census in Pleasant Grove, Utah:


Elias Aston, age 50, born in England, occupation: Farming
Eliza F. Aston, age 48, born in England, keeping house
Joseph Aston, age 23, born in England, occupation: Laborer
Edwin Aston, age 17, born in England, occupation: Laborer
John Aston, age 14, born in England, at home
Alfred Aston, age 13, born in England, at home
Elias Aston, age 11, born in England, at home
Harret Aston, age 9, born in England, at home
Harry Aston, age 8, born in England
Sarah E. Aston, age 4, born in Utah
Mary M. Aston, age 1, born in Utah
Census place: Pleasant Grove, Utah, Utah
FHL# 1255339
Page #: 298D



In the 1900 census of the unincorporated area of Pleasant Grove, Elias and Eliza are shown living with two of their children.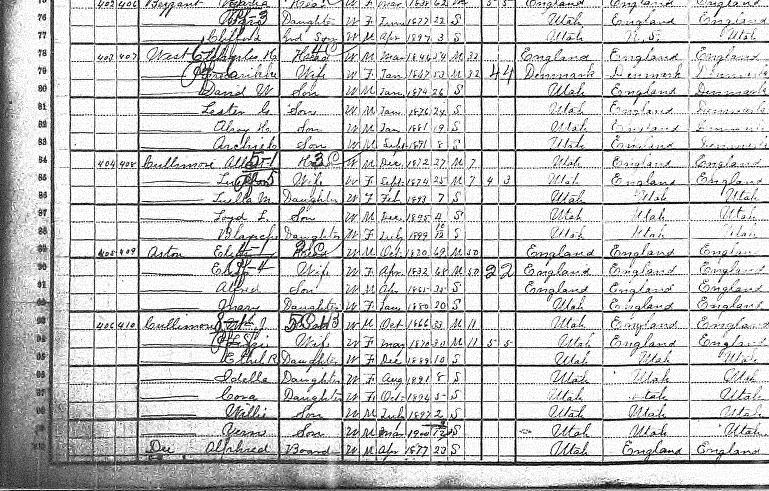 1900 census, Pleasant Grove, Utah
Elias died September 7, 1906, in Lindon, Utah, from "general debility". In the 1910 census of the unincorporated area of Pleasant Grove, Eliza is shown living with her son Alfred and daughter Mary.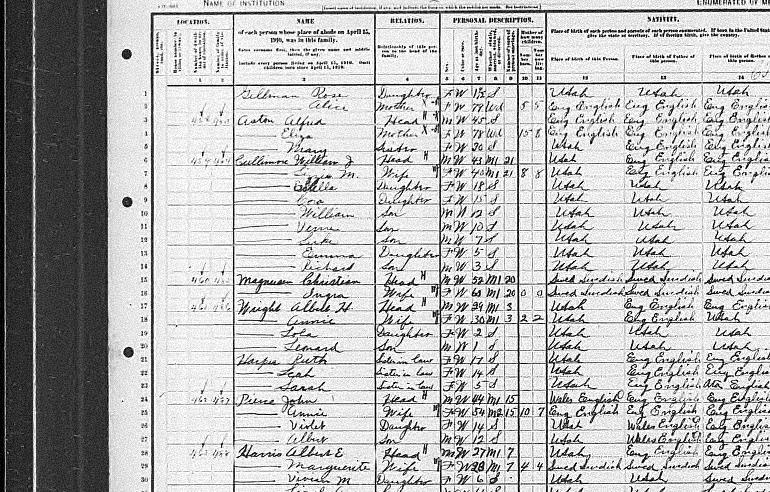 1910 census, Pleasant Grove, Utah
Eliza lived eleven years after Elias passed away, and died January 30, 1917 in Lindon.


The obituary of Elias Aston in the Deseret News, September 10, 1906:


DEATH OF ELIAS ASTON
Elias Aston, a highly respected resident of Lindon, died Friday afternoon from general debility. The deceased was a native of England, and came to Utah in 1872. He leaves a wife and several children and other relatives. The funeral was held yesterday from the Lindon meetinghouse.

The obituary of Eliza Fowlke Aston in the Deseret Evening News, February 10, 1917 (FHS# 27004, page 10):



TWO FUNERALS
Two funerals of elderly people have been held in the Lindon Ward the past few days. Mrs. Aston, age 85, was buried from the Lindon meetinghouse Saturday, the 3rd, and while this funeral was in session Mrs. Connor, another aged resident and a neighbor of Mrs. Aston passed away. Her funeral was held Tuesday at 11 o'clock a.m.



FAMILY GROUP RECORD OF
ELIAS ASTON AND
ELIZA FOWLKE


Elias Aston, Jr. was born 24 October 1830 in Nottingham, Nottingham, England to Elias Aston, Sr. and Mary Elliott. He married Eliza Fowlke 5 January 1851 in Nottingham. She was born 20 April 1832 in Nottingham to John Fowlke and Harriet Raynor. Elias died 7 September 1906 in Lindon, Utah, Utah. Eliza died 30 January 1917 in Lindon. Both are buried in Pleasant Grove.


Elias and Eliza had the following children:


1. Drucilla Phoebe, born 5 March 1852 in Nottingham; married John Stacey 14 December 1873; died 23 August 1928.


2. William, 5 February 1854 in Nottingham; died 8 March 1855.


3. Joseph, 22 September 1855 in Nottingham; married Salina Garrett 26 December 1895; died 13 March 1937.

4. Orson, born 8 January 1858 in Lincoln, Lincoln, England; died 31 May 1878.

5. Eliza, born 11 August 1859 in Lincoln; married John Baptist White; died 27 January 1909.

6. Edwin, born 30 June 1861 in Lincoln; married Emily Ann Keetch 2 December 1885; died 12 July 1906.

7. John Fredrick, born 30 May 1863 in Lincoln; married Mary Ann Harris 2 December 1885; died 26 January 1934.

8. Alfred, born 16 April 1865 in Lincoln; married Emily Ann Keetch 15 September 1910; died 7 January 1933.


9. Elias, born 1 May 1868 in Gainsborough, Lincoln, England; married Annie Charity Wyatt 25 December 1894; died 3 September 1937.

10. Harriet Ann, born 22 September 1870 in Gainsborough; married Charles Edward Green 11 December 1888 in Manti, San Pete, Utah; died 20 April 1931 in Salt Lake City.

11. Harry C., born 16 November 1872 in Gainsborough; married Matilda Hardman 9 January 1895; died 27 November 1945.

12. Louisa Martha, born 28 February 1875 in Pleasant Grove, Utah, Utah; died 12 October 1875.

13. Sarah Elizabeth, born 13 April 1877 in Pleasant Grove, married Charles Henry West; died 2 May 1893.

14. Mary Maria, born 17 January 1880 in Pleasant Grove; died 23 January 1930.

SOURCES: Temple Archive Record submitted by Mrs. Irene Shumway, citing Family Bible; IGI; 1871 English census, Gainsborough.




If you have any additional information about this family, please contact me at alice@boydhouse.com.