Ann Frogett married James Moss 25 June 1667 in Laxton, Nottinghamshire. Froggett is an unusual name, and the only Ann Frogett christened in the right time period is found in the parish of Sutton cum Lound, Nottinghamshire, about ten miles away. Ann was christened in 1644, the daughter of James and Margret Froggett.
James Froggett was born in about 1620 of Sutton cum Lound. He married 1) Jane 16 November 1636 in Sutton cum Lound. Her last name is unfortunately blank in the marriage record, and there is no record of children for James and Jane in the parish register. He then married 2) Margret, and they had a son, George and daughter, Ann. Margret must have died. James then married 3) the widow Dorothy Chalinges 11 June 1650 in Sutton cum Lound: "
James Frogitt & Dorothy Chalinges, wid. dwelling in Nornay in p. Blyth
". Ann was only six years old at the time of her father's remarriage. No children are recorded for James and Dorothy.
James died, leaving a will dated 16 November 1654 and proven 12 April 1655 in the Prerogative Court of Canterbury. Ann, only ten years old, is mentioned in her father's will, as he left her ten pounds. Her older brother George may have died, as he was not mentioned.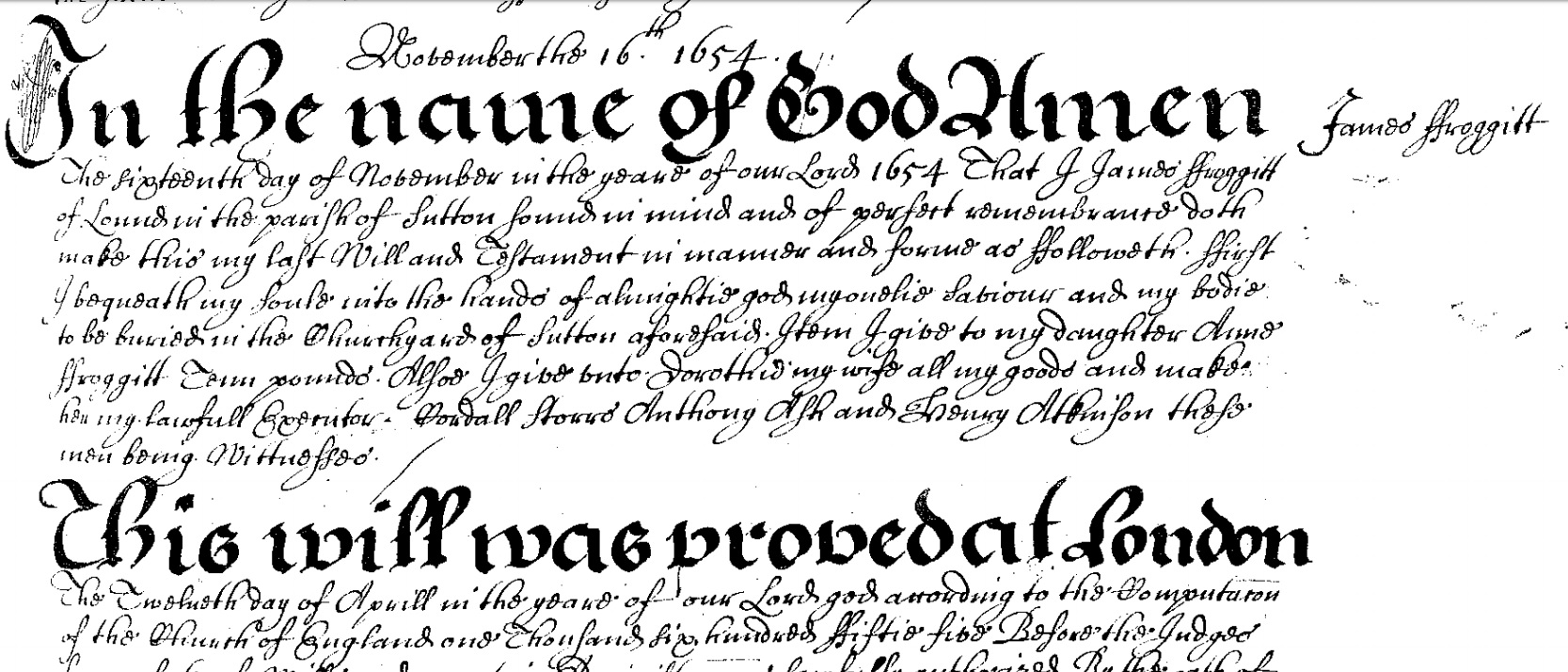 Will of James Froggett, 1654
"
Will of James Froggitt of Sutton, Nottinghamshsire 12 April 1655

November the 16th 1654

In the name of God Amen, the sixteenth day of November in the yeare of our Lord 1654 that I James Ffroggitt of Lound in the parish of Sutton, sound in mind and of perfect remembrance doth make this my last will and testament in manner and forme as ffolloweth, ffirst I bequeath my soule into the hands of Almightie God, my onlie Saviour and my bodie to be buried in the churchyard of Sutton aforesaid. Item, I give to my daughter Anne Ffroggitt ten pounds. Alsoe I give unto Dorothie my wife all my goods and make her my lawfull executor. Cordall Stowe, Anthony Ash and Henry Atkinson, these men being witnesses.
This will was proved at London the twelveth day of Aprill in the yeare of our Lord God according to the computation of the Church of England one thousand six hundred ffiftie five before the judges for probate of wills and granting administratone lawfully authorized by the oath of Dorothy Ffroggitt the relict and sole executrix named in the said will, to whom was committed administraton of all and singular the goods, chattels and debts of the said deceased, shee being first sworne by vertue of a commission timely to after the same.
"
Dorothy remarried very soon after James' death, as the parish registers shows a marriage for "
George Wauker of West Retford & Dorothy Frogitt, widow of Lound
" on 5 February 1655/6 in Sutton cum Lound. Possibly Ann went out to work as a young person, closer to Laxton where she married James Moss in Laxton.
James and Margret had the following children:
1. George, christened 30 January 1642 in Sutton cum Lound. The mother's name was blank.
*2. Ann, christened 25 August 1644 in Sutton cum Lound; married James Moss 25 June 1667 in Laxton, Nottinghamshire.
Only one other Froggett appeared in the early Sutton parish record, when Brian Frogett married Ann Wilburs 25 November 1616. It is possible that these are James' parents.
SOURCES: Laxton parish register; Sutton cum Lound parish register on www.findmypast.co.uk; Phillimore's Marriage Index for Sutton cum Lound; will of James Froggit, 1654 in the PCC.

If you have any additional information about this family, please contact me at alice@boydhouse.com.