FAMILY GROUP RECORD OF
EDWARD BATTINSON




Edward Battinson was born in about 1590 of Lenton, Nottinghamshire. The Lenton marriage rccords are missing for the time Edward married his first wife, but there is a later marriage entry in the Lenton parish register for Edward Battinson and Jane Bell 26 November 1616.


Edward and his wife had the following children:



1. Katherine, christened 29 April 1610 in Lenton.



*2. Emmat (Emota), christened 16 June 1611 in Lenton; married Henry Thrumpton.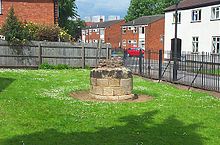 SOURCES: Lenton parish register.